Avalee's second month has been an exciting one for all of us.  This month we travelled with her internationally for the first time.  This month alone she went on 4 flights, 2 speed boat rides as well as multiple horse carriage rides.  She adapted well to sleeping in different cots all over Bali, Lombok and Gili Islands.  She spent a large majority of her day being a pouch baby and whilst she sometimes cried in annoyance when we put her in the pouch YET AGAIN.  She did do really well sleeping in there by her daddy, whilst we got on with exploring new destinations.

It has been great to have your Daddy helping out with you.  Our holiday was almost 3 weeks long so I got a bit spoilt with his help. You are such a sweet little baby girl and we love every day with you!

–
___________________________
To Read Avie's First Month Blog Post,

Click Here

!
For her Second Month Updates, Click Here!
___________________________
–
–
–
Our Little Baby Girl | Avie at 3 months
–
Miss Avie's 3 Month Old Milestones
You can easily stand up from a lying down position with only the slightest pull on your hands.
You keep on pulling your body and neck tight to show us that you want to be picked up or popped in a sitting position.
Your smiles are a part of everyday life now, although those giggles are still rare.
–
You are 'talking' so much more with your adorable baby noises.
You are more aware of life around you.
You are definitely getting more interested in toys.
You can sit up for short periods of time if we help you.
–
3 Month Old Baby Sleep
Your sleeps in the day are still all over the shop and all of them has to either be either in our arms or in the baby pouch.
–
You still hate riding in the car, however you have actually fallen asleep in a few car rides – progress or just luck??
You mostly sleep well at night time.  Most nights you only wake up once around 4am and then again around 6-6:30am.
You tend to go down for your night sleep around 9pm.
–
Other Baby Bits to Record
Your hair has started growing back out again, lovely and brown.
Your eyes are still blue and as big as can be, we hope you keep those blueberry eyes!
–
You are still not taking a dummy, I think it is time to give up on this idea all together!
You love everyone and anyone, you flash them all smiles an charm their butts off!
–
Wearing 00 size clothes, although even these if they are too tight around the legs wouldn't fit you!
Had your first swim … followed by many many more!  You love the water!
–
–
Travelling at 2 Months of Age
Was a brilliantly good girl on your flights to Indonesia.
And you really were a good girl whilst travelling from one destination to the next! (well mostly anyways!)
–
Had four flights, two long ones to Bali and home and 2 from Bali to Lombok and back.
Enjoyed many horse cart carriage rides on Gili Trawagan Island.
–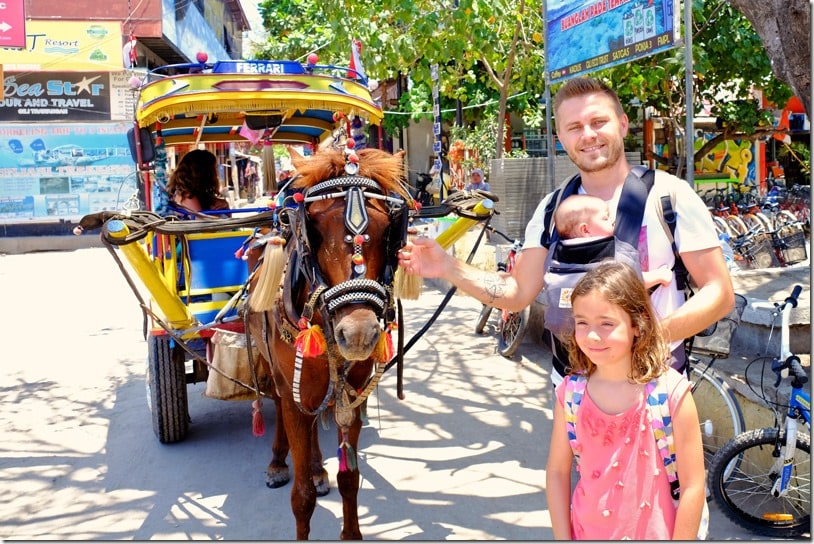 Survived speedboat rides to Gili Island and back.
–
Travelling with baby was harder than I thought it would be.  Everything took 10 x as long as normal.  We packed an insane amount of stuff for you; most of which was nappies to last us the whole holiday; and even though we barely used it; we dragged your pram from location to location to location.  I am happy that we were brave enough to go travelling with you and loved all of the family time on the Indonesia trip!
–
I love watching you grow Avie!  I love watching your personality bloom!
Love Always!  xxx Mommy