A lovely little town in Italy, Limone Sul Garda is perched on the hillside above Lake Garda. It's a hidden gem, one of the best places to visit from Milan, and the perfect place to relax and unwind on a laid-back and family-friendly Italian vacation.
Read on to find our favorite things to do in and around Limone Sul Garda, and the town's most beautiful hotels (at the end of the post)!
Things to do in Limone Sul Garda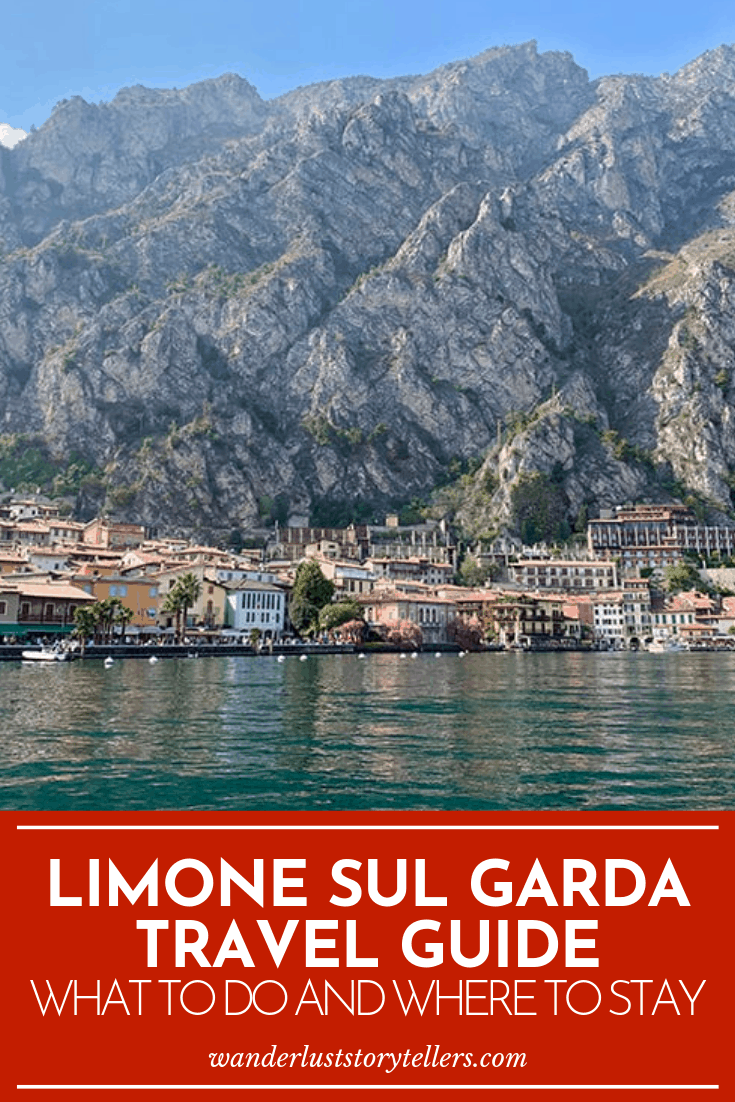 For a small town, there's a surprising amount of activities and places to explore. These are some of the best, for families, couple and solo travelers.
1. Chiesa di San Benedetto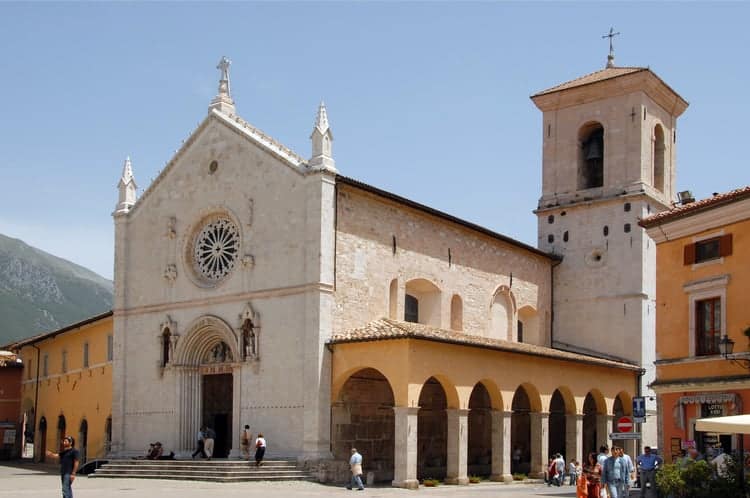 This old Baroque church is wonderfully peaceful. Whilst the inside of the church isn't the most impressive, the spectacular views make the little uphill walk to get here well worthwhile.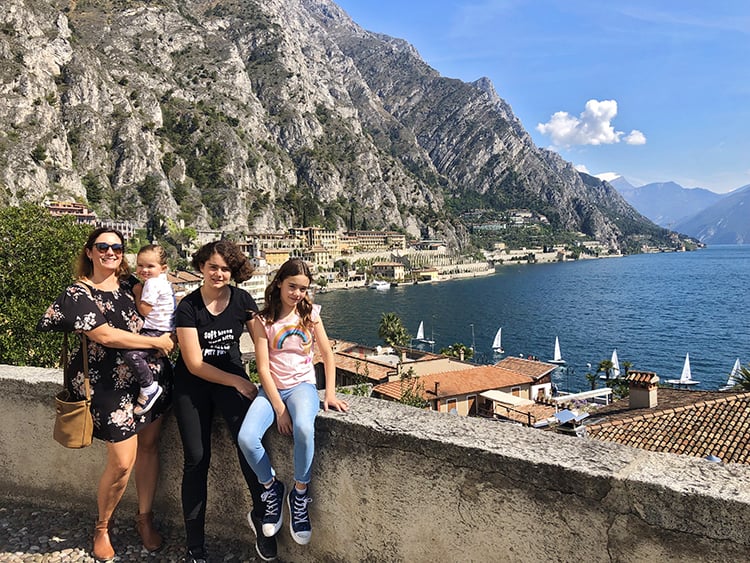 If you are staying in Limone sul Garda, make sure to come check out the church at night. It's illuminating at night so that it stands out – so pretty!
2. Hire a Boat on Lake Garda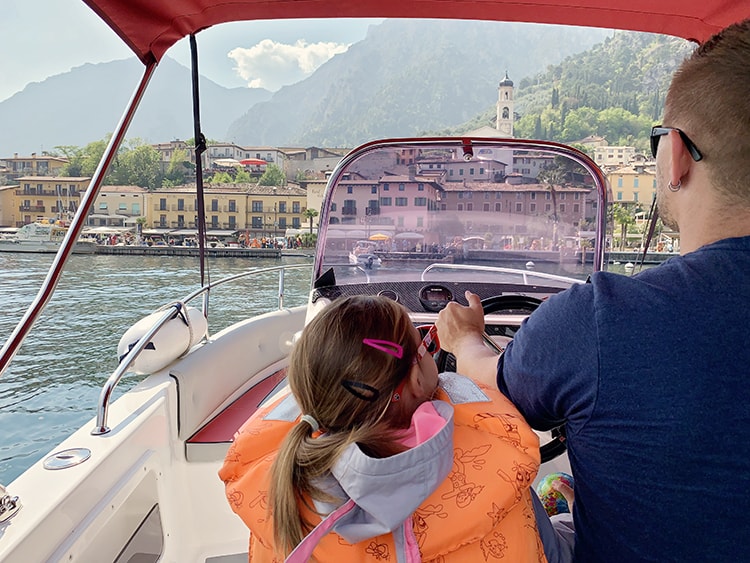 Take a boat out onto Lake Garda, a stunning lake known for its crystal clear waters. You can hire a boat in Limone, We took the one hour option which meant that we could head out to see the waterfall, the world-famous James Bond tunnel, and Malcesine. Be sure to bring your camera and sunglasses! You won't want to miss a moment.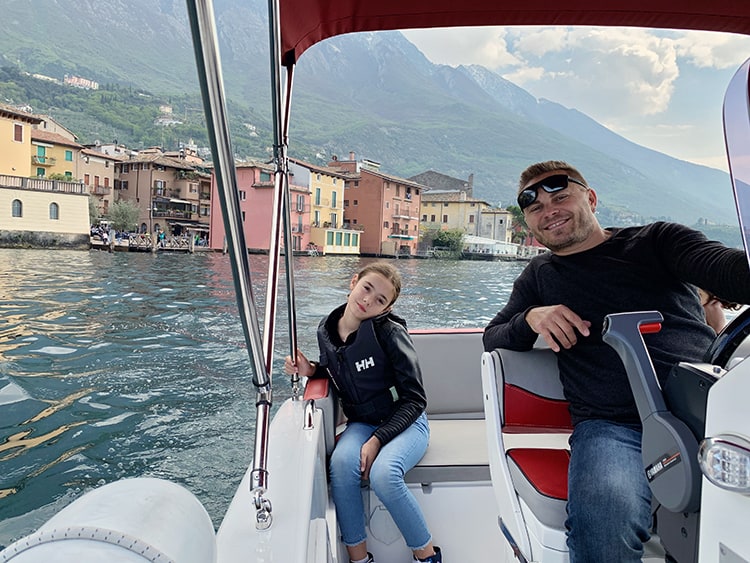 We LOVED this experience, the views were incredible and it only cost us 65 euros (it was low season so it might cost more in high season). You get a quick lesson in how to drive the boat and then they send you off on your own as the driver of your own boat – so much fun!
3. Pop into Chiesa San Rocco
This sweet, small church is a lovely place to explore. Admire the art and historic architecture. It has a rich history in the community, and continues to be an important part of Limone Sul Garda.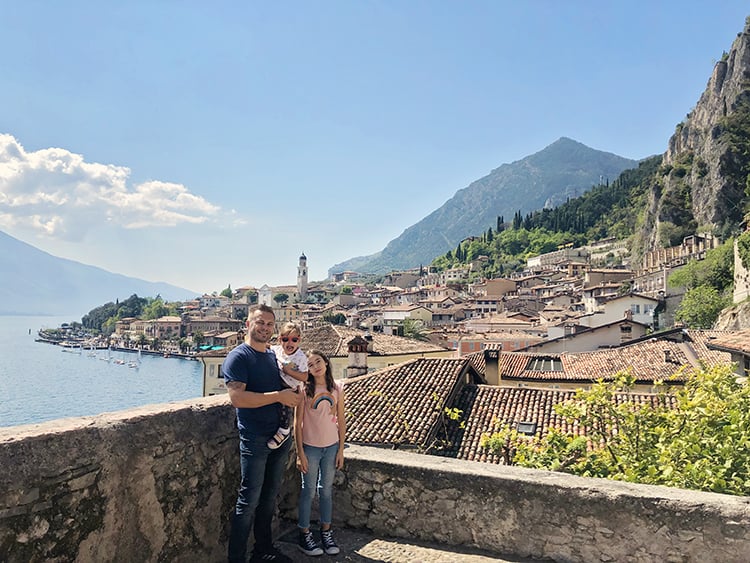 It also has terrific views over the town and the ocean, and is the perfect vantage point for some great photographs.
4. Hop Over to Malcesine and Monte Baldo for the Day
Limone del Garda, Italy, is a small town, so if you're spending more than a few days there, you'll want to do a few day trips! One of our favorites, is a trip to this lakeside village and the gorgeous mountain range of Monte Baldo. You can rent a car – the trip takes only 1-hour – or catch a ferry.
Find affordable car rentals for Limone sul Garda here.
Hike up Monte Baldo (or take the cable car) and admire the wild nature and stunning views.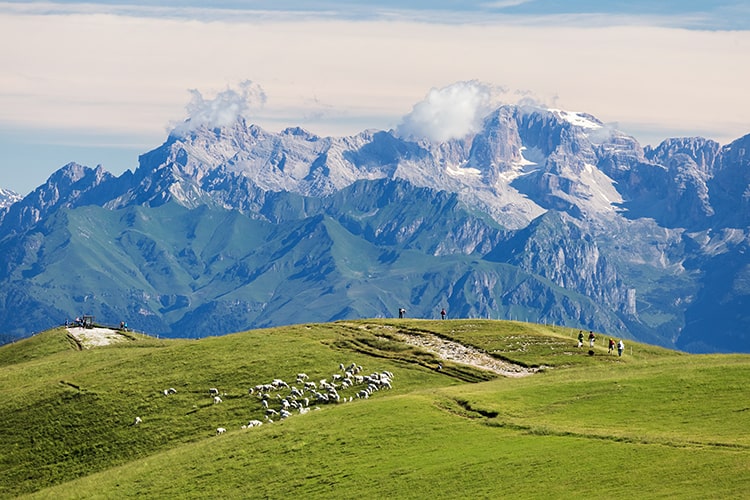 There are some great kid-friendly routes, and it's so beautiful they're bound to enjoy it too!
5. Visit La Limonaia del Castel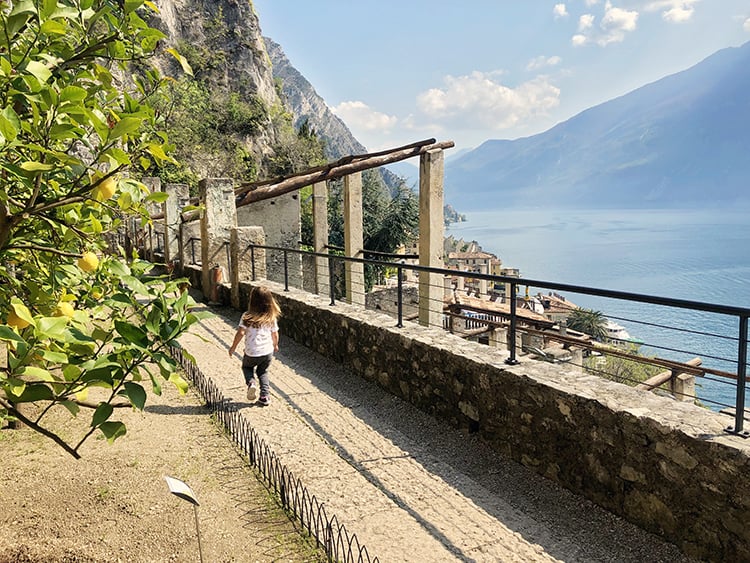 This hilltop museum is charming and unusual. Lemon and orange trees fill the air with lovely aromas, entry is super cheap, and the view from here is picturesque. Learn about Limone's history, and Italy's long-standing citrus industry.
You don't need much time here, 30min is probably more than enough to stroll the grounds.
6. Gardaland Themepark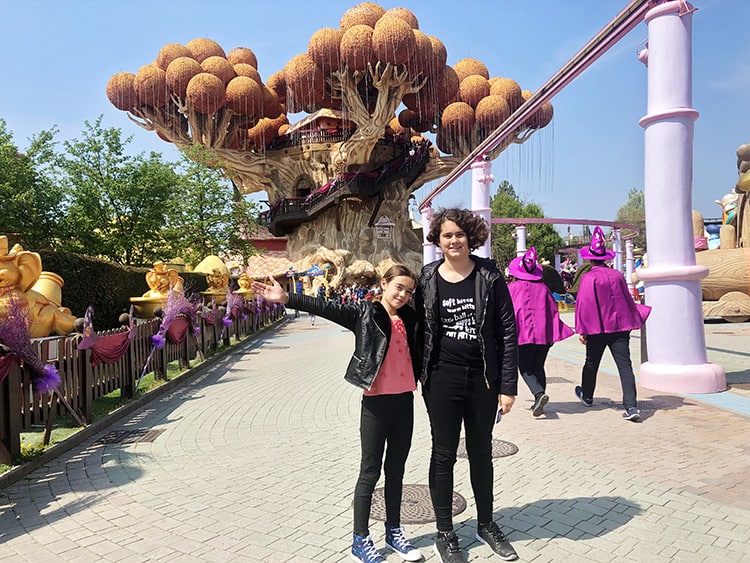 For those with kids, this is one of the best places to go in Limone. The children can be kept happy and occupied the whole day. Making it a great place to bring them when they're growing tired of all the exploration, and becoming grouchy.
The park has some great adrenaline rides, so it's a perfect destination for teenagers, and even yourself! No one will grow bored here. I might even go as far as to say that it has been my favorite themepark that I have ever been too! Highly recommend it 🙂
>>> Click here to grab some SKIP-THE-LINE tickets for Gardaland Themepark.
7. Trip to Sanctuary of Madonna Della Corona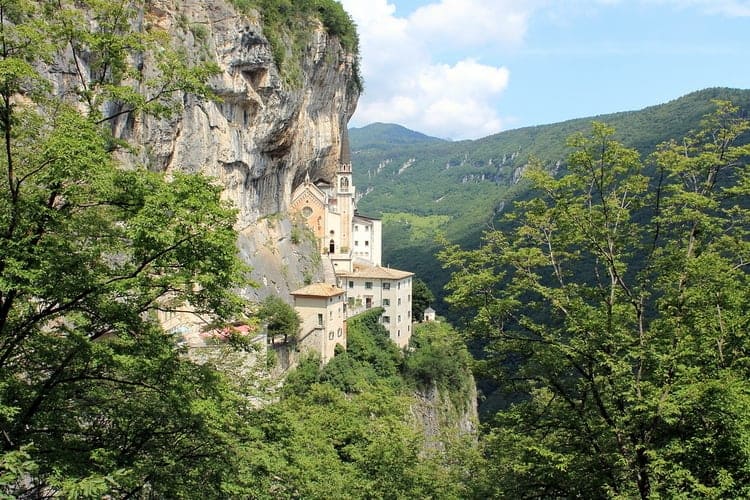 This mountainside church is incredible! You follow a tight path against the rocky mountain to find it, and there are few tourists at most times of the day. Its location alone makes it worthwhile, but the church itself is also really beautiful, with ornate dedications and a lovely steeple.
Less than 2-hours from Limone, the sanctuary was built in 1625! There are quite a few stairs to reach it, so we recommend packing in a few snacks to appease the kids with if they grumble.
8. Day Trip to Verona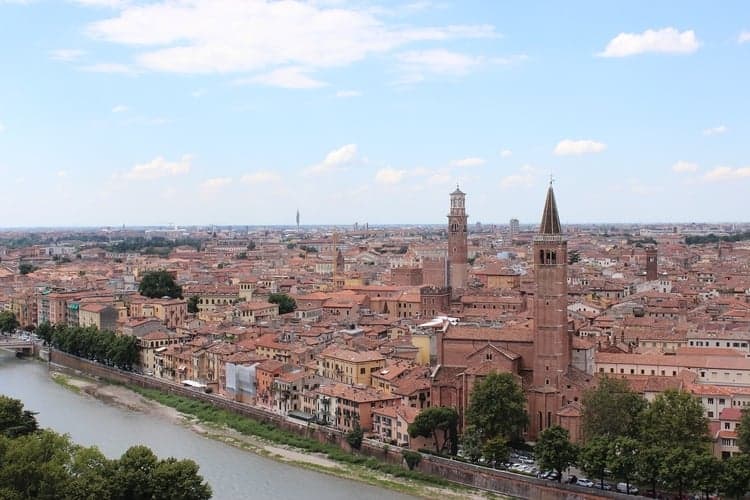 For a day in the city, take a trip to nearby Verona, famous for being the setting of Shakespeare's Romeo and Juliet. The romantic city has a medieval old town where you can stroll through the streets and explore some landmarks that will transport you back to Shakespearean times.
The city is also a modern hub, and you'll find lots to do and see here that will keep the whole family busy! It's a beautiful contrast between old and new. A great way to explore this beautiful city is via a walking tour.
Click here to book your 3-hour walking tour around Verona.
9. Day Trip to Sirmione, Grotte di Catullo & Scaligero Castle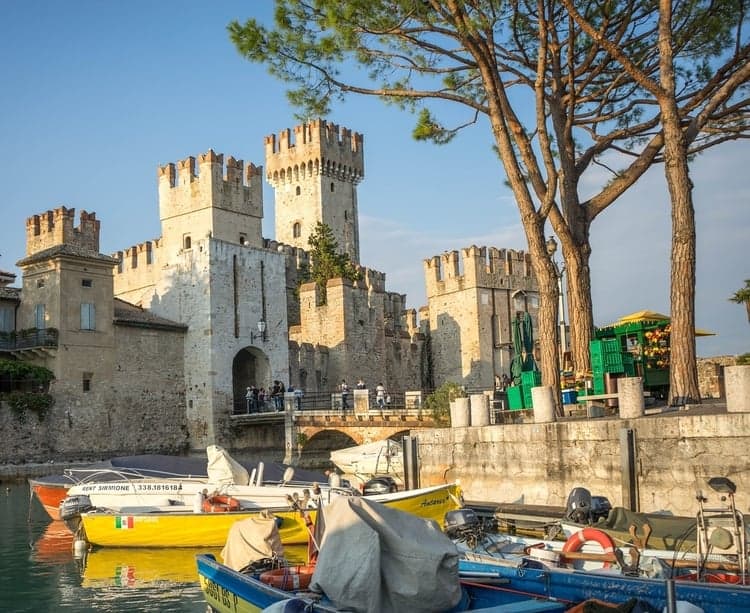 Another great idea for a day trip, is a ferry ride or drive to Sirmione, a resort town on Lake Garda's coast. Here you can find the beautiful Scaligero Castle, an ancient fortress that looks like it's come right out of a magical story about dragons and princesses. Children adore it, and so will you!
You will also be able to explore Grotte di Catullo, the ruins of an ancient Roman villa built in the 1st century BC. It's immense, and a really interesting place to explore.
A popular thing to do here is to hop on a boat tour in which you will experience the highlights of Lake Garda. You will encounter Scaligero Castle, Maria Callas's villa, the "Grotte di Catullo" as well as much more.
Click here to grab some tickets for this popular boat tour online.
10. 
Enjoy a Drive Through the Region of Tremosine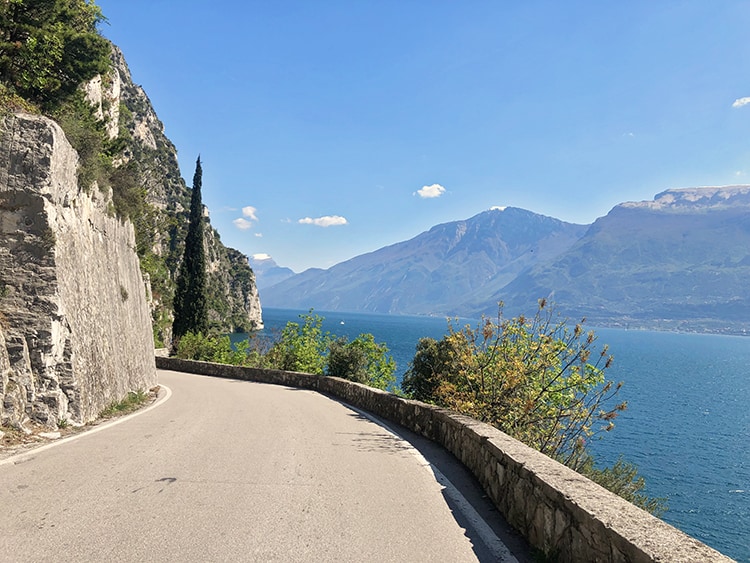 Spend a half day driving through the gorgeous, verdant region of Tremosine, another commune on the shore of Lake Garda. The whole area is incredibly beautiful and well worth exploring. Pack a picnic, and find somewhere on the lake or in the hills to enjoy lunch together!
We especially loved the drive back down to Limone sul Garda – the winding bending roads hugging the mountains with views over the lake were stunning!
Where to Stay in Limone Sul Garda
There are some really beautiful hotels in Limone sul Garda. These are the most luxurious, romantic and family-friendly hotels in town!
1. Garni Gianmartin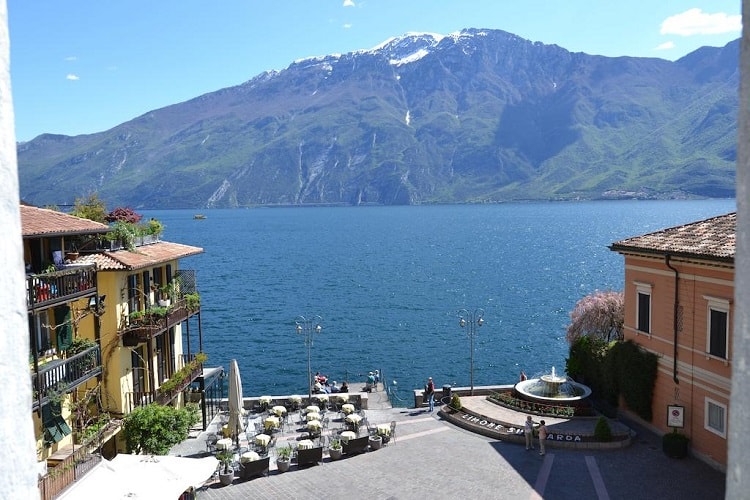 With great views over the lake, and lovely simple rooms, Garni Gianmartin is one of the best hotels in Limone sul Garda. A sweet and savory buffet breakfast is served daily, and the staff is amazing. And it's only a 3-minute walk from the beach!
Why should you stay here?
Free wifi, parking, and a bar
Family-friendly but great for couples and solo travelers
Charming boutique-style hotel
>>> Book a room at this lovely hotel here!
2. Hotel Locanda Ruscello Garnì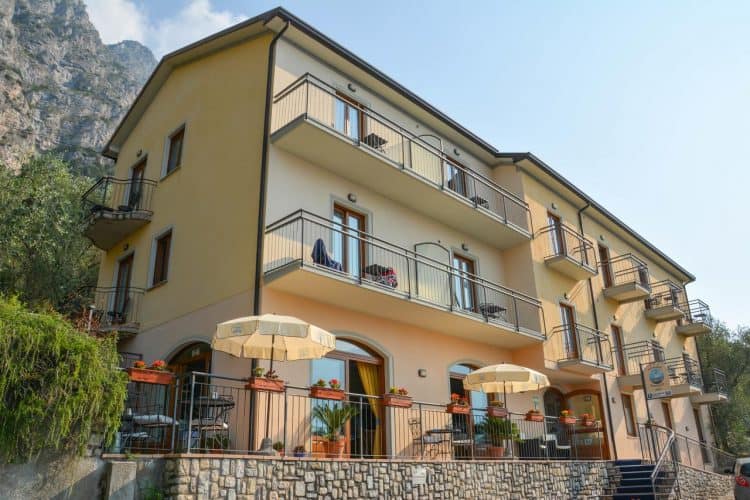 It is also surrounded by olive groves and gardens, this hotel is a sublimely peaceful place to stay. Sunbathe on the terrace before dropping into the pool, and make use of their sauna and nearby private beach.
Why should you stay here?
Stunning views and perfect location, just above the town
Private and peaceful
Pets are allowed
Clean, comfortable rooms
>>> Book your stay at this property here!
3. Park Hotel Imperial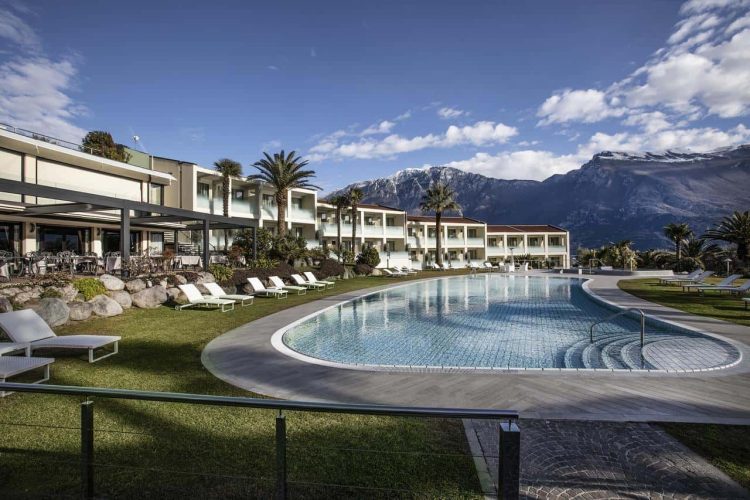 For a beautifully luxurious Italian vacation, you can stay at this 5-star hotel. The rooms are huge and stunningly decorated. The wellness center offers a wide range of beauty treatments, and the in-house restaurant serves authentic local cuisine.
Why should you stay here?
There's a pool, fitness center and wellness center
The breakfast buffet is amazing
Rooms are gorgeous
>>> Book a room at this hotel Limone del Garda here!
4. Appartamento Delux Villa Castello (Great Option for Families)
When we travel around Europe we almost always book Airbnb's as they give us enough space to 'live' as a family of 5. We booked this apartment with AirBnB, and loved it. The location is excellent and the rooms are large and clean. It is perfect for families with young children, with cable TV, air conditioning and a washing machine.
But the absolute best thing about this apartment is that you have THREE balconies, and the views from these balconies are incredible – just see our photo above to see how special the views are!!! Perfect place to unwind after busy days of exploring.Why should you stay here?
The views are incredible
Comfortable and plenty of space
Great location
The host is friendly and helpful
What do you Love about Limone Italy?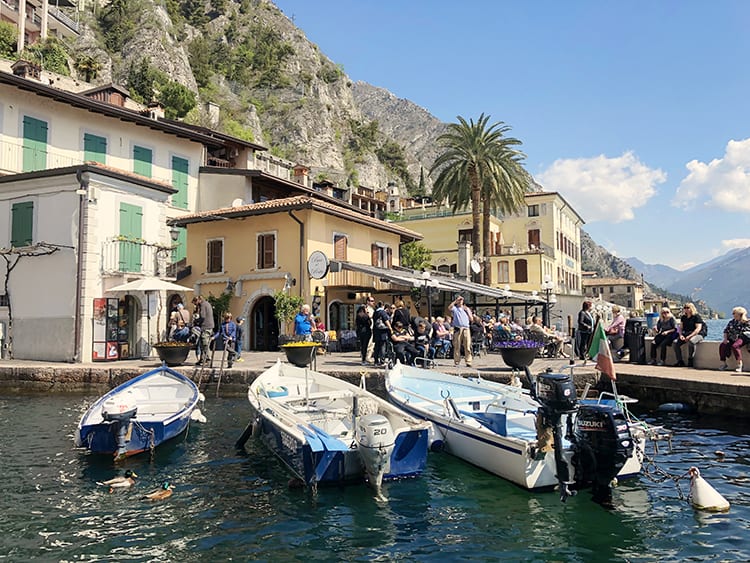 Limone's attractions are so varied and wonderful, with something for everyone! Spend your days exploring these stops, and your nights in one of these great accommodation options. You're sure to have a memorable holiday!
We loved the little lakeside town, and all these attractions and day trips.
Lake Garda is our favorite of the Italian lakes. If you only have time to visit one lake during your trip, then this is our top recommendation.
However if you are a bit unsure, another option is Lake Como which is situated close to Lake Garda. To help you decide you can read our post on whether you should visit Lake Garda or Lake Como here.