So it's Koh Tao vs Koh Samui for your next Thai vacation. That's a hard nut to crack.
Both islands are drop-dead gorgeous, dotted with pristine white-sand beaches, cliffside bungalow hotels, and an air of quintessential island living.
However, there are some significant differences between these isles in the Gulf of Thailand.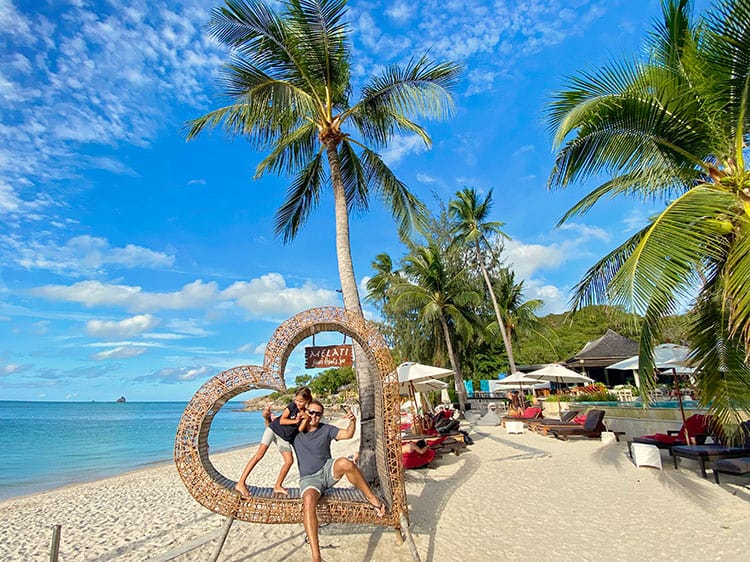 Koh Samui is the bigger of the two, spreading over a massive 883 square miles, second only to Thailand's largest island, Phuket.
In comparison, Koh Tao is much smaller and attracts fewer crowds.
Despite being smaller, both Andrzej and I prefer Koh Tao. It's more laidback, there are fewer crowds at beaches and attractions, and you can do most of the best things to do in Koh Tao without the need for a scooter.
We've found that the trick is to find the island that best fits you and your style of travel.
Read on to uncover the similarities and differences between Koh Samui and Koh Tao; and which island is the right one for you.
Overview of Koh Samui and Koh Tao
We'll start with a quick overview, and below we will go into all of the details.
| | Koh Samui | Koh Tao |
| --- | --- | --- |
| Easiest to get to | X | |
| Has an island vibe | | X |
| More things to do | X | |
| Better Beaches | X | |
| Best Food | X | |
| Best Snorkeling | | X |
| Best Diving | | X |
| Best Resorts | X | |
| Cheapest to visit | X | |
Koh Tao or Koh Samui: The General Vibe
An obvious differentiator between Koh Tao and Koh Samui is each island's general vibe and ambiance.
Koh Samui's Vibe
As we've pointed out, Koh Samui is much larger and feels much like the mainland. The island has plenty of small neighborhoods characterized by charming restaurants, elegant shopping malls, and high-end hotels.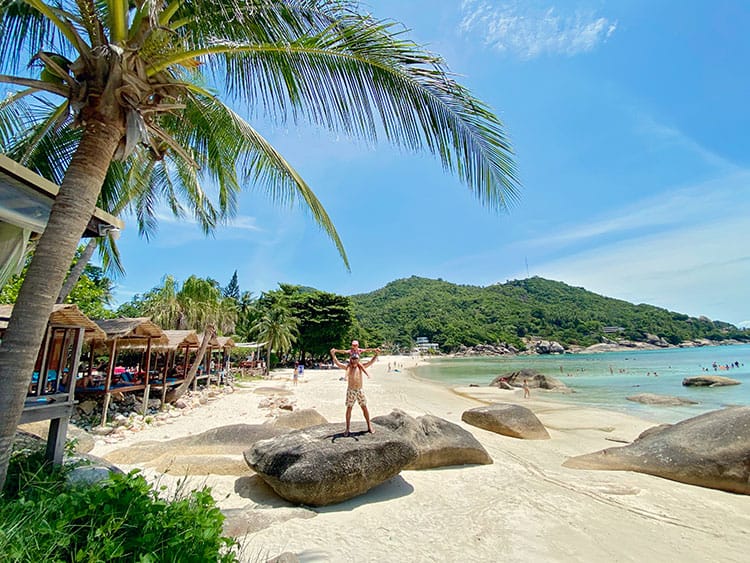 So if you're looking for a luxurious and convenient holiday, Koh Samui would be the best island to visit.
It's easy to find restaurants with fantastic food, great massages available around every corner, and fantastic beaches with sunloungers available to rent.
You'll also have access to food delivery apps such as FoodPanda and Grab, which is great if you feel a bit lazy and just want to order some great food for your resort room.
Koh Tao's Vibe
Koh Tao is tiny in comparison, giving you that more laidback "island vibe". The island is less developed and less westernized (for example, there's no McDonald's or Starbucks).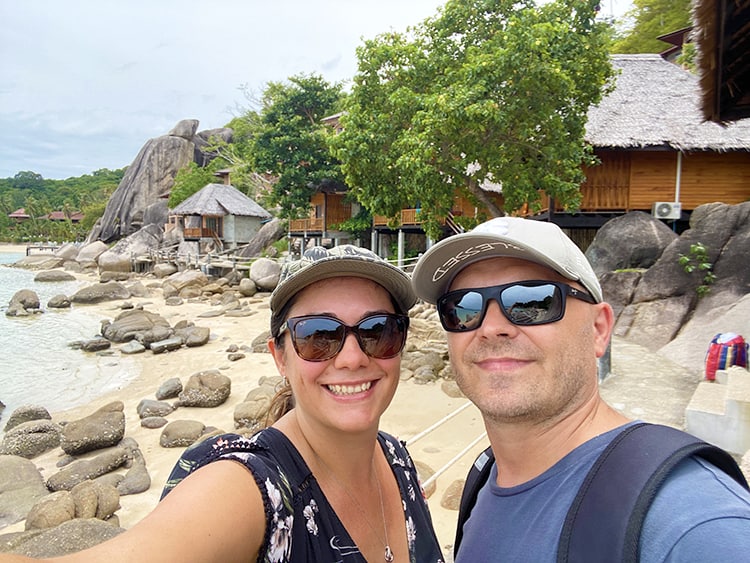 Activities in Koh Tao typically revolve around Koh Tao beaches; diving and snorkeling are the most popular things to do on the island.
In a Nutshell: If you are after a Thai island vibe then I recommend Koh Tao. If you prefer for things to be easy and prefer luxury then I recommend Koh Samui.
---
Things To Do In Koh Tao vs Koh Samui
There are plenty of things to do in both Koh Samui and Koh Tao, but they definitely appeal to different types of travelers.
Best Things to do in Koh Samui:
Sunbathing, surfing, snorkeling, and shopping — that's only the surface of most Koh Samui holidays. Besides these usual suspects, you'll find lots of fun things to do in Koh Samui.
You can honestly make the holiday what you want it to be. Prefer spending your days on the beach?
Koh Samui has stunning beaches, some of which have sun loungers and massage huts, whilst others are more unspoiled by human touch.
Prefer to be active on your holiday? After adventure and fun but busy days? Koh Samui has LOADS of fun places to explore, waterfalls to discover, hikes to take, and great places to visit.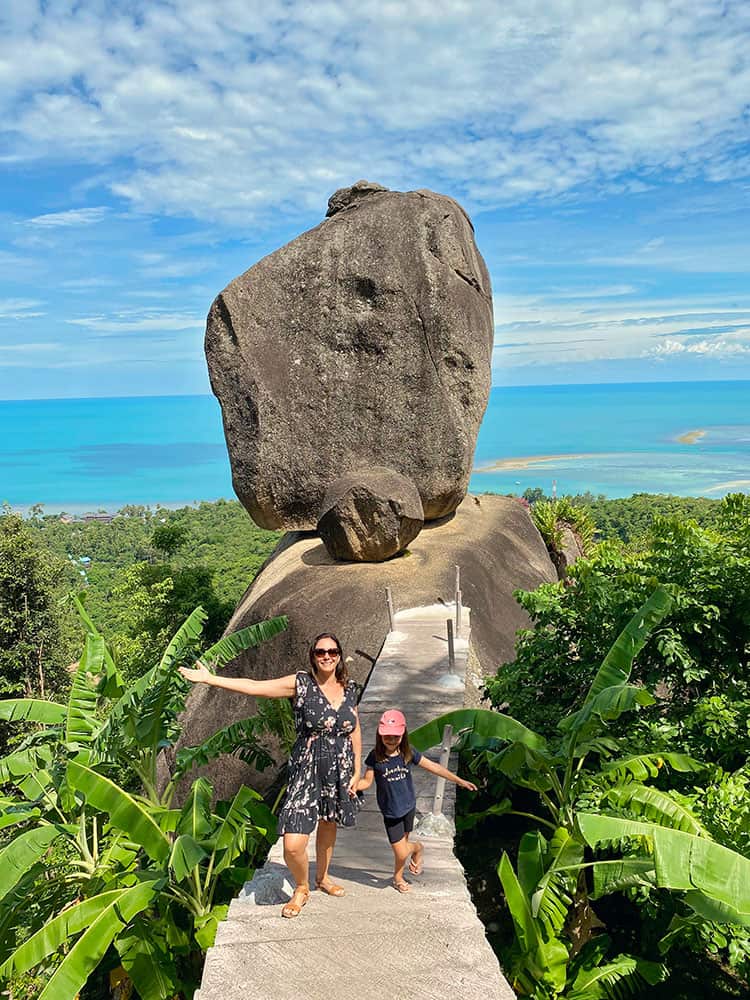 For a more off-the-beaten-path experience, you can take excursions to the elephant sanctuary, book a Ang Thong National Marine Park tour (don't miss this one!), and go on quad-bike safari tours.
Best Things to do in Koh Tao: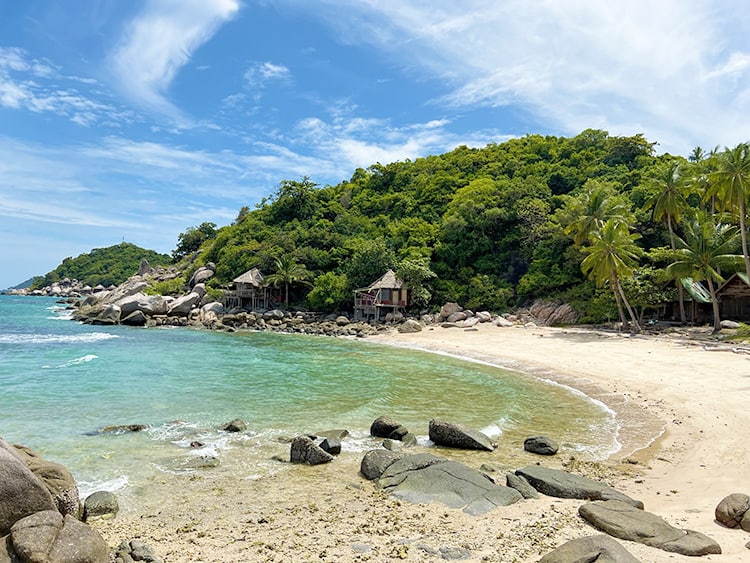 Thanks to the island's clear turquoise waters and stunning coral reefs, Koh Tao is widely known as a snorkeling and diving mecca of Thailand. Along the shore, you'll find plenty of diving schools and outfitters.
Go on a scuba diving experience (you can get certified to dive in 3 days) or book a speedboat tour around to 5 other islands to explore the Koh Tao region in the best way possible.
Koh Tao is really about snorkeling, diving, and time at the beach.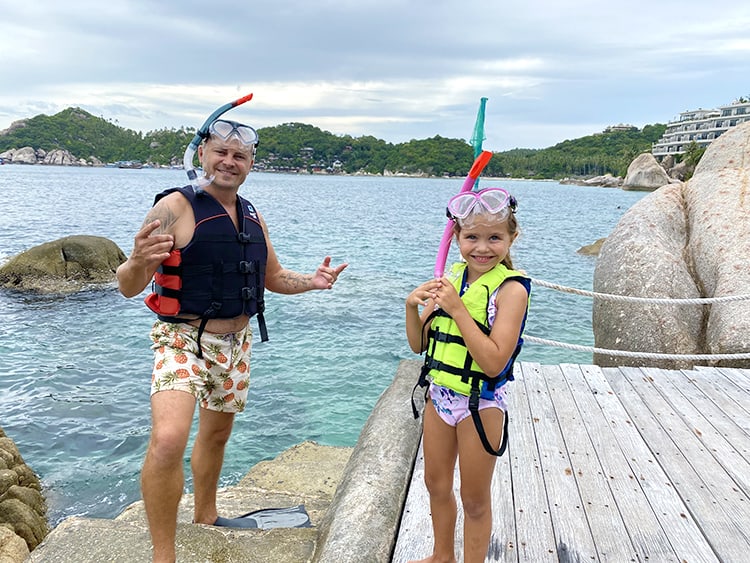 In a nutshell: If you prefer to be busy with activities, then go to Koh Samui – there are heaps to do. If you prefer snorkeling, diving, and beach time, then Koh Tao might be better for you.
---
Best Beaches In Koh Samui vs Koh Tao
Exploring the white-sand beaches and turquoise waters is a must-do in Thailand.
Each island offers excellent swimming, snorkeling, and diving conditions, but there are a few key differences.
Koh Samui Beaches
Koh Samui beaches are considerably more popular and much easier to get to. They are also free to visit (whilst some of the beaches on Koh Tao are privately owned and charge an entrance fee).
Many of the beaches have sun loungers available for rent. You can easily have a massage on the beach and there are also great beach clubs that you can visit as well.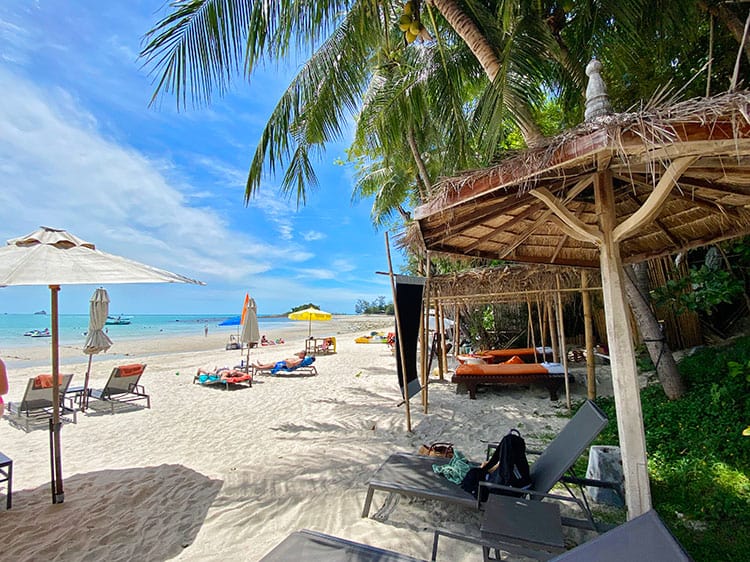 For those who prefer beaches that are more unspoiled, you can find those on Koh Samui too.
The beaches on Koh Samui draw in many tourists and beach lovers alike, especially during peak season. So they can get pretty busy.
The best time to visit Koh Samui beaches is in the shoulder month from March to June.
Thanks to the sunny days and warm temperatures, you'll enjoy plenty of water activities like fishing, island hopping, and snorkeling.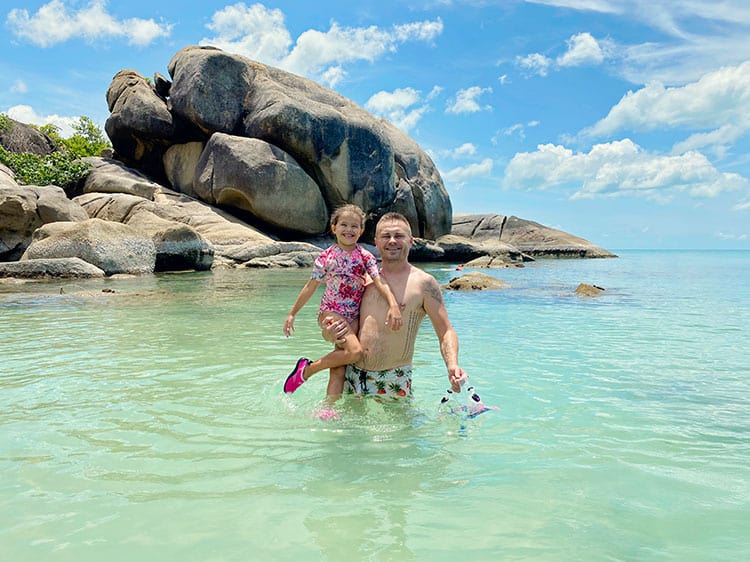 Some famous beaches in Koh Samui include:
Chaweng Beach — Home to an array of bars and restaurants that transform into beach party hubs when the sun goes down.
Lamai Beach — Boulders, palm trees, and powdery white sands. Pick Baobab Restaurant as your base for the day and get to use their kayaks, stand-up paddleboards, and small water trampoline free of charge!
Bo Phut Beach — A great place for a mesmerizing early morning (sunrise) or evening (sunset) stroll. Explore the seafood markets in Fisherman's Village; if you're an adrenaline seeker, you'll love jet skiing and waterboarding.
Silver Beach — A 273-yard beach perfect for a lazy day. The water is clear, and you can see the fish swimming about. Silver Beach also has calm and relatively shallow waters, making it ideal for families traveling with kids.
Koh Tao Beaches
On the flip side, Koh Tao is sprawling with deserted bays instead of crowded beaches.
So if you're looking for an escape from the hustle and bustle – Koh Tao is for you.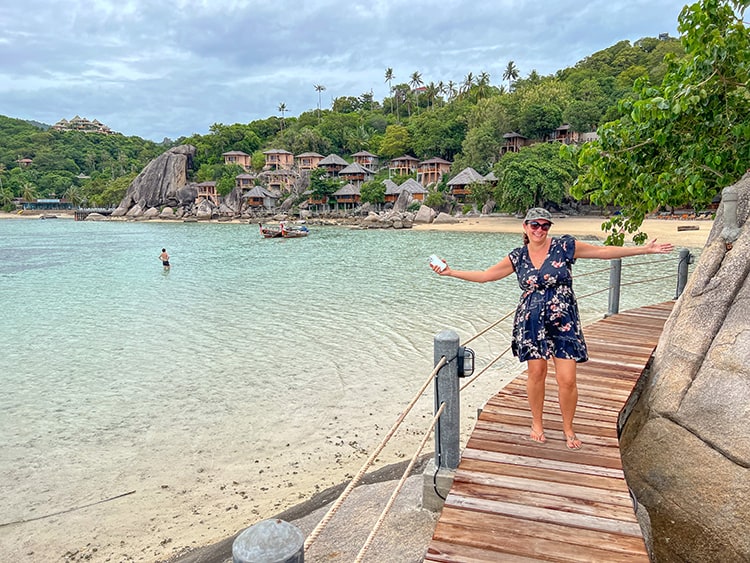 While most of the beaches in Koh Tao are centered around snorkeling along the dazzling coral reefs, you'll also find plenty of tranquil beaches perfect for a quiet day on the coastline.
Some famous Koh Tao beaches include:
Shark Bay — Thailand's best beach for snorkeling, and with some luck and a bit of effort, you may spot a shark.
Sairee Beach — The longest, busiest, and most popular beach in Koh Tao, with lively shores dotted with vibrant bars, restaurants, hotels, and diving schools.
Nangyuan Island — This postcard-worthy island is the typical depiction of Koh Tao; the island is connected by a sandbar, surrounded by clear turquoise waters, and has stunning hills in the background.
In a nutshell: Want to go snorkeling or diving, or prefer quiet more natural beaches? Then Koh Tao is your answer.
After, sun loungers, beach massages, beach clubs, loads of water activities such as jet skis, etc. Then Koh Samui is for you.
---
Nightlife in Koh Samui vs Koh Tao
If you want to explore the top Gulf of Thailand nightlife, you won't go wrong with Koh Samui.
The island boasts plenty of vibrant clubs, bars, and lounges. There are also more restaurants and food options in Koh Samui.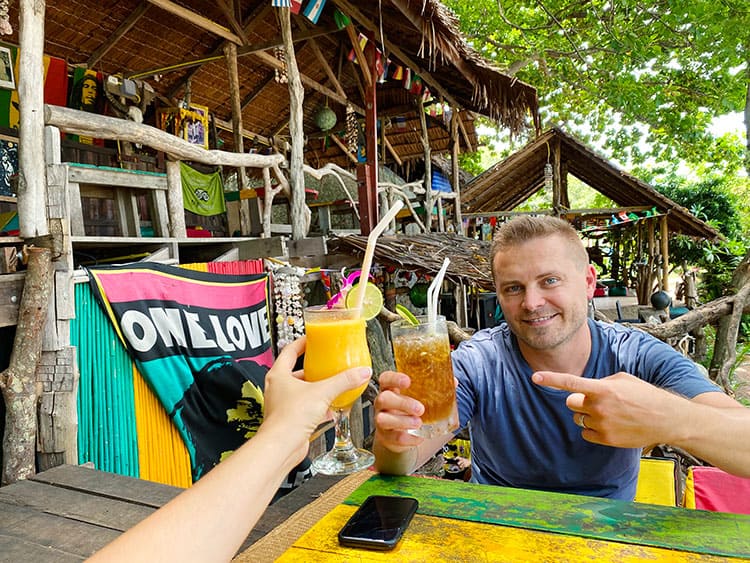 In contrast, Koh Tao has a more relaxed and slow-paced atmosphere. But that's not to say you won't find an impressive selection of bars and clubs in Koh Tao.
There are quite a few beach parties, and pub crawls in Koh Tao, but nothing tops the fun things to do in Koh Samui's nightlife.
For a unique experience, head to the neighboring Koh Phangan for an epic full-moon party, the island also hosts waterfall festivals and day-after festivals.
In a Nutshell: If you are after a nightlife scene, then I suggest you stick with Koh Samui.
---
Food in Koh Samui vs Koh Tao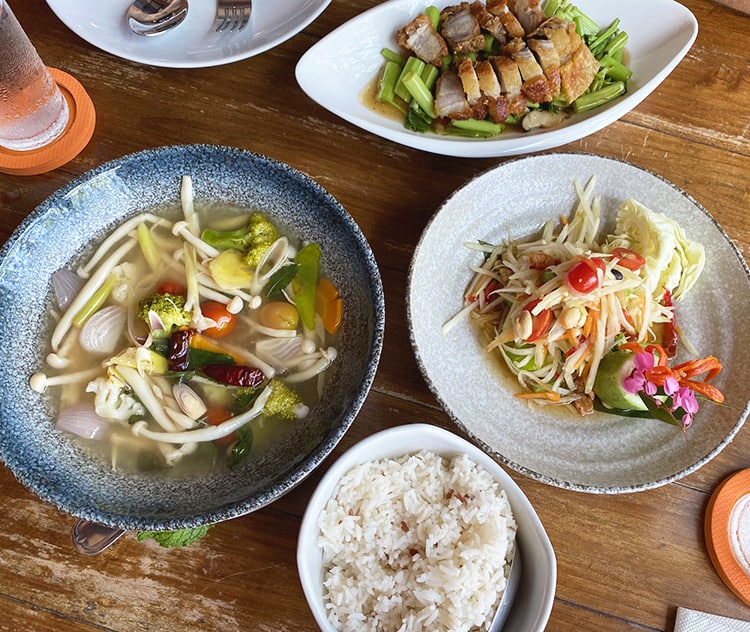 One thing you won't have any trouble finding on these two islands is tasty, flavorful, and zesty Thai food.
From upscale restaurants in Koh Samui to street food in Koh Tao, you'll always find the best Thai dishes.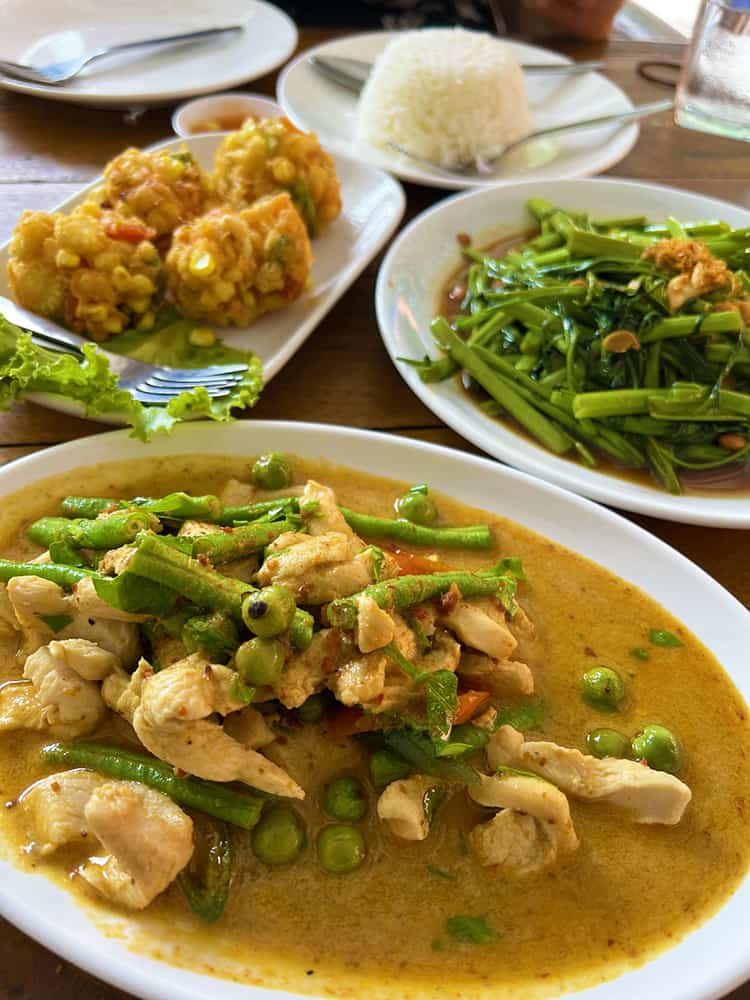 The food and night markets in Lamai and Bophut offer mouthwatering cuisine on Koh Samui, with dishes under just $3.
Join an authentic Thai cooking class followed by a market tour to get a glimpse of how the traditional fare is made.
And if you're craving some deep-fried chicken or a towering smash burger, don't you worry — Koh Samui has many bars and restaurants serving American and Western classics.
While Koh Tao has fewer restaurants, the paradise island boasts several eateries offering a relaxing atmosphere.
Centrally located, Tree House Cafe offers breathtaking mountain views, minimal island decor, and exceptional food prepared by Chef Yok.
My Opinion: If you are a foodie and are after the yummiest food and prefer variety then I suggest you pick Koh Samui. There are so many incredible restaurants in Koh Samui that serves up delicious food!
---
Resorts in Koh Samui vs Koh Tao.
Now let's talk about accommodation. Koh Samui and Koh Tao are two of the best places to visit in Thailand for first-time travelers, and it's not hard to see why.
Both islands offer stunning bungalow resorts, beachside villas, and resorts.
Koh Samui Hotels
Koh Samui has a broader scale of budget, mid-range, and luxury hotels. You can also find the best family resorts in Koh Samui.
If you're traveling through Thailand on a budget, Koh Samui backpackers will love staying at the Monkey Samui Hostel. It's great to meet fellow travelers and visit the Big Buddha.
If you're traveling in a group or with kids, you'll definitely need more space, so booking a beachside villa is your best bet.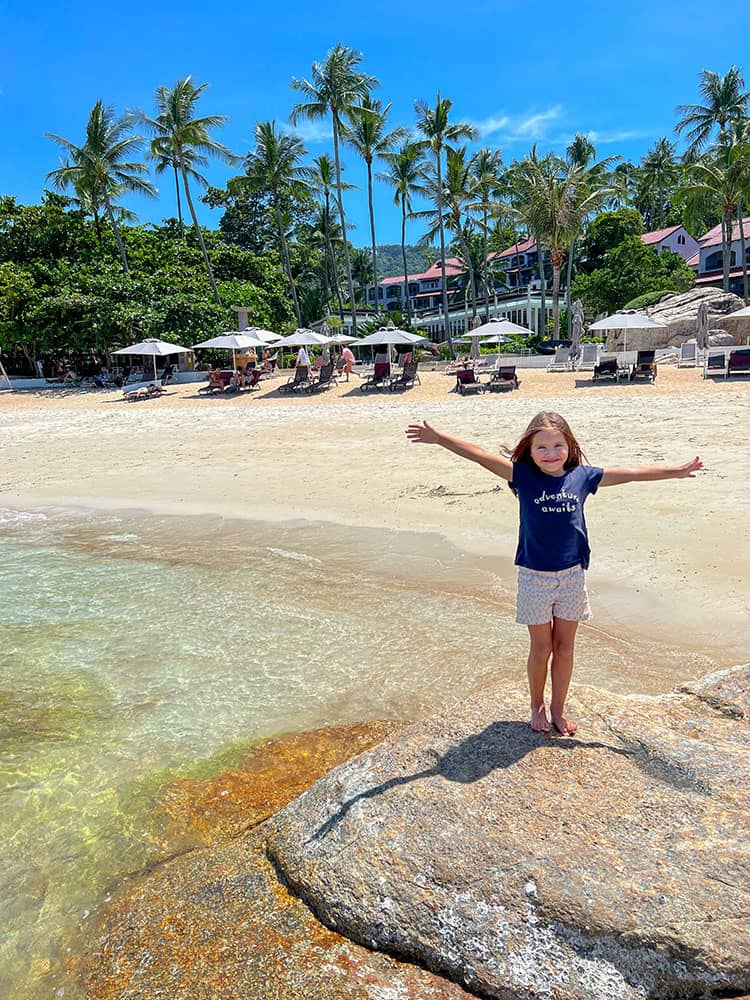 The Best Hotels In Koh Samui:
After a quick list of the top hotels in Koh Samui? Here are the best resorts in Koh Samui.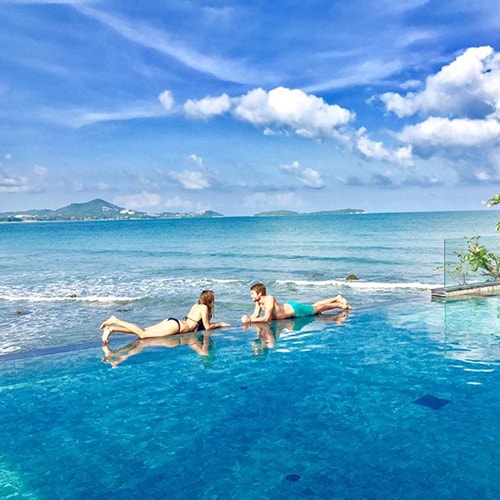 The Sarann Hotel
4-Star Hotel Beachside Resort
Less than 0.2 miles from the famous Chaweng Noi Beach.
Modern beachside villas, a spa, and both indoor and outdoor pools.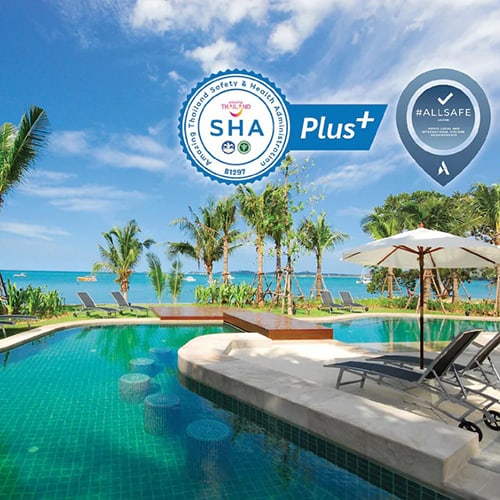 ibis Samui Bophut
3-Star Beachside Resort
On Bophut beach
An idyllic resort with excellent views
Located on an unspoiled private beach that couples love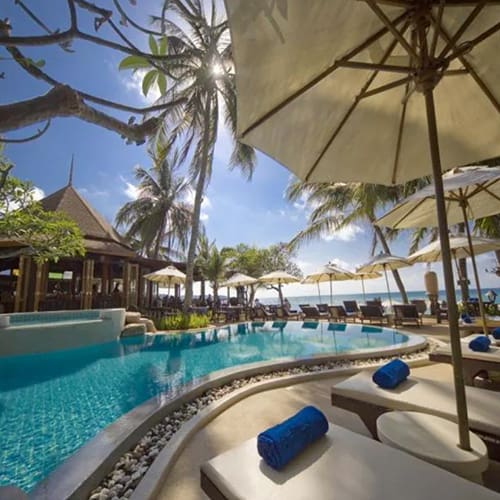 Thai House Beach
3-Star Resort on a Private Beach
Located in stunning Lamai Beach
Amenities: indoor and outdoor pool, a kiddies pool, an on-site restaurant, and room service.
---
Koh Tao Hotels
Due to limited accommodation options in Koh Tao, you may have to pay a bit more for your stay.
Koh Tao's secluded nature often appeals to solo travelers and backpackers who flock to the island for its excellent watersport and charming night markets.
The Best Hotels In Koh Samui:
After a quick list of the top hotels in Koh Samui? Here are the best resorts in Koh Samui.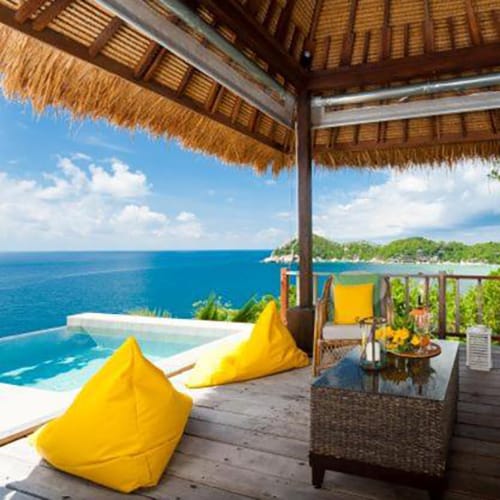 Cape Shark Villas
4-Star Villas with stunning views!
Seafront villas with private pools
Rocky oceanfront that is perfect for snorkeling
Free kayaking and snorkeling rentals.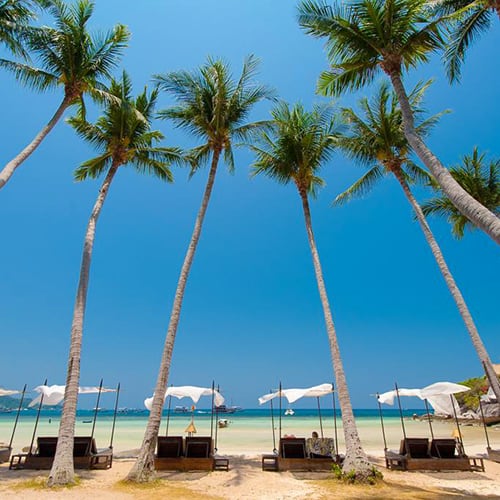 Koh Tao Cabana Hotel
4-Star Beachside Resort
On Sairee Beach
On a very popular resort with massage, a restaurant, and an indoor pool on-site.
Be far enough from the action to have a calm stay, but close enough to reach the action in 10 min.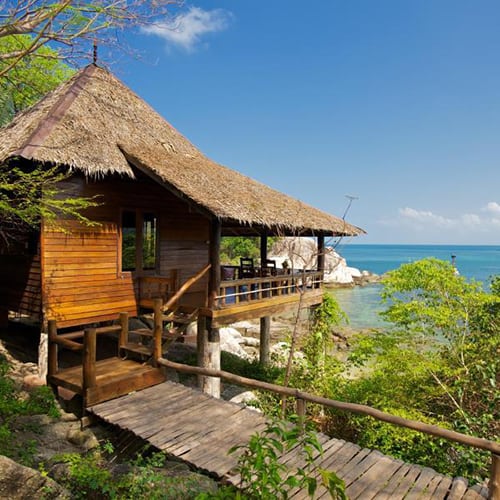 Sensi Paradise Beach Resort
Popular 3-Star Resort
Situated in Mae Haad
Amenities: massage, restaurant, and indoor pool on-site.
Really affordable price
---
Koh Samui vs Koh Tao: How To Get There?
One major thing Koh Samui and Koh Tao have in common is that both islands are in the Thai Gulf, east of the mainland. So getting to either isle will require traveling via ferry or airplane.
How To Get To Koh Samui?
Getting to Koh Samui is much easier to do. Being one of Thailand's largest islands, Koh Samui has the advantage of having an international airport and a more sophisticated network of roads.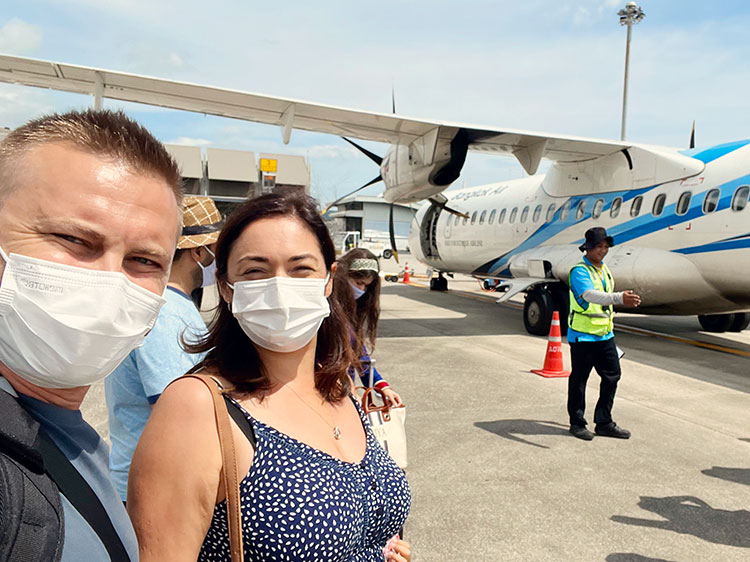 Tourists coming in from Thailand's capital can quickly get to Koh Samui from Bangkok on an hour and 15-minute flight via Bangkok Airways. You can book your Bangkok Airways tickets by clicking here.
But if you're wondering how to get to Koh Samui from other Thai and major international cities, here's a short rundown:
Phuket to Koh Samui (one hour via Bangkok Airways) – A direct flight from Thailand's largest and most popular island, Phuket, takes only an hour.
Chiang Mai to Koh Samui (one hour, 50 minutes via Bangkok Airways) – From the mountainous region of northern Thailand, a direct route from Chiang Mai is less than two hours.
Krabi to Koh Samui (one hour via Bangkok Airways) – You'll take a one-hour flight from Thailand's southern city of Krabi province.
However, flying is not the only way to get to Koh Samui.
You can take an overnight bus (or train) from Bangkok to Surat Thani and then switch to a ferry to Koh Samui.
Crossing over will take you anywhere from 90 minutes to two hours, depending on the type of ferry you board. A ferry will cost you about $22 to $25.
The bus transit may be the longer route, taking about 13 to 16 hours but halfway through your trip, you'll stop for a meal.
How To Get To Koh Tao?
You have fewer options to get to Koh Tao, which gratefully only simplifies the process.
A ferry from Koh Samui to Koh Tao is your best bet. The ride will take about an hour and 30 minutes to two hours and cost between $20 and $29. Book your ferry tickets here.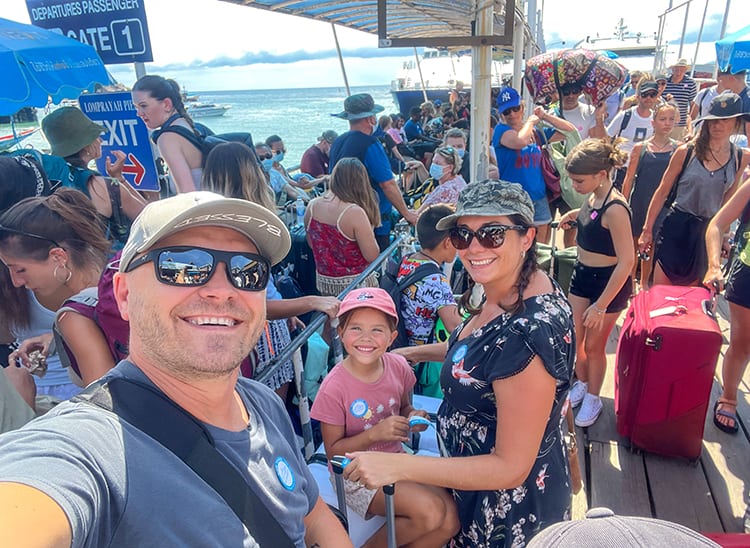 Keep in mind though, that Koh Tao is incredibly hilly. This means cars aren't really an option for getting around the island, so you'll have to opt for a scooter.
---
FAQs About Whether You Should Visit Koh Samui or Koh Tao
FAQs
Here are some answers to some of the most commonly asked questions about whether you should stay in Koh Samui or Koh Tao.
1. Why is Koh Samui so popular?
Koh Samui is a tropical paradise with stunning beauty, delicious cuisine, vibrant nightlife, and friendly locals.

Enjoy white sand beaches, serene bays for swimming, and vibrant coral reefs for snorkeling and diving.
2. Is Koh Tao more expensive than Koh Samui?
We found that accommodation and transportation costs were higher in Koh Tao.

However, food and activities were more expensive in Koh Samui. It is more pricey to get to Koh Tao in comparison to Koh Samui.
3. Is Koh Samui too touristy?
In my opinion, I think Koh Samui loses its charm and island feel during the peak season (December – February) as it gets too crowded with tourists.

Fortunately, it is a pretty big island, and you can still find secluded more peaceful beaches and quieter restaurants if you stay clear of the most popular areas.

But my suggestion is if you want a more local authentic Thai island feel, head to Koh Tao instead.
4. What is the difference between Koh Tao and Koh Samui?
Koh Tao, two hours from the mainland by ferry, offers stunning scenery and a relaxed vibe, ideal for snorkellers, divers, and nature lovers seeking tranquility away from the bustling city.

In contrast, Koh Samui, just an hour away, is more developed with abundant amenities like restaurants, shopping, and attractions.

Koh Samui can get crowded during peak season while Koh Tao stays peaceful.
5. Is it worth going to Koh Tao?
Koh Tao stands out as my top pick among the three islands, exuding an authentic Thai island ambiance. This stunning paradise boasts pristine beaches, unparalleled snorkeling, and exceptional diving opportunities.

Without a doubt, a visit to Koh Tao is a worthwhile experience that shouldn't be missed.
---
Final Thoughts: Should You Visit Koh Samui or Koh Tao?
Koh Samui is the bigger and most popular of the two, it's very touristy, and you'll find plenty of ex-pats living on the island.
You'll also find it much easier to get from place to place; renting a car or taxi for your next adventure is pretty straightforward.
Tip: Tuk-tuks, motorbike taxis, and Songthaews are the most common and cheapest forms of transportation.
While Koh Tao is much smaller and quieter, it offers the same tropical adventure.
You'll find lots of beautiful places to discover that won't be packed full of tourists and deserted bays, making you feel like you're on a private island.
Ultimately the decision between Koh Samui vs Koh Tao relies on your needs and wants as a traveler.
Both islands offer pristine turquoise beaches with bustling food and night markets and some of the most epic moon parties in the world.
Which is the best? In our opinion, visit both and decide on lived experiences.