There's so much about Japanese cuisine that fascinates visitors to the country.
Sophisticated presentation, rich nutrients, and taste are just a few. Kids, on the other hand, are a little harder to impress.
When you're traveling to Japan with kids, food can be a stress factor. What will your kids eat? Will they be willing to try new things? Is it going to be McDonald's every day? 
If you are planning a family trip to Japan, it might surprise you to learn that food in Japan is extremely kid-friendly.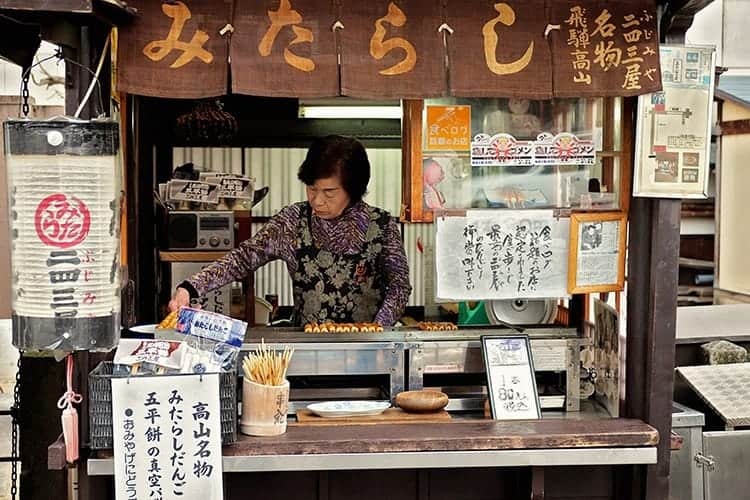 Our kids love Japanese food. We have two teens and a 6-year-old who just loves Aburi Salmon (grilled salmon sushi)!
As a family, we love Japanese food so much that we eat at our local Flaming Sushi House weekly.
Best Kid-Friendly Japanese Dishes
We have put together the best kid-friendly Japanese dishes that you and your family must try when you visit Japan and enjoy the many things to do when in Japan.
If you find a dish you love, you can recreate the experience when you get home with purchases from a Japanese online store.
1. Miso Soup
Visit Japan and you'll witness plenty of Japanese kids eating miso soup. Why is it so popular? Because it's light, healthy, and can be eaten any time of the day, even for breakfast.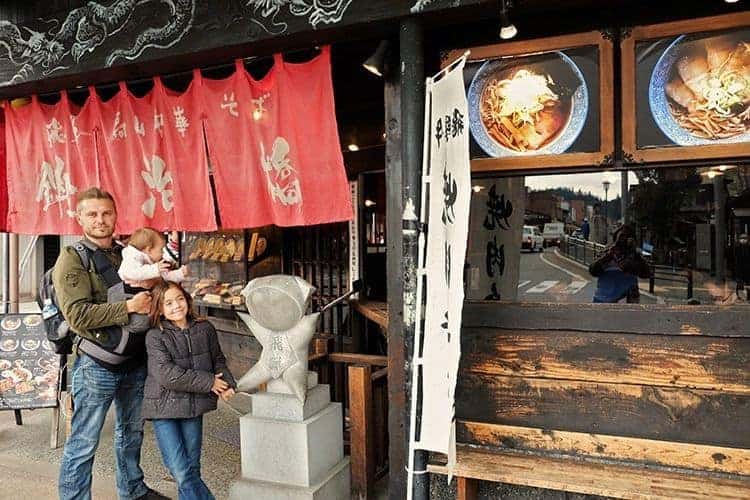 To make the soup you first blend koji and soybeans into a paste and then mix it in a hot broth along with tofu and scallions.
If you want to increase the soup's nutritional value, add a variety of veg and seaweed.
2. Curry and Rice
This is another favorite with kids all over the world. It's tasty, simple to make, and a great option when traveling. 
It's possible to adjust the seasoning and spices to suit your taste and add whatever veg you like.
Your kids can also decide whether to eat it with or without meat.
Wherever you travel in Japan, you'll have no problems finding this dish for your kids to eat.
3. Gyoza
This is more Chinese than Japanese but you'll find Gyozas across restaurants in Japan.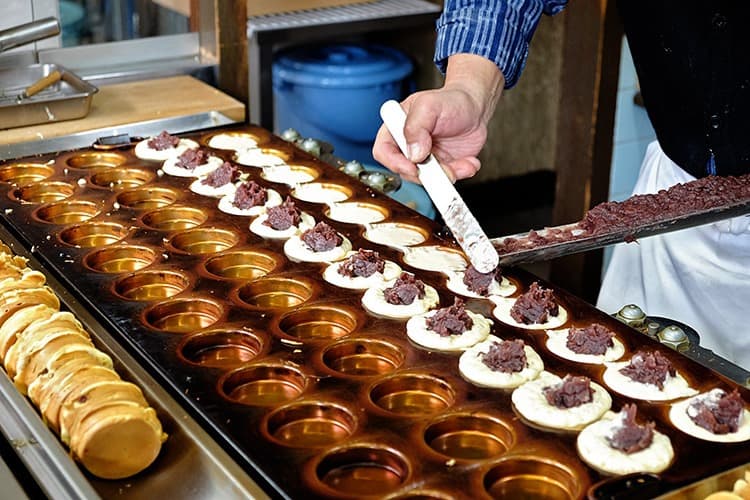 This dish is derived from the Chinese Jiaozi. They are dumplings filled with meat and herbs, wrapped in a pastry, and pan-fried.
Make sure you let the dumplings cool for a while before your kids tuck in as the filling can be very hot.
4. Tempura
You won't go far wrong with Tempura. It can be battered and deep-fried chicken, fish, shrimp, or veggies.
They make for great snacks when you're on the go or as a side when sitting down for a meal.
Compared with Western fried dishes, Tempura is much healthier as the batter is thin and lightly deep-fried.
5. Edamame
This is one of the more popular snacks available in Japan.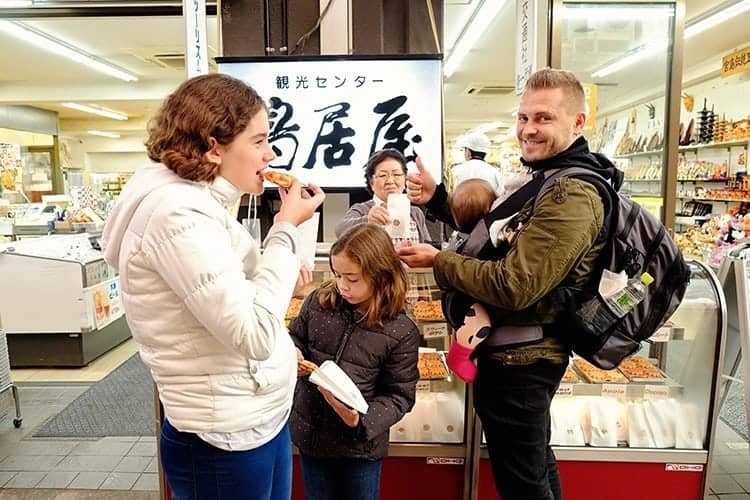 Edamame is a very appealing snack and possibly one of the healthiest kid-friendly Japanese foods you'll find. Young soybeans are blanched in slightly salted water.
Edamame has plenty of fiber and will keep your kids feeling full for hours.
It's also a customizable dish to which you can add your kid's favorite seasoning.
6. Onigiri
Onigiri is a Japanese dish made using rice balls that you will find stuffed with all kinds of things. To finish the dish, the rice balls are wrapped in nori seaweed.
Traditionally, the balls would be cylindrical or triangular, but realistically, you can have them made in any shape you want.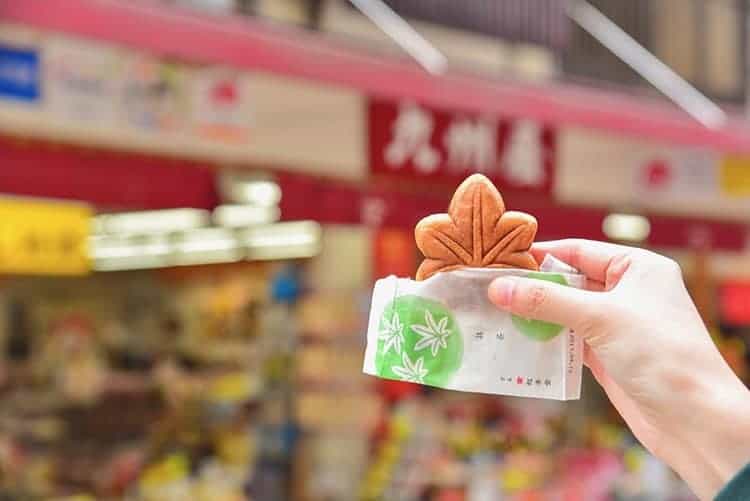 Perhaps dinosaur shapes might make onigiri even more appealing for your little ones. 
7. Teriyaki Chicken
This Japanese dish is heavenly for your kids and you. It pairs easily with rice, in a sandwich, or you can eat it by itself.
Teriyaki sauce contains onions, ginger, garlic, soy, and other spices together with a dash of brown sugar. The sauce is used to coat chicken and veggies.
It's an easy dish to replicate at home by barbequing the meat or picking it up at a restaurant.
8. Tamago Sushi
This is a great introduction to sushi for kids. It's an egg, prepared like an omelet but sweetened with a rich, custardy texture.
It is sliced into rectangles and wrapped together with sticky rice in Nori seaweed.
This dish is rich in protein, carbs, minerals, and vitamins and has some seriously complex flavors.
9. Sushi
Find a list of Japanese food anywhere on the planet and it's bound to include sushi.
If you are a little concerned about your kids eating raw fish, start them off with vegetables and stuffing of cooked meat.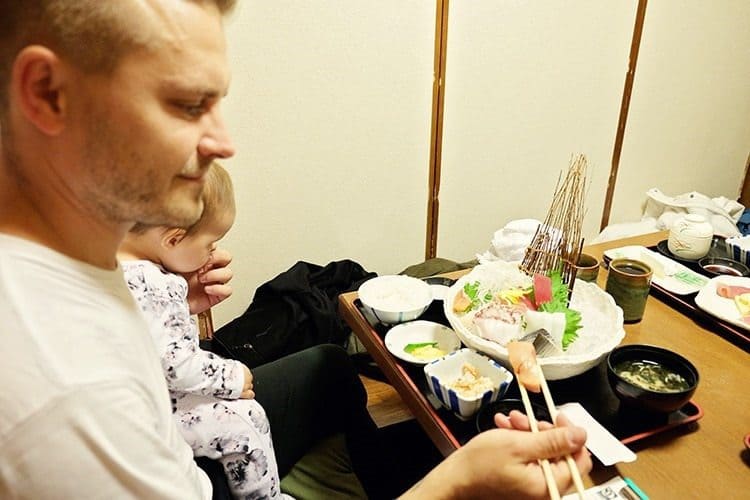 If your kids aren't new to the sushi experience, you'll have no problem feeding them in Japan because it's a dish you'll find everywhere.
It's also a top nutritional dish thanks to the ingredients which typically include rice, veggies, fish, and seaweed.
10. Bento Box
This is not strictly a dish but bento boxes are nevertheless fun. Bento boxes are an assortment of foods that you can mix and match.
Put together a main dish of carbs such as rice or noodles. Pair these with proteins such as chicken, eggs, or any other kind of meat or fish. Add cooked or blanched and seasoned vegetables and you're good to go.
Don't worry about putting this together when you're traveling because most Japanese convenience stores carry bento boxes you can purchase. You'll also find them at railway stations.
11. Udon
The last dish on the list is Udon noodles. They are chewy which makes them very enjoyable.
The noodles are made of wheat and served in a hot broth of veggies and meat. It usually comes loaded with meat, making it a good way to get protein into your kid's diet.
To encourage them to eat their veggies, add some greens and other vegetables.
Conclusion on Best Kid-Friendly Dishes
That is our complete list of the 11 best kid-friendly Japanese dishes to help make your first family vacation to Japan as stress-free as possible.
Let us know which dishes your kids loved the most and which dishes you will be recreated when you return home!