If you are searching for the ultimate family destination in Europe look no further. Here you can read why you should visit the region Istria in Croatia.
Istria is the most visited region in Croatia. It's a destination for couples, adventure lovers, food and history lovers, but Istria is most popular for its family holiday tourism.
It is easily accessible by car from many European countries and well connected with seasonal flights to Pula from cities like London, Paris, Stockholm, etc…
Top 7 Things to do in Istria with Kids
Istria offers a list of fun things to do. Apart from having beautiful beaches and bays to explore and enjoy, it is full of adventurous stuff to do with kids.
But first things first, when you come to Istria, choose a place to stay and go on day trips from there. If you book a stay in the most central part of the region it is easy to drive around.
Maybe the best cities to choose are Poreč or Rovinj. Both have great accommodation offers and are as well pretty beautiful and historical, so a visit you won't regret.
But let's get into the fun part and places to visit with kids.
1. Cycling
Cycling is very popular in Istria, especially road cycling followed by mountain biking. You will find marked cycling trails, passing through different landscapes: from coastal trails to the hilly hinterland. It is equally popular among professionals and recreational cyclists.
The cycling season starts in March, you'll notice lots of professional teams training on Istrian cycling trails if you happen to be here. Over twenty cycling events and races are taking place in Istria from March to October. Some are professional, while others are recreational.
---
2. Brijuni Islands National Park
Brijuni islands are one of Croatia's seven national parks, an archipelago consisting of 14 small islands. The islands are located just off the coast of the small town Fazana and are easily accessible.
In the summer you can swim on the islands, rent a golf cart and drive around. But the best part is the animals on the islands.
You can have a safari tour and watch zebras, ostriches, even an elephant. Your kids will love it there for sure!
---
3. Glavani Park
Near the village Barban, Glavani Park is located. The park has adrenaline-filled high ropes courses:
6 m high blue course and 10 m high black course,
2 m high training course,
11 m high swing and
Europe's first suspension bridge across the valley.
If you aren't into adrenaline activities, the park has also kiddie games and an adventure treehouse, as well as a small farm with animals. This is definitely a place for the whole family. It is one of the top 10 things to do in Istria on Tripadvisor.
---
4. Water Parks
There are two water parks in Istria, Istralandia, and Aquacolors. Istralandia, near Novigrad, is the first water park in Istria, it has a total of 20 slides including a 27 m high free-fall slide, three large swimming pools, sand volleyball and badminton courses, food court, and a souvenir shop.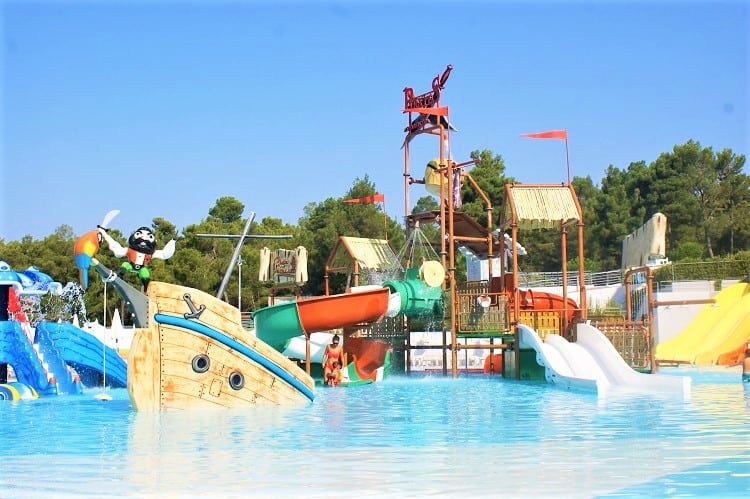 Aquacolors is located near Porec and has 12 slides, a wave pool, a lazy river, a children pool, tennis and sand volleyball courts, lots of sunbathing areas, toilet facilities, lockers, shops, bars, and fast-food restaurants.
Consider spending a day at one of these two parks. Lots of fun guaranteed.
---
5. Jump!
If your family is a real adrenaline lover… There are eight take-off and landing sites for hang gliders, and ten sites for paragliding. They are all located in the area of Buzet, at the Cicarija, and Ucka Mountains.
All flights are coordinated with local clubs. Paragliding club Tići organizes tandem flights. The club currently has twenty paragliding pilots. Hang gliding is organized by flying club Homo Volans, based in Opatija.
Paragliding Istra is another paragliding club with a flight training facility located in Motovun. They also offer tandem flights. Few companies are offering scenic flights over the Istrian peninsula.
Both companies are located at the small sports airports, Delić Air in Medulin, and AeroVrsar in Vrsar.
---
6. Dinosaur Park
Dinosaur Park in Funtana is a perfect place to visit with small children. Set in an ancient quarry and surrounded by thick woods, it is a nice place to visit even during hot summer days.
The park has over 1.5 km of paths, life-size electric dinosaurs, amusement rides for small children, and a small farm where kids can ride ponies. The park also has regular shows throughout the day.
---
7. Pazinska Jama
Located in Pazin, Zipline Pazinska Jama has four lines in total. Two of them are just 80 m long and serve as a warm-up before the "real" adrenaline rush that awaits on the following two lines: 220 m and 280 m long.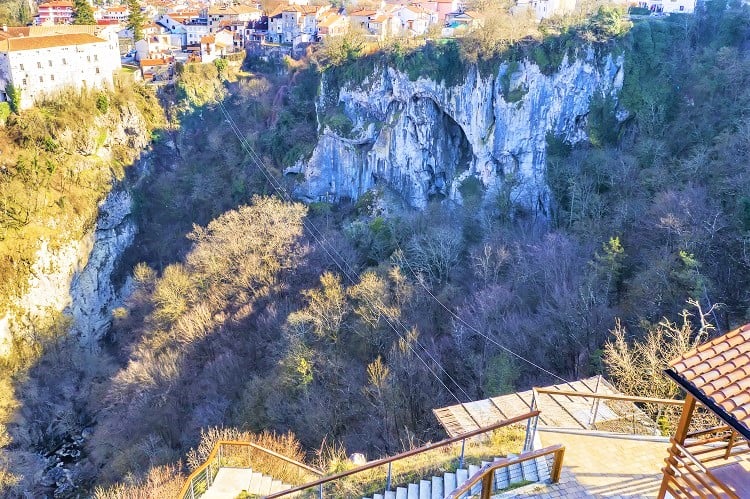 On longer ropes, you can develop a speed of up to 50 km/h. The highest-flying point is 100 m above the Pazin abyss. The views are spectacular particularly from the last, and longest line as you see wonderful Pazin Castle in front and the Pazin canyon below.
Another activity for adventurous kinds, rope jumping free fall is organized by the same guys who run Pazin Zip Line. And the site is at the same spot.
As you jump into the abyss from the small bridge, you swing within a 25 m radius. Definitely not for the faint-hearted folks!
So there you have it, pretty impressive huh? I hope now you see why Istria is such a popular place. I am sure you and your kids will love it here!
About Monika
Monika is the creative soul behind Frank about Croatia.