What do you get when you cross a great golden sun high in the bluest sky, hot sandy beaches that stretch as far as eye the can see, shaded beach bed to lay on and a delicious, freshly prepared refreshing cocktail??
Yes!! You guessed it. A bloody awesome day!!
These beaches are most definitely not Bora Bora five star rated paradise-style beaches.
This is also definitely not the pure Whitsunday Island beaches.
These are the beaches of Hoi An.
Just about 4 km from the center of the gorgeous Hoi An Ancient Town in Vietnam, you will find the Hoi An beaches of Cua Dai and An Bang.
Imagine golden, fine sand covered beaches, all lined and filled with spectacular palm trees.
These are two of our favourite little spots for both relaxation, cocktails and some fine local cuisine.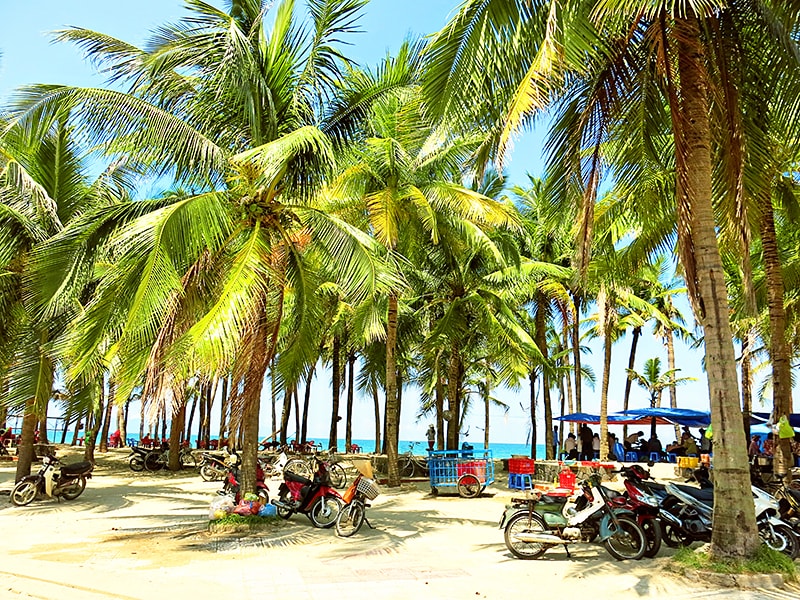 Helpful Posts: 
Here you will find exactly what you need, food, drinks and drinks and drinks, and plenty of it hahah.
Yes, the vendors, restaurants and mini kitchens are everywhere, so you will have plenty to choose from. Do not settle for just any of the places.
Go for a wander and find yourself a little piece of paradise to relax in.
–
An Insanely Awesome day Relaxing on the Hoi An Beaches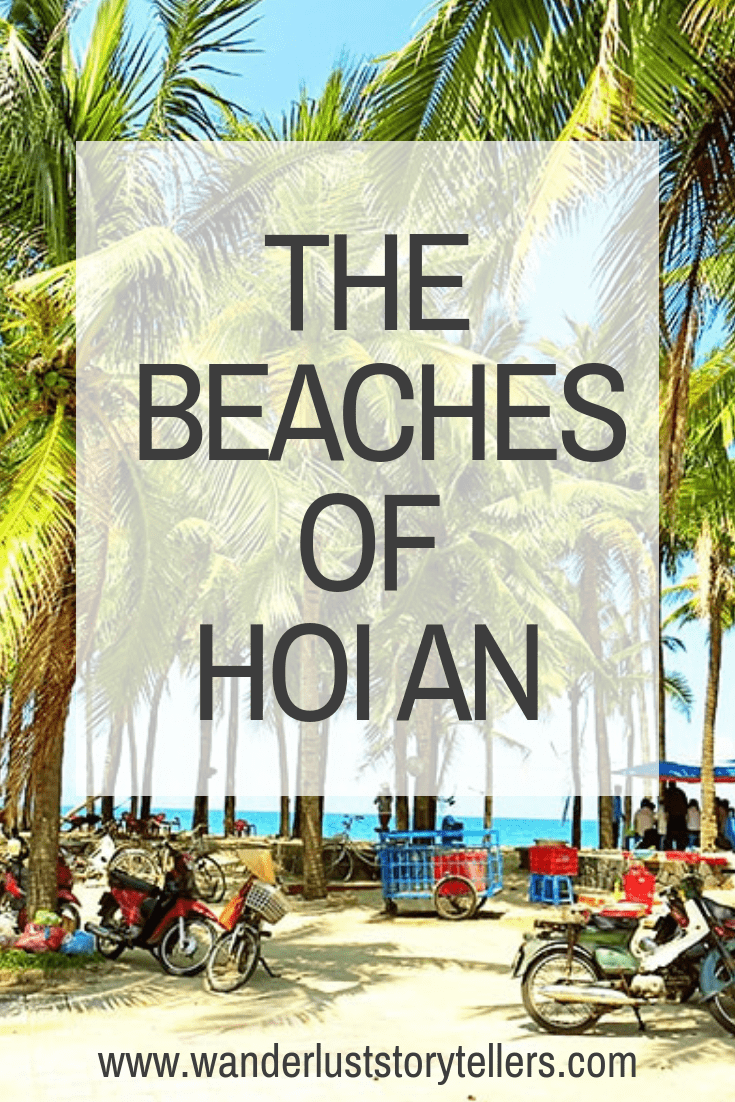 –
Cua Dai Beach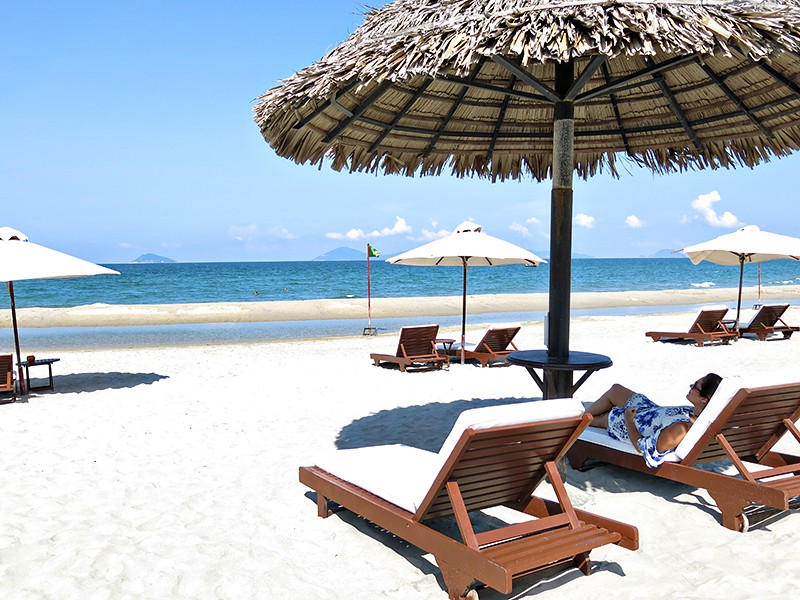 We started our beach exploration at Cu Dai Beach. It was easy for us as we stayed at the awesome Victoria Hoi An Beach and Spa.
Cua Dai is the closest beach to Hoi An. This small part of the beach (as seen in the photo above) belongs to the resort that we stayed in and as you can see it is pretty bloody nice!!
We were here at midday, so not many people were sharing the experience as it was ridiculously hot.
The only way you could stand the heat was to hide under the shade, quickly!!
As you jump to the other side of the resort (if you are staying here), you will find a different view.
Yes, not as pretty as the previous picture.
Well, being situated at this amazing part of the world, Cua Dai beach is (as the whole coastline here) affected by pretty constant erosion. Unfortunately, the typhoon a few years ago didn't help the cause of protecting this piece of paradise.
Don't worry. As you can see the locals, together with help from the local government, try to keep the sand controlled, leaving these beautiful sandbags on shore.. hahah..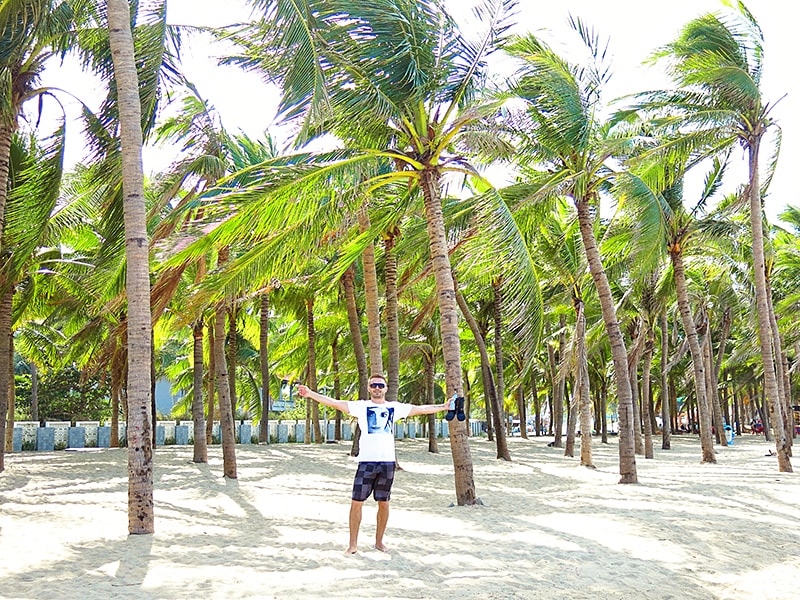 I know,  but still got the beautiful palm trees behind them!!
You can literally pick and choose your own tree to sit under and relax if you please.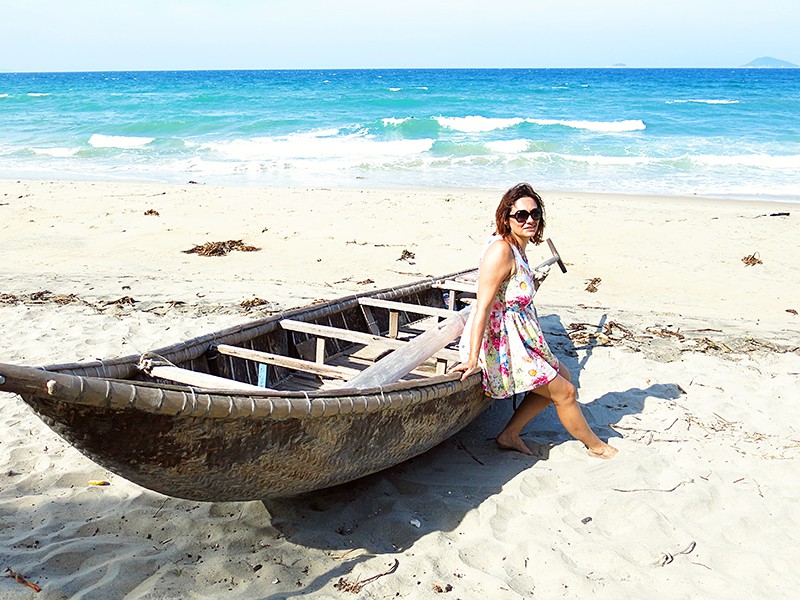 Plenty to see along the way as you walk north towards the An Bang Beach.
You can find, scattered on the shoreline, traditional fishing boats.
You can stumble upon a gorgeous girl relaxing with her feet in the sand.. Ohh.. That's my wife.. Isn't she gorgeous!!
Or you can find a very cool lightweight woven bamboo basket traditional fishing boats. These are very interesting to us, as we come from Australia and these designs are not our traditional shape. To us, it looks more like a cool basket boat to take a trip on, not as a means to get food for the family.
Anyway. Very funky little things and you simply must jump into one for a photo opportunity when here.
–
An Bang Beach
This very popular and very touristy stretch of the Hanoi Beach is called An Bang!!
Now, this is what I call relaxation in style.
No need for some fancy treatment.
Here you simply need a bikini or board shorts, a wallet for some yummy cocktails and the smile on your face will appear by itself.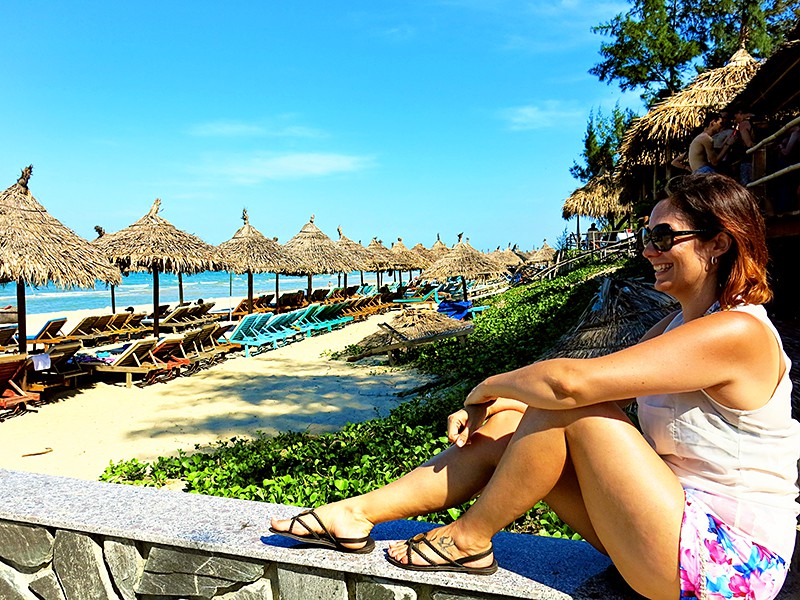 Haha, seems like the add for Mastercard:
Beach chair depending on which bar it belongs to: 50,000 VND for one or 80,000 VND for two. (Or plan to have your lunch in their designated cafe to get it for free)
Incredibly refreshing, freshly-made Pina Colada 60,000 VND
Thirst crunching local La Rue beer 45,000 VND
Smile on the face in perfect relaxation with your loved one.. Priceless!!-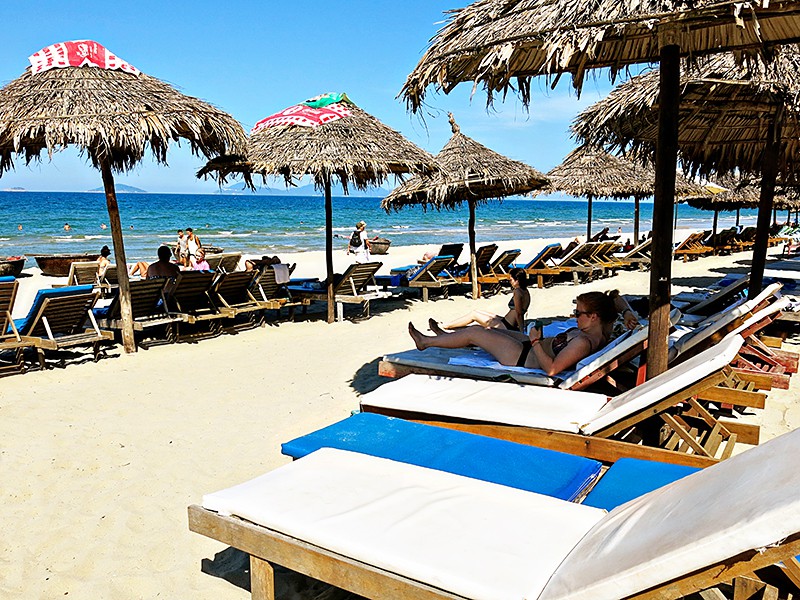 I mean, really.. Do you need much more than that??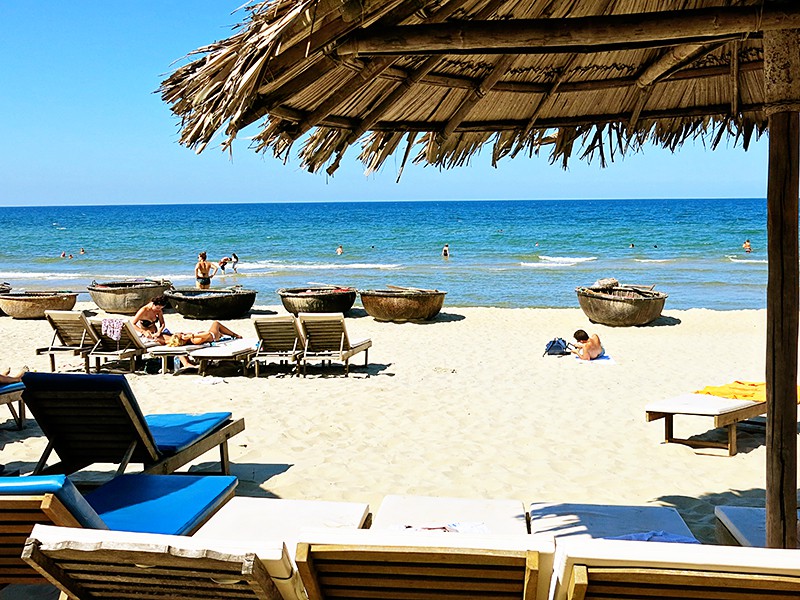 Ahh yes.. View.. check!!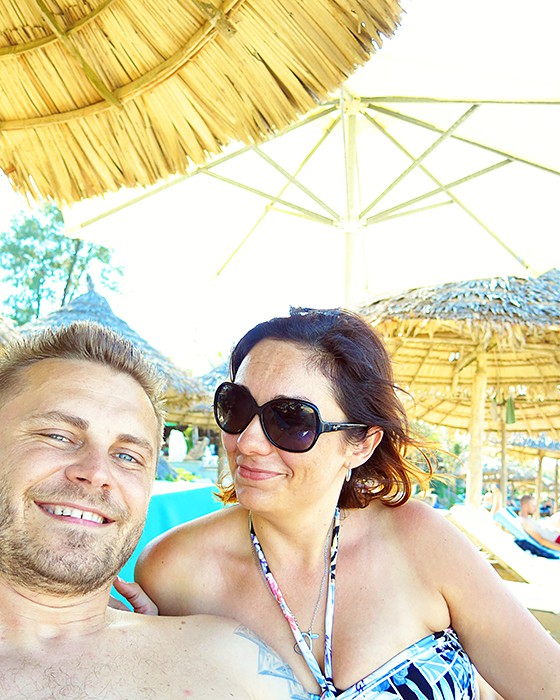 Beautiful and smiling at all your not-so-funny jokes girl next to you … check!!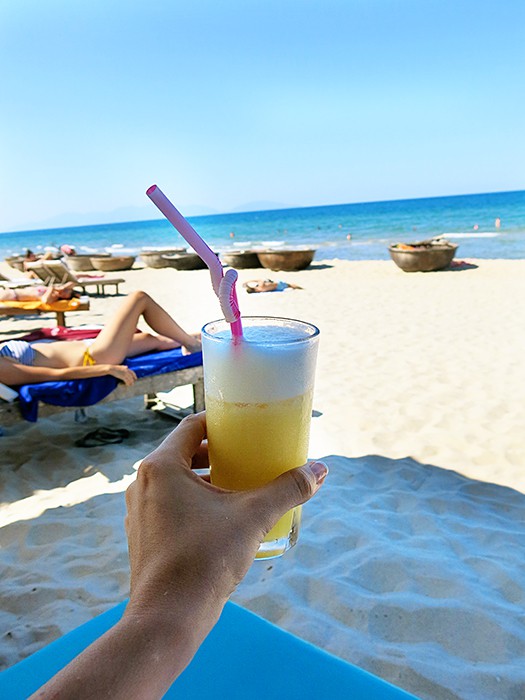 Cocktail in your hand.. Check!!
I think that just speaks for itself.
It is all good, when you are chilling out at one of the Hoi An Beaches.
Whether it is Cua Dai or An Bang beach, choose for yourself. We think maybe the second of two. Just that little bit more relaxing and amongst some cool international visitors.
–
Recommendations:
I guess I should leave you with a couple of recommendations for this area of the Hoi An
Book a hotel close by, we recommend Victoria Hoi An Resort and Spa
Go for a walk from Cua Dai to An Bang, it's only 3km and don't forget your wallet (note to self)
Pop some sunscreen on you and avoid the midday heat
Try out the famous Soul Kitchen beach bar & restaurant, highly popular hangout spot
And finally just chill out here.. forget your watch and relax
Which Hoi An Beach attracts you the most: Cua Dai or An Bang beach?

What is the first cocktail that you will order when laying in the comfy beach chair?

–
Please help us grow by pinning the image below!!  YOU ARE AWESOME, THANK YOU!!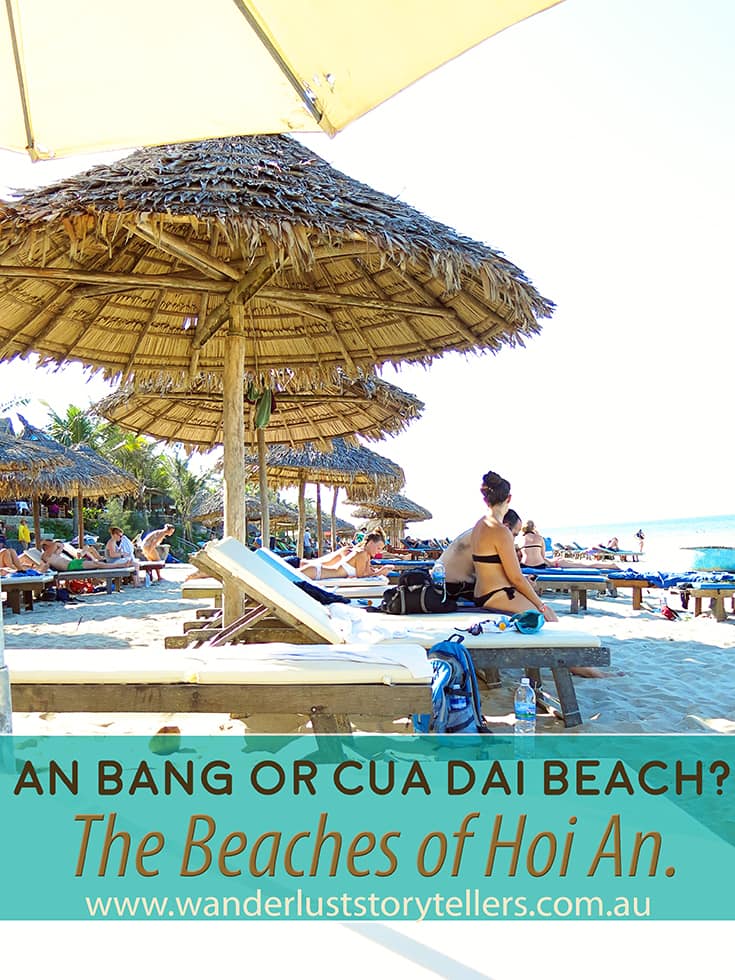 Further Reading:  
Check out the best hotels and resorts in Hoi An
Explore Hoi An country-sides and villages
Find out best times to see Vietnam
See if you should book a basket boat tour – read our honest opinion about the Hoi An Basket Boat Tour here.