Everest Base Camp is one of the most prominent trekking destinations in Nepal. It takes you to the base of Mt. Everest, the highest mountain on the planet.
This is a 14-16 days trek which helps you to explore some of the most beautiful landscapes in Nepal. You'll walk through dense forests, beautiful farmland, barren land, and glacial pool.
Also, the continuous views of the chain of Himalayas are what engages you throughout the trek.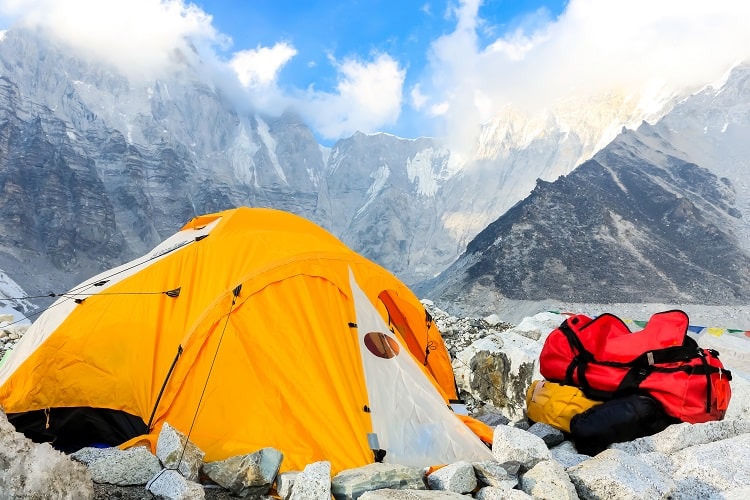 Everest Base Camp Trek is a moderate level trek which is best traversed in Autumn (Late September, October, November) and Spring (March, April, May).
Here's a detail of everything you need to know before trekking to Everest Base Camp. With the reliable information on all aspects of the trek, you can have a smooth and memorable trek to Everest Base Camp!
Highlights of Everest Base Camp Trek
Enjoy the thrilling Lukla flight
Trek to the base of Mt. Everest
360- degree panoramic view of Mt. Everest from Kala Patthar
Visit Tengboche Monastery, the oldest and the largest Buddhist monastery in the region
Witness Nepal's biggest and longest glaciers: Khumbu and Ngozumpa Glaciers
Splendid view of 4 of the 6 highest peaks in the world – Mt. Everest, Mt. Lhotse, Mt. Makalu, and Mt. Cho Oyu
Visit the Hillary Museum
Traverse along the Sagarmatha National Park
Indulge and experience the unique Sherpa culture
Everest Base Camp Weather
The high Himalayan region at Everest base camp remains quite cold with fluctuating weather. The winds are chilly and the temperature during the night can always be below zero.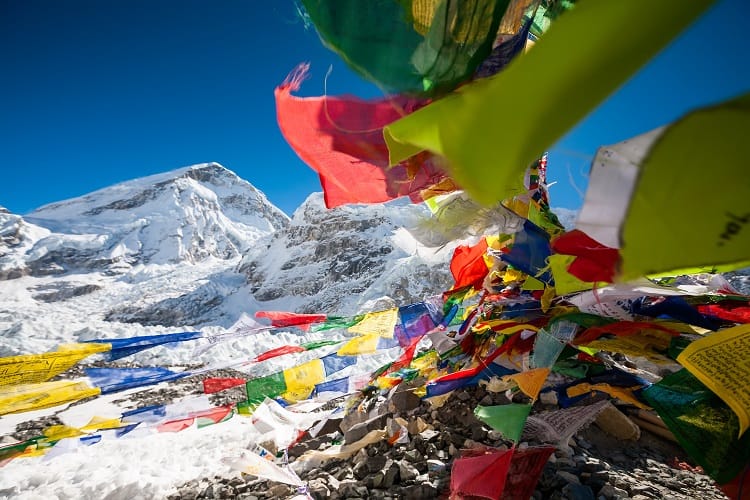 The Everest Region has four seasons – summer, spring, autumn, and winter depending on which the weather and temperature also varies.
Summer (June, July, August)
Summer is the hottest time of the year. The temperature during the day is about 20-25ºC. Whereas, it can get to -3ºC during the night time.
Although this season has a pleasant temperature considering the altitude, the summer season is not a popular time to trek. This is because the monsoon season concurs with summer in Nepal.
The trail can be difficult to walk with all the downpour, plus there could be the possibility of landslides and avalanche.
Autumn (Late September, October, November)
The arrival of autumn marks the forthcoming of pleasant trekking weather in the Everest region. This is the best time to trek to Everest Base Camp. The views are clear and trekking is also comfortable.
The temperature during the day can be as much as 20ºC in September. Come November,  it can drop to 12ºC. The temperature during the night can get as low as  -7ºC.
Winter (December, January, February)
Winter in the Everest region is severely cold. This is the coldest time of the year.
The temperature during the day is about 8-degree centigrade. While during the nighttime, it can be around -7ºC but it can get as low as -15ºC.
Spring (March, April, May)
Spring is the time of year when the Everest region is most colorful. The forests are green and flowers start to bloom.
While the base camp shines in colorful tents set by the expedition teams.
The temperature during the day ranges from 12-16ºC in earlier months and reaches almost 20ºC in May. The nighttime temperature can vary from -8 to -3ºC.
Best Time to Go
Spring and Autumn are the most popular time to trek to Everest Base Camp. During these seasons, the weather is pleasant and perfect to enjoy long walks.
There will little or no rainfall, allowing you to get the best mountain views and drier trails. But with proper preparation, the Mount Everest Base Camp Trek can be done all year round.
Tip: You might be interested in checking out which are the best compression socks for flying.
EBC Trekking Route
The classical Everest Base Camp route starts from Lukla. Then you ascend north to Namche Bazaar via Phakding. Continuing further north-east leads you to Tengboche and Dingboche.
From there, you continue along the right fork through Lobuche and Gorakshep. Moving further east, the Everest Base Camp is just 3 hours away. You can see the viewpoint of Kala Patthar on the west.
EBC Trek Altitude Profile
The most challenging part of the EBC trek is the altitude. The Everest Base Camp Trek starts from Lukla which is 2,845 m above sea level.
Thereon, you will trek to Namche Bazaar (3,400m), Tengboche (3,800m), Dingboche (4,410m), and Lobuche (4,940m). Your final ascend will be Kala Patthar, which at 5,500 m is the highest point in the trek.
On average, you'll ascend 400-800m each day on this trek.  It's important you get proper acclimatization and go slow as you ascend.
Difficulty Level of EBC Trek
Everest Base Camp Trek might sound daunting but it is surely doable. It is a non-technical trek and does not require any climbing experience.
The round trip length of the trek is 130 km. On average, you will walk approximately 15 km for 5-6 hours each day.
The 15 km per day might not seem like a big deal but you will be walking along rocky terrains which will be strenuous on your feet. On top of that, it is mostly uphill which makes it even more difficult.
If you are trekking in the monsoon or winter, it gets harder with all the downpour.
Altitude is the most challenging aspect of the EBC trek. It is the sole reason for making this trek so long.
As you ascend higher, the air gets thinner, as a result, the level of oxygen decreases. So, trekkers need to be wary of altitude sickness. It can be fatal and end your trek.
Taking all these factors into consideration, the EBC trek has a moderate level of difficulty.
Trekking Permits for EBC Trek
There are two permits you need for trekking the classical Everest Base Camp Trek. The first permit you need is the Khumbu Pasang Lhamu Rural Municipality Entrance Permit.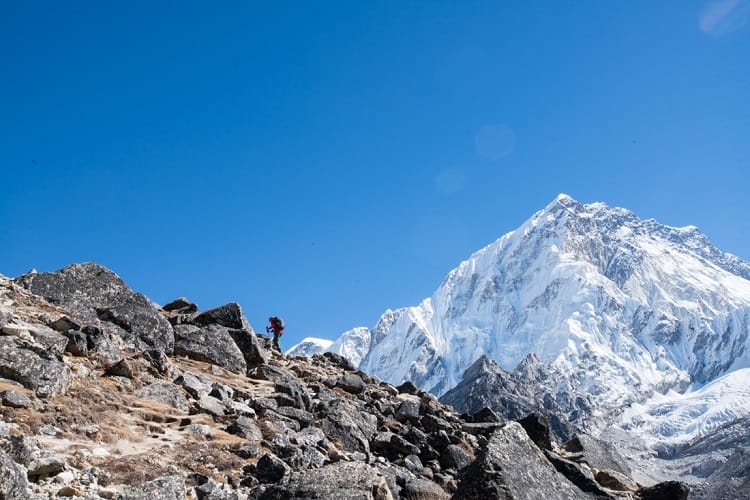 The second is the Sagarmatha National Park Entry Permit. If you are to trek from Jiri, you'll also need Gaurishankar Conservation Area Permit.
Khumbu Pasang Lhamu Rural Municipality Entrance Permit
This is a new permit that was imposed from October 2018. It replaces the Trekker's Information Management System (TIMS) Card.
This permit costs NPR 2,000 which is equivalent to $20. The local government collects this fee. You can only obtain the permit at Lukla or Monjo.
Sagarmatha National Park Entry Permit
This permit is a must-have for entering the Sagarmatha National Park. The permit costs NPR 3,000 which is equivalent to $30.
There is also an additional 13% tax on the permit. You can obtain it in Kathmandu from the Nepal Tourism Board Office. You can also collect this permit at Monjo at the Park Entrance Gate.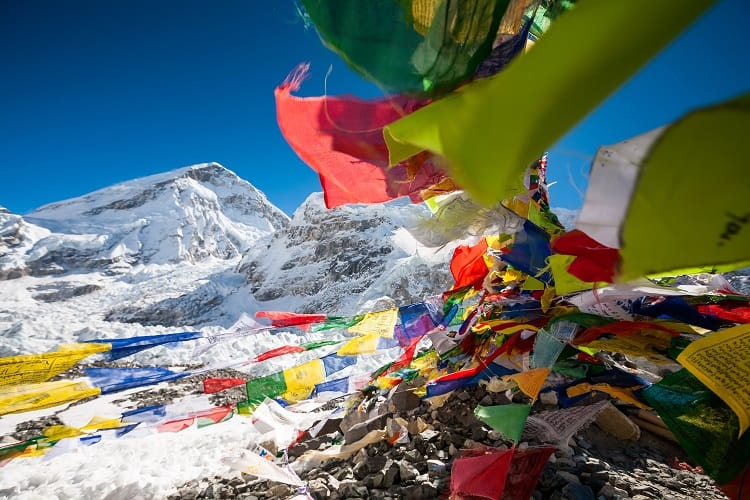 Gaurishankar Conservation Area Permit
Some part of the trekking route from Jiri falls within the boundaries of the Gaurishankar Conservation Area. Hence, you'll need this permit.
The permit costs NPR 2,000 which is equivalent to $20. However, the cost is double if you are to get a permit at the checkpoint at Shivalaya (just after Jiri).
So we recommend getting the permit in Kathmandu from the Tourism Board Office.
Required Documents For Trekking Permits
Your passport details will do for the Khumbu Pasang Lhamu Rural Municipality and the Sagarmatha National Park Entry Permit.
As for the Gaurishankar Conservation Area Permit, you'll need to bring along two photos and fill up a short form.
Everest Base Camp Trek Cost
There are several factors that contribute to the total cost of the EBC trek. The duration of your trek, the size of your group, accommodation quality and the season you trek in account to your total cost.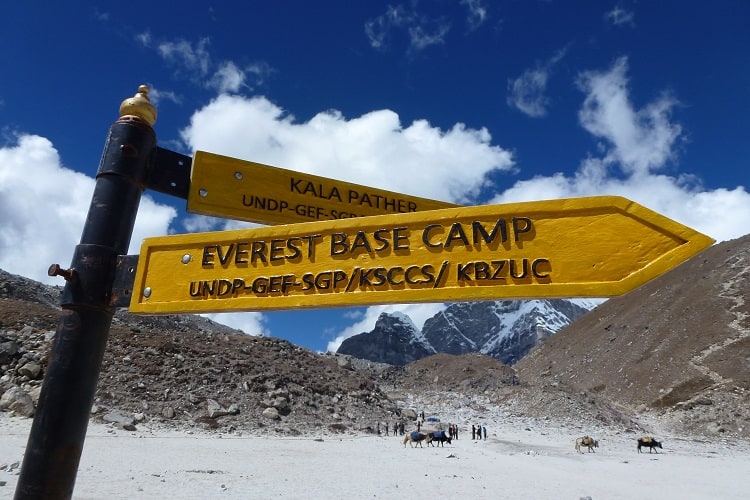 Cost of Packaged Tour
A package tour is organized by a tour operator. It includes all the cost of transportation, permits, insurance, food, and accommodation along with an English speaking guide.
There are many local tour operators in Kathmandu. The trek is usually done in a group of 15 people. They provide their team of porters and guides. The estimated cost for the EBC trek on average ranges from $700 – $2,000.
You'll still need to carry some cash as the packaged tour doesn't cover other miscellaneous expenses. Miscellaneous cost includes snacks, charging, water, tips for guide and porters, etc.
Cost of Independent Trek
You can definitely trek the EBC alone. A flight from Kathmandu will take you to Lukla.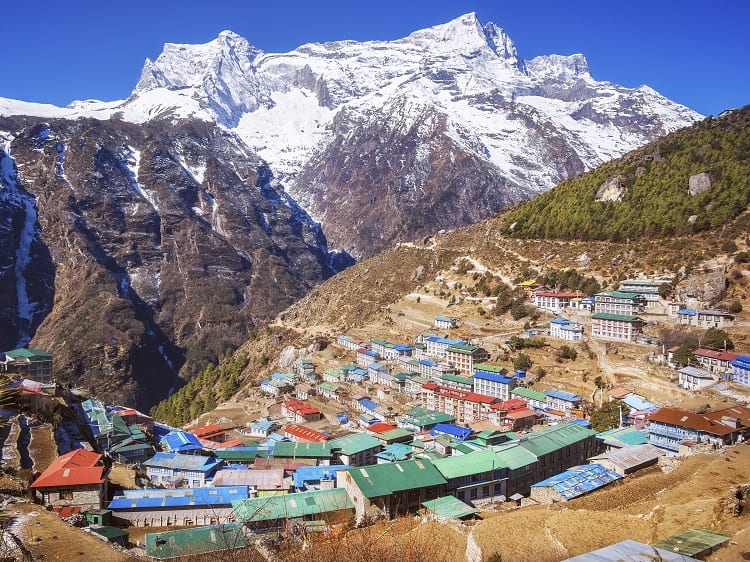 A $35 per day budget will be sufficient to trek the EBC independently. You can also hire a guide or porter in Namche Bazaar.
A local guide or porter will cost you $25-$30 per day. Please note, for an independent trekker, it is unreliable to use an unlicensed guide.
The total cost for an independent trek is will range from $700-$900. Getting to Lukla by land via Salleri will save you the flight cost but will also add another two days to your trek.
Cost of Trekking Gear and Equipment
Everest Base Camp Trek takes you to a very high altitude. The weather up there is unpredictable, so having the right gear is crucial.
The cost of the equipment largely depends on your preferences and how much of it you already have. You can also hire some equipment to save costs.
Layering is a key concept while taking on the EBC trek. You'll need a base layer clothing. On top of that, a fleece material for insulation is a must.
The outer layer should consist of a warm and waterproof jacket.
Regardless of the season, you trek in, you'll need a proper mountaineering boot. The rocky terrain will test your boots.
The same goes for the sleeping bag. Since the nights are chilly all year round, it should be one of your top priorities.
Since the temperature can go really go at night, you should check the temperature rating of your sleeping and make sure it provides you with enough warmth.
With so many options in the market, it can be a daunting task to select the right one. Not only are there so many brands but also many different fabrics. Hence, it's essential you choose the right sleeping bag.
Apart from these, you will also need one or two sets of bags and accessories like headwears, trekking poles, sunglasses, sunscreen, toiletries, etc.
On average, the total cost of gear and equipment will range from $500-$1,000.
Cost of Insurance
It's important to get insurance while trekking to the EBC. Accidents are prone to happen even to the most careful trekkers.
There are always chances of altitude sickness, muscle strain, baggage theft or cancellation of flights. With such a high altitude, the cost of treatment can be very high. Hence, having proper insurance makes sense.
Your insurance should cover basic travel risk as well as extreme risks such as emergency medical costs and evacuation. On average the cost of trekking insurance starts from $150 for 30 days.
Other expenses
On top of the regular cost, you need to consider other expenses as well. These expenses can be the cost of the visa, vaccinations, and flight to and from home country, tips to guide and porters, donations, and so on.
Accommodation in EBC Trek
Everest Base Camp trekking route is dotted with local teahouses. You'll be spending your night in a teahouse. You can also find some luxury lodges during the first 5-6 days of the trek.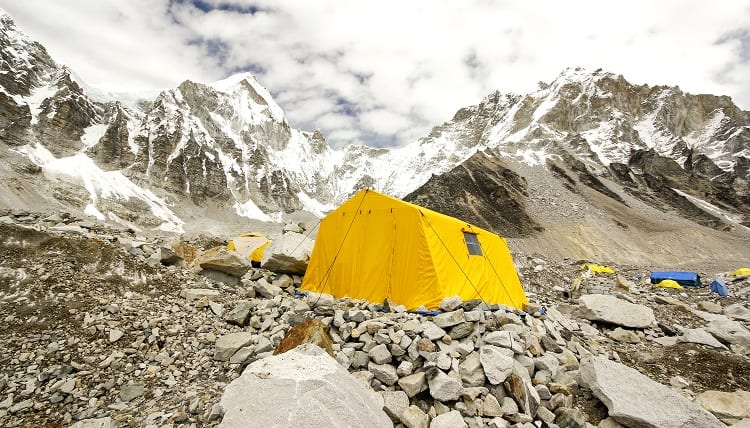 Teahouses are simple stone and wooden buildings that have a kitchen, an eating hall and a bathroom area, along with comfortable rooms. The rooms are basic but clean and comfortable.
The bedroom is usually twin-bedded. The rooms will come with a thick blanket that you can use as a second layer over your sleeping bag. Most of the tea houses will have squat toilets and you need to take your toiletries.
The teahouses on the EBC trail are pretty cheap. They charge around $1-$2 in the low season. During peak seasons, it can be around $2-$5. At some local teahouses, they don't even charge you for accommodation if you have meals there.
Charging and showering all come with a cost. Your room will not have a plug to charge your electronic gadgets. You need to charge your gadgets in the hall with a small fee. Teahouses usually charge around $4-$6 for a hot shower.
Food Along the EBC Trek
During your Everest Base Camp Trek, you can enjoy a decent variety of food. Most of the teahouses will have a similar set of menu.
Some of the food available at the teahouse menu are thukpa, momo, Sherpa stew, Tibetan bread, yak steak, spring rolls, pizza, sandwich, burger, etc. Generally, as you ascend higher, the food gets more expensive.
The most common breakfast is toast with either egg of your preference or jam. Porridge or pancakes are also served. You can enjoy your breakfast with a cup of tea or coffee.
For lunch, you can have momo, pasta, noodles, and other dishes.
As for dinner, you can have spaghetti, thukpa, momo, and other dishes. But the most famous dish is typical Dal-Bhat-Tarkari. Rice is served with vegetables and meat.
Altitude Sickness During Everest Base Camp Trek
Normally, altitude sickness occurs above 2,500m from sea level. Generally, the level of oxygen decreases as you ascend to a higher elevation.
It is a result of rapid exposure to low amounts of oxygen at high altitudes. When your body fails to cope with the lower level of oxygen, you are subject to altitude sickness.
There are three types of altitude sickness: Acute Motion Sickness (ACM), High Altitude Pulmonary Edema (HAPE) and High Altitude Cerebral Edema (HACE).
ACM is mild altitude sickness whereas HAPE and HACE are more extreme forms of altitude sickness.
Altitude sickness is the biggest hurdle while trekking the EBC trail. Countless trekkers had to end their trek due to altitude sickness.
So, you'll need to pay extra attention to its symptoms as it can happen even to the fittest trekkers.
The most common symptoms are headache and weakness, sleeplessness, irregular breathing, loss of appetite, mild nausea, etc.
The best preventive measure for this is to have proper acclimatization. You should ascend slowly and stay hydrated.
Even then, it can happen to you. If ACM kicks in, the only way to get better is to descend to a lower altitude. We advise you to take Diamox (medication for altitude sickness) for this trek.
Everest Base Camp Brief Itinerary (14 days)
Here is your Everest Base Camp Itinerary for the amazing 14 days:
Day 1: Arrival in Kathmandu
As you arrive in Kathmandu, you'll be welcomed by your tour operator. They will then take you to your hotel. If you are an independent trekker, you can hire a taxi and head to Thamel. There are lots of good hotels to rest.
Day 2: Fly to Lukla and Trek to Phakding
A 35-minute flight from Kathmandu will take you to Lukla. Then, you can meet or hire a guide and porter. The trek to Phakding is an easy introductory trek. You will cover 8 km in 3-4 hours.
Day 3: Trek to Namche Bazaar
After a good breakfast at Phakding, you head to the town of Namche Bazaar. As you ascend higher, you will enter the Sagarmatha National Park.
Getting to Namche will provide you with the first glimpse of Everest. The trek is 10-12 km where you will walk for around 5-6 hours.
Day 4: Acclimatization at Namche Bazaar
Namche Bazaar is a good acclimatization zone along the EBC trail.
You can go for a short trek to the Everest View Hotel and explore the town. Or, you can explore Khumjung and Khunde village to adjust with the altitude.
Day 5: Trek to Tengboche
Tengboche is 10 km from Namche. The trail takes you to a riverside and through the forest pass. Theron, it is mostly an uphill trek.
Upon reaching, you can see the Tengboche monastery which is the largest in the region.
Day 6: Trek to Dingboche
The trek continues through rhododendron forest and suspension bridge near Pangboche as you head to Dingboche. Along the trail, you can witness the dispersed Sherpa villages. The trek is 11 km and can be done in 6 hours.
Day 7: Acclimatization at Dingboche
Dingboche at 4,900 m, is the second acclimatization place along the trail. You can walk to Imja lake or hike to Nagarjuna Hill for acclimatization.
During the acclimatization hike, you can also catch a distant view of climbers preparing for peak climbing in the Everest region.
Day 8: Trek to Lobuche
Hereon, the trek starts to become a little difficult due to the high altitude. A steep uphill walk will lead you to the memorial dedicated to climbers and trekkers who lost their lives to Everest.
The trek is 12 km and it takes around 6-7 hours to complete it.
Day 9: Trek to Everest Base Camp
The trek to Everest Base Camp starts with an easy hike to Gorak Shep. Then the trails become rocky. You'll traverse the Khumbu Glacier as you reach the Everest Base Camp.
The trek is 15 km and it takes 7-8 hours to reach the Everest Base Camp.
Day 10: Climb Kala Patthar
Kala Patthar at 5,555 m, is the highest point in the EBC trail. Upon reaching the viewpoint, you will get an amazing 360-degree panoramic view of Everest.
Day 11: Trek to Tengboche
Here on, you will retrace your footsteps back to Tengboche. You can scan for any scenery you missed earlier during the trek.
Day 12: Trek to Namche Bazaar
After an overnight stay at Tengboche, you head back to the mountain town of Namche Bazaar.
Day 13: Trek to Lukla
From Namche, you head back to Lukla. This is your last day in the Everest region. There will be a farewell dinner in the evening as you look back at your journey.
Day 14: Fly to Kathmandu
From Lukla, you fly back to Kathmandu where you can make further plans or head back home.
Final Words
Everest Base Camp trek may challenge you, dishearten you and exhaust you. But most of all, it will leave you with countless euphoric moments.
The trick here is to cherish every moment the journey offers. You shouldn't just focus on getting to the Base Camp but relish the journey.
It's crucial to be well informed before you trek the EBC trail. Knowing about the weather, temperature, preparations, and packing lists for this trek will ease your trekking journey to Everest Base Camp.