Grand Hotel Ritz Rome is a super luxurious hotel in the magnificent city of Rome! This is the place where dreams truly come true, where you can enjoy the best of Italian cuisine and stroll down the spectacular Roman alleys; hand in hand with your loved one.
Join in with the happy travellers and stay close to all the action at the Grand Hotel Ritz Rome!
–
_______________________________
Deal Alert:
Save up to 69% off your stay at Grand Hotel Ritz Rome with package deals from Luxury Escapes.
Spend 4 nights in an Superior Double Room at the Grand Hotel Ritz Rome. You will enjoy daily buffet breakfasts, a delicious multi course dinner, bottle of wine on arrival, complimentary return airport transfers, 10% (one time) spa discount and more for two adults including chromo therapy, ice fountain, Turkish bath, sauna, swimming pool and Jacuzzi. You will enjoy the complimentary access to the fitness centre as well!
Though be quick, this deal ends 15th November 2017. Packages are valid for stays until 6th January 2019.
>>> Check rates and availability
_______________________________
–
Grand Hotel Ritz Rome Review
Overview
Grand Hotel Ritz is a 5 Star hotel located in the heart of Rome. This beautiful hotel offers a variety of spacious and comfortable rooms which are furnished with different styles. Larger rooms also have private bathing suites, private terraces and spectacular views over the city of Rome.
–
Location
Grand Hotel Ritz Roma is located in Rome's upmarket Parioli district and about one mile from the city center. It is a tranquil base when you wish to explore the breathtaking architecture, ancient squares and palaces and classical ruins that the Italian capital is famed for.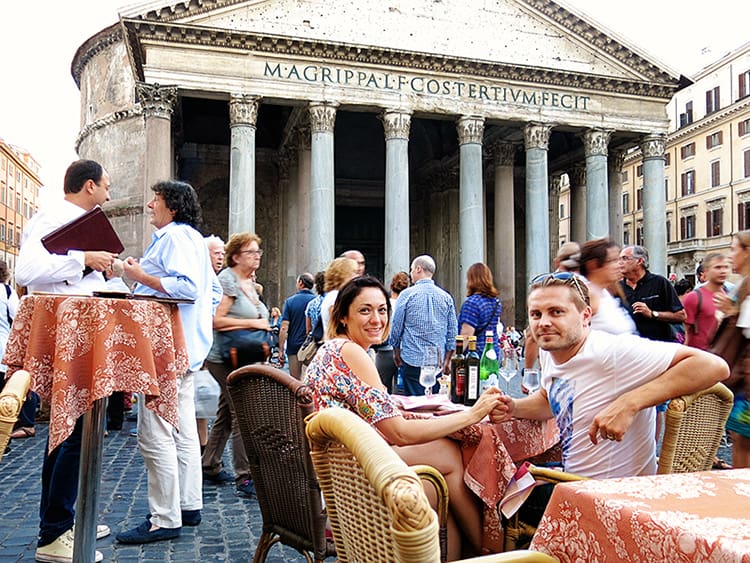 The hotel is located only a 10-15 minutes shuttle ride (complimentary) from all of the Roman historical hot spots. These include the Vatican City and the St. Peter's Basilica, Colosseum, Pantheon and the most famous fountain of them all, the Trevi Fountain. However, if you wish to spend a day close by to the hotel, then we highly recommend to check out the spectacular Catacombs of Priscilla.
–
Le Roof Restaurants and Bar Dei Cesari
If you yearn for majestic views and a delightful outdoor terrace, look no further than the modernistic Le Roof restaurant located on the 7th floor. It is the perfect setting for sampling delicious Italian food complemented by a marvelous wine list. The restaurant is designed with a contemporary style that combines the wall's pastel colors with wengè wood and armchairs draped in faux leather for that exclusive and sophisticated atmosphere.
The restaurant is open every day for breakfast lunch and dinner. In addition, it offers amazing al-fresco dining where you eat as you bathe in the sunshine and enjoy the spectacular view over the Villa Glori Park and Piazza Euclide.
For your post-dinner cocktail, you cannot go wrong with the Bar Dei Cesari-with its spacious living room, grand piano, luxurious sofas and a magnificent and unique tea room. Its name is derived from the plates that portray the Roman emperors on the walls and it is the ideal spot to relax, feel pampered and listen to live piano music while sipping some champagne or a cup of tea or coffee prepared from the extensive selection of brands on offer. It is also a great setting for a business meeting.
–
Pampering at the Wellness Center Olimpya by Musa
When you want to re-energize your body and soul or just to relax and unwind, just head to the hotel's first-class spa and wellness center.  Enjoy total relaxation and bliss at the highly refined award winning Roman spa. What better way to spend a few hours of relaxing after a day of exploring the city!
Musa Luxury Day Spa offers a large selection of massages, body treatments and facial treatments, all done with organic products.
You can also enjoy excessive pampering in a Turkish bath, sauna, or with chromo therapy and in the ice fountain. Alternatively you can take a swim in the pool or relax in the Jacuzzi. As you can see, choices of pampering at the Grand Hotel Ritz Roma are plenty!
Did I mention a fully equipped Techno gym? Yes, this hotel has it all.
–
The Rooms
The hotel's 103 rooms are spacious and flooded with natural sunlight. Furthermore, they are equipped with parquet flooring and sound-proofed windows and the tasteful ensuites feature luxury toiletries, comfortable wool carpets, walk-in closets and smooth white-starched linens for that cozy,' home-away-from-home' feeling. Some of the rooms come with a Jacuzzi and a putting green if golf is your thing. If you are with your family or friends, there are spacious double rooms measuring between 248 and 269 square feet and larger deluxe double rooms which cover up to 300 feet square feet. The cavernous luxury suites cover an area of about 376 square feet and boast of ample living areas.
Even though the rooms are designed to portray an old-world charm, they are fitted with LED TVs that show satellite channels. Other useful amenities that are provided include safes, hairdryers and free WiFi .The rooms also have minibars for refreshments and there is a room service option if you prefer to dine in your room. Premium bedding and phones are also available.
Grand Hotel Ritz Roma offers variety of rooms for couples, as well as for both large and small travelling families. Should you require larger room then the Superior Double Room, please check out the deals for Junior Suites as well.
–
Final Verdict about Grand Hotel Ritz Rome
The Grand Hotel Ritz Roma is an ideal choice if you are looking for a pleasurable break while visiting the 'eternal city'. Whether you are visiting alone,with your family or as part of a group, you will love the hotel's spacious rooms, elegant ambiance, easy accessibility from the city center, sumptuous cuisine, excellent customer service, peaceful environment and panoramic views of the city.
The only question remains: what are you waiting for?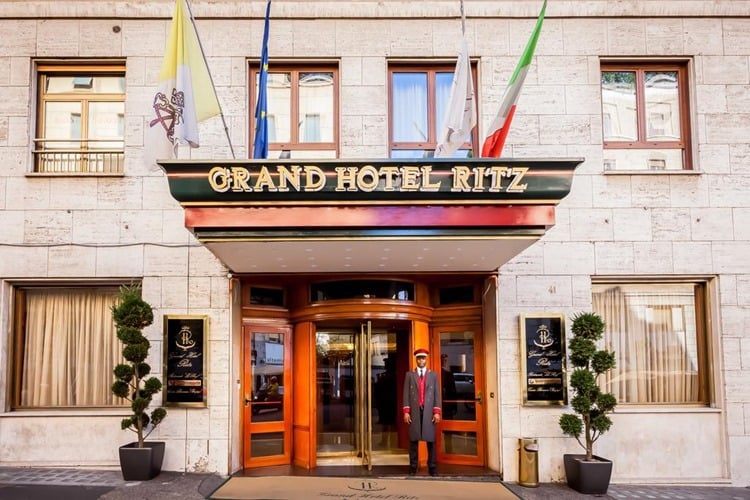 –
How to Book at a Hugely Discounted Price
Wondering how to stay here at a hugely discounted price?
One of Luxury Escapes' bestselling Rome hotels offers is back, with exclusive packages perfect for couples and small families. Packages include 4 nights in a Superior Double Room at the Grand Hotel Ritz Rome and enjoy daily buffet breakfasts, a multi course dinner, extraordinary dining experience, return airport transfers and more.  Upgrades and extended stay options are available as well.
You can buy now and book later (packages are valid for stays until 6th January 2019), though be quick, this deal ends 15th November 2017.
> Check rates and availability
–
Leave us a Comment:
Does this look like the resort that you would enjoy staying at?
–
* Disclaimer:  This post was written in collaboration with Luxury Escapes.  All opinions about the hotel are our own.