As we entered the Girraween National Park, we were struck with an overwhelming feeling of being teleported to the Flintstone Era.  Giant granite boulders scattered everywhere around us, creating a rocky wonderland, an intriguing playground for our imagination.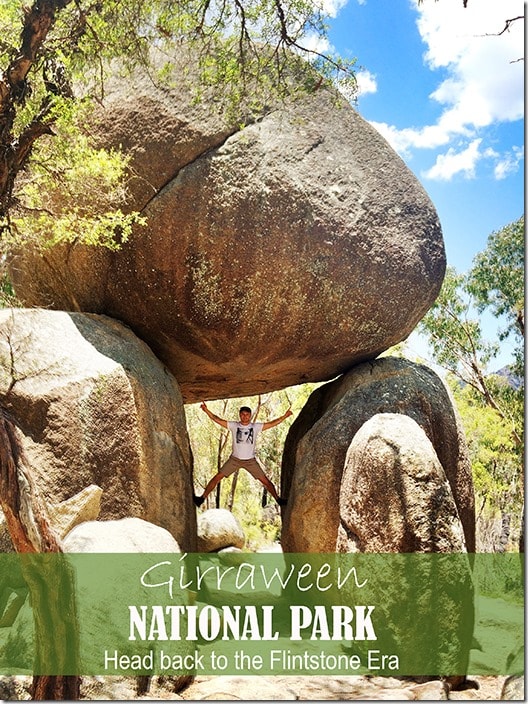 There are many national parks in Australia, each presents you with its own unique wonders. I got to say, I love going for a walk with my wife and kids every chance we get. Relaxation combined with nature is always a truly bonding experience. Each place we go to, all have some kind of magic about them, but this one… this one I will remember for a very long time. Because here I saw something truly unique!!  These Girraween National Park Walks are truly something else! Let me show you…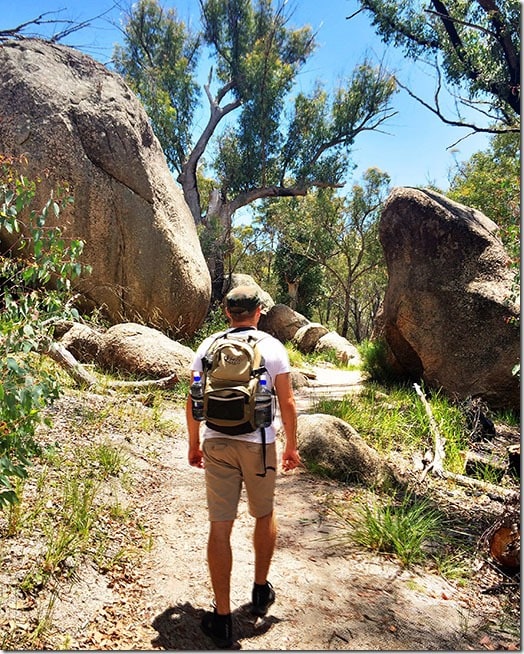 –
Where is Girraween National Park?
Girraween National Park is located close to the Queensland/New South Wales border, about 260km South-West from Brisbane and about half way between Stanthorpe and Tenterfield.  Access to the park is from the car park on Pyramids Road at Ballandean and there is plenty of parking here and picnic areas as well.
Girraween or "place of flowers" is one of the most popular places to visit on the amazing Granite Belt and access to all the Girraween National Park walks are FREE!!
–
Best Girraween National Park Walks

:
Girraween National Park has numerous walks available and for all types of hiking experience. From EASY 30minute walks to Granite Arch or Dr Roberts Waterhole, a MEDIUM graded walk track to The Pyramid or a VERY HARD 4 hour hike to Second Pyramid. There is also a 2 day walk available from Girraween to the Bald Rock Circuit.  Well, there is plenty to see around here!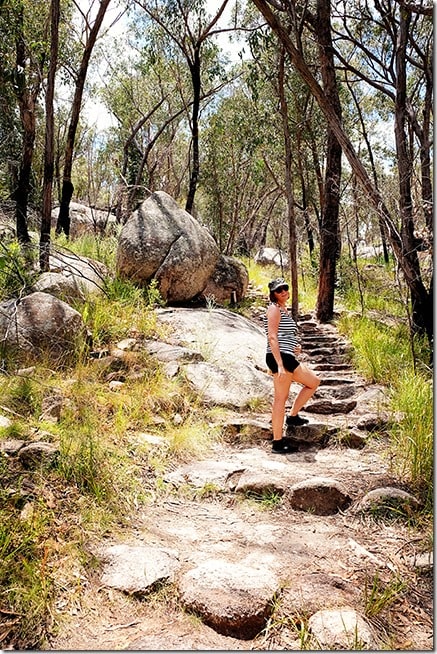 On our trip, we spent a beautiful and sunny afternoon here and it was a hot one I tell you!! Sweating, hot or not, on our list we had the Granite Arch and The Pyramid to tick off. So, let me tell you a little bit about those two.
–
1. Granite Arch
Granite Arch is one of the walks classed as EASY, which is perfect for us at this point in time, as my gorgeous wife is carrying something extra special in her tummy or rather in her uterus.  This 1.4 km walk starts at the car park and takes you through a winding walkway past the rocky pools of the Bald Rock Creek. Here we saw families enjoying their time in the sun with their kids. Relaxation and bliss.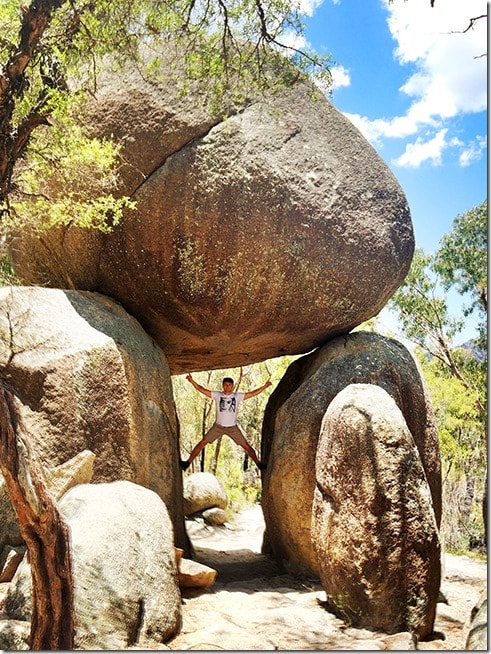 As you go up, you see plenty of rocks here and there, but the Granite Arch is one of a kind. Very cool place to see and our first rocky marvel of the day ticked off!!  I bet you will want to climb it somehow yourself as well. It is not easy to suspend yourself like this for too long, while your wife is trying to take the perfect picture. Still, it had to be done!
This relaxing stroll is easy for all hikers, but we do recommend to make your way here in the early morning or in the late afternoon to avoid the intense midday heat! The park with all the rocky surfaces heats up fast, make sure you drink heaps of water to rehydrate!
–
2. The Pyramid
Now, this walks is the one that really made my mouth drop! I had never seen anything like it in my life and I am glad I had the opportunity to witness this marvel in person!
The Pyramid walk is classed as a MEDIUM track. The track is 3.4 km from the car park and it will take you around 2 hours. Definitely worth it!  There are plenty of stairs here, so if you are pregnant like my wife, or you are coming with small kids, this may take a little longer.
The track winds past some pretty awesome rocky formations and heaps of giant boulders where you can take a quick rest and chill for a minute or two.  As you get up further, closer to the top, things get a bit tricky. Slippery when wet, very steep and very very hot in the early afternoon hours!
This is where my gorgeous wife had to stay and wait for me, as I went on by myself to snap some pics at the top. The path is marked with some white lines, so I suggest to stick to the guided path.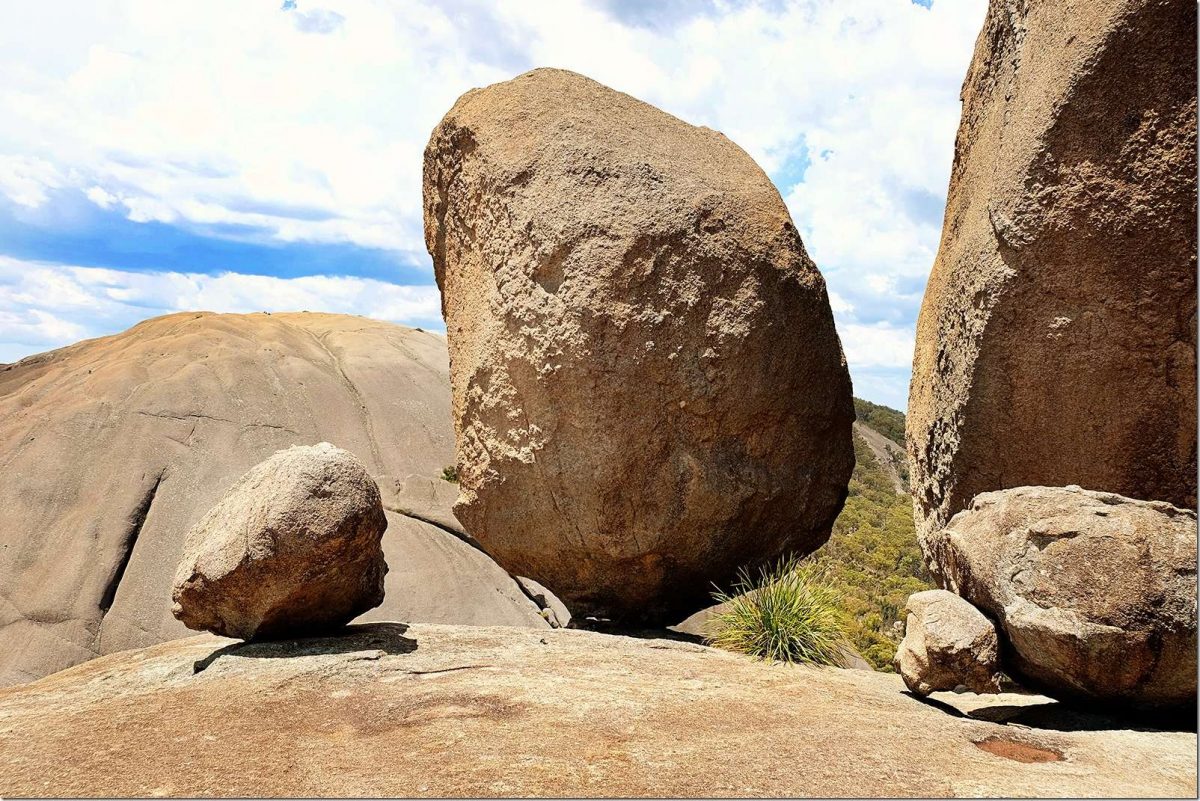 It was so bloody hot when I got up there, so I had to take it easy for a while to recover. At first I was almost running up excited to see what's up ahead.  SLOW is better here though and then you can set your eyes on this rocky marvel!  As I said before, I had never seen anything like this before, perhaps only on the photos of other travellers. It was truly spectacular to see this in person!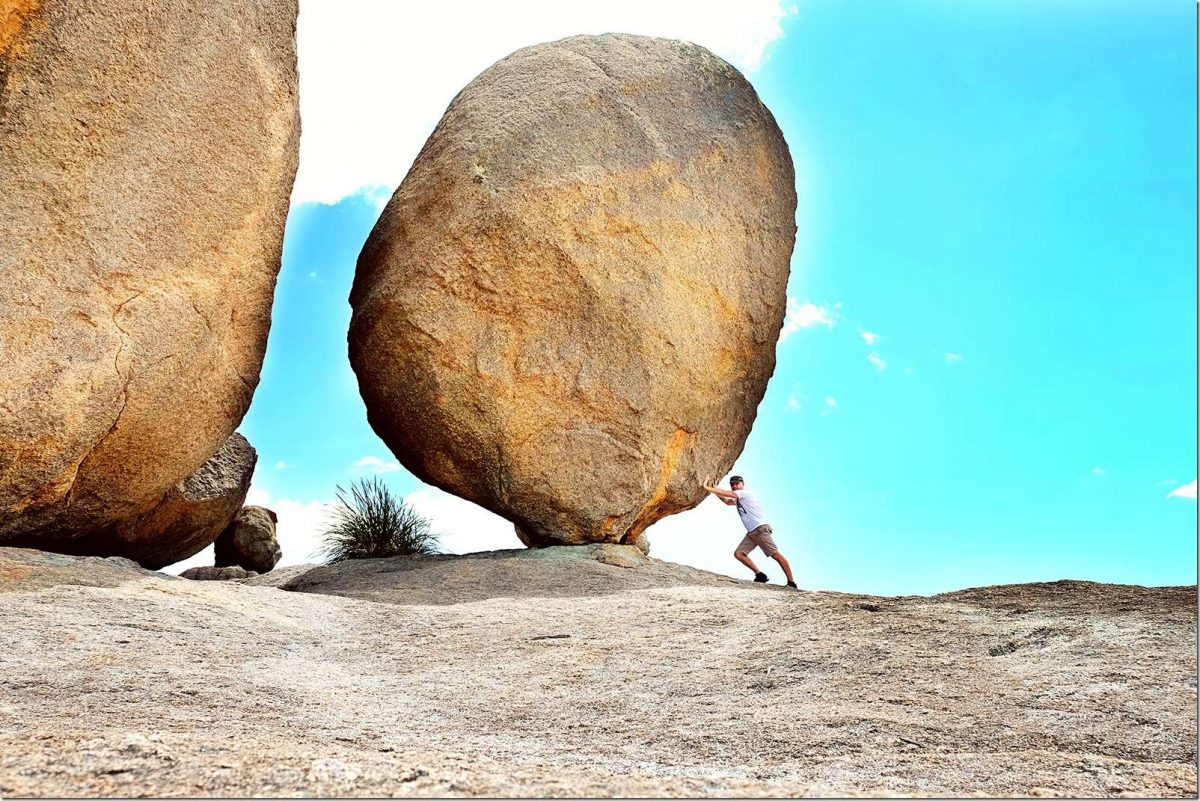 One has to wonder, just how these things are created. It's like nature's puzzle to us, the travellers. Oval-shaped rock, seemingly balancing on a small area, surely more stable on its one foot than some people are on both feet.   Haha.
We absolutely loved our Girraween National Park walks to both the Granite Arch and The Pyramid; as I'm sure you will too!  However, in case you are wondering what other walks are available at Girraween National Park, follow the link here. You will find something to suit all your hiking needs and then some.
–
What to take with on your walks at Girraween National Park:
Always remember the essentials for any hike! Our recommendations are:
Good hiking shoes
Sun protective hat
Sunscreen
Plenty of water,the  more – the better
Umbrella for shade when needed
And a good backpack to carry it all
–
Other things to do in Stanthorpe:
Choose one of a numerous wine tours.
Check out olive and fruit orchards, especially the big apple.
Indulge in some fine dining or snack at one of the cafes in the area.
Visit local farmers markets for some fresh produce and more.
–
Where to stay in Stanthorpe:
Recently we had the pleasure of staying in an amazing glamping tent at Alure Stanthorpe. It was such an awesome, super relaxing experience.  A truly unique experience that we would love to recommend you give a go yourself.
You can read our detailed review about our recommended Stanthorpe Accommodation our blog here.
–
Are you ready to take a hike to the Granite Arch and try your strength at The Pyramid?
If the answer is yes, than my job is done here!  Enjoy the hike and let us know how you liked it.
–