Recently we explored one of the most incredible places on earth, Fraser Island.
Not only incredible in what iconic natural treasures it holds, but also because of how it was formed.
This World Heritage Site was created over 800,000 years ago by the movement of wind, waves and ocean currents, dumping sand to create the world's largest sand island!
The shifting sands of Fraser Island mean that this island is always moving and evolving, either concealing or revealing incredibly unique geological features.
We spent three magical days exploring Fraser Island and we barely scraped the surface of what natural wonders this island holds.
The thing with Fraser Island is, it is one of those places, one those places that just leaves you yearning for more!
On today's blog post we are going to take you on a natural journey through the inland Fraser Island tracks.
Tracks that weave and wind between the ancient forest of the island, where ever-changing vegetation is the view from your seat and each destination leaves you in complete and utter wonder and awe!
Here is our list of the top 5 things to do on the inland tracks of Fraser Island. A great way to spend your time on your Fraser Island holiday!
Discover the Top 5 Things to do on the inland Fraser Island tracks
Here are our top 5 things to do on the Fraser Island tracks:
1. Lake McKenzie, Fraser Island:
We headed inland from the township of Eurong, our first destination for the day was Lake McKenzie.
I had seen lots of photos of Lake McKenzie on the internet, and in all honesty, I thought they must have been Photoshopped.
But let me tell you something about this Lake, it is one of those sorts of places that looks even more incredible in real life compared to the photos!  It took my breath away!
It filled me with giddy excitement!  It was THE most beautiful collection of water that I had ever seen in my life!!
We spent a few hours here simply snapping millions of photos, trying to capture such incredible beauty all within one shot is really impossible, so let me paint a picture.
Here the sand is powder white, soft and squishy between the toes.
Pair that up with a lake that shimmers in incredible shades of blue, a clear distinction between the pure clean light turquoise colour of the shallow compared the beautiful dark blue that follows.
Randomly scattered on the white sand you will also find some picture perfect paperbark trees.
The perched lake has a feeling so serene and of peace that our girls went quiet and simply got lost in their daydreams of building castles with this incredible silica sand.
We were surprised by how nature touched their souls and soothed them to a state of bliss, no arguments were in sight!
It was hard to leave this lake, but we wanted to beat the hordes of tour buses that were meant to arrive around 11 am, so it was time to head off.
Lake McKenzie, Fraser Island is only 1 of over more than 100 freshwater lakes on this island, lots to see, things to do, time to move.
2. Central Station, Fraser Island
The next logical stop point after Lake McKenzie is the stunning rainforest found at Central Station.
Central Station on Fraser Island was originally established as a forestry camp, back in the day when logging was still allowed on the island.
As such you can find an array of display boards filled with history and facts for those who love to read. The area here is incredibly rich in fauna and flora.
Go for the short walk that takes you on a beautifully designed wooden boardwalk that weaves and winds through the ancients ferns and rainforest vegetation alongside Wanggoolba Creek.
There are lots of hidy holes to discover here and our selfie-stick and phone came in handy for some nice unique shots.
3. Lake Birrabeen, Fraser Island
Lake Birrabeen is a less traversed lake than its more popular sister McKenzie. The tour buses don't venture this way, so it is fairly normal to find yourself totally alone on this piece of paradise.
This lake is shades of emerald green compared to the blues found at Lake McKenzie. The crystal clear water simply beckons you in for a swim.
Again you will find powdery soft, silky white silica sand, a contrast against the shades of the water.
Lake Birrabeen is another perched freshwater lake, the water comes from the raindrops that fall down to the earth.  At this lake, you will feel like you are miles away, some hidden paradise land.
Again the girls got completely and totally lost in the art of sand castles, completely lost in the nature that surrounds them. Andrzej and I, we simply lazed out and tried our best to absorb our surroundings.
As recommendation as we got to the lake around midday, do try to remember to take a beach umbrella!  It was really hot, and it isn't even summer in Australia yet!
This lake also has a few picnic tables for you to enjoy your lunch at, so make sure you have a yummy picnic basket ready for your day of exploring.
4. Lake Boomanjin, Fraser Island
Lake Boomanjin is worth a visit, not only are the roads that lead there incredibly fascination, but it is also an incredibly unique lake for a few different reasons.
Firstly, Lake Boomanjin happens to be the world's largest perched lake. Impressive huh! Oh wait, I can make this more impressive!
Lake Boomanjin on Fraser Island is the world's largest perched lake on the world's largest sand island that also happens to be a World Historic Site! SAY WHAT? Now that is impressive!
Fraser Island you never cease to amaze me.
Okay back to the story! Lake Boomanjin not only boasts an impressive title, but it will also stun and amaze you with its shades of red and amber stained water!
The lake doesn't look that impressive from afar and it probably is not one you will feel like swimming in, but when that sun hits the water, as Lily said ''Mum, this lake has a whole rainbow of colours inside it!'.
Imagine that against some white soft sand and you have found yourself at Lake Boomanjin.
Interestingly, the red colour from the water comes from Tea Trees.
Small creeks that partly feed this lake carry tannin stained water from these trees in the lake's catchment area.  Pretty cool huh!
Do make sure you go and visit this lake!  You only need around 30 min here, but it truly is a unique sight!
5. Lake Garawongera, Fraser Island
In the northern forest, you will find another beautiful Fraser Island lake. From the township of Happy Valley, this lake is about a 30 min drive inland.
The path that takes you there meanders through rainforests and wallum woodland.
I doubt many people visit this lake. We actually got a recommendation to visit this lake after befriending a local tour guide on our walk back from Lake Wabby.
He had been working on Fraser Island for longer than he could remember, and he recommended we go and check out this lake as it is one of his favourites!
So off we went on an adventure to find this 'tea-coloured' lake, no idea where we were heading or how long it would take.  We love adventures!  And we love losing track of time!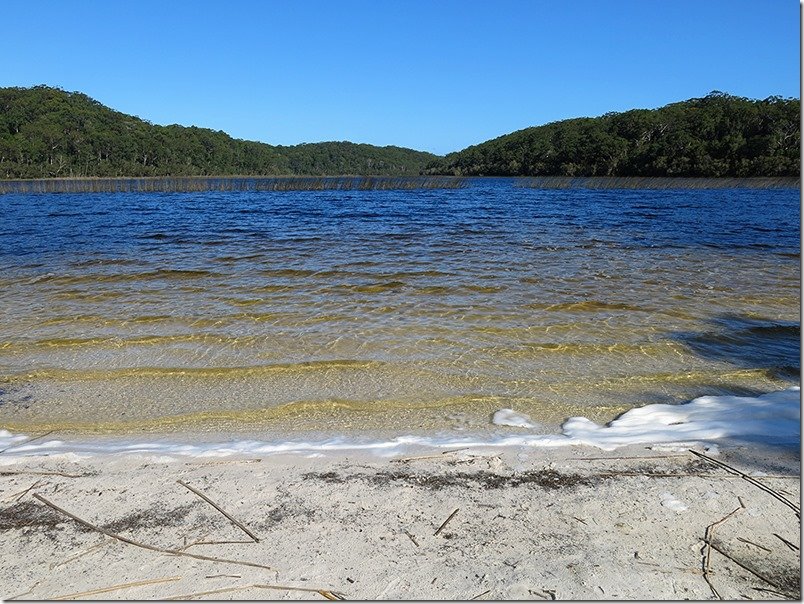 When we asked the local tour guide what this lake was like, he told us that it looks like a cup of tea! This lake has a smaller beach area and you will find it lined with reeds and melaleuca trees.
Similarly to Lake Boomanjin on Fraser Island, the colour of the water is thanks to the stain from local Tea Trees, however, it is a lot more subtle in colour, and truly a lot more like the colour of weak tea.
It is a really peaceful lake to check out. We didn't stay long here, but if you have the time, why not go off the beaten track and lose the tour buses by going and discovering some more 'hidden secrets' of this island.
I'm not completely sure which of these destinations I could claim to be my favourite!  So my best recommendation would be to simply tick off each of the top 5 things to do on Fraser Island for yourself!
Not only did I love these destinations, but I completely fell in love with the vegetation out of my window on inland Fraser Island tracks.
From rainforests to eucalyptus forests, from scribbly gums and banksia woodland to tall blackbutt-satinay forest, from wallum heathlands to swamps, forever changing views, forever something new.
How is it that all of this can grow here, on an island made from sand? This island truly never seizes to amaze.
Be prepared to go 'off-the-grid', be prepared to feel a rush of peach from the energy of true nature that surrounds you, be prepared to explore and fall in love, to fall in awe, to wonder, to be amazed.
Fraser Island, you leave me wanting more and more! I can't wait to come back.
You are my haven and the place I will return to time after time again when I feel the need to refresh my soul.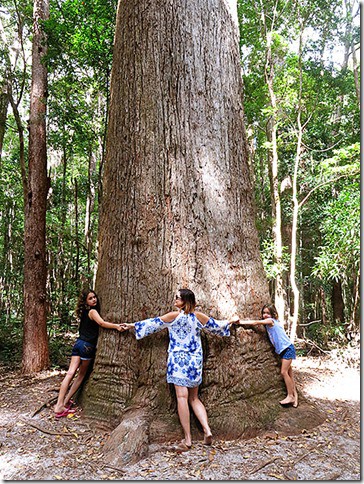 When was the last time you connected in with nature?  Is it time to go hug a tree?
More Fraser Island Posts:
For more posts on Fraser Island, see below: