Let me paint you a picture.
A picture that is idyllic … one that is filled with serenity and one that is filled with homely comfort.
A place where you fall asleep to the sweet crashing sound of the ocean waves … a place where your patio is a peaceful oasis whilst observing colours of day play over the bluest of ocean waters.
A home away from home where driving on the beach sand to the nearest grocery store to pick up some milk is your only option.
For our Fraser Island trip, we decided to experience it in a bit of luxury. Boy did we fall in love with the Beach Houses of Fraser Island! Boy did we wish that we could stay at this Fraser Island luxury accommodation resort for so much longer!
Click here to see the latest prices to stay at the Beach Houses Fraser Island
From the moment we stopped at our Beachfront Fraser Island house we felt 'at home'. The space in the house with the incredible high ceiling beams, the peaceful blues of the designs and wooden shutters all aided in the release of a big breath of release as I knew that this was going to be one relaxing and beautiful stay. We knew from the moment we arrived that we chose the right Fraser Island accommodation option for us! This was it!! This was home for the next 3 days!
I think that within minutes of arriving, Andrzej was already lost in his daydreams of relaxation and bliss. You really can't help but simply just stare out at this incredible view over 75 Mile Beach, Fraser Island.
–
Where is Fraser Island Beach Houses?
Fraser Island Beach Houses are situated on the world's largest sand island, the almighty Fraser Island in Queensland. The houses are situated on a picture-perfect beach front property. Towards the front, the expanse of the 75 Mile Beach Highway and towards the back, bushland and wildlife waiting to be explored.
The resort is conveniently situated on the East side of Fraser Island, making access to all areas of the island incredibly easy. Within a hop and a skip you will find yourself on the world famous stretch of 75 Mile Beach, a gazetted highway providing easy access to some of the east coast's iconic attractions. Inland access is only a 5 minute drive away, another day of adventure awaits to explore the popular Fraser Island lakes, the rainforest and never ending changing vegetation found there. Little convenience stores and a bakery is within a few minutes driving reach at the township of Eurong.
Due to the location, we recommend entry to your accommodation via the Rainbow Beach barge to Fraser Island. Not only is it the easiest way of finding the resort, but it is also incredibly scenic as you drive on the beach sand towards your holiday home. For more information about this entry point to the island, click to read this post here.
More about this F

raser Island

Resort:
The resort is set in a Dingo safe fenced area, which means that it is perfectly safe for your children to run and play to their heart's content while you can happily lounge around and observe their joy. The houses are set on private 1.3 hectare grounds, so there is plenty area to explore.
The resort itself features a variety of accommodation style options. From Beachfront Houses to Ocean View, or choose between a Poolside or Garden Spa House. Something to suit couples or families from large and small, your choices are from unique individual studio, 2 or 3 bedroom houses. This was the view from one of the Ocean View Houses, pretty spectacular isn't it!?
Click here to see the latest prices to stay at the Fraser Island Beach Houses
Our Fraser Island Beachfront House:
On our stay at this resort, we chose to stay in one of the 3 bedroom Beachfront Houses. The sound of the surf nearby and the fresh ocean breeze where only some of the delights from our 'home'. The houses are very unique and have been carefully designed to provide you with a glorious amount of natural light through all of the windows and sliding doors.
In front of these luxurious Beachfront Fraser Island Houses is nothing but lawn, fore dune vegetation and ocean views; providing you with your own little secluded home in paradise.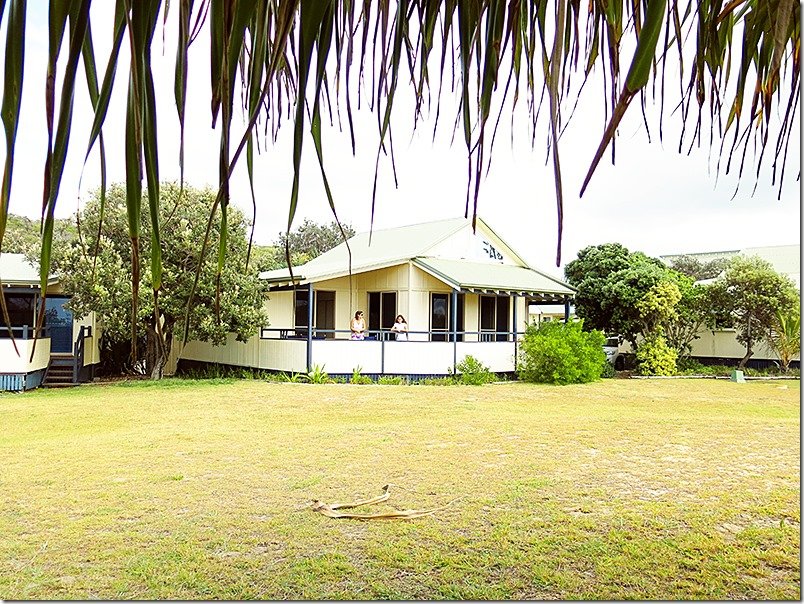 The wrap around balconies are perfect for relaxing and absorbing all that surrounds you. We spent all our mealtimes out here, simply eating in contented peace whilst staring out at the views spread out over 75 Mile Beach. Nothing but peace and serenity.
The house itself has a beautiful large and spacious central living space, with high beamed ceilings and ample of natural light. The lounge dining area opens onto the east facing veranda, perfect for capturing the sea breezes and enjoying the views through the large glass sliding doors. The lounge also comes equipped with a TV, DVD player as well as a sound system.
On the other side of the lounge is the fully equipped kitchen area. With a coffee machine, a dishwasher, a full sized fridge, microwave, toaster and an ample supply of cutlery (no need to wash after every single meal here).
We love the luxury of packing a dishwasher on holidays, I'm sure every family can agree there!!
This kitchen was awesome and we had everything we needed to make some yummy meals here. As a tip, we do recommend you bring your own grocery supplies to this island as dining out options are limited and food supply are costly on the Island itself.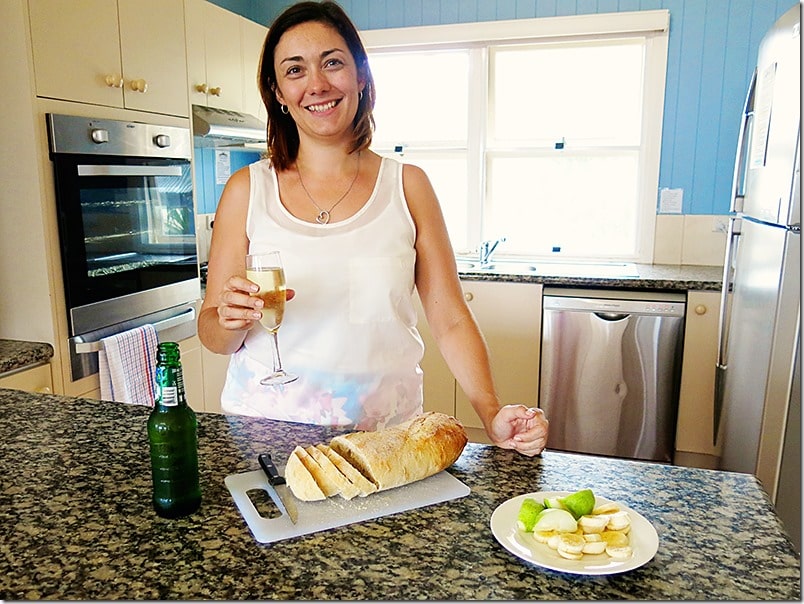 You can hire this house as either a 3 bedroom and 2 bathroom house, or if your family is smaller, you might choose to save some money and choose the 2 bedroom, 1 bathroom option. Our three bedroom home, had one main bedroom, with a queen size bed and ensuite. The bedroom has its own sliding door opening up onto the veranda outside. My little girl snapped up this room, very chuffed with herself!! As for me and hubby? We liked the view from the other bedroom more!
The other two bedrooms are on the other side of the house, another large bedroom with queen size bed and sliding door to the veranda and views that lay beyond. And then the third, a bedroom with two single beds. So in essence, you could sleep up to 6 people in this house! So get your friends together, or your extended family and head over!!
We loved the peaceful blue colour scheme! I fell in love with all the blue shutters and all the personal touches to this house truly made it feel like a home rather than just a holiday accommodation. We were so comfortable here, that we truly wished we could stay forever and conversation around the table at meal times often moved towards asking the girls exactly that. The girls thought they could! They were a bit worried about how the grandparents would be able to come and visit, but they were keen! I definitely wanted to stay for longer than 2 nights, that's for sure!!
Click here to see the latest prices to stay at the Fraser Island Beach Houses
–
A Variety of Leisure Facilities:
All guests of Fraser Island Beach Houses also gets exclusive access to some awesome leisure facilities found on the grounds. Your children will of course love the pool area. The fenced pool area contains a gorgeous little wading pool for the younger kids, a pool with a water slide for the older together with BBQ facilities which we gave a good work out! Here you will also find a heated spa to soak away in.
In another area you will find also find a children's playground to keep the kids busy when the tide on the beach is high. We also made use of the DVD hire facility in the reception building, loving a family movie night after our day of adventure to wind down before sleep.
Stay at this Fraser Island Accommodation option if:
you are after a more luxurious accommodation option for your stay whilst on Fraser Island.

you love feeling at home in your holiday accommodation.

you are after accommodation where the sound of the surf lull's you to sleep and the breeze from the ocean freshens your spirit.

you are after a conveniently situated accommodation option whilst on Fraser Island.

you are after staff who are incredibly friendly and who go out of their way to make your stay memorable!

you are after a location where you breathe deeps sighs of relaxation and simply absorb your incredible surroundings.
The perfect place to refresh and unwind. Isn't it time to take time and connect back in with nature??
The Booking Information:
You can find more information on the Fraser Island Beach Houses website.
Costs of these F

raser Island accommodation houses

start from AUD $225 p/n
Where: Fraser Island Beach Houses are situated close to Eurong on Fraser Island in QLD, Australia.
Suitable as: either a parent (couples)-escape or for a family stay.

Our recommended Fraser Island Accommodation option! It is one of our favourites

!
–
More Fraser Island Posts:
For more posts on Fraser Island, see below:
Wanderlust Storytellers recently stayed on Fraser Island as guests of Fraser Island Beach Houses. As always, the content & opinions expressed here are entirely our own.