Have you ever driven on an island?  Where off-road sand pathways winding in and amongst nature is the norm?  Or how about driving, with the only outlook in front of you being a stretch of heavenly beach scenery, the beach your never-ending road to paradise?
If the answer to those questions are no, then you are about to go on a journey that will entice you to add this awesome adventure on your bucket list!! A destination that takes you 'off the grid' and one that forces you to connect back with nature!  A destination so profound that is was inscribed in the World Heritage List in recognition for its astounding natural universal values.  A destination that proudly wears the name of the largest sand island in the world; stretching over 123 km.  A destination that is very close to our home, located off Australia's eastern Queensland coast, this island is only a few hours away from our where we live! How lucky are we?
Now, I was absolutely ecstatic to get behind the wheel of our Fraser Island 4WD hire vehicle!  We simply could not wait to hop over to the most famous island in Australia!! All the senses alive and massive smiles on our faces, lets go discover Fraser Island!!
Fraser Island 4WD Hire Adventure on the Biggest Sand Island in the Your Complete Guide To 4-Wheel Drive Hire From Rainbow Beach
Our adventure started bright and early at 6am at Rainbow Beach Adventure Centre 4WD Hire. Here we met Jessica, one of the the awesome and friendly owners, who we befriended very quickly.  Jessica runs this hire centre with her brother Greg, both of whom have extensive knowledge of both Rainbow Beach as well as Fraser Island!
Jessica was very thorough with all the details we needed to know about the car as well as the island.  She outlined all her expectations which included where we could and couldn't drive due to safety precautions.  She also had a bucket-load of handy tips whilst driving on the island, together with a beautiful and detailed itinerary and map for our trip to Fraser Island.
She will also run you through a quick training session to make sure that you get to know your new fourby really well. In all honesty she goes above and beyond any hire company we have ever had experience in dealing with.  Her personal style to ensure that our time away would be perfect even extended to her borrowing Jolene her thongs (aka flip flops) as hers broke just as she got out of our car!!  She also noticed that we didn't have an esky and rushed off to grab one of theirs so we could keep all our fridge items cold on the drive.
The 4WD is ready to go with TWO full tanks of petrol.  Of course you need to refill both before handing the 4WD back to Jessica.  After 3 full days of driving on the island, the fuel set us back by around $150AUD.  You will also need to grab some tickets for the barge to Fraser Island ($120AUD return) and the Fraser Island 4WD permit ($46.85AUD), these can easily be purchased at the local BP service station.
Once all of these are sorted it is time and off we go for our adventure on the biggest sand island in the world!!  Next stop is Inskip Point and there it is time to relax with the other eager travellers as you wait for your barge to arrive.
Quick tip for travellers not from Rainbow Beach, like us. Due to the tides, driving on the beach is limited and getting onto the island can very early in the morning. In that case, we recommend to stay the night at Rainbow Beach, before heading out early across to Fraser Island. We stayed at Rainbow Waters Holiday Park for the night prior, their $100 cabins were basic but affordable, perfect for a night of sleep.
There is a reason why Rainbow Beach is called the gateway to the sand island!!  The hop over to the island is quick and stress-free.  Inskip Point is only about 7 min from Rainbow Beach, the trip on the Rainbow Beach barge to Fraser Island took only about 10 mins.  So within about 20 min you could be on the island already!!
Our kids loved the barge and were beaming with questions!  Once on the barge they loved hanging out at the side, looking at the splashing waters and watching as the approaching island grew larger larger.
Just around the corner from the Rainbow Beach entrance to Fraser Island, you will find yourself on what must be the largest beach highway that you will ever see in your life!! Can you count how many 4WD have left their mark in this photo?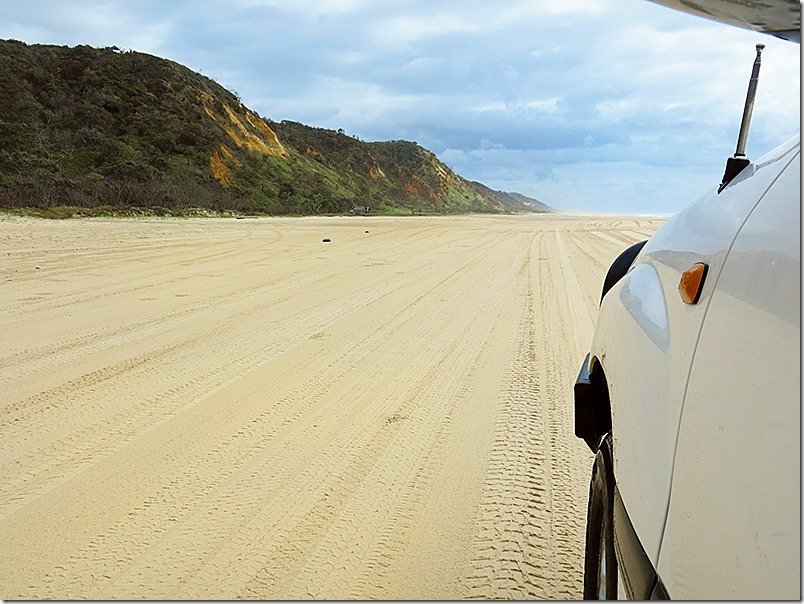 Don't worry, even in the busiest traffic of the day it will never get congested here. As long as you stick to the road rules and you indicate which way you are intending to drive, you can literally drive on any part of this awesome beach. We suggest to stay closer to the beach, so you can drive on the harder sand.
Our 4WD was the most spacious car I have driven to date. For our family of four, filled with travel bags, a very large esky, camping chairs and a mass off food, it still had room for more. Normally sitting up to eight people comfortably, this car was just perfect for us. Plenty of room to stretch your legs and prevent the little ones from poking each others eyes out. Just joking!! And plenty of space to accommodate the massive smiles we had when driving on the golden sands of the famous Fraser Island.
Nothing like pulling up on the side of the beach, chilling out on the back of the 4WD and watching the kids get lost playing in a creek.  We forgot to take a beach umbrella, so we enjoyed lounging out on our beach chairs INSIDE the Toyota for shade instead.
Make sure to give yourself a good couple of days to explore this amazing island (We spent three full days here and could easily have stayed for one more). This spot here is called Eli Creek and it's roughly half way drive up 75 Mile Beach.
75 Mile Beach is a stretch of beach that goes on for eternity, the stretch from the barge to the Champagne Pools  is about 95km, the scenery is simply spectacular.  There are also lots to see on this Fraser Island self drive adventure and loads of little spots to stop at too break up the journey for the little ones.
There are lots of small and large freshwater creeks that run into the ocean.  Be careful of these and slow down as you never know how deep they can be.  The car though will handle anything, not to worry here!! Tough as nails our beast is!! haha.. I think I got a little excited here and even did the Toyota advert totally unintentionally!! Really!! haha
It is sooo relaxing driving on Fraser Island beach, you feel like you are simply in a different world, a secluded piece of paradise. Breeze from the ocean refreshing your senses, sun shining bright high above illuminating and making the whole experience picture perfect. Kodak moments at every point.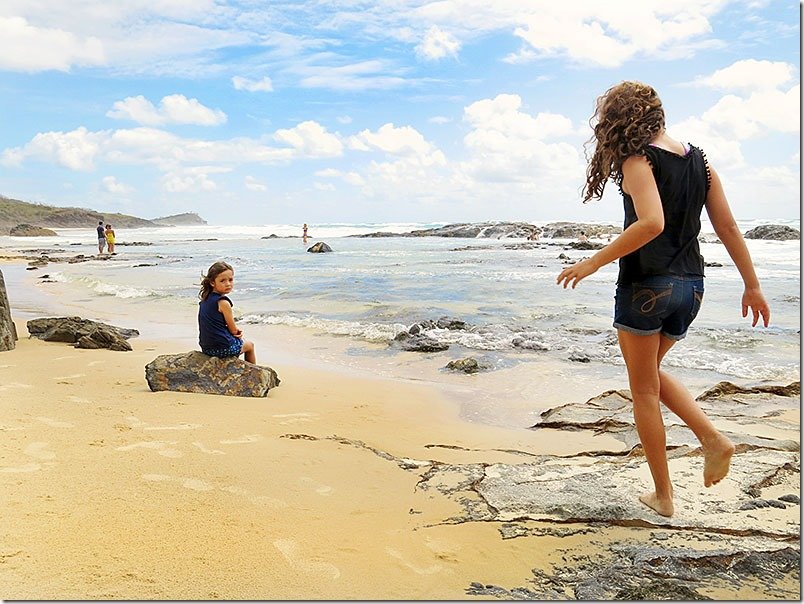 There is so much to see on the island, so many treasures that are not even accessible by vehicle.  Luckily for us we had no stress about trying to map out the itinerary as Jessica from Rainbow Beach Adventure Centre 4WD Hire prepared a detailed map for us. Three different colours, for three different days.  Fraser Island four wheel driving is limited on the beaches due to the low and high tide, so it's best to listen to the advice of the true locals. Jessica and Greg lived here for many years, so we took their advice and 'mostly' stuck to the plan. We did add a few more destinations to the list, but you will have to wait and read the next post about Fraser Island to find out what they were.
From the beach to the Fraser Island forest tracks, forest no problem here. Switch on your 4WD on the rougher sand roads and you glide through with ease. It's not all smooth sailing here though. Oh yes!! There are some bumpy tracks here, so for the rev-heads this one is for you.
Dozens of pathways in and out of the lakes winding through the many different forests. Harder and softer sands beneath your wheels of the giant you're driving, while inside kids laughing and making up stories about unicorns crossed with pegasus. Well, that was in our car. What's the stories do you hear?
Your trusty 4WD will take you all over the beautiful Fraser Island with ease. Even when you might think the hairy little stretches of road and thoughts of bogging in the soft sands creep up into your head, do not worry one bit. Powerful V8 engine and the 4WD from our hire place is all you need.
All you have to worry about on this Fraser Island trip is which lake to see and how long to stay lying down on the softest white sand; while kids are playing in the sand, lost in the art of making sand castles.
We had an amazing time getting lost into the wilderness of the world's biggest sand island in our Fraser Island 4WD Hire car.  Safe, comfortable and relaxed driving both on the forest tracks and on the spectacular beach highway.
Couldn't help the overwhelming depression that sunk in a little bit on the way back to the mainland. We simply just wanted more!!
OVER TO YOU:

Which do you think you would enjoy more, beach driving or the forest tracks?

When is your next long weekend for some awesome fun in your 4WD?

Which interests you more?  A Fraser Island 4WD Hire for a Fraser Island self drive adventure or a Fraser Island Tour?
How to get to Fraser Island

:
Brisbane Airport:  Fraser Island is located approximately 4 – 4.5 hrs drive north of Brisbane.
Sunshine Coast:  Fraser Island is located approximately 2.5 hrs north of Sunshine Coast.
Bundaberg:  Fraser Island is located approximately 1.5 hours south of Bundaberg.
–
More information about Rainbow Beach Adventure Centre 4WD Hire:
If you would like to book your Fraser Island 4WD Hire vehicle through Jessica, hop over to their site here Rainbow Beach Adventure Centre 4WD Hire.
Their rates vary on a sliding scale according to season, availability and number of people.  On average 2 days is $360, 3 days is $525 and 4 days is $600
Rates are calendar day based with access to and from Fraser Island being tidally oriented.
Prices include GST, unlimited kilometres, basic liability coverage and parking.  Full insurance option also available.
A driving demonstration, tidal information, map and suggested itinerary is provided, including a compressor with every vehicle.
Camping kits are available at extra costs and include tent(s), sleeping mats, esky (cool box), table and chairs, full crockery/cutlery set with dishwashing detergent and gas cooker.
–
–Important things to know about Driving on Fraser Island:
We recommend to explore this island in a high clearance 4WD.
4WD vehicles have special off road tires, lift kits and can engage into low range 4WD, which All Wheel Drive vehicles do not have.
Low range 4WD'ing is essential in places, in case you get bogged during your Fraser Island trip.
More Fraser Island Posts:
For more posts on Fraser Island, see below:
–
Special thanks to Rainbow Beach Adventure Centre 4WD Hire for a sponsored 4WD hire in exchange for brand endorsement. As always, the content & opinions expressed here are entirely our own.