A melting pot of charming old towns, beautiful beaches and outstanding architecture, the Algarve is a picture-perfect summer destination.
Located in the south of Portugal, this naturally beautiful hotspot is a treasure trove of fun. Regardless of whether you enjoy spending your days soaking up the sun or heading off on a hike, you're guaranteed to have a great time in the Algarve.
Whether you're travelling between towns or sticking to your base, make sure you feel comfortable by choosing from one of the many beautiful villas in Portugal. That way you can enjoy a day out before heading home to a luxurious villa – what could be better?
4 Town You Must Visit in Algarve
While you are exploring, here are four of the towns that you must visit:
1. Lagos
Beloved for its natural gems and rich history, Lagos offers a wealth of fun activities. You simply must schedule a tour to explore the immense seaside caves. Dotted around Ponta da Piedade, a guided tour of these beautiful rock formations allows you to immerse yourself in the natural history of this fascinating town.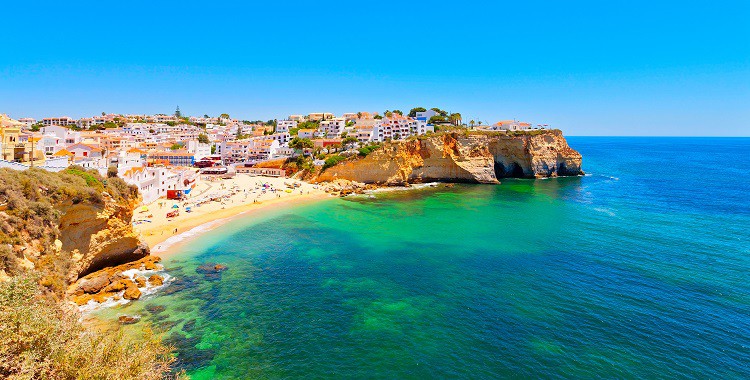 Once you've explored the caves, enjoy sunbathing on the sprawling shoreline of golden sand and dip your toes in the deep blue water. Ponta da Piedade has plenty more to offer, including kayaking and hiking among the rugged rocky landscape.
---
2. Tavira
Reminiscent of a traditional Portuguese town, Tavira's white walls, terracotta roofs and cobbled streets are enough to take your breath away. Surrounded by the vast Gilão river, Tavira is for those who want to forgo the beach and instead explore Portugal's more relaxed side.
Often described as Algarve's prettiest town, you could spend hours strolling through the streets of Tavira and dining at one of the many riverside restaurants beside the Gilão.
---
3. Monchique
Backed by rocky cliffs and lush forest, Monchique offers a landscape like no other. The perfect destination for those who enjoy sunset strolls and a peaceful atmosphere, there are a number of trails to follow in and around the town.
If you want to stray further into nature, try one of the guided off-road tours, which can be enjoyed via a Jeep Safari or hiking.
Once finished with your adventure, sample some Portuguese food underneath the stars, including caldo verde. This hearty soup is one of the most popular dishes in the region; if this doesn't tickle your fancy, opt for one of the cod dishes, also known as bacalhau.
---
4. Albufeira
Offering a lively atmosphere and vast amounts of golden sand, sun-seekers flock to Albufeira to laze on the beach. Dip your toes into bright turquoise water while basking in the glorious climate.
There's certainly no shortage of sunny days, so whether you're sitting on the beach all day or exploring the sea via boat, you can do so with the sun beaming down.
Head into the historic Old Town to sample the traditional side to this gorgeous town; packed with markets and restaurants, it's the best place to get to grips with the Portuguese culture.
---
Portugal has something to offer to all travellers, and the Algarve is one of the best places to experience the country's lively nature. Whitewashed, sun-kissed and romantic, there's nothing better than relaxing on one of the Algarve's many golden beaches, with a cocktail in hand.