Traveling with a baby can often be quite the gamble when it comes to how behaved they'll be throughout the course of the journey.
There are always a number of factors to consider when it comes to flying with a baby and to be honest, sometimes things can get a bit hairy.
Saying that, in this article, we're going to look at the best ways of traveling with a baby or young toddler, whether is it flying with baby in lap or in a car seat. We will also look at where they should be seated and how to keep them safe and comfortable throughout a flight.
Flying with Your Baby in Lap vs in a Car Seat
Lets have a look at things you need to know about flying with your baby on lap vs flying with your baby in a car seat.
American FAA on Flying with Children
Before we get into the nitty-gritty of flying with young kiddos let's look at what the American Federal Aviation Administration has to say about it. They state that the safest place for your child while flying is in a CRS (Child Restraint System).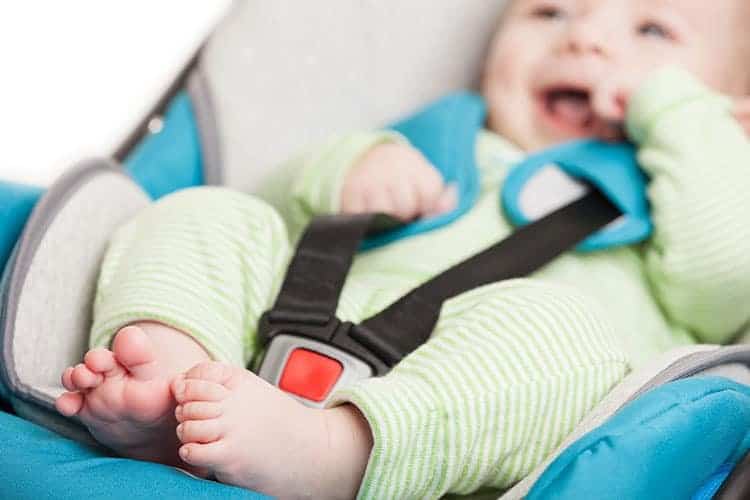 Now that might sound quite foreboding but it's actually just the name for car or plane travel seats with seatbelts for the young one.
The FAA states that in the case of an emergency your arms won't be able to keep your child as safe and secure as a CRS. Make sure that the travel seat is certified and has the "This CRS is certified for use in motor vehicles and aircraft" printed on it. Not all motor vehicle travel seats are suitable for plane travel.
Check with your airlines beforehand whether keeping your little one on your lap is even allowed, as some flights may require you to use one of these travel seats for the safety of the child in case of an emergency.
Airplane travel with a baby is tough but following these guidelines can really help out loads.
Tip: You can choose to travel with your baby in a FAA Approved Car Seat or in an alternative option for CRSs.
---
Some Tips on How to Fly With a Baby
We've created a list of some flying tips to make it as easy as possible for you. By following these tips you can really minimize any additional stress or hassle during the course of your trip while traveling with your baby on a plane.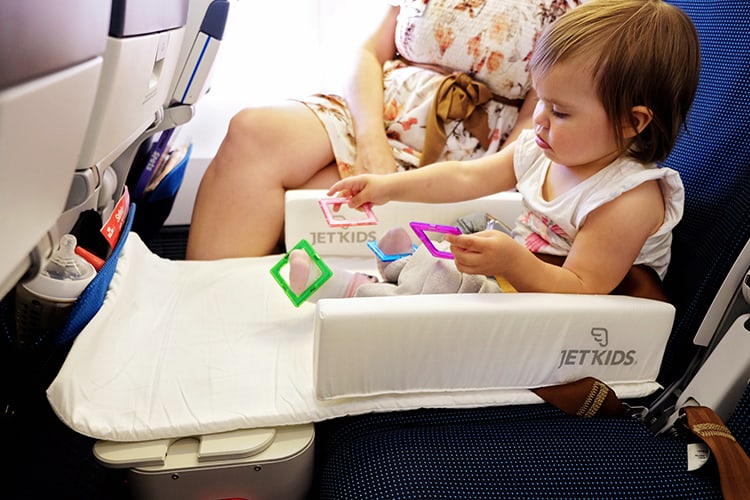 Pack a small number of toys and snacks to keep your baby or toddler occupied during the flight.
Make sure your CRS is approved for airplane use. Otherwise, it might have to be checked as extra baggage.
Measure the width of the CRS. Most plane seats are 16 inches so if it's that wide or less you'll be able to place it down easily.
Buy a discounted fare for your child to guarantee a seat to place the travel seat. They have to be placed on forward-facing seats due to airline policy.
Travel seats cannot be placed in exit rows. Window seats are the best place to put them.
Hopefully, these quick tips can help the trip to be as easy as possible while keeping your little one safe and comfortable. We all know it can be tough traveling with a baby, however, preparing for these potential issues can really help out immensely.
Before takeoff remember to double-check if your baby or toddler has been buckled in to their travel seat correctly. Keeping your child securely fastened can help them to stay safe during the course of the flight. Making sure the seat is comfortable can also help them to fall asleep and stay in a happy mood too.
---
Keeping Your Baby on Your Lap During a Flight (Pros & Cons)
Many airlines actually prohibit keeping children on your laps during the whole course of a flight. It's potentially very dangerous in case of an emergency.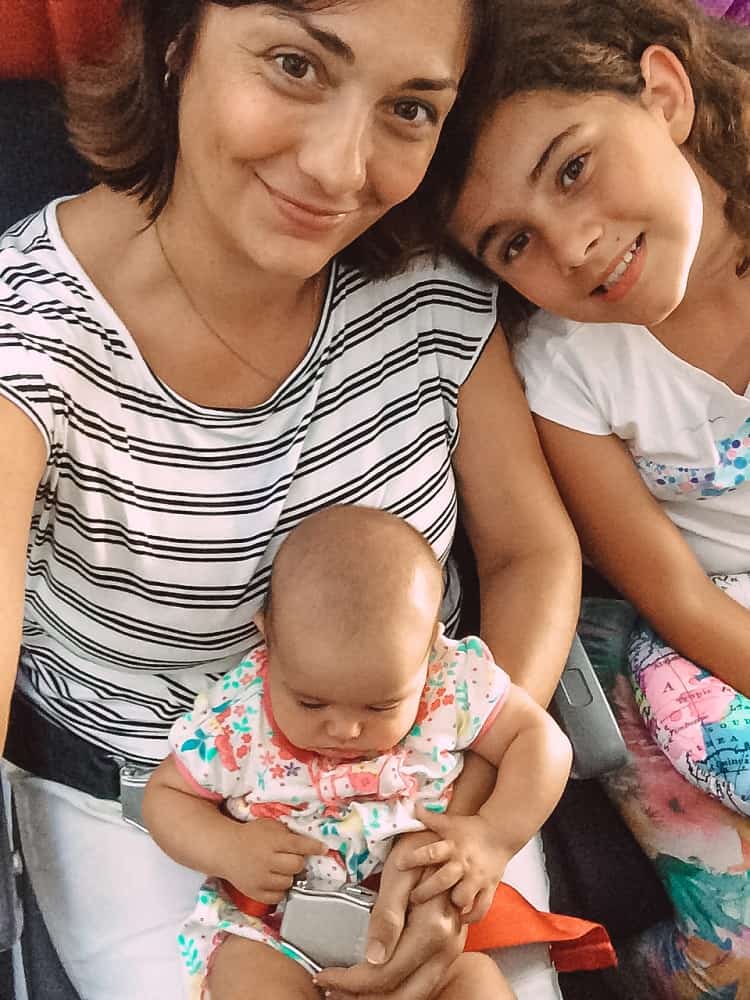 The FAA and many airlines agree that it's best to keep your child in a CRS during take-off, landing and ascending. During cruise altitude, it should be okay to move your baby to your lap.
Be sure to check with your airline of choice before the flight itself what their rules and regulations are for traveling with children under a certain age. Sometimes it can be more expensive to book a direct flight without layovers but this can also reduce hassle and stress on the child.
It's also highly recommended to visit the airport bathroom and make sure your baby is dry diapered and sparkly clean before the flight. It's best to make sure that your baby's bodily functions have been attended to beforehand.
That way you don't have to worry about any possible turbulence while you wait for the "keep seatbelt fastened sign" to disappear so you can change a diaper.
---
Keeping Your Baby in a Travel Seat During a Flight (Pros & Cons)
Choosing to travel with the correct CRS or travel seat with your child is the safest option you can choose. When flying with babies make sure you check the guidelines of the specific airline beforehand.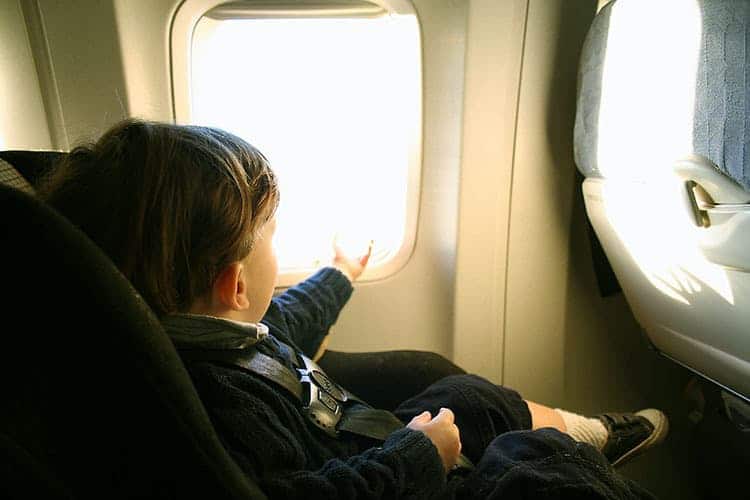 Once you've reached cruising altitude and everyone is allowed to get up and stretch their legs you can unstrap your baby to hold for a bit.
As mentioned before, make sure that the travel seat is the correct size for the airplane seats. It can be a real mission and a half to organize and secure a seat before takeoff if it doesn't fit properly. Taking advantage of pre-boarding can also help you to get your children strapped in without holding up a crowd.
Children under the age of 2 that can be held on your lap can fly free in most airlines. However, it's generally best to book an extra seat for your child regardless. This can give you and your family some much-needed room in a row of seats.
Booking an extra seat can also allow you to strap your baby into a CRS for safety using your car seat. It's certainly pricier than just carrying your baby on your lap, but safety first.
Tip: You can also check out boosters for travel as well.
---
Bonus Tips on Traveling with an Infant on a Plane
There are many other tips that can help to make traveling with babies and young children much easier.
Check in Your Luggage & Gear
When you arrive at the boarding gate remember to get baby gear and your luggage checked in. It's as simple as requesting check tags from the attendant at the gate. Bulky items such as strollers and additional travel seats can be tagged at no additional charges.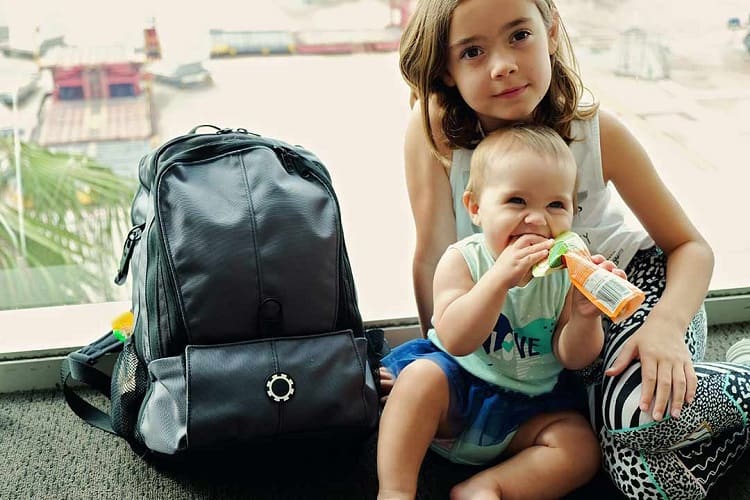 ---
Bring Extra Supplies
If you think you may have brought enough baby necessities then double that. It's always better to be over-prepared rather than under-prepared, especially in the case of diapers, bottles and baby food.
If you run out of anything important once you're 35 000 feet in the air it's going to be really hard to make do with what's left. Trust us, double your goodies.
By making sure you've got all you need you won't have to worry about your little one getting hungry, thirsty or dirty throughout the flight. Very unexpected emergencies can take place at the worst possible times.
---
Pack a Change of Clothing for the Plane
Make sure you've also packed an additional change of clothing for your baby and for yourself. Getting messed on while feeding your child or, heaven forbid, changing a diaper, can leave both of you tired and smelly.
By bringing a fresh change of clothes you'll always have a backup in case of any potential predicaments you may face. And possibly save you a few nasty, if understandable, glares.
---
Last Thoughts on Flying with a Baby
We all understand that flying with an infant can be very stressful. However, by ensuring that you've followed the correct guidelines and made preparations things can go much smoother.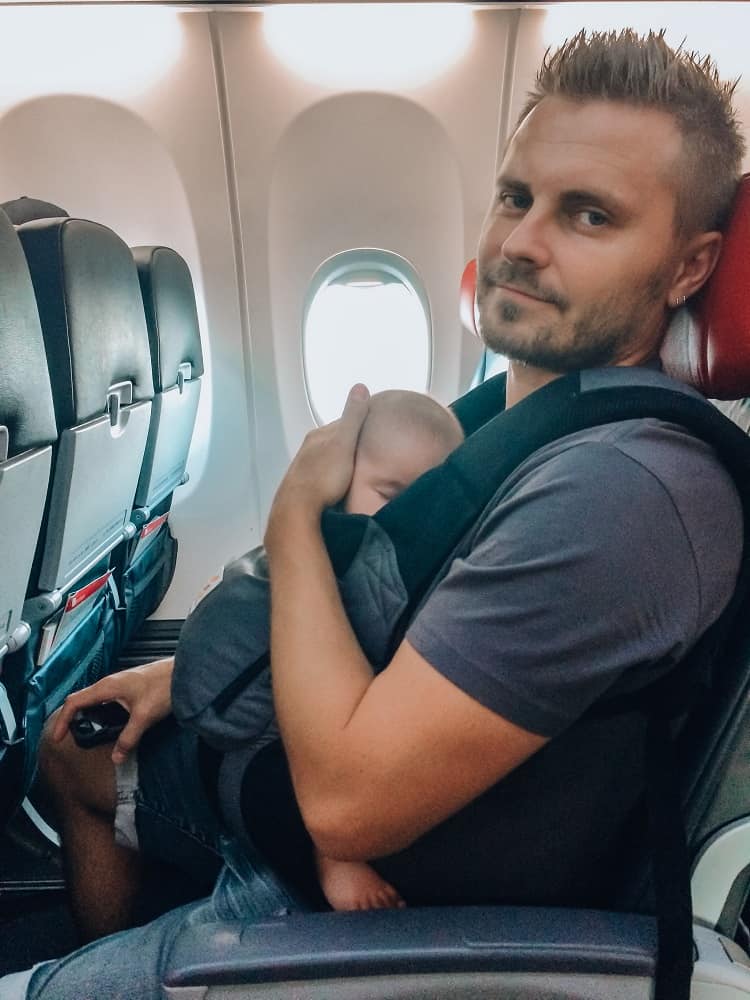 Be sure to look up and research the rules and regulations on whichever airline you choose to use on flying with young children and babies. This can also help paint a picture of what to expect and bring to ease the flying.
Preparing beforehand is a surefire way of making certain that your flight goes as smoothly as possible and you land feeling relatively rested. We hope that these tips help you to have a fantastic flight and land safely in your destination of choice.