So our blog is now 9 months old!  We are still working our butts off on this blog, as I guess we always will if we want to run it as a business! We have some pretty big changes in life coming up this month, which is rather exciting!
We also have a family trip to Cambodia coming up in a few days!  So very excited to take my kids on a bit of an adventure and open their eyes to other cultures and lifestyles!!  The thing is, whilst the blog is such hard work, it truly does open so many doors to living life the way it is meant to be lived!  To follow passion as your pathway, rather than living your life by obligations!
[bctt tweet=" ''As soon as you start to pursue your dream, your life wakes up & everything has meaning'' – B. Sher"]
Before we head into our blog income report details for the month, I wanted to talk about some of the 'Behind the Scenes' sort of stuff that has been going on for us!  There is so much that goes on behind the website … to bring a blog to the point of making an income!  It looks so easy when you look at other bloggers, and think 'Yeah I can do that!'.  Write some posts, have ads, make money.  But reality is that almost as many hours can go into finding avenues that works for monetizing your blog as that goes into actually writing the content!
As I mentioned we are heading away on holidays soon; gotta love the excitement of seeing a new destination!  The beauty of being part-time travelers is that when we go on vacation, we do not need to blog.  Which means that it is more a mix between a holiday/business than just pure business!   A balance we value!  However, as we follow a super strict blogging schedule, it means that we have to work extra hard before the holidays, to get all our blog posts written and scheduled to go live whilst we are having fun in Cambodia!  This blog post happens to be my very last pre-scheduled post for our holiday that I need to finish, so that is pretty exciting!!
To help us schedule out our work and pre-write our promotions for the new posts for Facebook and Twitter, we love using CoSchedule!  This program has an inbuilt calendar, so we can see exactly what is being published when!  This is what it looks like for the next two weeks!  All scheduled and ready to go, so we can get on that plane and forget about some of our normal jobs!!  CoSchedule offers a free trail if you wish to give it a go!
Now I know you all here for the tips and hints and real-life financial statistics, so let's have a look at our February Income Report!
–
One Year Leave from Work – BOOYAH!
BIG BIG NEWS!!!  As of last Friday, I am no long teaching!  I have taken one massive and kinda scary step towards working on the blog full time.  I am fortunate that I can take some long service leave, together with maternity leave, so I will be receiving half pay income for the next YEAR!!!  That means I have one year to bring this blog to a level to substitute my part time teaching income!!  Can I do it??  I sure as hell am going to try!
The one thing I have realized from blogging as a business is that it requires a lot of time!  Juggling jobs can be so tricky! And exhausting!  But yet with a blog at 9 months of age, I'm pretty sure that most bloggers don't have the freedom of simply walking away from their paid jobs!  So you will need to find other avenues to build towards slowly stepping away from work life.  That might mean saving money, or keeping your leave built up or maybe just waiting until the blog produces an income you are happy with.  Whatever you do, choose to make a step towards that dream of yours!
[bctt tweet="''If your dreams don't scare you, they're not big enough!!''"]
Our Current Business Goals – @ 9 Month's Old:
Our current financial goal for our travel blog is to make $1000 a month by the end of June '16!   4 Months to go, if you have any tips please shout them our way!!
Continue to grow our monthly traffic numbers, we are so proud of our social media following!  But we would love to increase the reach of our blog itself!  Always a challenge for newer blogs, do you have any tips?
New Steps towards making more Money!
As we are making most of our current income on our social media platforms rather than on our blog itself, we decided to join some more social media influencer platforms!  A lot of which have left us hanging with no 'jobs' thus far!  I find it tricky to find platforms for Australians as a lot of the popular ones have a clause for USA and Canada residents only.  However we did do an influencer job for Pay per Post this month!  It is a nifty program, where jobs come along and you can place a 'bid' as to how much you want to be paid for the post!  We had very quick results timeframe wise from when we applied for the job, till approval, which I really like!  So this program might be worth signing up for and giving it a go if you have a nice social media following!
Blogger Network
Google Ads were not cutting it for us!  It was earning us a mere few dollars a month, so it was time for a change!  We took the plunge and signed up to (and paid) Blogger Network.  Whilst we had to pay a once off fee of US$99 to join.  This price gave us access to loads of free video resources on how to grow our blog!  Together with that, they also install an ad system on your blog, 6 ads in various locations.  With Google ads, you only earn money when people click on the ads, whilst at Blogger Network, you get paid for impressions!  So traffic, plus page views, plus time on page all adds up to income!  Where we were earning a mere $2 at Google Adsense, in about 3/4 of a month at Blogger Network we have earned over US$53.  Which means that we have almost earned back all the money that we paid to join up!  I like it!!!  You can visit them here to see which program best suits your blog.  We joined up to TBN Propel
We have spoken a few times before about Cooperatize.  It is one of the few programs that we have joined that actually have sponsored blog post opportunities that pop up for us.  This month alone we had three opportunities pop up.  You have to apply for the jobs and it seems to be a true test of patience and waiting game to see if you get accepted or not!  We haven't been lucky enough to be accepted just yet, but at least I find that having opportunities to apply for is a step in the right direction!!
I think currently the real bonus for us lies in the referral program of Cooperatize! They pay $50 per referral for every blogger that gets accepted into the program!  So another way to earn income YEAH!!!!  You need to be invited from a current member to be able to apply, so if you are interested to give it a go, please use our invitation link here
  It is FREE to sign up, so truly what do you have to loose?  We currently have two bloggers who applied with our link, so just waiting to see if they get accepted or not!  Fingers crossed as the $100 bonus referral money would mean a lot to us!
____________________________
Travel Blog Income Report for Feb '16
Income for February: AUD $655.28
Instagram Influencer Post
Blogger Network – $73
Amazon  – $1.28
Agoda – $16
Expenses for February: AUD $338.15
Advertising fees (Facebook, Outbrain, StumpleUpon etc) – $73.13
Blogger Network Program – $140.14
International Bank Transaction Fees – $4.20
Google Map Plugin to use on our Blog – $52.35
New Font for our Newsletter – $25.40
Purchase of Stock Images – $16.12
Coschedule Monthly Fees – $26.81
NET PROFIT: $317.13
____________________________________________________
Travel Blog Traffic this Month:
One of our largest drivers of traffic is STILL currently Pinterest! We have officially gone over our 5K follower goal for Pinterest!  We are constantly seeing rewards of our work involved with this social media platform!   So much so that I recently wrote a comprehensive guide on how to make the most out of Pinterest!  If you haven't read it yet, you should hop over here and have a look!  Make sure to download the FREE checklist as well!  And don't forget to try out Tailwind, use this link to receive one month for free, PLUS get a $15 DISCOUNT if you decide to join up!!! 
We have also started seeing some rewards from Google as well!  It is nice to see some readers come across from search engines!  We put a lot of effort into SEO, I've read a lot of confusing opinions about whether keywords are still necessary, but currently defining keywords for each post seems to be working for us, so I'm just going to 'roll' with that!
—————-RESOURCES —————-
1. Business Cards:
Business Cards are invaluable if you are serious about running your blog as a business!  We hand them out everywhere we can to expose people to our brand!  It is also great for handing out at the hotels and resorts that you stay with!  To us it is a valuable investment that we simply can't go without!  That does not mean though that you need to pay an arm and a leg for your cards!  We researched the web and found that Moo.com has some gorgeous quality cards at very reasonable prices!!  We just bought a stash of 100 for AUS $54. (which includes the postage costs, plus we like ours a touch fancy and have rounded corners on ours, they are even cheaper if you go with the standard option) If it is time for you to get your business cards printed, and want to give them a go, use think link for 10% discount on your order!  You are WELCOME!!
2. Start Your Own Blog:
We have simplified the blog-start-up process into 3 easy—peasy steps!! Read our post on how to start up your travel blog!  I researched all the best prices and low-cost ways to start our blog, so if you like the look and feel of our blog, why not save yourself some work and time and simply follow the same steps?
3. Previous Income Reports: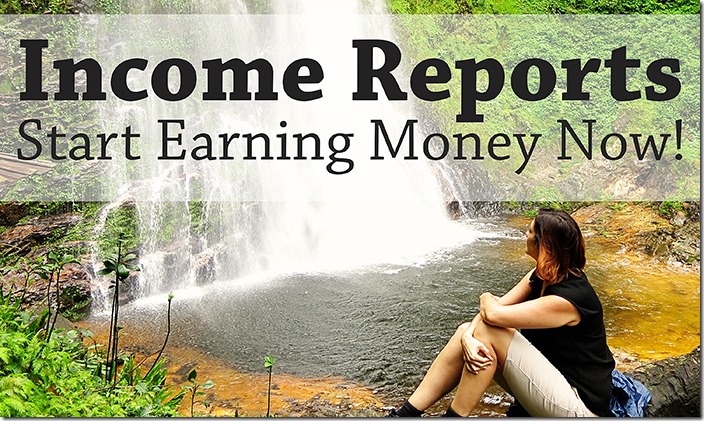 If you enjoy our Income Report blog series, please click on this link here to read our previous reports!  We made money from the very first month of being open!  Never let anyone tell you that you need to wait a few years before you can monetize your blog!  Start following our steps and do it now!!  Because what are you waiting for??
Do you earn money from your blog?  What are your main income sources?

Do you have any tips for us in regards to building traffic?
To read our Blog Income Report for March 2016, click here!
After more ideas of how you can make money whilst travelling?  Read our guide to 27 other travel jobs you can do that will allow you to earn money whilst travelling.
* Please note that affiliate links are present in this post.  Using our links costs you nothing extra but helps us stay in business!  Please see our disclaimer page for more information!