We all wish that travel could be more affordable!  Even more so, when you are travelling with your family.  Money spent on flights, accommodation, food and not even to mention entertainment can add up very quickly!  We want to show you that affordable family travel is achievable, and we have enlisted the help of other family travel bloggers to share their proven tips and tricks on how you can enjoy your next family holiday at a more affordable rate.  For our second family interview, we welcome Racheal from Roam with Racheal who, together with family, is currently living in Korea.  She shares her secrets as to how the affords to live a travel lifestyle.
_______________________________________________
–
1. Can you briefly introduce yourself, your family and your blog?
My name is Racheal. I've been married for 17 years and have three children. I am a travel junkie! All three of my kids have had passports by the time they were one month old and I'm hoping to instil my love of travel in them. My blog is called Roam with Racheal and is basically my travel experiences that I share in the hopes of inspiring others to get out and see new things. I enjoy traveling solo, with friends, sometimes just my daughter and I take trips, and other times we pack up the whole family and head out.
Budapest Hungary
–
2. Why is family travel important to you?
Family travel is important to me because I want to share my passion with my children. I want them to experience the world outside of their own little neighbourhood. They should have an understanding that we are part of a global community. I love that we can go to other countries and even though we might not speak the same language, we can still communicate and they see that kindness is a universal language. It's also just really fun! My daughter and I recently went to a raccoon Café in Seoul, you can't do that in the States. When you travel you get to experience things that you might otherwise not in your home country and that's awesome.
 –
3. How many times per year does your family get to go on a holiday? Are these domestic holidays or international?
When we lived in Europe we tried to visit a different country two or three times a year. We currently live in Korea so we generally take one or two trips in Korea and then one international trip a year.
Darangee Village South Korea
–
4. How does your family afford to travel?
We have a trip account and at the end of each month whatever extra money we have goes in there. It's pretty easy to travel within Korea since the country isn't very big so most of that money gets saved for our international trips when plane tickets are involved.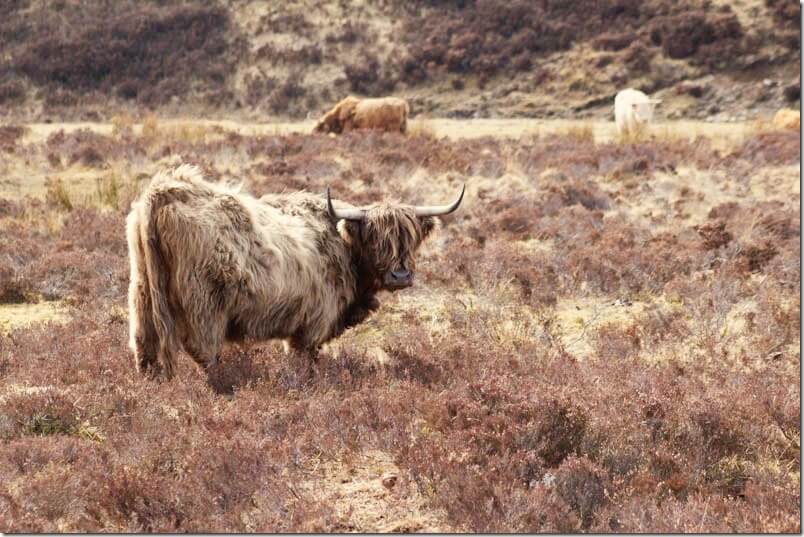 Isle of Skye Scotland
–
5. Which destinations or countries have you found to be most affordable?
I actually think that traveling in the United States is very affordable. You can typically find large hotel rooms that accommodate families and they don't have extra charges. Gas is relatively inexpensive compared to many other countries. There are several chain restaurants that are inexpensive and you can always make your way to WalMart or a store like that to buy cheap groceries.
–
6. Do you have any tips in regards to saving money in the planning stage of the holiday?
I wish I had more tips to save money here but I really don't. The only thing that I can say is to do your research. I start planning a big trip at least six months out and I just check all of the sites that I can think of. I usually look for a couple of weeks to get an idea of what tickets and things are going for and then when I find a good price, I jump on them!
London England
–
7. How do you prepare your children for a new country?
My kids have travelled pretty extensively so they are used to being around different languages, foods, and those types of things. I usually just tell them about the fun things that we are going to do to get them excited. However if there is something really unusual that we are planning to see then we will have a more in depth conversation about that. For instance we are heading to Japan in the summer and planning on attending a Sumo match. So in this instance I showed them a video of Sumo matches so that they would know what to expect. I have two little boys so I knew they would think that Sumo wrestling is funny. I definitely wanted them to see it beforehand, explain why it is important to the Japanese, and hopefully make it a little less funny before we go. Keep your fingers crossed that we don't cause an international incident.
Taipei Taiwan
–
8. What is the one item your kids need to travel with?
We always try to travel with a portable DVD player and a couple of movies, especially in non English speaking countries. After a long day of sightseeing it's nice for them to be able to watch a movie and chill out. I also travel with a couple decks of cards, notebooks and markers.
–
9. Do you have any tips in regards to saving money whilst on the holiday?
In order to save money I always try to find hotels that offer complimentary breakfast. If we are going on a trip that doesn't require a flight then I'll pick a hotel with a refrigerator and I'll pack a cooler so that we can make our own lunches. As far as activities go if we are near a beach or national forest we usually spend a day in those kinds of places because it's free or very inexpensive and hiking/playing on the beach helps the kids expend their energy. It's hard to take tours with two very busy little boys so a lot of times we might see a sight only from the outside. I only buy tickets to go into a place if it's something that we really want to see. We also split up occasionally. If there is something I want to see that my husband isn't interested in, then he will hang out at the hotel with the boys, and my daughter and I will do a tour or vice versa.
Taipei Taiwan
–
10. Many people are bit sceptical of travelling with children. What is your best advice to make a family holiday a success?
I think when traveling with kids, you have to be extra vigilant, that doesn't mean be afraid, but just pay attention. We do things like when getting off the subway we make sure that my husband and I are each holding one of our son's hands. In Seoul I saw a child accidentally get left behind on the subway when the res of her family got off and it was horrible! We don't let them run ahead and we don't let them go places alone. I don't usually worry about my kids getting sick but I do always pack some Tylenol, Neosporin, and Band Aids just in case. As I mentioned above I pack a portable DVD player, deck of cards, and markers to help keep them entertained. I also let them pack a back pack with a few small toys that they want to bring along. Whenever I am trip planning I keep my kids in mind and plan at least a couple of stops that are just for them, maybe we go to Disney for a day or the zoo, something like that. I also try to book a hotel with a pool. My kids love to play in the pool, it's usually one of their favourite things that we do when traveling, and it wears them out which is a total bonus!
Wurzburg Germany
–
_______________________________________________
More about Racheal
Website: Roam with Racheal
I was sixteen years old, Roam If You Want To by the B52's was all over the radio, and I was about to leave home for the first time to be an exchange student to Portugal. Did I speak Portuguese? No! Did I even really know anything about Portugal? No! But I was dying to get out and see the world so off I went. My year abroad was absolutely amazing and was the starting point for a life long love of travel. I've traveled through North America, Europe, the Middle East, and am currently traveling in Asia. My favorite thing to do is grab my camera and get out and explore.
_______________________________________________
Watch out for the next featured Family Travel Blogger!
SEND A MESSAGE TO EJMONT(AT)WANDERLUSTSTORYTELLERS(DOT)COM.AU IF YOU WANT TO BE THE NEXT FEATURED FAMILY TRAVEL BLOGGER
*(You must have kid/s and have affordable family travel tips and recommendations to share).