We all wish that travel could be more affordable! Even more so, when you are travelling with your family. Money spent on flights, accommodation, food and not even to mention entertainment can add up very quickly! We want to show you that affordable family travel is achievable, and we have enlisted the help of other family travel bloggers to share their proven tips and tricks on how you can enjoy your next family holiday at a more affordable rate. For our fourth family interview, we welcome Kirsty from Barts Go Adventuring who, together with husband and two teenage kids, loves to explore the world! Like so many of us, they have to work hard to save up for these holidays and she has some handy tips to share to make the destinations more affordable!

To read more 'Affordable Family Travel Interviews', click here!
_______________________________________________
1. Can you briefly introduce yourself, your family and your blog?
My name is Kirsty and I travel along side the rest of our little group called the Barts – my husband James and two kids, Marcus and Alex who are both teens now. I blog at Barts Go Adventuring where I have been chatting since 2012 about our plans for a family gap year, our subsequent long term breaks and lots of mini adventures in between.
–
2. Why is family travel important to you?
Travel has been an obsession of mine since I was a child and I just wanted to share it really. When I met my husband he hadn't been out of the UK at all and so I felt like I was on a bit of a mission to show him the world at least, then the kids came along and I wanted to include them too. To be honest it took a little while to get us travelling more – we didn't often have money for trips out of the UK, but as time has gone on we've become more adventurous!
3. How many times per year does your family get to go on a holiday? Are these domestic holidays or international?
I'd say a couple of times a year, although for the past few years it's been a bit more abnormal as we've had our 6 month breaks.
We normally at least go on one domestic holiday each year, even if it's just to visit friends who live in Scotland. We love to do an international trip too, but it doesn't always happen and depends on our budget!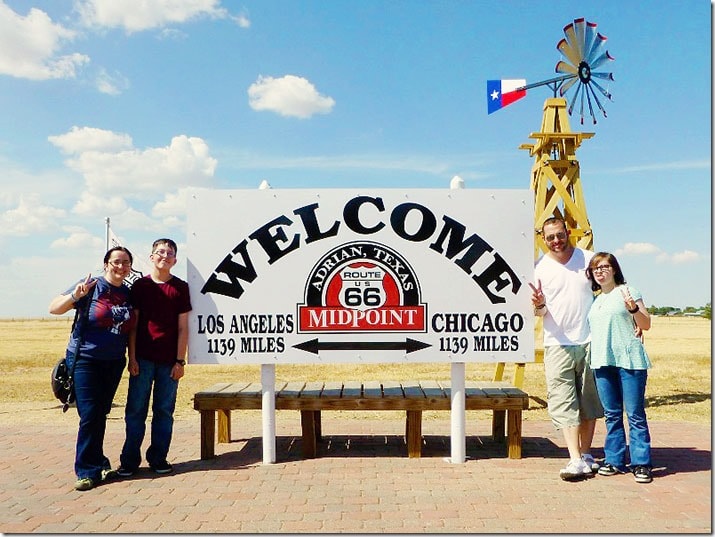 –
4. How does your family afford to travel?
We funded our six month breaks by knuckling down and saving hard! We also sold a lot of our possessions, almost anything that was worth anything, and we gave up our home base while we were travelling so we had less outgoings.
We also took extra jobs on and recently have set up our own businesses to bring in some extra money – most of which goes to travel!
We're definitely not a rich or privileged family, our jobs just barely cover our expenses, so we've had to be really determined to get enough money to do the things we've done. In most cases we just save what we can and try our best to make that money last!
5. Which destinations or countries have you found to be most affordable?
We've mostly travelled in Western Europe and the USA so areas that aren't particularly budget friendly, however travelling slowly, staying in apartments where we can self cater and not trying to do absolutely everything works for us even in these more traditionally expensive places.
Our most affordable destination has to have been Istanbul in Turkey. It was such a surprise to us that we could all afford to go out for a meal and that the attractions were reasonably priced too! We're normally used to looking at prices and thinking 'hmmm, maybe next time!' but we didn't in Istanbul.
It made us want to visit more reasonably priced places that's for sure! I mean we love western Europe – our favourites are Italy and France, but it can be a little bit expensive for our budget.
–
6. Do you have any tips in regards to saving money in the planning stage of the holiday?
My biggest tip is to be as flexible as you can be. If you are stuck with a set date to fly out on and return, you'll have less wiggle room when it comes to flights and might not get the best deals.
Always use price comparison tools – they don't always get it right, but I find that they make you aware of what other options you have too.
And read other blogs to get first hand ideas from people who have been there and done your trip on a budget. I always recommend people use a hotel in the UK called Travelodge, and they aren't on hotel booking sites so unless you know to look for them, you wouldn't! So I'd recommend researching beyond the basics and finding out what you can from real people.
7. How do you prepare your children for a new country?
We like to research online where possible and also read books about the area – both fiction and non fiction. Sometimes I don't really say much at all, like when we went to Istanbul – I obviously told them about it being a Muslim country and quite different to places we'd been before, but I really wanted them to come to their own conclusions about the country, so I just left it at that really. It's hard not to push our preconceptions of a place on kids, but I think it's good for them to be able to form their own opinions.
–
8. What is the one item your kids need to travel with?
Alex always needed to travel with a cuddly toy and still does sometimes, although she's developing a bit of a minimalist outlook lately! They both like some form of electronic games and we always travelled with Nintendo DS consoles. Nowadays it would be their laptops and some internet, but they do well without those if they need to!
–
9. Do you have any tips in regards to saving money whilst on the holiday – meals, activities etc?
Our default position is to self cater – we actually love doing that as it means we get to experience supermarkets like the locals and experimenting with new ingredients to make our meals. We still eat out occasionally, but look for budget meals as and when we can, often enjoying street food.
In order to self cater it's really beneficial to have apartments over hotels, so we scour Airbnb and similar sites for the best deals. I you can stay for a month then you'll get even better rates – we managed to get an amazing Italian apartment for just over £650 which had an amazing view over the sea.
We try and do attractions that are reasonably priced for our family and that we all really want to do. We don't just hit them all up for the sake of it. Our kids are really good and have a good grasp of money as well so when they see the price of something and I say it's a bit out of our budget, they can understand. We also think about the likelihood of us being back in the area and whether we should just go for it – when we travelled Route 66 we knew that we'd possibly never be in this area again, so we visited national parks, the meteor crater etc.
We also give the kids a choice too. When we were in New York we had enough money to either go up the Rockefeller center and get city views which we hadn't done at all, or we could go just across the water to New Jersey and to Carlo's Bakery which they'd seen on tv to get some nice cakes. They chose the bakery! It was a fab choice too as they got to meet one of the guys from the show!
I think it's good that kids know how much things cost and that budgets mean you can't always do everything. With that attitude we have never had arguments or disappointed kids because we couldn't do a certain thing – they have realistic expectations.
—-
10. Many people are bit sceptical of travelling with children. What is your best advice to make a family holiday a success?
My best advice is to think about what your worst fear is and work out what you can to make that less of a concern. For example, one thing I worry about is us all getting under each other's feet and not having space for ourselves. So I always try and make sure that anywhere we rent for a week or more has space – that the kids have their own space and that we can all spread out. To be honest, we don't always need it, but I feel better for having confronted that head on.
Mostly though, I feel that our fears aren't something that should stop us. There will always be something to worry about – if you want to travel enough, just take a deep breath and go for it. Start small if you need to – a holiday in your own country maybe to get yourself comfortable and just keep pushing the boundaries. Mindset is everything!
–
_______________________________________________
More about Kirsty
Kirsty set off in 2013 on an amazing adventure with her family – 6 months around Europe in a camper van! Since then The Barts have been on a number of adventures including another 6 month trip to the US and Italy. She loves travel and loves introducing it to her kids. Always on a budget, but that doesn't seem to bother them!
_______________________________________________
Watch out for the next featured Family Travel Blogger!
SEND A MESSAGE TO EJMONT(AT)WANDERLUSTSTORYTELLERS(DOT)COM.AU IF YOU WANT TO BE THE NEXT FEATURED FAMILY TRAVEL BLOGGER
*(You must have kid/s and have affordable family travel tips and recommendations to share).