A holiday in India with kids and family is like opening a storybook. It's a memorable and unique experience for all!
From legends of the royals to the bravery of the people; from exciting theme parks to informative museums – the nation has it all. From pampering hospitality to delectable dining, get ready to be enthralled!
India with all its diversity is quite fun to explore for all and it's especially the kids who are completely awed.
On visiting India, your kids will get first-hand knowledge about nature, history, people, religions, cultures, food, and much more. Spark up the love for nature, travel, adventure, and a new perspective on life with a visit to India with kids.
Here Is A  List Of The 10 Best Things To Do On Your Family Trip To India
__________________________________
1. Relive the fairytales of the kings and queens!
Wake up to the majestic views of the Taj Lake Palace, Udaipur
Want to hear a story about the kings and queens? India is dotted with numerous forts and palaces that speak volumes of romance, architectural creativity, opulent lifestyle, and historical legacy. From 'Floating Palace' to the 'Palace of the Winds' – there is a myriad of them. Make a royal entrance to the majestic forts atop hills in Rajasthan.
What's better than staying at the heritage hotels of India to recreate the instances from the lives of royals and experience them personally? The revamped lavish abodes offer a pleasant stay that your kids will cherish forever.
Destinations to hear the tales of Kings and Queens
Rajasthan
Delhi
Agra
Gwalior
Mysore
Madhya Pradesh
2. Fun Train Rides with Family
Create memories of a lifetime by traveling in the toy trains of India
Sometimes the journey to a place is more intriguing than the destination itself. When on a family tour to India, children must be pampered with the pleasures of traveling. Trains are surely going to get the kids' attention.
A joyride in the Toy Trains on the mountain railways which are also UNESCO World Heritage Sites is the best way to soak in the beauty of nature. Passing through tunnels; enjoying the panoramic view of the entire train; the whistling of the engine and the moving sound of the train is next to none.
If you want the fun to continue, then India also presents options for luxury train tours in India. Lavish coaches, plush interiors and modern amenities of the luxury trains of India add a 'WOW' factor to the voyage. You can have a memorable time with your entire family. From overnight journeys to ones that last an entire week, you can choose for a thrilling family holiday.
Trains to consider for a memorable ride
Day Fun Rides
Darjeeling-Ghum Mountain Railway
Kalka-Shimla Mountain Railway
Delhi-Alwar
Mettupalayam to Ooty
Neral-Matheran
Luxury Train Tours
Maharajas' Express
Deccan Odyssey
Palace on Wheels
3. Sail through the Serene Water on Kettuvallams
Sail along the palm-fringed villages in Kettuvallams
A houseboat cruise on the backwaters of Kerala is truly an incredible experience that should not be missed. The most enchanting thing about a houseboat ride is the spectacular sights of the pristine and otherwise remote rural Kerala that it offers. See how your children get excited at the very thought of sleeping on this floating boat.
Places to enjoy boat rides on the backwaters
Alleppey or Alappuzha
Kumarakom
Alumkadavu
Thottappalley
Thiruvananthapuram
Kottayam
Kollam
Thrissur
Ernakulam
Kasaragod
4. Unravel the wilderness by choosing a wildlife safari
Spot the rare species while on a wildlife safari
Flora and fauna are the two important blessings of nature to humankind. Nothing comes close to an enthralling wildlife safari excursion to explore the undisturbed side natural world. Jot down the names of famous animals native to India and handover the list to your children and see how many they can spot. This could be a fun activity to do while enjoying family holidays in India. Go through the deep dark woods with kids and observe what's in store for you.
Places to enjoy wildlife safari in India
Ranthambore National Park, Rajasthan
Jim Corbett National Park, Uttarakhand
Hemis National Park, Jammu and Kashmir
Bandhavgarh National Park, Madhya Pradesh
Kaziranga National Park, Assam
Kanha National Park, Madhya Pradesh
Gir National Park, Gujarat
Manas Wildlife Sanctuary, Assam
Periyar Wildlife Sanctuary, Western Ghats of Kerala
5. Get mesmerized by a camel ride during the desert safari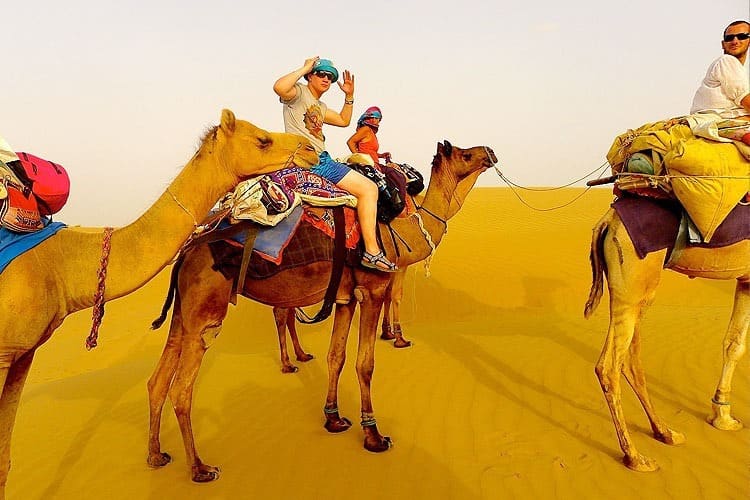 Get ready for a bouncy ride on the 'Ship of the Desert'
Every inch of India beguiles with something interesting. Even the Thar Desert which is otherwise considered barren land, doesn't lag behind to lure visitors. Let your kids sway back and forth, bob up and down and delight in the camel ride. Some captivating moments of fulfilled vacation with family await you. From extremely hot deserts to cold ones; from a camel with one hump to ones with two – you can test it all.
Destinations to enjoy a desert safari in India
Jaisalmer
Jodhpur
Nubra Valley
Bikaner
Further Reading
6. Admire the beauty of 'The Taj'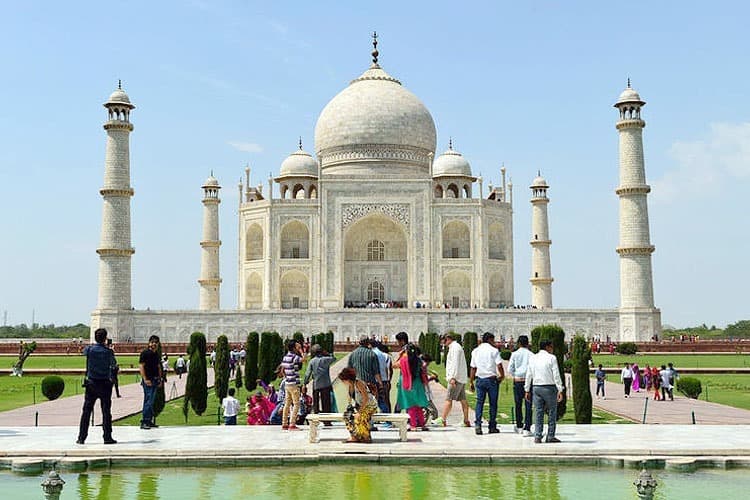 Soak in the magnificence of the Taj Mahal
How can a family tour to India be complete without visiting the Taj Mahal? Built-in loving memory of his beloved by Emperor Shah Jahan, the white-marble mausoleum looks truly gorgeous on a full moon night. The splendor of one of the Seven Wonders of the World cast a magical spell on the visitors. Not only the moonlight adds to the charm of the monument but also the sunrise bathes it in a stunning glow. Don't forget to get your kids clicked in various poses with the Taj.
Further Reading
Destinations to visit with the Taj
Agra
Fatehpur Sikri
Agra Fort
Mehtab Bagh
7. Let learning be fun by visiting amazing museums
Visit a museum and enhance your kids' knowledge
India holds history in almost every bit and even the museums are worth visiting. From dolls to kites, everything is efficiently exhibited and hence learning becomes so much fun. Children benefit a lot from this educational trip as it helps them to get familiar with the culture, tradition and heritage of the country. An interesting point to note that some of the museums are not only confined to buildings but there are open-air museums as well.
The top museums in India:
The National Rail Museum, New Delhi
Shankar's International Doll Museum, New Delhi
Jantar Mantar, New Delhi and Jaipur
Gandhi Smriti Museum, New Delhi
Crafts Museum, New Delhi
Sulabh International Museum of Toilets, New Delhi
Indian Air Force Museum, New Delhi
HAL Aerospace Museum, Bengaluru
Cellular Jail, Port Blair
Madame Tussauds, New Delhi
8. Endless fun at the beaches
Get splashed, drenched and enjoy the beaches of Goa
Nothing is as joyous as a beach holiday with your entire family. Take your children to the pristine beaches of Goa and bask in the endless sunshine. Make castles in the sand and create a story or enjoy collecting the seashells. Try some water games on the premises of the well-manned shores.
Let the fun begin by paragliding and partaking in banana boat rides. Spending some time at the popular beaches of Goa will allow your child to have fun out in the sun. Have a thrilling tropical vacation with your stay at one of the luxury beach resorts.
Popular family beaches in Goa
Palolem Beach
Arambol Beach
Patnem Beach
Cavelossim Beach
Further Reading:
9. Learn about religions
Visit religious places and seek divine blessings
People from varied cultures and religions are bonded with a thread of amity and brotherhood in India. Whether it is about the rituals in a temple, bowing down at a mosque, merrymaking of Christmas, lighting up of diyas on Diwali, or the dancing around the holy fire on Lohri; India does it wholeheartedly.
Attending the famous Ganga Aarti at the river Ghats which your children will surely be memorable. Bathe in the colors during Holi, or dance to the beats of Dhak during Durga Pooja. You can rest assured that your kids will yearn to stay here for longer than intended.
Where to go?
Haridwar
Varanasi
Mathura
Amritsar
10. Savor the delicious Indian cuisine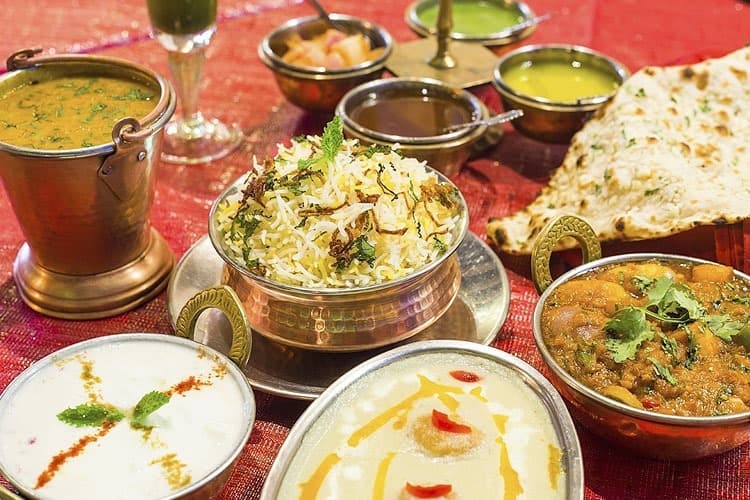 For a foodie in you!
A trip to India with family and kids can't be complete without savoring its lip-smacking food like Biryani, Paneer Tikka, and Butter Chicken etc. Choose from a plethora of options of street foods which can satiate your hunger. The nation loves to cater every type of foodie- vegan, vegetarian, meat lover, etc. with not only healthy but also nicely presented food.
Indian moms are so creative that they can make their child finish the full glass of milk by cooking up interesting stories! Your kids won't say NO to green leafy vegetables or milk after this trip. Let's bet about it!
Destinations:
Delhi
Punjab
Kerala
Mumbai
Goa
Kolkata
Lucknow
Rajasthan
Tips to help plan your Indian Holiday with Kids
By adhering to these tips, one can surely plan a memorable vacation.
Plan your entire trip thoroughly with one of the travel organizers based in India.
Get your child vaccinated before commencing the journey.
Carry the essentials for your toddlers along with you as the items might be hard to come by.
Maintain a distance from stray animals. However, don't be rude to them.
A handy medical kit is a must.
Now that you have got the reasons to plan holiday in India with kids, what are you waiting for?
India should be your next stop destination for a splendid vacation with family.
Start planning your holiday and enjoy the sights, delights and pleasures!
About Author:
Rekha Bisht is a travel enthusiast who loves to visit the most popular as well as offbeat places of the world. She loves to share her travel experiences with fellow travelers. For planning memorable holidays in India or any world destination, you can follow her write-ups.