Today we welcome guest travel blogger Katherine from Travel in the Mix to our blog.
Katherine shares her story of facing her fear of drowning and choosing to learn to Scuba Dive! Travel has the potential to bring about various degrees of personal development, confronting your fears can be incredibly powerful.
We appreciate Katherine's honest story about how scary it was to face to her fears, but how she chose to push through and overcome them none the less! We hope you enjoy her post!
Facing my fear of drowning and learning to Scuba Dive
by Guest Blogger | Katherine
What is fear? To me it's something irrational in my head that scares and intimidates me. Usually all I need is a kick up the butt and a bit of encouragement to face my fears and I can pull through and turn fear into something positive.
My biggest fear is a fear of drowning and it's something I've been trying to confront during this trip over the last 10 months. What's silly is that I'm a strong swimmer and I'll happily splash around the sea like a mermaid when I'm not out of my depth. But I'll avoid getting in anything that resembles a kayak and even snorkelling raises my blood pressure. My biggest worry is becoming out of control and somehow becoming trapped under the water. I know it sounds irrational but it's something I can't get out of my head.
Why I wanted to face my fear of downing
I had been travelling about eight months and had found myself back in Thailand with about a week to spare before the infamous full moon party. With five days to kill and feeling like I'd not done much out of my comfort zone since I'd set off on my round the world adventure… What did I do when I arrived on Koh Tao, the picturesque island and Thailand's premier dive spot? Sign up to a Scuba Diving course with OceanSound Dive & Yoga! Because it's good to challenge yourself once in a while, right?
I'd not really thought it through and from the moment I got into the pool with all the equipment on I wanted to get straight back out. The pool was where my small group of newbie divers practised the necessary skills and emergency procedures, like sharing air supplies, before scuba diving for real in the ocean. The skill that really got me, and the one I struggled with most, was clearing my mask. There will be occasions when diving where your mask will fill with water and you need to be able to clear it while under the water. If you've not dived before you are probably thinking 'How?' And that's what I couldn't get my head around. I wanted to breathe in through my nose instead of out, and every time I tried, I completely panicked, came to the surface to spit out my air supply and tear the mask away from my face.
I was in tears! I didn't think I could continue the course. But after getting some much needed encouragement and support from my instructor, Jo, I eventually got the hang of it. I hoped and prayed I wouldn't have to do it in the sea while at 10, 12 or even 18 metres below the surface.
A sleepless night
I had a sleepless night before the first ocean dive. Even an intense, hot and sweaty Yoga class that evening didn't help me drift off. The next morning, after taking and passing the PADI Open Water exam, the group of us boarded the dive boat and set sail. I was trembling inside but was trying to keep a cool exterior. I wasn't sure I was ready to face one of my biggest fears in the vast unpredictable ocean.
After getting ready and running through our equipment checks we lined up at the back of the boat and walked to the edge. It felt like I was walking the plank, I wanted to turn and run but sheer determination forced me into the water. This was it, no turning back now!
We gathered together with instructor Jo and descended down to 10 metres. Wow it actually didn't feel too bad, and I was rewarded with some unbelievably beautiful underwater scenery. Seeing the delicate coral and colourful fish with my own eyes felt like I'd dived right into a David Attenborough documentary.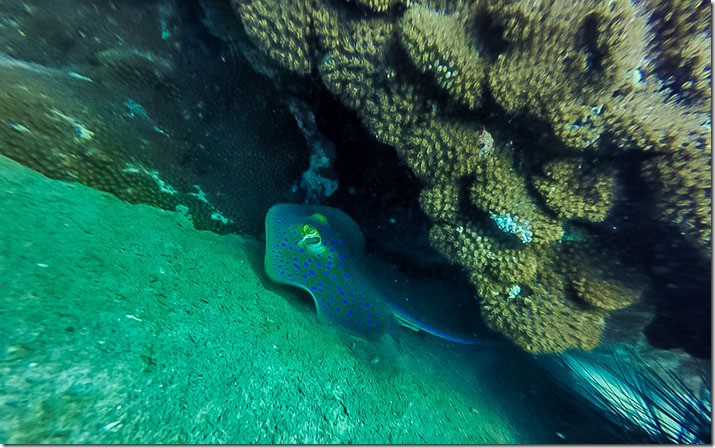 We practised some of the skills we learnt in the pool and the 40 minutes we were down there flew by. But it was during dive number two that my confidence took a big knock… when Jo asked us to practise removing water from our masks.
We grouped at the bottom of the ocean and I waited my turn, mentally preparing myself for what I needed to do. I peeled the mask away from my face, letting in a small amount of water, tilted my head back and instead of taking a deep breath out, I took a deep breath in! Inhaling the water I was supposed to be removing from the mask. I guess that was one way to get rid of it! I was coughing and spluttering under the water, and a suffocating feeling came over me, that feeling I was so scared of. This was what I was dreading. But knowing there was nothing I could do other than keep calm and breath deeply, I eventually regained my composure.
On our final day of diving, Jo wanted us to remove our masks completely. We were part way up to the surface from our third dive and were hanging onto the boat mooring rope waiting for our bodies to adjust to the changes in pressure. Jo looked at me to go first, I froze and all I could do was feebly shake my head.
Thinking I'd got away with it, I felt relieved, but Jo dropped a bombshell on me. If I didn't remove the mask on our forth and final dive then I wouldn't pass my PADI Open Water Certification. Determined not to be a failure, I was going to have to face my fear of downing!
Getting certified
I told Jo I wanted to get it over and done with as soon as we got into the water. I could feel the nerves bubbling up inside as we waited for the final dive. I was barely able to stomach the scrambled eggs and toast that was breakfast on board the boat. The time came to get in our gear and enter the water.
I now knew what it was like to inhale water under the water and I'd survived, I wasn't going to drown. I could do this! I hated having an audience and could feel the rest of the group watching in anticipation, as I tentatively removed the mask, and carefully slipped it back on. Then for the hard bit, I tilted my head back and breathed out, forcing the water out from the mask. With half the water was gone, once, twice more, I'd got this. Within moments it was over! High 5's all round, now I could relax and enjoy the beautiful underwater world around Koh Tao for the last time.
I'm incredibly proud I got my certification!
Facing my fear of drowning was a challenge and at the time of writing this, I'm sitting by the beach in the Philippines at another top diving destination, Bohol, where whale sharks and turtles are commonly found swimming in the area. But despite already confronting my fears I'm not sure I have the nerve to get back in. To find out if I make it into the water again, check my Instagram page for daily updates of what I'm getting up to.
Over to you:

Facing your fears in life can be transformative, have you confronted any of your fears whilst travelling? Can you share your story of overcoming your fear with us?
______________________________________________
More about Katherine
Instagram | Facebook | Twitter | Pinterest
I hit 30 and decided to leave my not so glamorous job in PR and take an open-ended career break to travel the world with David, the other half of Travel in the Mix. It might sound risky to some but we couldn't be happier that the world is now our oyster, literally. We set off on our adventure August 2015 and would love for you to follow us as we take in the incredible sights, sounds, smells and not to mention the tastes of the world.