Espiritu Santo, Vanuatu's largest Island is a beach lover's paradise and a playground for water-based and cultural activities.
Located only three hours away from Sydney by flight, this island will greet you with open arms to experience its surreal tropical vistas, fresh out of the sea delicacies, and much more!
Below we share ideas of what you can do whilst visiting this beautiful island. We highly recommend that you plan to spend at least 4-5 days on this island, although a few extra days to simply relax won't go astray either.
Here are ideas of the best things you must do when visiting Espiritu Santo.
Watch our Video of Our Espiritu Santo Island
Below is a quick video to show you how to visit most of the popular sites on Santo Island in one day.
>> Click Here to Subscribe to our YouTube Channel
Espiritu Santo Island Vanuatu | Blue Lagoons, Port Orly, Champagne Beach
Day-by-Day Ideas of Things to do in Espiritu Santo Island
Day One: Road Trip to Visit the Spectacular Beaches
1. Spend a few hours relaxing at Port Orly Beach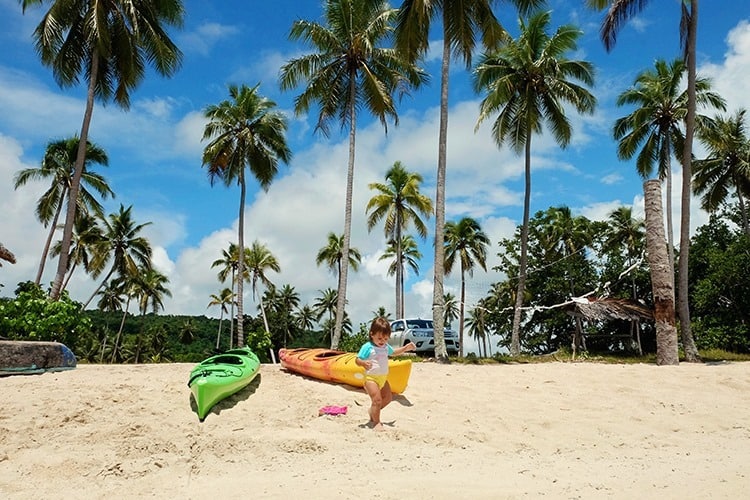 Hire a 4×4 and enjoy a picturesque drive. The drive is easy as there is only one main road leading North. So simply follow it until you reach Port Olry Beach.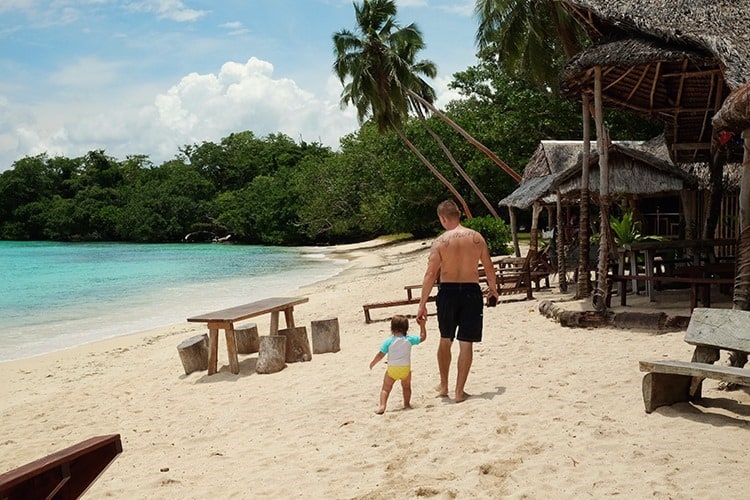 Indulge yourself in the sights and sounds of the calm, picturesque fishing village. The crystal clear water, the marvellous white sand beach, and delicious seafood will give you the experience to die for!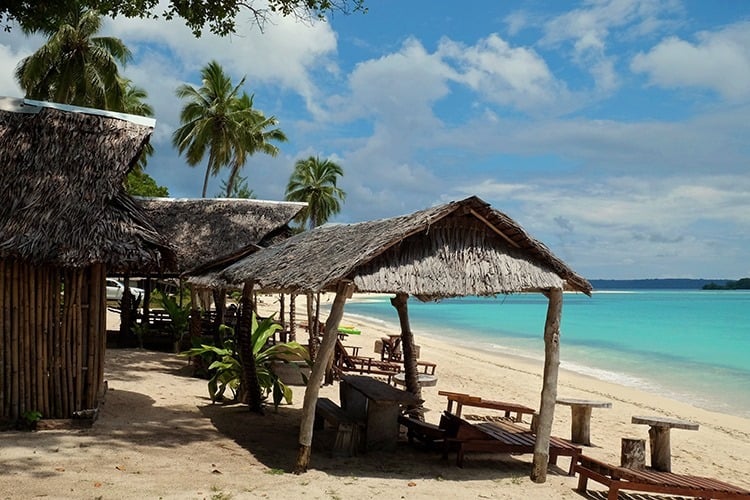 Port Orly was our favourite stop from our entire list of things to do on this island, so do make sure that you devote at least 3 hours to this beautiful beach. Grab some cocktails from the locals and just enjoy the beautiful, peaceful and quiet surroundings.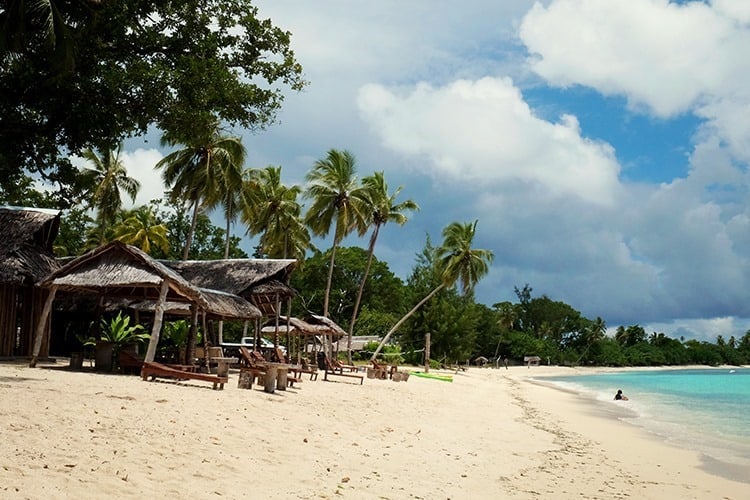 If you don't mind going super rustic, you can also hire some pretty cute tree bungalows here as well.
2. Check out Lonnoc and Champagne Beach
On the way back, stop by Lonnoc Beach and Champagne beach, both being the stuff of what tropical holiday dreams are made of. While Lonnoc is popular for the majestic bungalows, Champagne beach is the ideal destination to go snorkeling or just sit back and sunbake.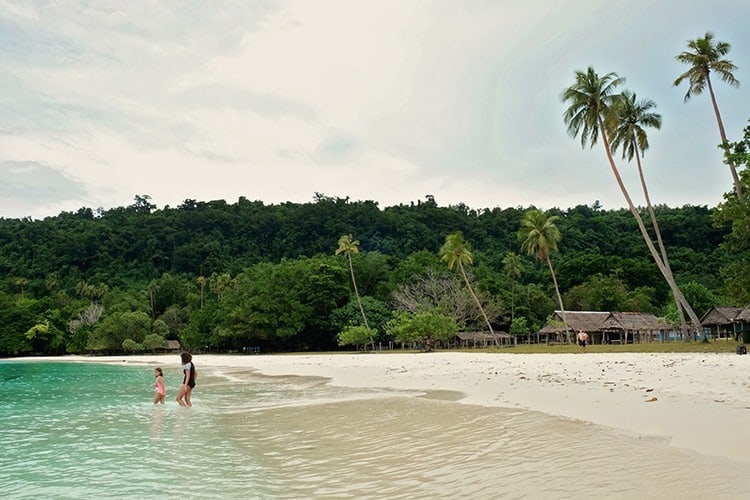 A lot of people prefer stopping and parking their car at Lonnoc Beach and then walking to Champagne Beach. Entrance fees are a lot cheaper for those on foot in comparison to cars, but if you are a family like us, it ends up working out pretty similar, so we simply drove in to Champagne Beach.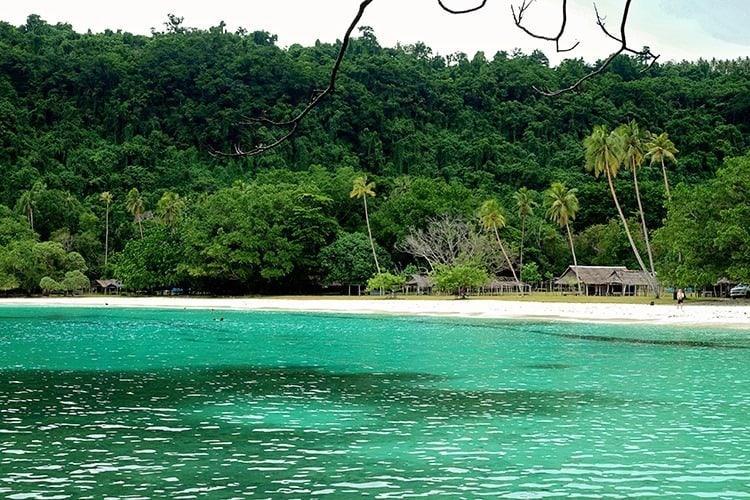 Another tip is to make sure that you avoid cruise days. Cruise ships stop in at Champagne beach and when they do, the beach is covered in local hawkers and passengers. On non-cruise days you will most likely find the beach deserted (and so peaceful), but bring along your own water and snacks as you won't find anything on sale close by.
Day Two: Road Trip to Check out Three Blue Holes
The East Coast of Espiritu Santo has a handful of "blue holes." The blue holes are freshwater swimming holes that attract both types of travelers – those who are sightseeing and those who are up for a little adventure like kayaking.
The three main blue holes you must visit are the Matevulu Blue Hole, Riri Blue Hole, and Nanda Blue Hole (located halfway between Champagne beach and Luganville).
1. Matevulu Blue Hole
The first and closest blue hole to Luganville is Matevulu. Matevulu Blue Hole is either accessed by dirt road or by kayak. You will need to pay a small entrance fee – Cost is 500vt per person.
Matevulu was our favourite blue hole. The water is probably not as pretty as at the other blue holes, but the whole setting just feels so much more natural in comparison to Nanda and Riri. We spent hours here swinging into the water.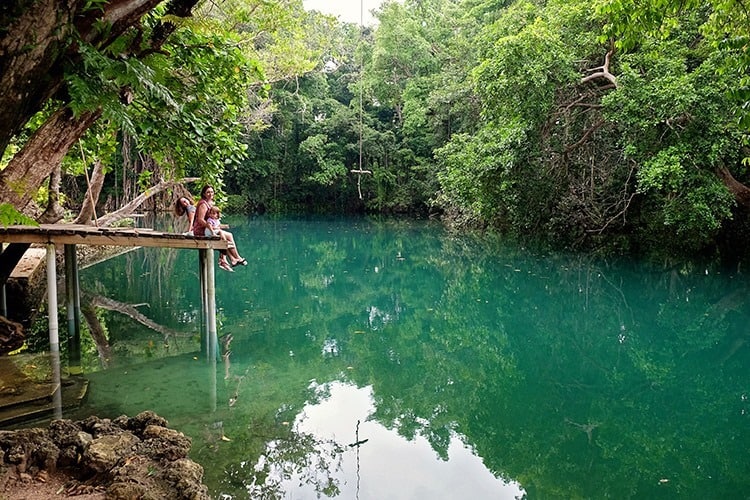 If you are brave you can also swim over to the grand Banyan tree across the water. There is a slippery bamboo ladder and rope swing.
You will also find some basic toilets there if you need them.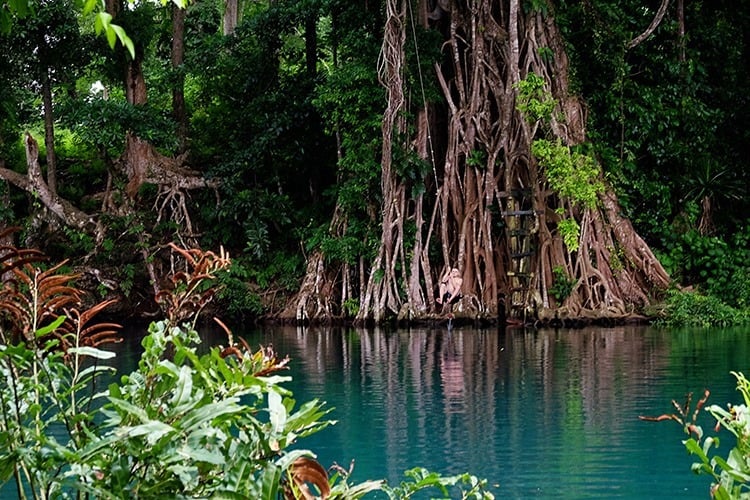 2. Riri Blue Hole
Close by is the beautiful Riri Blue Hole. Riri is famous for the rope swings and a jungle setting. We have heard many people rave about how spectacular the paddling up to the entrance of the lagoon is, but due to the big fees to do this as a family of 5 we decided to simply park and play.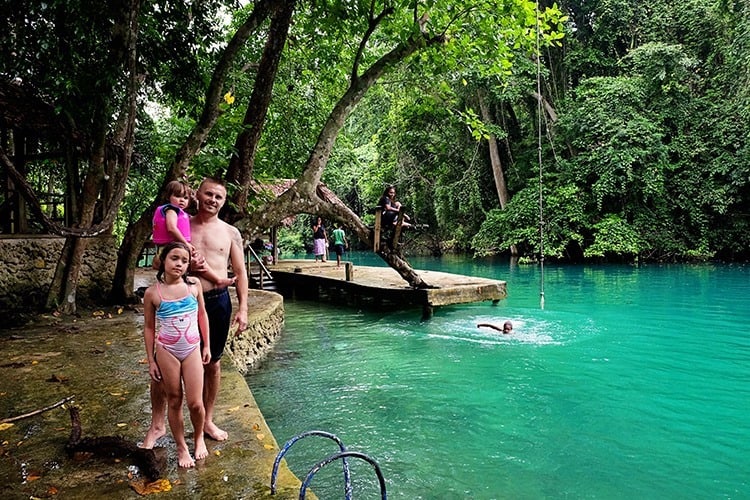 If you do wish to experience the paddling and you are coming by car, you can ask the locals to paddle you up via outrigger canoe (ask the locals near the bridge going over the Ri Ri river).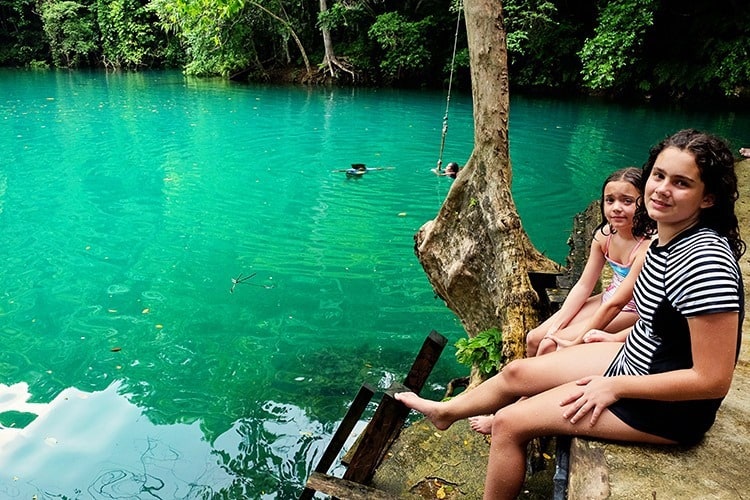 You will find platforms, bathrooms and change areas here, but yet the lagoon still has a very natural and peaceful feel.
3. Nanda (or Jackie's) Blue Hole
Nanda is renowned for the crystal blue water surrounded by greenery of the local forest. Nanda is probably the most 'commercialized' of the three with boardwalks and stairs built around the blue hole. Whilst the water was the most spectacular of the three, it was our least favourite as it had lost a lot of its 'natural' feel.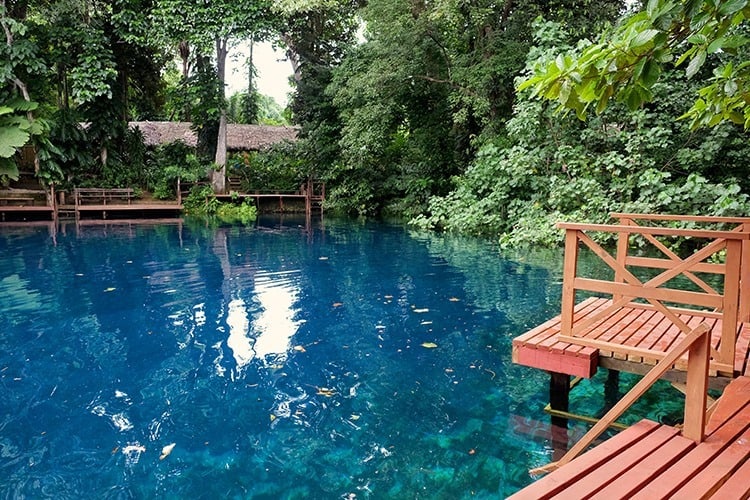 Entry fee for both Riri and Nanda are 1000vuv per person, which is about AUD 12.00.
Toured guides and activities will cost extra.
Day 3: Spend the Day Over at Aore Island
Aore Island is just 2.6 km away from the coast of Espiritu Santo, and just opposite of Luganville. You can reach them easily by taking a short ferry ride across the Segond Channel and immerse yourself in numerous day activities such as diving, snorkeling, fishing, and kayaking. The island is truly beautiful and you won't be disappointed.
You can go on short boat trips along the shores, or enjoy bicycling along one of the island's many tracks.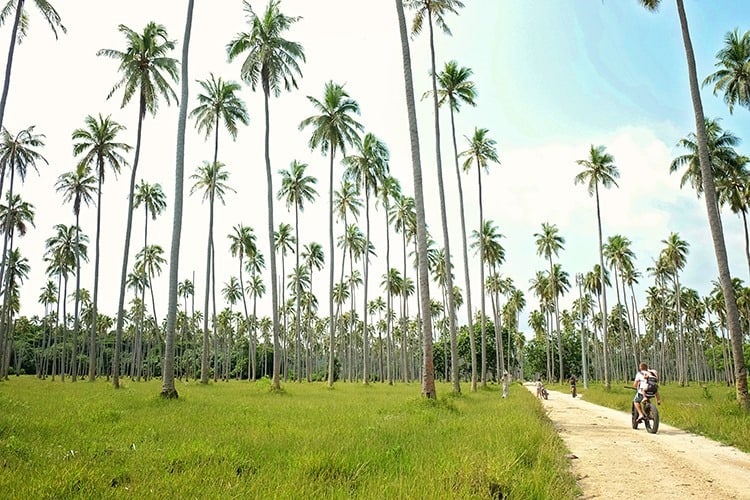 For some keen on some education and adventure, why not visit the Freshwater Plantation to get a guided tour of cocoa trees, amazing bat cave, a lookout point, and vege patch. You can meet some animals there as well.
No matter what you do, I can guarantee you'll have a fabulous time over at Aore Island! We loved it so much that we stayed for a few nights and it was delightful! You can read our review of Aore Island Resort here.
Day 4: Choose from Other Exciting Activities
There is no lack of things to do in Espiritu Santo, but to truly understand what makes this island so popular, you have to try out the following things:
a) Sip Kava: Experience Vanuatu's oldest custom at Leweton Custom & Cultural Village by sipping some Kava with the village chief. Vanuatu kava is one of the strongest in the entire South Pacific, so be prepared.
b) Explore Millennium Cave: If you're up for a little challenge and adventure, head over to the millennium cave after trekking through the jungle, crossing creeks, climbing bamboo bridges and passing through cascades. Thrill is guaranteed!
c) Snorkel at the Million Dollar Point: Find hundreds of tons of US military equipment dumped under the sea and the Million Dollar Point. Too bad you can't take any of the coral-encrusted machinery back home. Read more about this point here.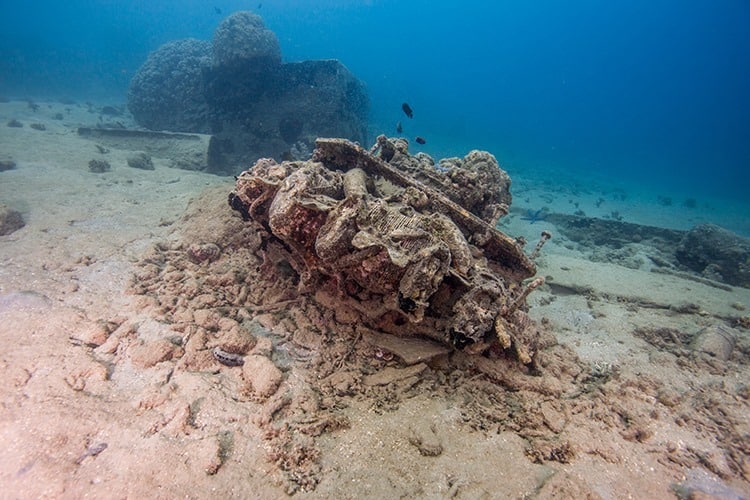 So, these are my picks of the best things to do in Espiritu Santo. Which one are you going to try first?