Starting a family doesn't mean that your life stops or gets boring. Instead, it makes your life significantly more exciting.
There are so many incredible places to travel with a baby that you may even find the travel bug biting harder than before.  
While traveling with your family makes for some unforgettable memories, it also means that you need to be thorough with your preparation.
Before you leave your home country, you need to make sure that all of your family members' documents are in order – including your baby's.
Here's what you need to know about getting a passport for a minor – because your baby needs a passport too! 
---
Do Babies Need a Passport?
Although babies don't necessarily require an adult-priced plane ticket to travel internationally but require a passport.
So if you are questioning: do babies need passports, the answer is, of course, a big YES.
Infant Passport Requirements
You can save a few bucks by paying the 10% cost of a full ticket when traveling with a baby, but you won't be allowed on the plane at all without a valid passport for your newborn.
Depending on your departure and arrival destination, slightly different documentation may be needed.
However, passports for kids under 18 are a global requirement. 
---
5 Steps To Get Your Baby Passport Ready
Imagine looking at your calendar and beginning the countdown for your family trip to Paris, only to realize that your baby's passport won't be ready in time.
While each country's application process may differ slightly, you can expect to complete the following steps.
Tip: Check out the specific step-by-step breakdown for how to apply for your baby's passport in the US.
1. Research And Prepare In Advance
Before booking your tickets, it's important to read up on the requirements for entry to your holiday destination of choice.
One item that will most certainly be required is a valid passport for each member of your family.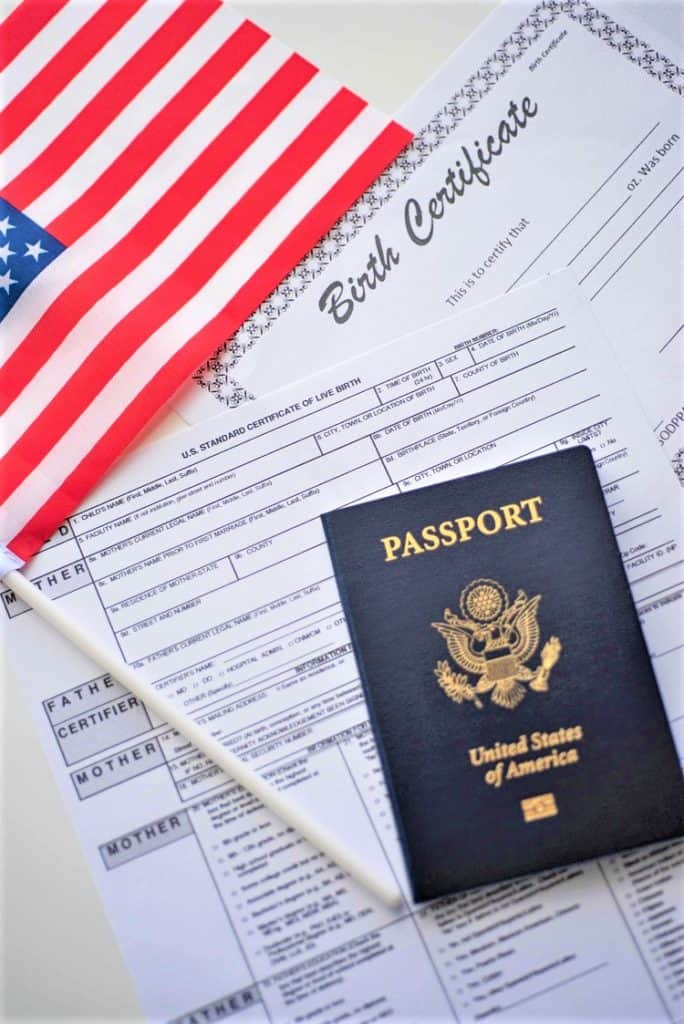 A "valid passport" may mean something different in each country. For example, a passport needs to be valid for 30 days after your departure date when visiting South Africa.
However, when visiting the United States, your passport must be valid for six months. 
A vital factor to consider is how long your baby's passport will arrive after the initial application.
If full consent is given in the application process, then you can expect a valid passport within three weeks when applying in Australia and the United Kingdom.
Applying for a US passport for newborn babies can take up to double the time. 
Make sure you research and give yourself enough time to have your baby's valid passport delivered before you board your flight.    
---
2. Prepare The Necessary Documents
Applying for a baby's passport requires similar documents as a child passport application.
Extra documentation is needed to prove that you are the baby's guardian and this information should be prepared in advance.
These are the document requirements for a US passport for baby travelers, but similar documentation is needed in other countries. 
Two copies of the application form
Two copies of the baby's identification documents
Both the original and a copy of your baby's birth certificate – these are submitted and returned with the passport
A valid ID for both parents
If one parent is unable to be present, then a separate form is needed
A passport photograph for the baby
The passport application fee
---
3. Take Your Baby's Photographs
Communication with a baby can be challenging at the best times, which makes taking a passport photograph quite amusing. 
As a guideline, you'll need two-four color photographs of your baby with their eyes open, looking at the camera.
No other human can feature in the photograph, and the infant's face needs to be uncovered.
There are a couple of ways to take a photo of your baby. However, the best way is to leave it up to the professionals. 
In our case, we took Avalee to the local Post Office, and they took a photograph there.
We laid Avalee on the white sheet on the floor, and after a dozen shots, we managed to get the perfect one.
4. Coordinating Schedules
Once you've got all of your documentation ready, you'll need to head over to your nearest passport application center.
If you are one of two parents, both parents must be present when submitting the application. 
You'll need to discuss a time and a date with your partner whereby you can both be at the necessary office.
If one parent is unavailable for whatever reason, a specific form must be filled out. 
If you're applying for a baby passport as a single parent, this must be stipulated on the application form and reflect the same information on the birth certificate. 
---
5. Submitting The Application
Once you've decided on a time that is available for both parents and confirmed that it gives you enough breathing room before your trip, then you can submit the forms for application.
We'd recommend giving yourself at least an hour to allow for any hiccups along the way. 
Once you've submitted your application, you need to wait for it to arrive. You'll be relaxing with your baby on a beach in no time!
Top tip: Plan your application around your baby's resting times. The last thing you want is to be stuck in a long queue with a distressed baby.
---
Baby Passport Renewal And Replacement
Although your baby's passport is valid for five years, there is always a possibility that you might misplace it somewhere when traveling, or it may get lost.
If something happens to your child's passport, you can replace it quickly. 
A baby's passport can be renewed or replaced online. If you are not in your homeland at the time of loss, then you may need to contact your nearest embassy to have it replaced.
Tip: Our recommendation is for you to carry the passports in a well-designed and easy to travel with passport holder.
We have used one on our trips, and this way, all of our documents were always safe and in one place.
---
Final Thoughts On A Passport For Baby Travelers
Traveling with a baby requires a little bit of extra preparation. However, if you do your research and prepare accordingly, then you can expect a fantastic getaway and a wonderful bonding experience.
Yes, you might have to brace yourself in patience whilst you jump through all of the hoops to get your baby's first passport. Once you have it, however, all you got you got to know is where are you going to go on this first vacation with your baby.
Tip: When it comes to traveling with your little one, you might be interested in checking out what types of baby-friendly gear there is available and especially what are the safest and the most popular baby car seats for flying.