Let's be clear from the beginning. If you are looking for positive Daydream Island Resort and Spa reviews then you came to the wrong place. In turn, I offer you an honest and without reservations review based on our recent and personal experience.
They say, sometimes life throughs you lemons. It is up to you to then decide if you are going to eat it and post your perfect Instagram photo of you enjoying it. Or you can simply admit that you don't like lemons!
---
Daydream Island Resort Review
Daydream Island Resort and Spa has recently gone under extensive renovations. The resort advertising went out in full swing all over the net and brightly coloured pictures have been plastered all over social media to lure you in.
The ads say that this island resort comes with pristine white sand beaches, amazing pools and stunning accommodation choices. Well, that is what we saw through the perfectly designed advertising campaign.
In reality, the only thing that we have day-dreamt about was going home. Turns out, we don't like lemons either.
---
Where is the Daydream Island Resort Located?
Daydream Island is one of seven islands of the Molle Group in the amazing Whitsunday Islands in sunny Queensland, Australia.
---
How to Get to the Resort?
The resort is only a short 30-minute ferry from the Port of Airlie. Ferries run regularly between the island and the mainland with the Cruise Whitsundays Ferries.
---
Our Resort Accommodation
Our room, the Superior Pool View one-bedroom apartment, was well renovated, stylish and fitted out with all that you needed. The room had a good size and comfortable double bed, TV, two small coffee tables, desk, small bar fridge, and came with a small size bathroom.
As requested, we were supplied with an additional single bed for Avie, our 3-year-old. The bed fitted well, however, it looked more like a hospital bed than what you'd expect from the 5-star resort.
The issue here came with the so-called pool view and the actual balcony of the apartment.
The view from the balcony gave us a very distant gaze of the swimming pool as well as a direct view over a loud water draining system as well as a partial view of the Living Reef snorkelling experience.
The balcony itself was dirty, covered with bird droppings and had a large unfinished part of the wall renovation. We were supplied with two outdoor chairs, however, there was no table in a set.
---
The Not-So Pristine Beaches
Before we start on this section, let's clear up something here.
In March 2017 Daydream Island was struck by a destructive force of the tropical cyclone and the resort sustained close to devastating damage. Only a year later, after extensive renovations, the resort was re-opened and the advertising went into full swing.
Only upon arrival, the visitors can actually see that the resort is not yet fully renovated and requires a large number of additional work in order to fully call itself a resort.
Saying that, as sad as it is, the island beaches are not yet brought back to their original glory. There are no pristine white-sand beaches (as falsely advertised), instead, they are covered with a copious amount of dead coral.
As to the Lover's Cove? There is a small beach called the Lover's Cove, which is on the opposite side of the island, located directly in the back of the resort.
At the time that we stayed, the pathway to the romantically-called Lover's Cove was less than desirable. There were also a number of electrical wires sticking out of the random box, just the right height for our 3-year-old to be able to reach.
---
The Pools and Spa
At first glance, the swimming pools looked very inviting. They were surrounded by tall palm trees and a number of day beds.
As we got closer, we realized why not a lot of visitors were actually swimming in them. We also heard some unpleasant comments as to the condition of the pool water.
The reason that we did not choose to enjoy the swimming pools was simple. The adult pools were cold and dirty. Kid's pools were dirty and had a funky discolouration to the point that you actually couldn't see the legs of the few kids swimming in them.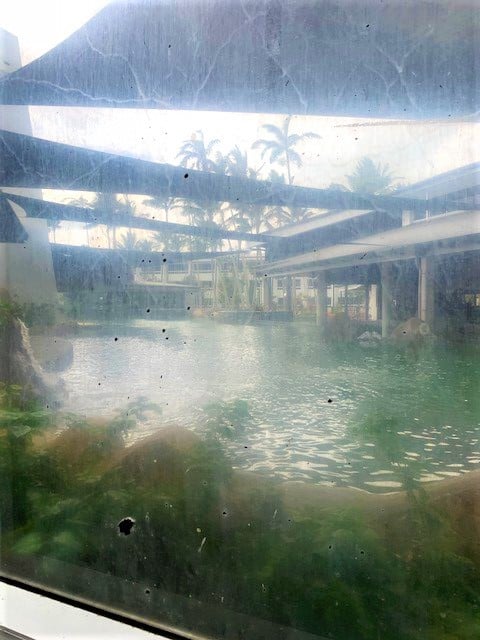 When it comes to the spa? First of all, it was yellow in colour and it was closed, of course. I think it's enough said.
---
Restaurants
There are three restaurants at the resort to choose from depending on the style of dining that the visitor desires, as well as a lunchtime BBQ burger station located next to the pool bar.
Please note that the kids 0-12 years old eat free at the buffet restaurant (kids menu only) and the burger station. A handy tip we got from a staff member: if the kid doesn't eat the burger, well… you can.
A must know: You need to book your dinner times early in the day, as the restaurants can fill up and then you run a risk of going hungry.
Here are the choices of dining:
Inkstone Kitchen and Bar
This restaurant was the least over-priced of the three, and that is why we decided to enjoy our lunches and dinners there. The food was very good, although the menu did not change and it was repetitive.
---
Graze
This is buffet-style dining with quite a hefty price tag, should you choose to dine here for dinner.
Saying that daily buffet breakfast was pretty good here and the coffee was pretty decent as well. Make sure to order your coffee before you start looking for food, as it may take a while to get to you.
---
Infinity
This is an Asian-style dining experience. To be honest, we did not try this one personally, so we cannot comment here.
Please pop into the comments below, what was your experience at the Infinity.
---
BBQ Burger Station
There are two choices of burgers here, chicken or beef, as well as an array of self-serve condiments. This is the most affordable option for lunch.
---
Activities in and around the Resort
Daydream Island resort has a large array of activities available both in the resort and out.
What we were most excited about was the idea of snorkelling, a tour to Whitehaven Beach and simple things such as catamarans. So let's look at those closer:
Snorkelling
Snorkelling is one of the free activities available at the resort. Saying that, due to the fact that the island sustained substantial damage to the reef and the beaches surrounding the resort, snorkelling was out of the question here.
---
Whitehaven Beach Experience
Who doesn't want to check out Whitehaven Beach when you come to the Whitsundays? Well, we did. Unfortunately for us, we weren't able to go on any of the day tours available. The age restrictions are from 4+.
Saying that, if you are travelling with your kids (age-appropriate), you will be able to choose from a large selection of day tours as well as a Heli Tour. Now, that sounds great, if it was a little bit less pricy.
---
Catamarans
When you visit the Whitsundays, the best thing to do here is, of course, sailing around the islands.
Although the catamarans are part of free activities, due to the fact that the disaster struck both reef and the beach, there was really not much to look at in the close proximity to the island.
---
Kid's Club
Kid's Club, whilst on holiday with kids, can be a great idea, right? While your little one plays happily with other kids, you are able to have a little bit of adult time.
Once again, we missed out here. The age restrictions are 4+ as well, so we were not able to use those facilities as well.
Tip: Before you book in your kid to the Kid's Club, make sure to check the prices. While we were there, a 3.5-hour session had quite a price on it per child.
---
Final Verdict
We love the Whitsundays, and that is why we chose to come to Daydream Island for a holiday. The idea of this trip was so exciting and we could wait to relax by the beach in a magical place.
Saying that we have travelled with a 3-year-old over 1,000km by (car one-way), spent money on accommodation along the way and made our way to the Daydream Island with a promise of an amazing holiday and we were very much disappointed.
Our overall feeling left us a bit speechless at first. All I can say is that false advertising here is extremely inappropriate, misleading and downright immoral.
The only lesson that we have learned here was that we sometimes advertising lies, and it is very important to read all of the reviews about a destination before you go. Only then you can get a better picture and make a more educated decision.
We have stayed at the resort for two nights only and made our long way home somewhat disappointed, but with smiles on our faces. Sometimes you need to take a 2,000km drive to figure out that you really want to spend a holiday at home, right?