Are you looking for a paradise for sailing enthusiasts? If you plan to spend your family vacations on the water, Croatia is one of the first destinations you should consider.
Why are Croatia and the yacht a perfect combination? You will find out from this article.
3 Reasons Why Croatia is The Place for a Sailing Family Vacation
We have listed Croatia as one of the best places to travel in Europe with kids. Now let's add the fun aspect of a yacht holiday. Here are three reasons why you must consider Croatia for your next family vacation on a yacht:
1. Longer Sailing Season
Croatia is a very popular destination for sea adventure lovers. There are many marinas here and the yacht charter offer is very wide. You can find an offer adjusted to your needs on this Yacht Charter Croatia (Yachtic (dot) com website).
Depending on your expectations and family needs, you can choose the size and type of the yacht, taking into account additional charter conditions and equipment, such as a bow truster or the possibility of taking animals on board.
Croatia has gained sympathy among yachting fans also thanks to the weather, which creates good sailing conditions. The season here lasts from April to October, with June and September being the best months for cruising due to the pleasant temperatures and wind.
2. Country of a Thousand Islands
Another reason why it is worth it to see Croatia by using a yacht is the fact that some places are not available from the mainland – you can only get to them by sea.
The country is made up of hundreds of islands, which are full of unique views and attractions, such as the historic churches on the island of Korcula or the beautiful National Park on the island of Mljet.
For those who have a yacht at their disposal, visiting these charming sites becomes easier and more comfortable – you can reach the place at a convenient time and see more attractions in less time.
For your passion
Croatia and a yacht are a perfect combination not only because of the friendly sailing conditions. If you are interested in photography or looking for additional inspiration, nothing is able to beat the views from the deck of the yacht.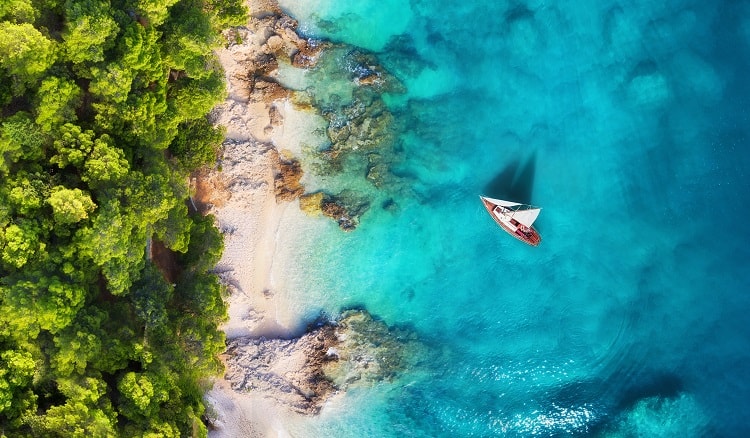 Do you want to capture the island from the right distance, but from any spot at sea? The yacht takes care of it! Thanks to this you will not only expand your portfolio with beautiful photographs but also bring a unique souvenir from your vacation – such shots can envy anyone.
Yachting on the Adriatic is also a completely new, different experience, which you will not get when walking on the promenade.
Although those two are certainly worth experiencing, yachting on the Adriatic has this " thing ". Some views are reserved only for those who were tempted by the Adriatic adventure.
Final Words
The list of advantages and reasons that make Croatia and yacht a perfect combination for your next family vacation is very long.
This article presents only some aspects of sea voyages in Croatia. We encourage you to go yachting in Croatia so that you can experience a truly unique time with your family.