Yosemite National Park is one of the oldest and best national parks in the US. This park is a magical place for both adults and kids.
If you are visiting Yosemite with kids and are not sure if it's okay to camp as a family, this post will give you all the tips on camping with kids at Yosemite National Park to make sure your experience is safe and fun for the whole family.
Camping With Kids At Yosemite National Park
Camping with kids at Yosemite National Park is a great family activity to do because it is so much fun and it's safe too.
Camping at the park brings a whole new experience, and bringing your kids to Yosemite is highly recommended because of the many activities that there are to do.
To get the most out of the family camping trip we recommend that you plan your trip before going. Here are some tips to keep in mind when planning a vacation with kids in Yosemite National Park:
1. Know Where To Camp
Yosemite has about 13 tents and a campground, so it's best to figure out where you will stay. For families with kids, the most recommended campgrounds are those in Yosemite Valley.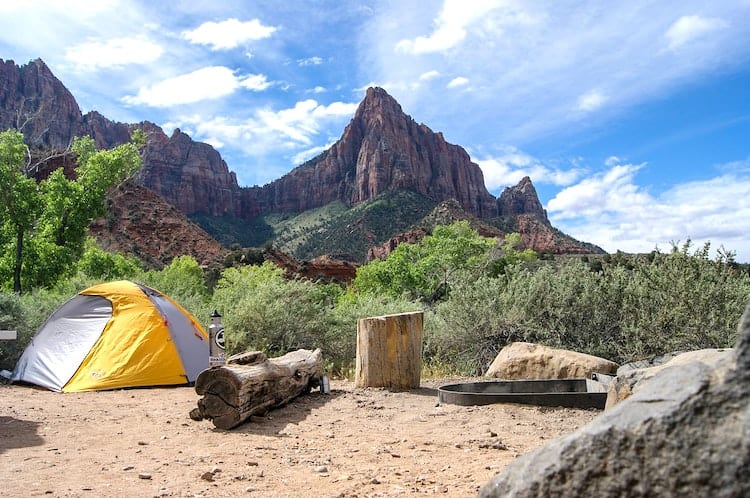 Staying in the valley makes it easier to see the best parts of the park with your kids. Also, staying in the valley makes it easy to get to the main sites without taking the shuttle buses.
2. Get a Camping Reservation
Yosemite is one of the most popular and most visited national parks, receiving over three million visitors every year so it is best to make sure that you make a reservation before packing your bags so you are not left disappointed.
Getting reservations into Yosemite campgrounds can be a little difficult to get but not impossible. Reservations often open four months before arrival and get sold out fast.
If you want to get into the camping grounds, booking in advance using the online booking system immediately after the reservations are open is best.
3. Visit At The Right Time
If you are traveling with kids and intend to hike and see the waterfalls at their peak, it's best to travel in early summer or late spring. This is also a very popular time to visit so expect to see a lot of crowds and book a reservation as soon as possible.
If you are not a fan of crowds, then September and October are nice times to visit, although most of the waterfalls tend to trickle at this time.
If you love snow and the colder weather, then Winter and late Fall are also good times to visit Yosemite, but sometimes, the heavy snow can make it difficult to get in.
Also, some parts of the park, like Glacier Road, are closed during this period.
Tips & Checklist for Yosemite Camping With Kids
Here is a checklist to keep in mind for your vacation with kids at Yosemite National Park:
Pack Warm Clothing – Even if you plan on traveling in summer, don't forget to pack warm clothes for the little ones. Yosemite tends to be very cold at night, so you'll need your socks, gloves, pajamas, and jackets.
Pack Camping Equipment – It's best to bring along some basic camping equipment and essentials needed for your vacation at Yosemite. Some must-have camping items include a tent, sleeping bags, tarps, flashlights, insect repellents, and cooking materials.
Don't Forget About Food – The food around Yosemite tends to be a little pricey so if you plan to stay more than a day, it's a good idea to bring some foodstuff if possible. Bring a camp stove, and food items for meals, and get some snacks too.
Keep Your Eye On The Children Around Water – Monitor your children when they are around the water because it can be cold with strong currents, especially during summer. Also, the stones around and in the water tend to be wet and can be slippery, so be careful when walking through them.
Don't Get Close To Wildlife – You will come across deer, birds, chipmunks, and other animals at Yosemite National Park. It's okay to view and take photographs of wild animals from afar, but don't let the kids get close to them.
Carry Plenty of Water and Snacks For The Trails – There are a lot of activities to enjoy at Yosemite National Park, so you need to have some snacks and water while touring the park with the kids.
Pack Items to Keep Kids Entertained – Making the hiking trip more exciting or wanting to keep the kids entertained when you are back at the campsite, purchasing a camping gift for kids is a great way to keep them happy for the whole camping trip.
Final Thoughts
Yosemite National Park is one of the best places to visit with your toddler, preschooler, and little ones. It's safe and fun, and there are plenty of activities that you can enjoy together as a family.
Don't forget to book a reservation, pack necessary camp items, keep an eye on the kids once you are there and most of all have fun and make memories!