With a passion for adventure and a desire to witness the beauty of nature, we can't keep calm but help you plan a trip for the next summer.
When you've got Riviera Maya in your bucket list, there is a whole lot of fun that is awaiting you. Known as the sun-kissed gem of Mexico located on the Yucatan peninsula, Riviera Maya is a tourist corridor of scenic ruins, fun-filled cenotes, turquoise waters and endless miles of Caribbean coastline.
This place makes you fall in love with the energy and picturesque beauty of the ocean that is breathtakingly stunning.
The overabundance of things that this beautiful place has to offer can take you days on end to explore it all. But, we suppose this an exciting problem to have.
---
Top 5 Ideas of What to do in Riviera Maya
Luckily, in this guide, we've chosen some of the best things that you can experience in the Riviera Maya!
So, without further adieu, let's get started!
1. Snorkelling in Great Maya Reef
The Great Maya Reef is home to one of the largest coral reefs in the world. This place is like a paradise for snorkelers, mainly with its stunning variety of tropical fish and coral. It extends over 600 miles in which you'll get to see a wide range of Caribbean creatures like stingrays, sea turtles, coral and maybe even lemon or nurse shark.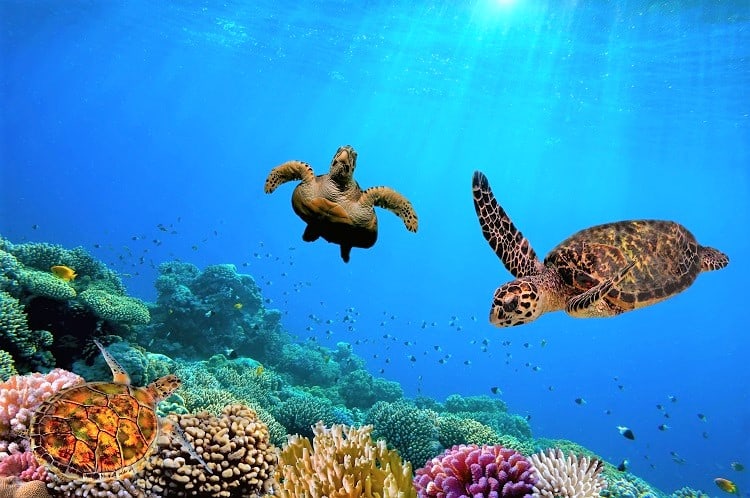 It's best if you start snorkelling on the Akumal beach, which is an ultimate sea turtle destination. You can also book a sea safari or spend the day floating in the warm waters or relax under the palm trees on the white sand. Watch the tropical fish, snorkels, and sea turtles swim around you in the crystal blue waters.
You'll get to see many signboards that say "No Tocar La Tortuga" which means that you shouldn't touch the sea turtles. Following these rules will help preserve the environment as it continues to offer you a pleasant experience.
We like to pack our own snorkel gear when we know we will be snorkeling! Wondering what else to pack for your trip? Here is a comprehensive packing list for Mexico.
---
2. The Mayan Ruins in Chichen Itza
Chichen Itza is situated in the eastern end of Yucatan State, and it's hailed as one of the New Seven Wonders. It's based on a range of about 5 square kilometres, with a pyramid-styled Temple of Kukulkan. And it's privately known as "El Castilo"- it has a brilliant feature that showcases Mayan astronomy that marks the beginning of the 365-day calendar.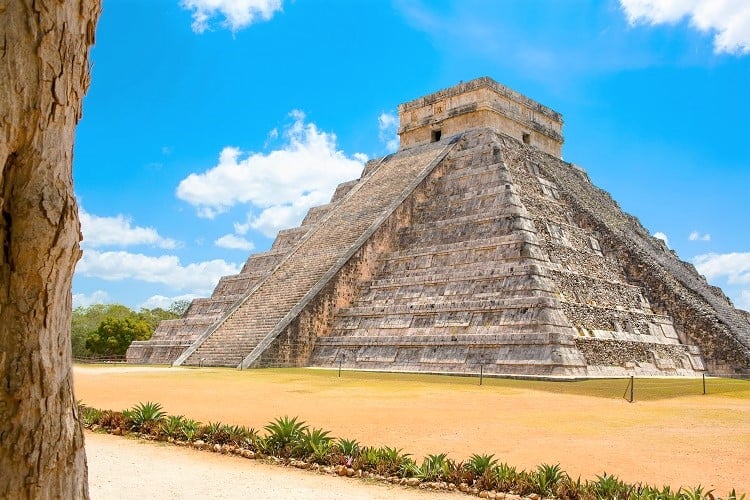 If you visit this place during the spring or autumn equinox, you'll get to see a serpent-shaped shadow creeping down the northern staircase at El Castillo.
The architectural styles that are subtly hidden in the magnificent design make this place even more magical and mysterious.
---
3. Have fun in Cancun
Cancun is a tale of two popular cities, with Cancun Centro providing the local Mexican cuisine and Zona Hotelera offering Maya culture and Caribbean beaches.
The gorgeous balmy weather at Cancun is more than a vacation destination to work on your tan.
Before you go, we recommend you check out the current Cancun beach conditions (especially in regard to seaweed) to make sure that the water is perfect to swim in.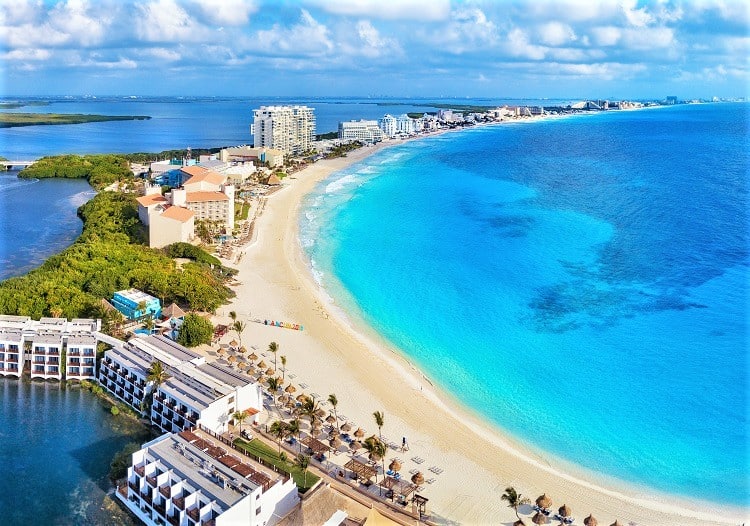 You'll be surprised by the countless tours, activities, and attractions on this dreamy tropical island. We're sure it will leave you with endless memories!
There isn't any shortage of scuba classes along with fishing excursions, water sports, dive trips, and tons of other activities that include parasailing and jungle tours.
This is a thrilling, one-of-a-kind location that highlights the best adventure sports that are even perfect for non-swimmers.
Cancun is of course great for couples but it is also one of the best holidays for teenage families as well.
---
4. Swim in Cenotes Caves
You can find more than 6,000 awe-inspiring caves and underwater sinkholes in Mexico's Yucatan peninsula alone. The tourist-friendly cenotes have an entry fee and opening hours.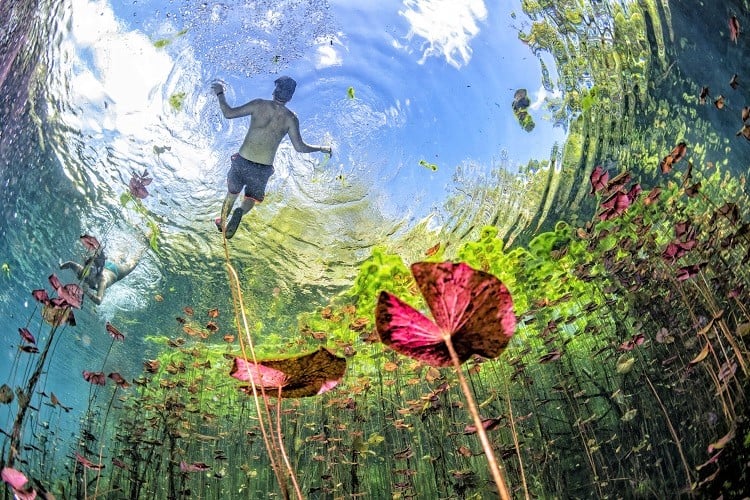 You get to relax, snorkel, as well as swim in a unique rugged environment that is mostly surrounded by jungle. For some of the best snorkelling and diving experience, you have the El Pit, Dos Ojos, and Gran Cenote.
However, to decide on the cenotes that you want to experience, it's best to first make a note of factors like- darkness, cenotes size, swimming access, and wildlife. Each cenote is different from the rest, that gives you something new to look up to in these grand bubbling springs.
---
5. Explore Tulum
With white sandy beaches, azure waters and peaceful, laid-back beach vibe, Tulum attracts nature-lovers to explore this magnetic pulse of the Yucatan region. Apart from the must-visit Mayan ruins this place also boasts of 60 archaeological structures.
Tulum is undeniably refreshing, yet packed with a bunch of exciting activities. From exciting snorkelling tours to relaxing beachside yoga, in Tulum, you've got all that you dream of in a luxury beach vacation. If you're in the quest for something adventurous you should try out kitesurfing.
Also, don't miss to take a dip in the cold waters during the evening when the sun lights up the sky in effervescent colours of pink and orange. You'll find most beachgoers heading to the nature-protected beaches for its open-air and beautiful surroundings that provide you with an over-the-top experience.
---
Where to Stay in Riviera Maya?
In this beautiful destination, there is no shortage of hotels. You'll find a variety of options ranging from luxury villas to budget accommodations. The price range differs as per the location that you're selecting whether it's surrounded by lush rainforest, in the middle of the wilderness, beachfront destinations, etc.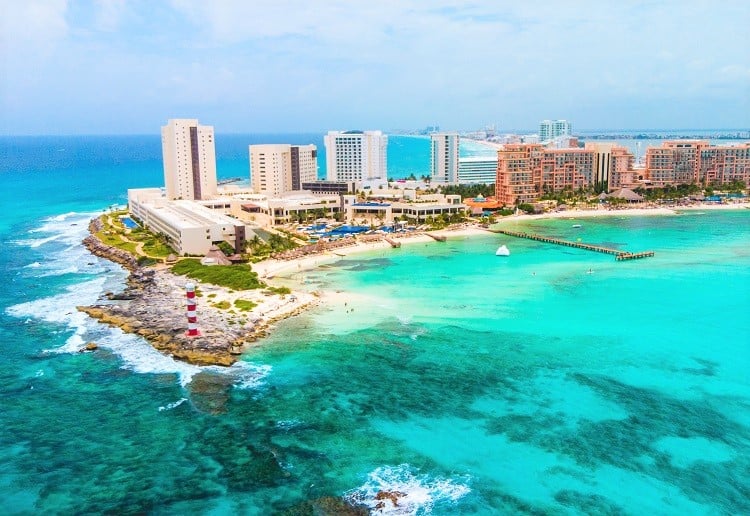 ---
Final words
Now that we've come to the end of our guide, we hope that you're ready to relax and unwind with nature at its best in this stunning beach destination. So, get ready to have your passports stamped as you continue planning the incredible activities that you want to be a part of.
After all, you truly deserve this vacation, and the Riviera Maya is a complete package that you wouldn't want to miss!
Till next time!