When you are traveling around Italy, you cannot miss out on seeing Perugia!
Perugia is not only known for being the capital of both the Umbria region and the Province of Umbria but it is also known for its extraordinary and scenic beauty.
Let me take you to this beautiful city and tell you about the best things to do in Perugia, Italy.
Where is Perugia?
Perugia is located in a hilltop region of Umbria and it is surrounded by breathtaking views of the valleys and spectacular mountains.
This beautiful city is also very close to one of our favorite places in Italy. Yes, it is the one and only Assisi!
There are plenty of things to do in Perugia, so make sure that you stay there for at least a week in order to check it all out.
What are The Best Things to do in Perugia, Italy?
1. Admire the beauty of the ancient Church of San Pietro
This Benedictine Abbey is one of the oldest churches in Perugia, dating back to the 10th century. It is situated in the southern part of the city center and is known for its elegant and intricate wall decor, magnificent arches, and sensational ceilings. The overall look of the church is sure to leave you astounded.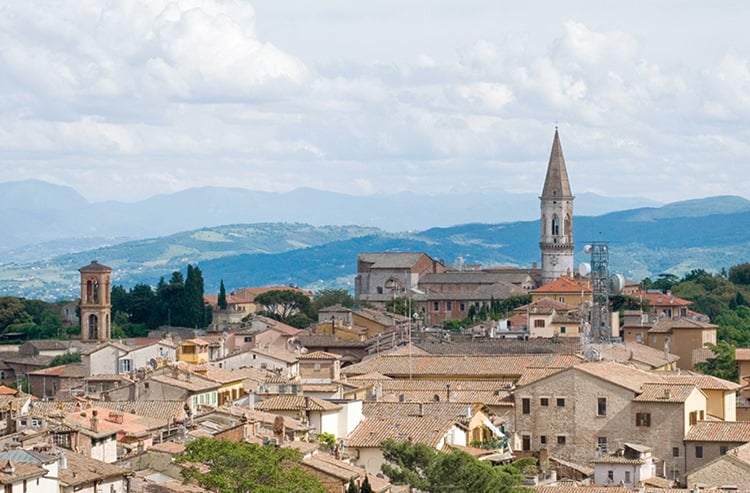 2. Stroll down the Corso Pietro Vannucci
Corso Pietro Vannucci is the place to be on an empty stomach. Why? Because you will need space to put all the yummy delicacies that the restaurants have to offer! If you are an Italian food lover like me, then you know what I'm talking about! Haha…
Corso Pietro Vannucci is the main street of Perugia and it attracts masses of tourists and locals alike. It beams with life, beautiful music and loads more.
Aromatic smells surround you as you walk past the restaurants inviting you in with every step you take. Beautiful piazzas open their arms to you with soothing comfort. Strolling around here will be nothing short of satisfaction. And if you like, you can spend a few Euros in one of many boutique souvenir shops as well.
3. Experience the beauty and charm of the Cathedral di San Lorenzo
Cattedrale di San Lorenzo seems to be like an unfinished project that began in the 1oth century and has never been fully completed. This beautiful cathedral comprises of multitude styles and different eras.
From Gothic-style windows and interior design to fake-painted marble columns and Renaissance details. All of this perfect imperfection gives the church a very unique and ragged beauty. Definitely worth checking out!
4. Marvel upon the medieval architecture of Palazzo Dei Priori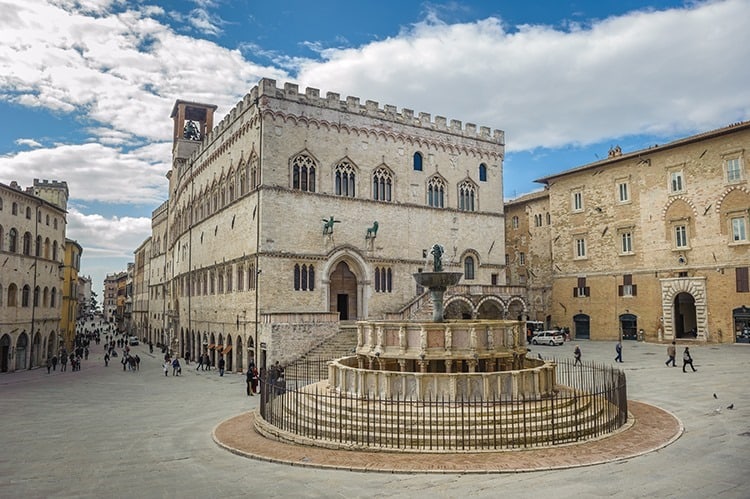 Palazzo Dei Priori is a 13th-century Gothic palace located along the Corso Vannucci. This fortress-like structure is sure not to be missed when you are strolling along the Perugian streets. Some of the characteristics of this historical marvel include the tripartite arched windows which only add a more dramatic look to this architectural structure.
These days Palazzo Dei Priori is home to Galleria Nazionale dell'Umbria, which has the largest collection of spectacular works of art in central Italy! It is home to Renaissance masterpieces of Perugia locals Perugino and Pinturicchio as well as Gothic works of Gentile da Fabriano.
5. Relish the art of the Oratorio Di San Bernardino
Oratorio di San Bernardino is one of the most important buildings in Perugia! This beautiful 15th-century creation's main feature is the extraordinary design by Agostino di Duccio. To this day this magnificent facade brings crowds of spectators, both tourists, and locals alike.
Oratorio di San Bernardino facade is considered to be the most important Renaissance monument in Perugia and its beauty is second to none! The arrangement of red and white marble, together with limestone and terracotta, create a great support for the decorative story of San Bernardino's miracles.
6. Go on a private walking tour and explore the history of Perugia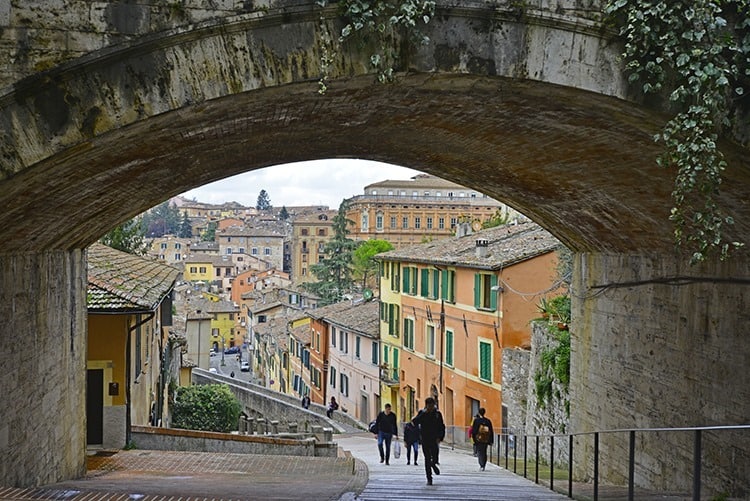 What better way to explore Perugia's historical sites than with a private tour? That way you can venture out around the city swiftly and directly to Perugia's hot spots. 
This way you can learn much more about the sites I have pointed out for you above and much more!
Who knows how many secrets are hidden between the usual stories we can read online? The best way to find out all of the behind-the-scenes gossips is always from the locals.
7. Enjoy Some Day Trips From Perugia
Taking day trips from Perugia to other places in Umbria is a great way to explore this stunning region. Assisi should definitely be top of the list; it's home to the Basilica di San Francesco, the birthplace of St. Francis, the patron saint of Italy.
But there are plenty more things to do in Umbria too. Make your way down south towards Orvieto and spend an afternoon admiring the stunning architecture, or head northwest into Todi and immerse yourself in its medieval beauty.
Wherever you go in Umbria, there will always be something special waiting for you.
Where To Stay in Perugia
If you want to experience Perugia as the locals do, the best way is to find a place to stay close to the center of the action. Our recommendation for where to stay in Perugia is the Villa Nuba charming villa-apartment rental.
This place is surrounded by beautiful pine trees, olive trees, vineyards, and the natural scenic beauty which is sure to give you a soul-soothing experience. Simply perfect!!
I love Italy and everything about it! Cities like Perugia just add to the overall experience. I lack words to describe the feeling I get, when I stroll around the Italian streets with my wife. All the colorful buildings, history and unbeatable food. Italy, I will always come back to you!