Lombok Island in Indonesia surprised us! Whilst exploring this island we were left wondering why so many tourists and travellers pass it by!
Honestly with it being such an easy and cheap destination to visit after your holiday in Bali, we truly do not understand why this island is still mainly undiscovered by tourists …. not that we mind, as that was one of the things we loved about Lombok: the quiet, raw, wild island with its truly diverse landscape!
We loved the reggae beat that follows you around the island, the sounds from the mosque reminding you where you are at. There are so many beautiful things to do in Lombok, so many incredible places to discover!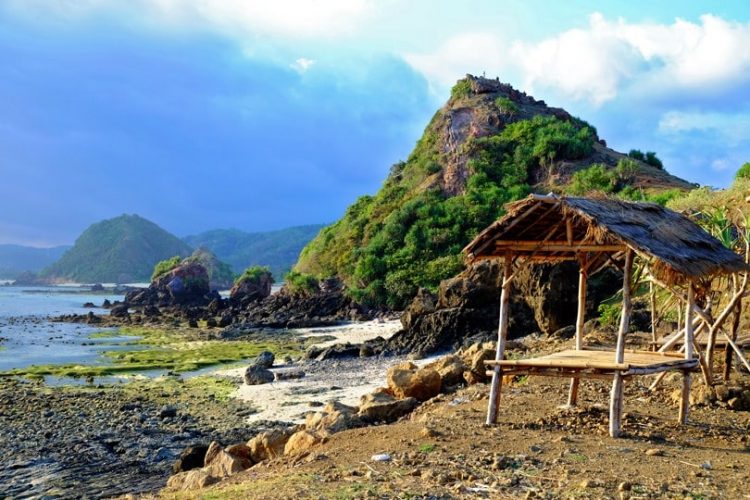 __________

For information how to get from Bali to Lombok, check out the link below:

How to get from Bali to Lombok Island (and Vice Versa)

For information on the best resort to stay at in Lombok, Senggigi, click here:

Checking in to the sensational Jeeva Klui Resort, Senggigi

__________
As we were travelling to Lombok with our kids we missed out on some of the most popular Lombok attractions, so we hope to return in the future on a parent-escape trip to explore this island in more depth! Lombok deserves a visit and it deserves a big chunk of your holiday time as there are so many options of what to do in Lombok.
People there are on slow mode … well except for when they are driving maybe … so take your time as you explore these 'absolute best things to do in Lombok Island activities'!
–
The Absolute Best Things to do in Lombok Island, Indonesia!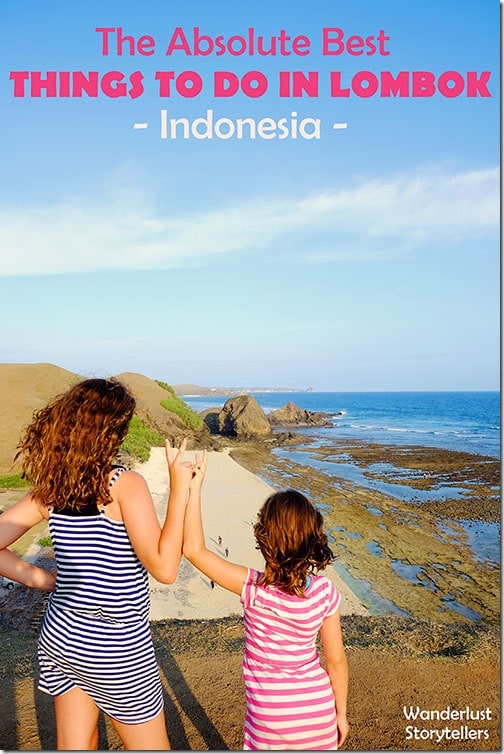 –
1. The Top Things to do in Kuta, Lombok
The best way to explore the Kuta, Lombok region is of course by scooter. You will see loads of people buzzing around with scooters and surfboards, heading back and forth to some of the most beautiful beaches you might ever see.
As for us, who were travelling as a family, we had to make use of private drivers, totally envious of the other travellers enjoying the fresh air whip through their hair.
We loved exploring this region and thought it was the best area in Lombok to go exploring with your kids.
And to add another note, the beaches here are WAY superior to those in Bali! The colours of the water? All I can say is WOW!
–
Selong Belanak Beach (the Best Beach in Lombok) and Laut Biru Cafe Lombok
I reckon that Selong Belanak Beach is without a doubt the best beach in Lombok, Indonesia!!! We were blown away by the colours of the water and the hilly landscape surrounding the edges of this amazing mile long beach. Something totally wild and totally incredible! The beach has a peaceful vibe to it. Only a few travellers along the shores and lovely shallow, calm ocean water for the kids to have a play in. It would be truly easy to just totally veg out here for an entire day! When I return to Lombok, this is definitely where I will base myself, at Sempiak Villas.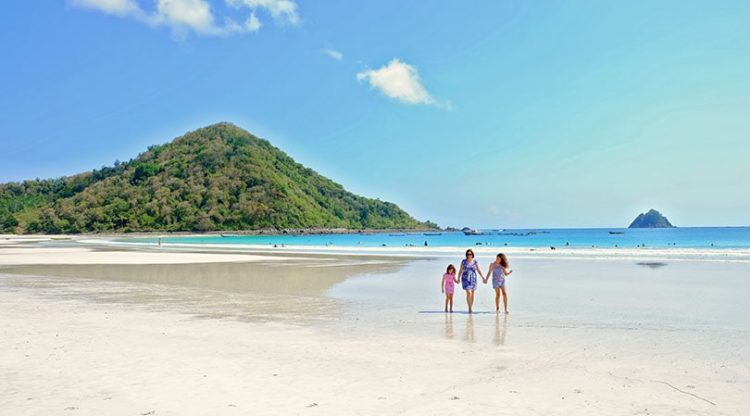 At this beach, you will also find a perfect cafe for your lunch time pleasure! The Laut Biru Cafe is located right on the ocean sand, with gorgeous decor and some super delicious food (try the Butter Chicken with Naan!). We found it hard to leave! So we stayed a while, simply staring out at the gorgeous beach whilst indulging with some cocktails with our lunch!
–
Mawun Beach
Another glorious stunning beach is the Mawun beach! Very similar to Selong Belanak Beach but heaps smaller in size! Here you will find more local activity as well, and maybe a few kids trying to sell you some fresh coconut or handmade bracelets. This beach is another great beach to swim at! But we just totally enjoyed chilling out here and we had a bit of fun chatting to all the locals as well! I realize that all the kids who try to sell you the same handmade bracelets whilst in Lombok can get a bit trying, but if you strike up a conversation with them, I bet you will enjoy their bubbly friendly personalities!! And if you would like to enjoy a sun lounger, you can hire them for 50,000 IDR – grab one and veg out, because you are on holiday after all!!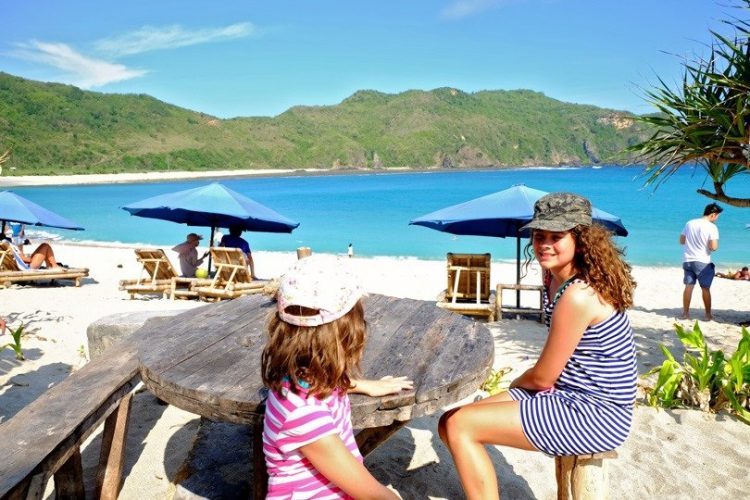 –
Ashtari Restaurant & Lounge
Ashtari is a pretty popular stopping point for travellers! Their atmosphere is hard to beat! Image some comfy bean bags, with incredible panoramic views and you will understand why! A great place for some mid-afternoon snacks and add your choice of drink. We mellowed out here for a while! Watching the light change over Kuta Bay in the distance. The breeze was totally heaven as well! Do make sure you pop in to Ashtari, I bet you will enjoy your time relaxing there!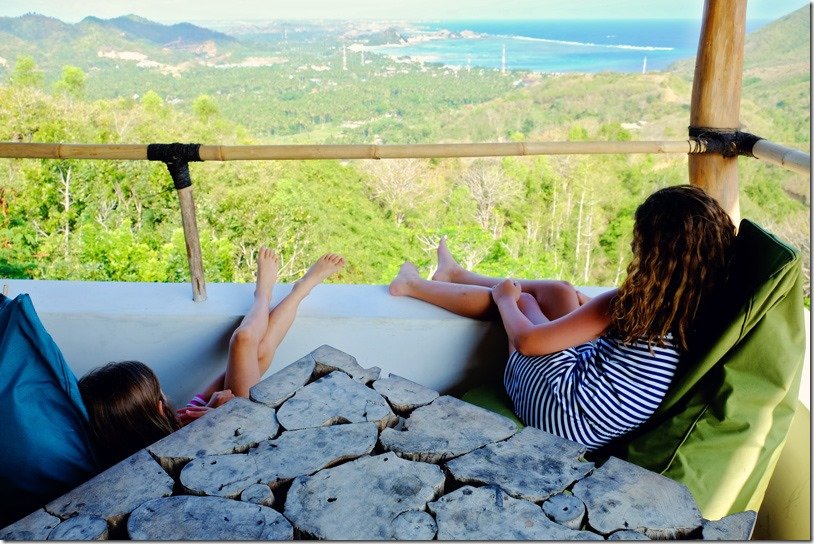 –
Kuta Beach, Lombok
Kuta Beach in Lombok is definitely way better than Kuta Beach in Bali!! However it is probably my least favourite beach out of all the beaches that line the coast there! It is worth a stop, have a walk and enjoy the atmosphere, but I wouldn't base myself here on this beach for the entire day! Of course the main streets in Kuta close to the beach is lined with market stalls for the tourists and you will find loads of cafes and wood fired pizza cafes there too.
–
Tanjung A'an Bay
Tanjung A'an Bay is another stunner! We loved the grass-topped beach style pagodas and of course our kids totally enjoyed the swing located on the beach as well! It is another great beach area for swimming and chilling out. I think on our visit to the beach there was literally about 6 other tourists there, the rest of the people were locals trying to make a living by selling their wares to us, handmade sarongs, bracelets etc. We didn't stay here very long, but it was great to have a walk around the beach!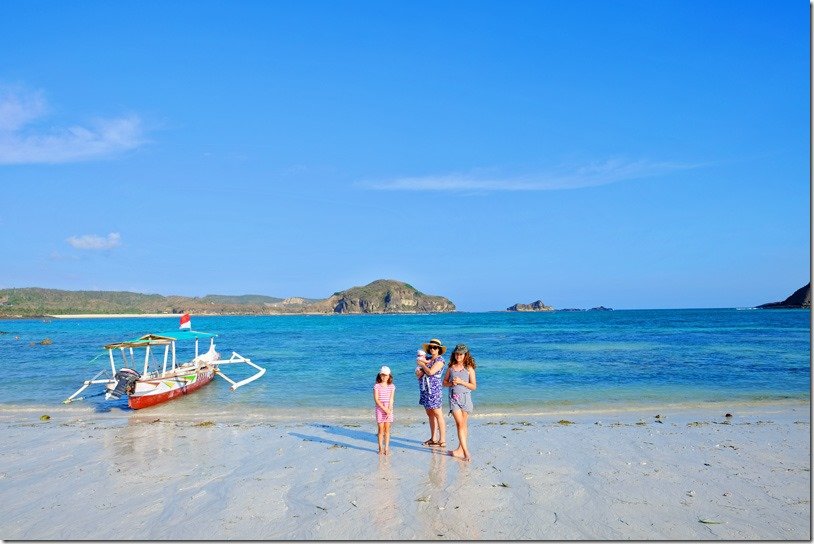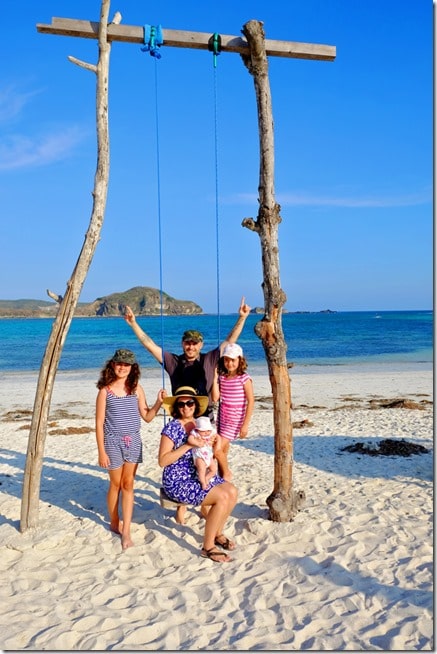 –
Seger Beach
Seger Beach is to me probably the most unique beach out of all the beaches around this side of Lombok. The beach here is not really for swimming, but it is a perfect spot to come and visit in the late afternoon when the tide is low! We climbed up the hill that was closest to the beach and we were blown away by the views! It didn't matter which way we turned, we just loved the unique landscapes you could see! In the distance we also saw some tourists exploring this area by horse! Whilst behind us on a hill set further back from the beach, a group of people were climbing up to go and watch the sunset!
So either base yourself here for the beautiful sunset views or if like us you have small kids (we didn't want to try and get down the hill with our little ones in the dark) why not venture over to Kuta Cabana for some sunset views from a further distance!
–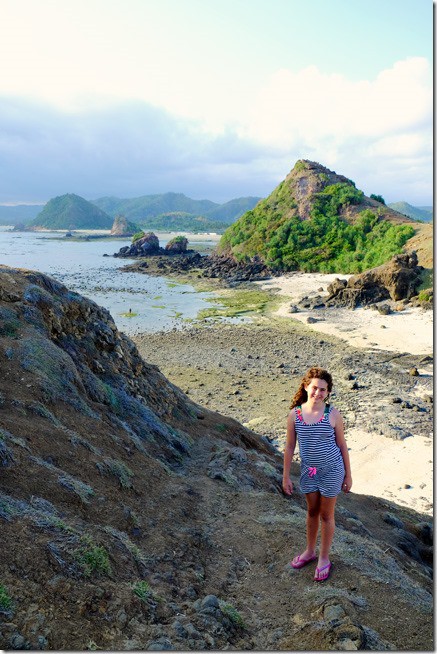 –
Kuta Cabana for Sunset Chill Vibes
Kuta Cabana is set back behind Kuta up in the hills. It makes for a great stop at the end of a busy day, where you can grab a cocktail and watch the sunset with some cool breezes blowing through your hair. We did order some food here for dinner too. It was a peaceful spot to place ourselves after busy days of exploring!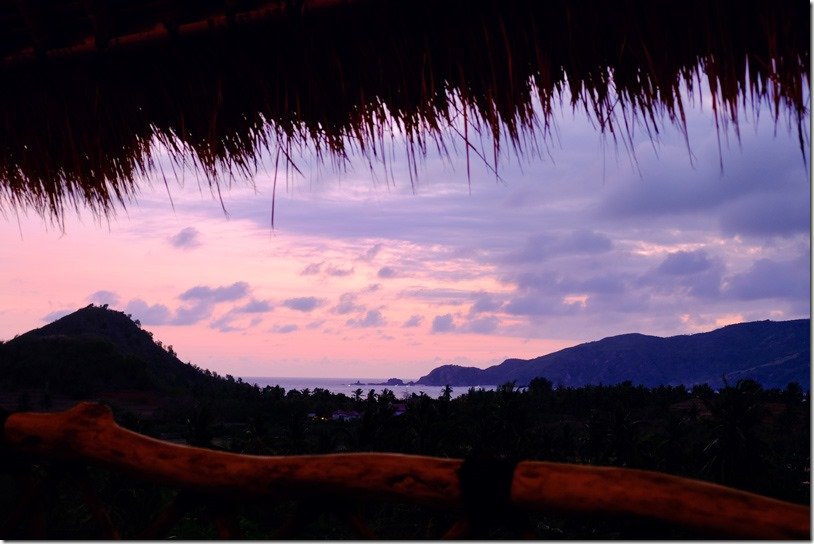 –
Pink Beach (Tangsi Beach), Lombok
If you are keen to go on a bit of a day trip from Kuta, you might also like to head out and visit the beautiful Pink Beach (also known as Tangsi Beach) in Lombok. If you hire a scooter, this trip will take you around 2 hours one way, but be aware that the road for the last 30 min or so is pretty rough and a lot of people mention how hard it is to get to the beach itself as a result of this! So do slow down when you get to that section of your drive. The sand on this beach is actually white, but due to some tiny pieces of bright red coral skeletons of Organ Pipe corals. it has a pink hue. The hue is pretty subtle and unlike the saturated colours found all over the web! It is still incredibly beautiful to see and worth the trip if you do happen to have time!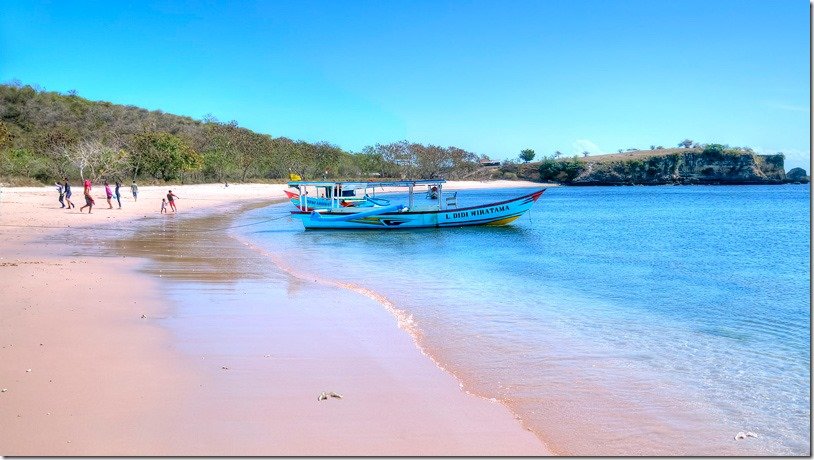 Photo Credit: Schristia | Flickr
–
2. On the drive from Kuta to Senggigi or Vice Versa
On the drive from Kuta to Senggigi (around 1.5 hour drive) you can stop over in the traditional Sasak Village called Sade in Rambitan. Whilst the village has a VERY touristy feel, it still makes for a very interesting and brief stop!
The Sasak are the indigenous people of this island and here at Sade you can get some insight into that fascinating culture! The village is still inhabited by Sasak people, however on arrival to the village you will be greeted by a tour guide who will whizz you through the village and share some insight into the culture! The tour only lasted around 10-15 min and whilst we enjoyed it we did feel like it was totally rushed!
Paying the tour guide is voluntary but expected, we didn't give him much for his time … the amount is up to you.
I think my favourite parts of the tour was being allowed into one of the Sasak Village houses. The house is totally dark! The men sleep on the first level, whilst the ladies all sleep up in the second level, there you will also find the kitchen. It is so dark up there though so I can't image how they could possibly cook up there! You will also most likely see some women weaving the sarongs and we also had a look at some cotton that was used for bracelet making as well. It was all fascinating to see!
–
3. The Top Things to do in Senggigi, Lombok
Book in to a Luxurious Hotel and simply enjoy the luxury at a super affordable price!
Senggigi is the most popular destination for tourists travelling to Lombok. Most tourists come here because you can pick and choose from a large variety of luxurious resorts and villas. Here you can afford the luxury that you normally can't afford elsewhere! So most tourists, simply come and book in to their favourite luxurious resort and just stay! And I must say that on our recent travels to Lombok, when we got to Senggigi we did just that! We booked in and we mostly stayed within the grounds of our resort, because it had it all … the infinity pool, the private beach area, the snorkelling and loads more! You can read about our favourite Senggigi resort here.
–
Head over from Senggigi to Gili Islands
Of course the popular Gili Islands is easily accessed from this side of Lombok Island. Within only a short taxi ride to Bangsal Harbour and a quick speedboat trip of only around 20 min you will find yourself in a totally different world! Our post dedicated to Gili Islands is coming soon! As a note, I would highly recommend that you stay at Gili Islands for at least 3 nights, a daytrip over will most likely just simply not be enough.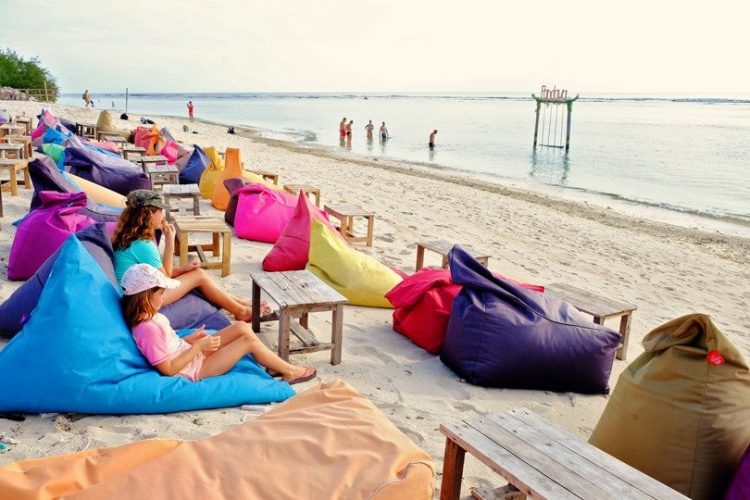 –
Join a Tour to Mount Rinjani and Crater Lake
Most people venture out to Lombok because they would like to climb the second highest volcano of Indonesia. There is a reason why this one is on our list of 'Best things to do in Lombok', even though we haven't experienced it first hand yet! It happens to be one of the highlights of the island and I think that once you see the views from the rim of the volcano you will understand why! You can book various multi-day, guided tours to the Crater Lake. If you would like to experience a 3-Day Mt Rinjani Volcano Trekking Tour from Lombok, click here or alternatively why not try out the 2-Day Mt Rinjani Volcano Trekking Tour from Lombok version instead!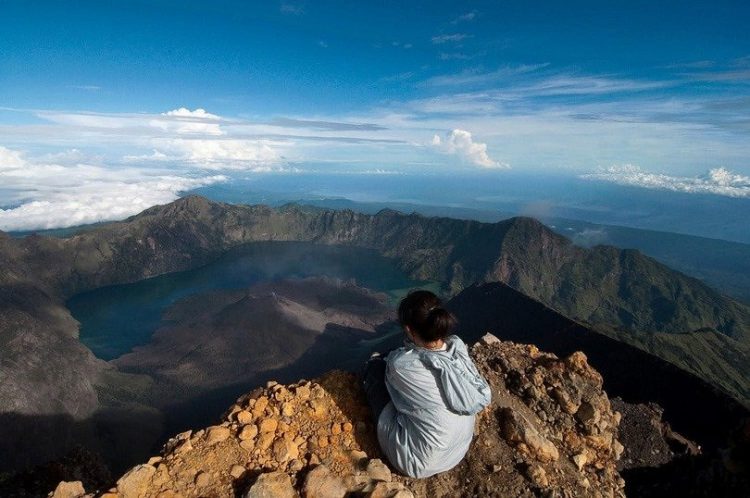 Photo Credit: Trekking Rinjani | Flickr
A day trip to explore Tiu Kelep or Sendang Gile Waterfal

ls
Why not organise a day trip up into the North regions of Lombok. There you can visit two incredible waterfalls (amongst others) – Tiu Kelep Waterfall and Sendang Gile Waterfall. These two waterfalls are within close vicinity to each other and whilst both are very different to the next, they make a great day out in nature! Do be prepared to get a bit wet and make sure you got shoes on that you can do a bit of walking in, but don't forget to take your swimmers, so you can venture into the icy cold waterfall water! If you would like to experience these and more on an organised day trip tour, we highly recommend you look into this Viator Northern Lombok Day Tour.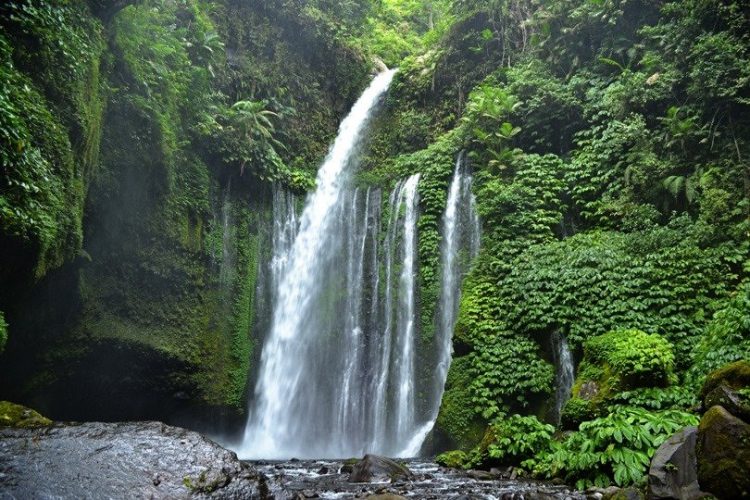 Photo Credit: Victor Ulijn | Flickr
We loved our adventure through this island and with so many options of what there is to do in Lombok, we highly recommend that you do stay and visit this gorgeous place for a while! We wish to return and we wish to stay for longer! I want to slow down to Lombok pace, simply hang out with the buffalos and the locals. Explore more of this fascinating island! So much to see here, and so many unique and diverse landscapes to explore!

The locals are friendly and the kids adorable! The beaches are totally mind blowing and the waterfalls impressive on their own rights! So take your time, explore each of the 'best things to do in Lombok' items one by one, but make sure you also have days where you can do simply and totally 'nothing at all'!

Till later Lombok, I will see you again!! xx
–
Over to You:
Which of these items on our list of 'Best things to do in Lombok Island' appeals to you the most?
Which Lombok beach do you think is the most beautiful?