Are you looking for the best things to do in Krakow? Then you came to the right place!
Krakow is well known to be one of the most beautiful European cities and there are plenty of reasons as to why. This amazing city is filled to the brim with tourist attractions, cultural experiences and so much more.
Let us take you through some of the best things to see in Krakow on your next Polish holiday:
Best time to visit Krakow
While summer draws in all the crowds from July till August, the city can become very heavy to handle. This happens because every best thing to see in Krakow is sure to have hundreds, if not thousands, of tourists and locals swarming to those them.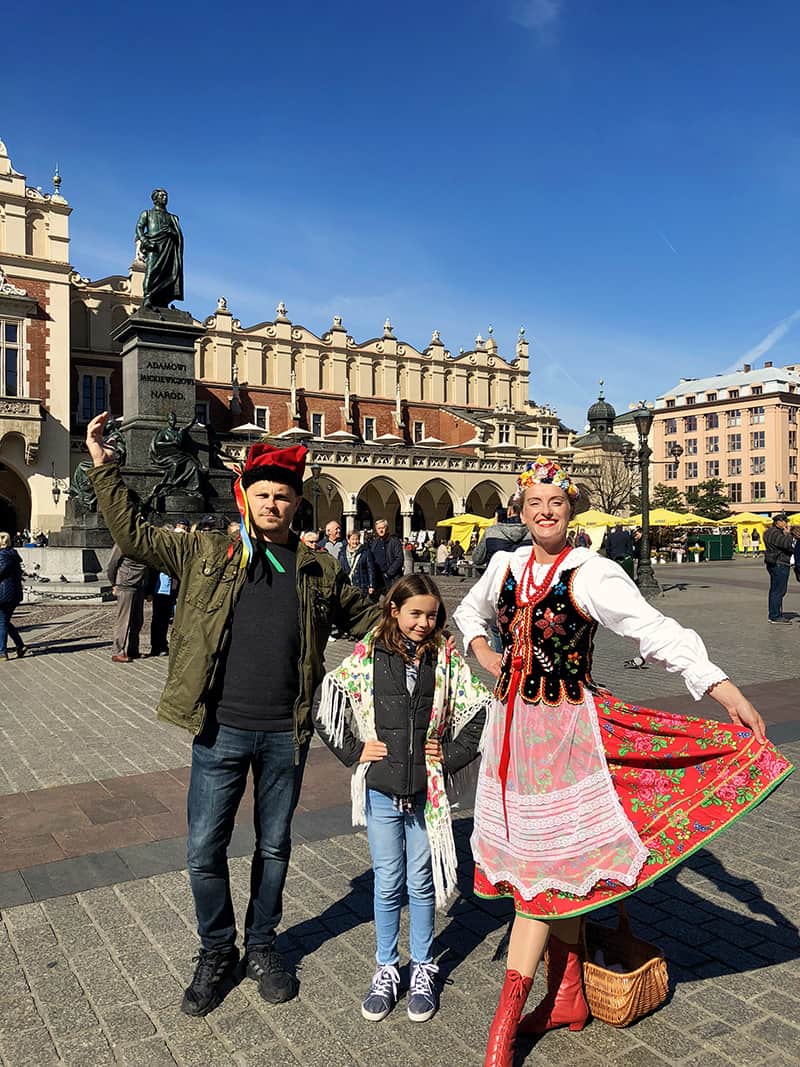 Hence, we recommend that if possible, do visit in May or June, because the summer is in full swing, the flowers are in full bloom – and you can adore the sheer majesty of Krakow with the respect and time that it deserves. Simply put, this is the best time to visit Krakow!
If you chose to travel to Krakow in the cooler months, bear in mind that in winter, the weather usually takes a turn for the worse. Unfortunately, a lot of cultural events in Krakow take place closer to the summers, which is why summer is generally a better time to come for holidays in Krakow.
How many days in Krakow?
When you visit Krakow, you will quickly realize that you will feel like sticking around a bit longer than a few days. Krakow has always another place to check out and another street artist to see or building to gawk at.
However, around three to four days of targeted travelling is more than enough – taking your time through the most popular sights and enjoying the ambience of Krakow.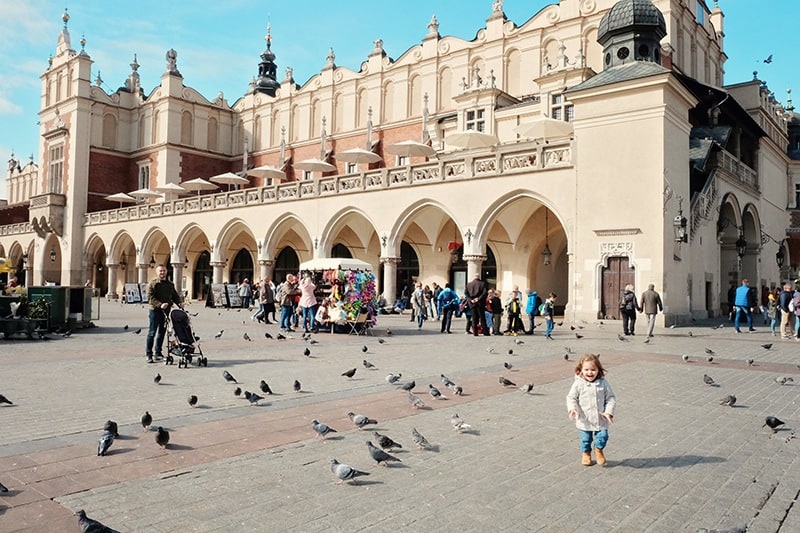 3 days in Krakow, then, is perfect to visit most of the popular sights and even include a day trip if you're so inclined.
Now that those doubts are cleared away, let's look at the top things to do in Krakow!
Watch our Video of What to do in Krakow Old Town
Below is a quick video to give you some insight into what you to do in Krakow Old Town. Keep reading to find more ideas of what to do outside of the Old Town as well.
>>> Click Here to Subscribe to our YouTube Channel
10 Best things to do in Krakow
There is a tonne of top things to do in Krakow and all of them have their own unique charm. However, only the best make it to the top 10 best things to do in Krakow list!
Here are our favourite and the top ten things to do in Krakow:
1. Krakow Main Square
The Old City in Krakow (Stare Miasto) has been given the status of a UNESCO World Heritage site, and this is the epicentre of it all. With an area of 5 acres, you are sure to have plenty of walking and sightseeing to do here.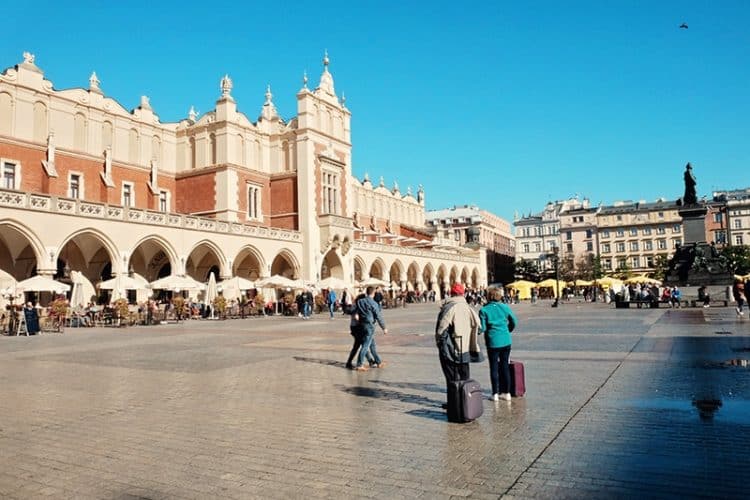 Established in the 13th century, Krakow Old Town houses the millennium-old St. Aldabert Church, the Krakow Cloth Hall (the main monument of the square), as well as St. Mary's Basilica and the Town Hall Tower. So many things to in one place already!
Strolling through the Krakow Old Town can feel like travelling through time. Walking through the streets lined with pristine, antique Polish architecture are sure to teleport you to medieval Poland.
You can choose to check out the street on your own, or alternatively, you can explore it with a local guide who can show you around and help you find where everything is.
2. Wawel Castle
If you are looking for the best things to see in Krakow, then the Wawel Castle should be high on your list too.
Popularly known as the castle in Krakow, this huge castle is surely one of the grandest attractions in Krakow. Easily one of the biggest castles to have existed, it has structures belonging to various architectural eras – medieval, baroque and renaissance as well.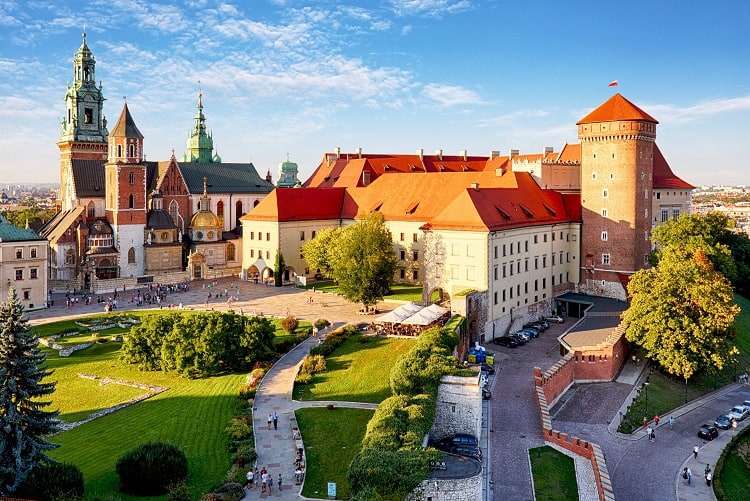 Further, the Wavel Royal Castle museum with a tonne of exhibits is sure to make your stay there a long time. The castle contains the greatest collection of Ottoman tents in the entirety of Europe, along with a large number of Renaissance-era paintings.
3. Rynek Underground
Wander through this subterranean arena right underneath the Main Square, soaking up the rich history of Poland and Krakow specifically. Enjoy the holographic and audiovisual effects accompanying the myriad exhibits on display!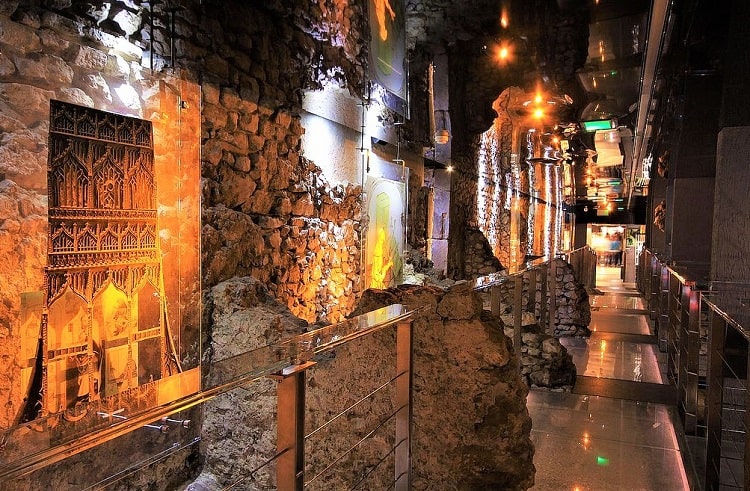 These exhibits are a fairly recent addition to Krakow's large repertoire of sights and museum, unveiled right after the latest excavations in 2010. This is also a place with much to see and much to eat (a lot of eateries are lined up here, surprisingly!) so make sure you come with enough time on hand.
4. Visit the Jewish Ghetto in Krakow
Krakow used to have a large Jewish population. After the Nazi Occupation took place, the Jews were relegated to a small part of Krakow, which is now known as the Jewish Ghetto in Krakow.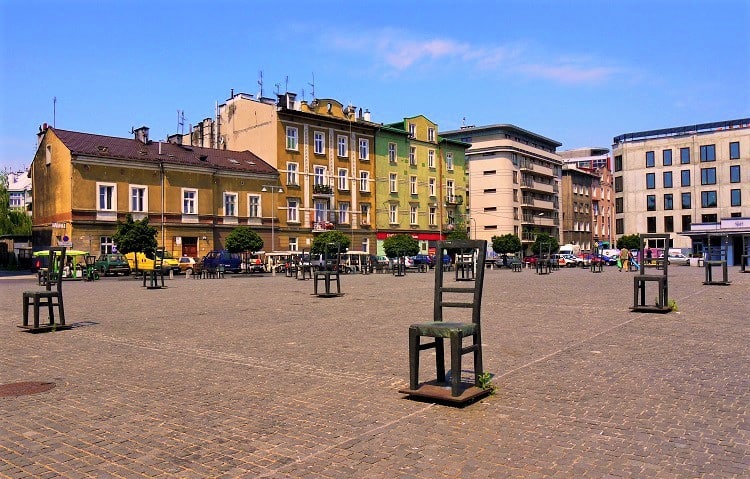 This visit will have a sombre tone compared to the rest of the journey, so make sure you have a strong heart before going. It is also home to the Schindler's Factory, immortalised in Steven Spielberg's movie the Schindler's List.
5. Grab some Food from the Stalls at Maly Rynek
Coming to Krakow and not enjoying the pierogi is almost sacrilegious. The Maly Rynek (Small Square), which is the smaller sibling of the Rynek (Main Square), has more food outlets than you could ever visit in one sitting and is definitely the go-to place for food in Krakow.
The various dishes you must have include Pierogi, Kielbasa (sausage with dressings), the Oscypek (sheep's milk cheese), Zapiekanka (a Polish pizzaesque sandwich dish), the Bigos stew and the Buraczki beet salad.
The local drinking fare includes beer and vodka, along with delicious home-made-like soups. Eating and drinking like a local here, are truly some of the best things to do Krakow style!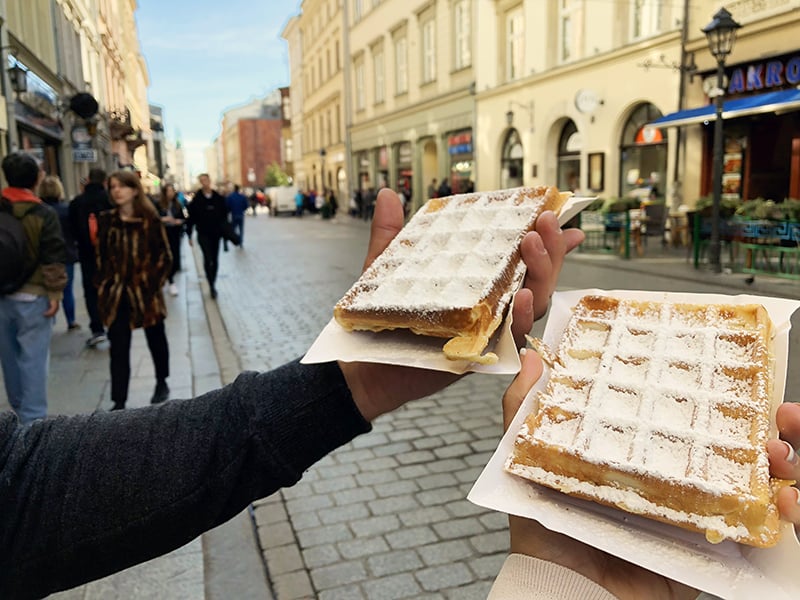 And when you are ready for a dessert, there is nothing like the famous Polish gofry! We have tried plenty of Gofry on our trip around Poland, and I have to say, that Krakow has the best ones.
6. Guided Horse and Carriage Ride
For those willing to revel in the medieval history of Krakow at a leisurely pace, or simply wanting to ditch Ubers, this makes for an interesting alternative.
The horse carriage ride is one of the best fun things to do in Krakow. Where else you can feel like a royalty, even though for a short while?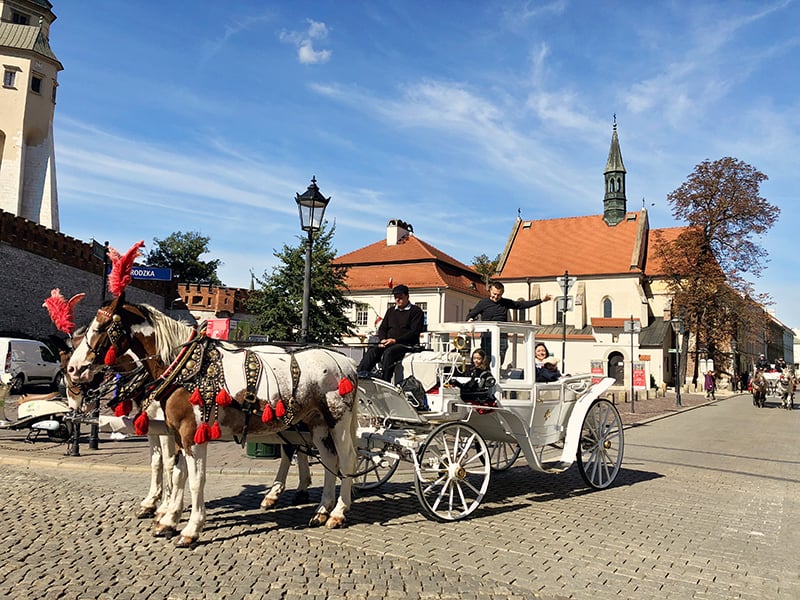 The most preferred and popular route is from the market square to the Wawel Hill, though you can take them from anywhere since they charge for the time (200 Zloty for 30 minutes). We recommend this more for parties of 4-5 since the operators charge for the carriage irrespective of the number of people in it.
This is definitely one of the most fun things to do in Krakow and best things in Krakow if you don't mind the speed of sightseeing!
7. Royal Route Walk
If you would like to check out some of the coolest things to see in Krakow, you can choose to stroll down the Royal Route.
The Old Town's primary sights are all lined up along the Royal Route Walk from the Floriańska Gate to Wawel Castle.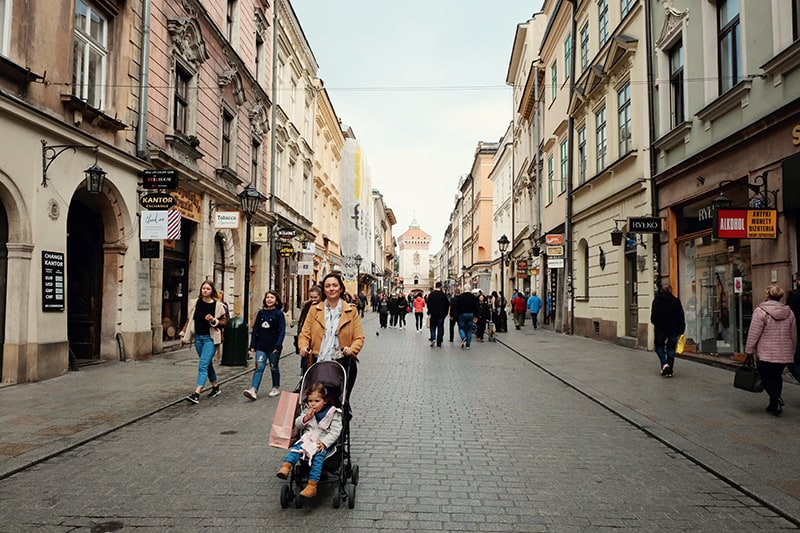 There is also an alternate route from Kraków's train station (if you travel via train), a walk from the station to the main square will leave you in a state of awe – one of the most picturesque and stunning introductions to any city in Europe.
8. Climb the Stairs of Mariacki Tower to get a View over the Square 
The Main Square is a sight to behold, and looking at it panoramically is one of the best sights Europe has to offer. Part of the St. Mary's Basilica, it is the taller of two towers in the vicinity which offers breathtaking birds-eye views of Krakow.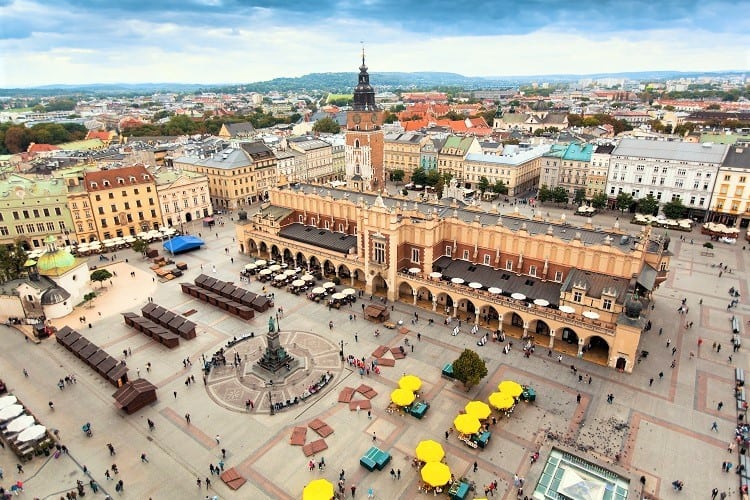 9. Visit One or More of the Beautiful Churches in Krakow
Krakow has a huge variety of beautiful basilicas and chapels. There are over 50 large churches all over Krakow, therefore it wouldn't be an overstatement to call Krakow the "city of churches".
You should definitely make your way to the St. Mary Basilica, which is has the largest Gothic altarpiece in the world.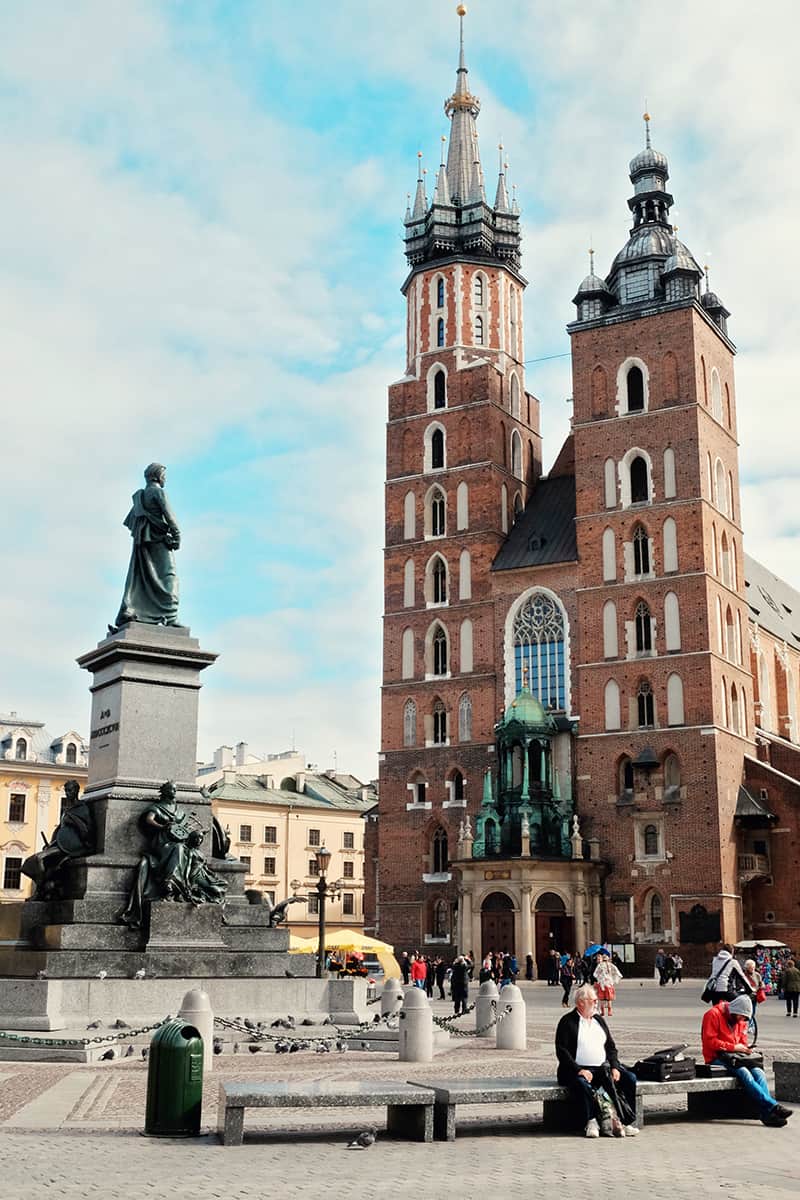 The Church of St. Peter and St. Paul and nearby St. Andrew's Church are some of the most famous in Krakow.
For those of you interested in catacombs and hidden passageways, the Church of St. Casimir the Prince presents a wonderful opportunity too!
10. Grab Iconic Shots with the Pigeons in Front of the Cloth Hall
The Cloth Hall is the central monument of the Krakow City Centre. Picturesque and magnificent in size, you should definitely try to visit it in the afternoons and get a picture clicked with the aviary residents of Krakow, of which there are many!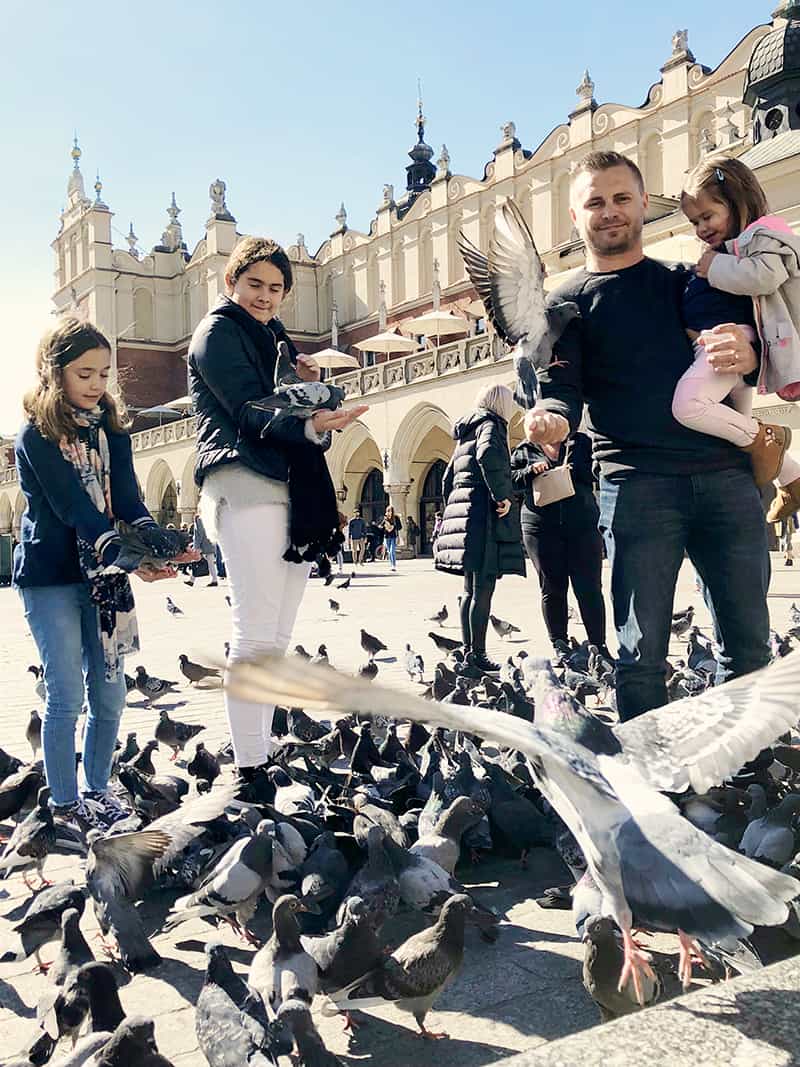 If you would like to stay a while and be entertained by the flock of bird, make sure to bring along some bread to share with them.
Best day trips from Krakow
If you are planning to stay here for a long while, you must look into some of the things to do near Krakow as well.
Here are three of the best day trips from Krakow and the best things near Krakow:
Wieliczka Salt Mines
This salt mine, which was fully functional until 2007, is now one of the best things to see around Krakow. You can now explore this deep labyrinth of mines, with umpteen staircases and 300 kilometres of rooms, tracks and tunnels on a guided tour.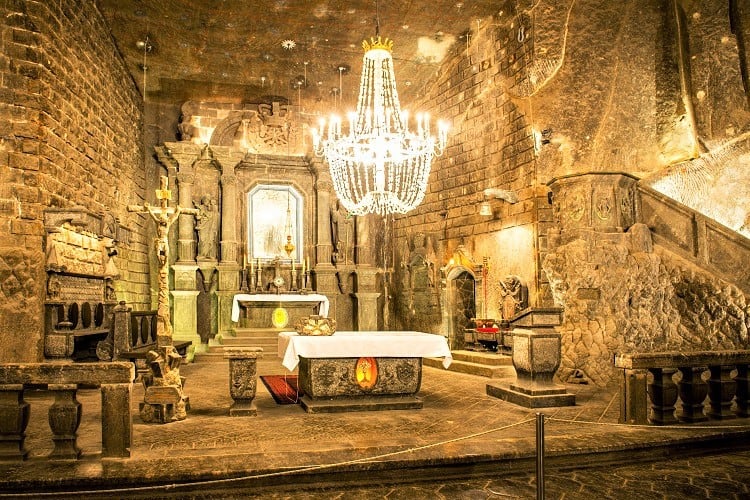 For those of us romantics, you might even be interested in making a use of one of the still functioning chapels locate deep in the mine's substructure. Yes, there are amazingly decorated chapels, rooms with extraordinary chandeliers and so much more to see too.
Auschwitz
Krakow used to have a thriving population of the Jewish community, if not the largest across the world.
Unfortunately, that changed after the Nazi Occupation, and Auschwitz was one of the epicentres of where the racial extermination took place.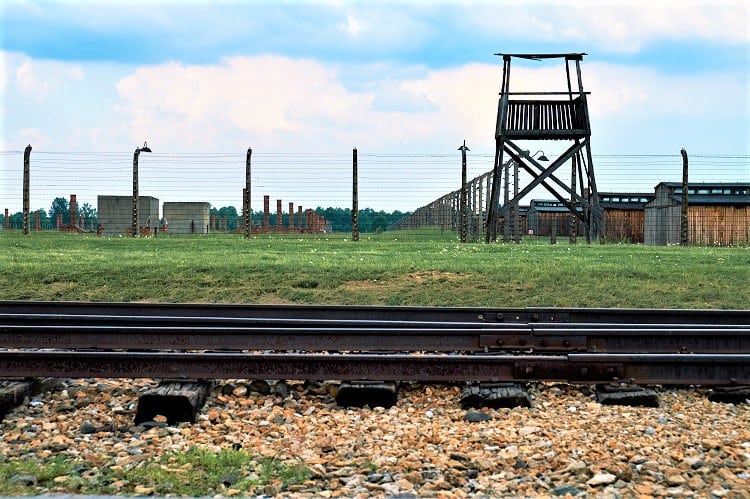 Nearly half of the 6 million Jews who died during the Holocaust were of Polish origin. Not just the Polish, a number of minority communities suffered the same fate at the hands of the Nazis here in Auschwitz.
I recommend booking one of the best Auschwitz tours so that you can learn about all the history of what happened there. Be sure to be ready to see this place though, as it is definitely going to take an emotional toll on you.
Zakopane
If you're more inclined towards sports and adventure, a day-long trip to Zakopane from Krakow is a must.
This is a small resort town, nestled in the Tatras mountains and not too far from Krakow (only a 2-hours by train).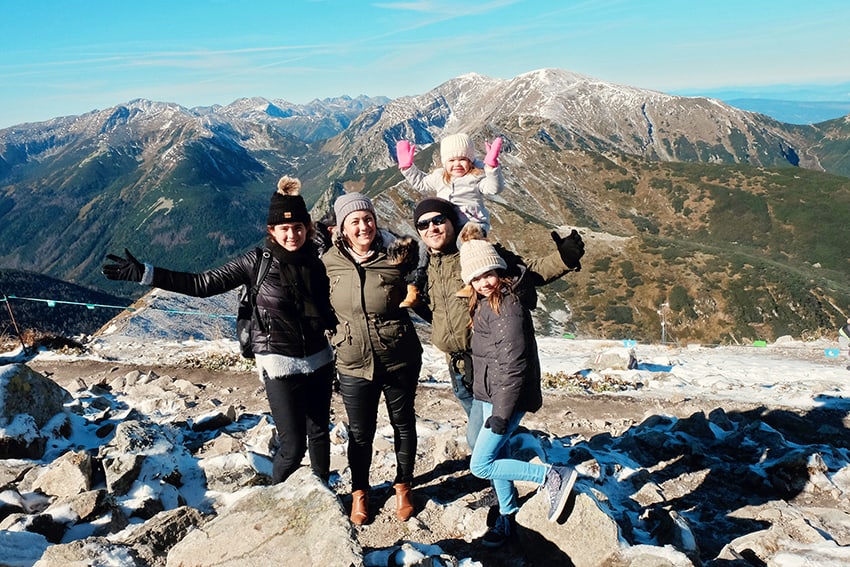 In the summer, it is popular for adventure sports such as mountain climbing and hiking. You can find a list of fun things to do in the summer in Zakopane here.
The winter, on the other hand, presents an opportunity for skiing, ice skating, sleigh rides, snowmobiling, ski jumping, and an array of other winter sports.
Once you're done with your adrenaline rush, you should go down the Krupówki street, which is lined with performers, stores, carnival rides and a tonne of restaurant-cafes. Make sure to try some of the local delicacies, such as the world-famous Oscypki.
Over to you:
Which of our best things to do in Krakow Poland will you tick off on your trip to Poland?
If you have any additional suggestions of what yo do in Krakow, please share with us in the comments below.