When traveling through the southern half of Africa, there is an abundance of wildlife, untouched landscapes, and natural beauty to be found. The Panorama Route of South Africa offers all of this in an easy-to-follow map.
The route starts near Nelspruit, a town in South Africa's Mpumalanga Province, and ends at the Limpopo Province border, near the well-known Kruger National Park. It's an incredibly beautiful trip, ideal for families and nature lovers.
Here are our favorite Panorama Route attractions.
Things to See Along the Panorama Route, Mpumalanga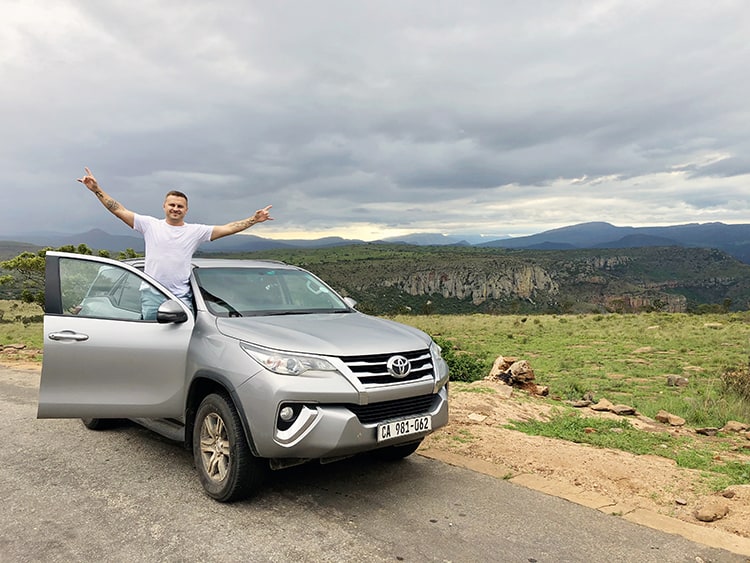 Traveling along the Panorama Route offers an amazing family holiday through South Africa. The best way to do this scenic trip is to rent a car and drive yourself. That way you can spend as long as you and your group needs at each of these stops.
Check prices for car rentals in South Africa here!
Travel Tip: Most Panorama Route entrance fees must be paid in cash, using South African Rands. It's a good idea to have around USD $30 (R430) per person in cash before you start the trip.
1. Graskop Gorge Lift Company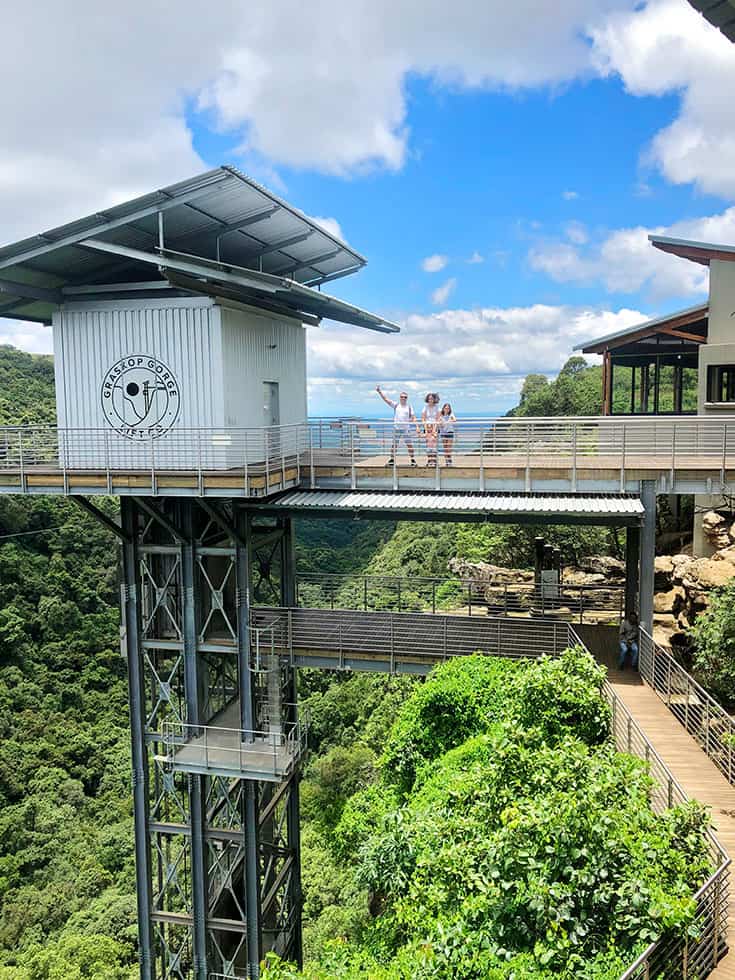 Price: US$14.50 for adults; US$12 for pensioners and US$10 for kids (children younger than 4 are free).
Opening hours: Daily 08:30 – 17:00
Graskop Gorge is located just outside of the town of Graskop. It's a naturally rich gorge that offers stunning views of the Lowveld. There are many activities to enjoy here, such as the lift, a short walk or even zip lining.
We ventured out to try out the gorge lift. The lift can fit 26 passengers, who will be lowered 51m into the forest below. Once at the bottom, you can take a wander through the 500m of walkways and bridges. Then, you'll be taken back up to the top where you can continue on your adventure.
The Graskop Lift opened in 2017 and is the very first of its kind in the Southern Hemisphere. The Graskop Gorge Lift Co. center also has a restaurant and bar, and a gift shop and gallery to enjoy.
A bit of honesty: It is the most expensive activity of the day. As a family of 5, we thought that it was super pricey for the experience. It is really beautiful, and if you are a solo traveler I would encourage you to enjoy it, but for families – if you wish to save the cost you can enjoy the beautiful views for FREE from the restaurant and shop.
2. Pinnacle Rock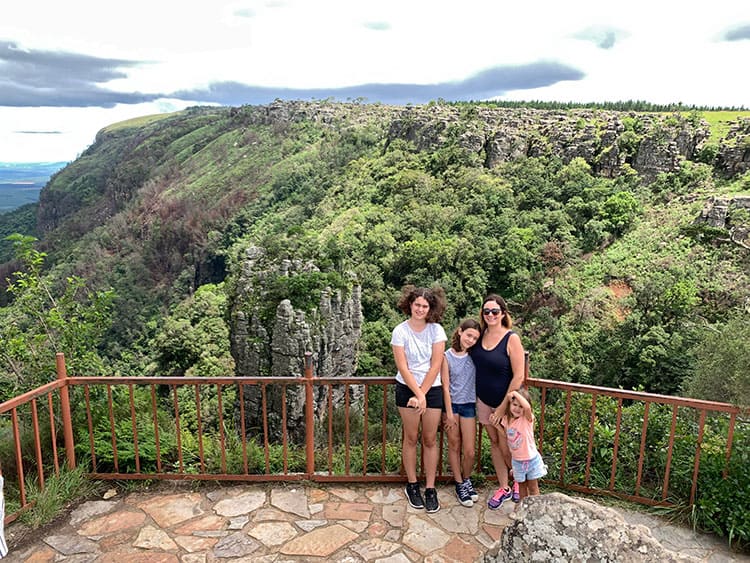 Price: A small fee of less than US$2 to enter the site
Opening hours: Daily 07:00 – 17:00
Standing prominently against a majestic backdrop of Driekop Gorge is Pinnacle Rock. This 98 ft natural formation is a popular stop on the panorama route self-drive map, attracting many visitors looking to admire and photograph its beauty.
The rock is located in a protected area, so you'll pay a small fee to enter this area. Inside the area, you'll find toilets, curio stalls for souvenirs, and a car park for around 30 cars.
There is one main viewpoint (REALLY close to the car park) to view Pinnacle Rock and a few others where you can see the surrounding waterfalls and the canyon's vegetation and wildlife.
Travel Tip: This is, obviously, a trip best done on a clear day. Be sure to bring your camera.
3. God's Window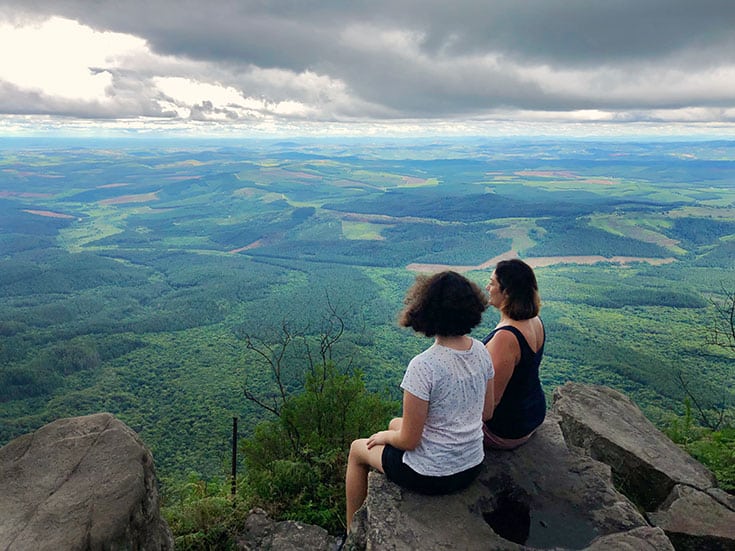 Price: Pay around US$2 for entrance per adult, and ± US$1 for parking
Opening hours: Open daily, during daylight hours.
This magnificently gorgeous viewpoint over the Blyde River Canyon Nature Reserve gets its name from the breathtaking views over the world's greenest canyon. It's easy to feel like you're, quite literally, on top of the world as you look over the stunning Lowveld landscape.
To get right to the top, there is quite a steep pathway of stairs, so this is a relatively active stop. However, there are wheelchair-accessible spots along the way. It is a really beautiful walk with multiple stops as well as a small rainforest section, however if you prefer a non-active viewpoint you can find more info on the alternative Wonder View below.
Alternative – Wonder View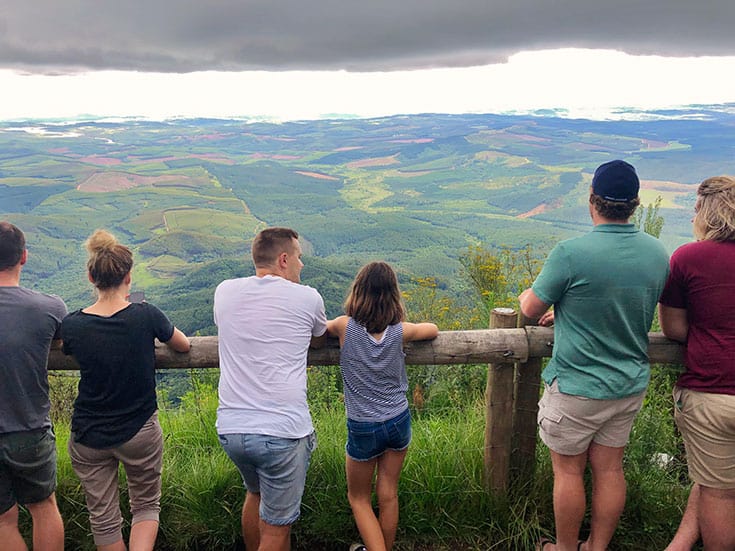 If you prefer, skip the many stairs up to the top of God's Window and simply drive on another 2 minutes to Wonder View. This spot is almost as spectacular, has no entrance fee, and is a lot more accessible. You simply stop, walk a few metres and you are there. It is not, however, as iconic. Either way, you'll enjoy breathtaking views of the canyon.
4. Bourkes' Luck Potholes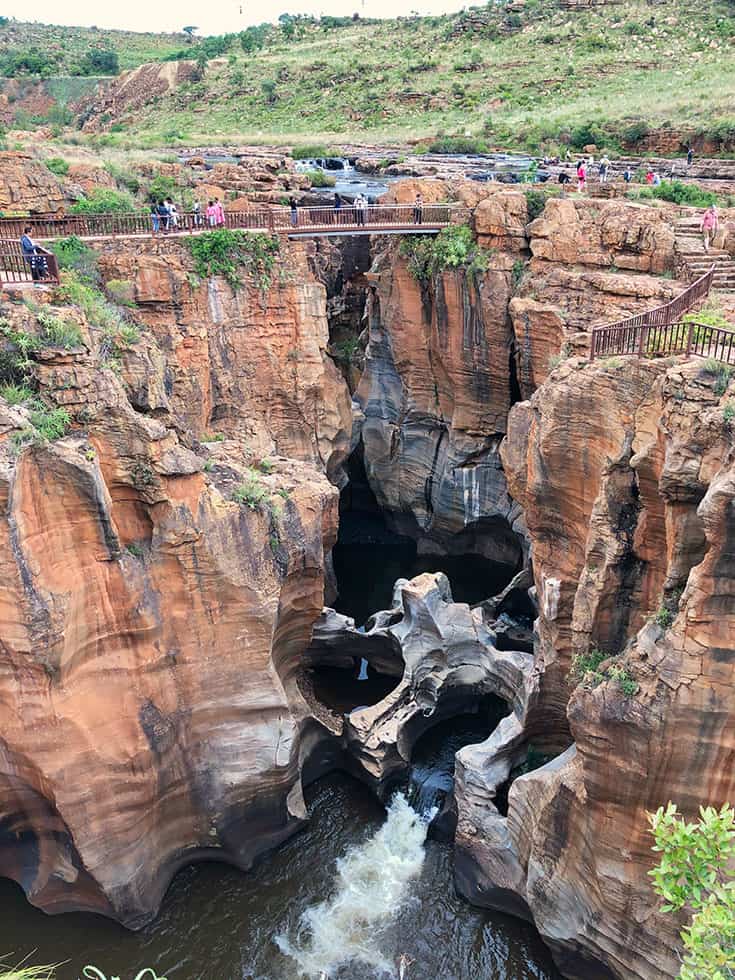 Price: Around US$5 per person
Opening hours: Daily 07:00 – 17:00
A stunning natural water feature, the Bourkes' Luck Potholes mark the beginning of the Blyde River Canyon. Named after Tim Burke, a gold digger who predicted gold deposits in the area, although he himself was unsuccessful in finding any.
The 'potholes' in the riverbanks have been formed from hundreds of years of water rushing from the Treur River into the Blyde River Canyon. The natural formation is a sight to behold and brings many admirers to the visitors' center.
There are walkways and bridges that lead to a railed viewpoint. This offers amazing views of the potholes and the surrounding natural wonders.
5. The Three Rondavels Viewpoint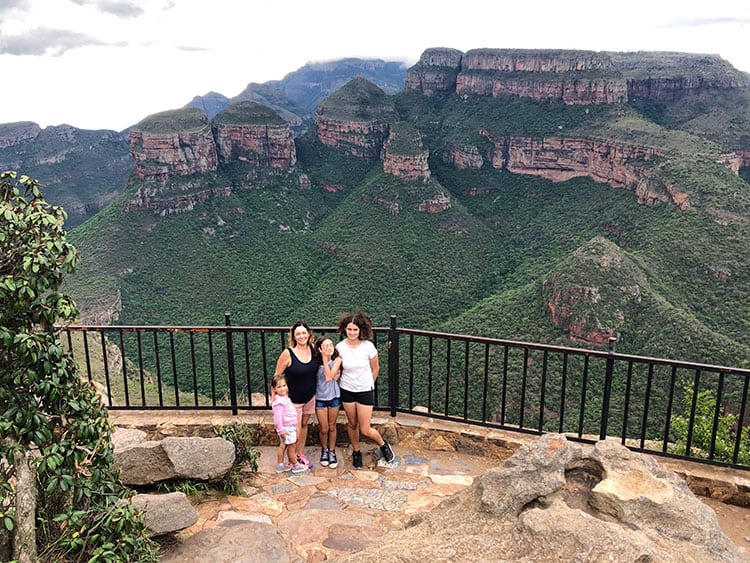 Price: US$3 per person
Opening hours: Daily 08:00 – 17:00
Another incredible natural formation, the Three Rondavels are named for their resemblance to traditional African huts. Viewing these hilltops is best done from the viewpoint, which looks out onto the Blyde River Canyon as well.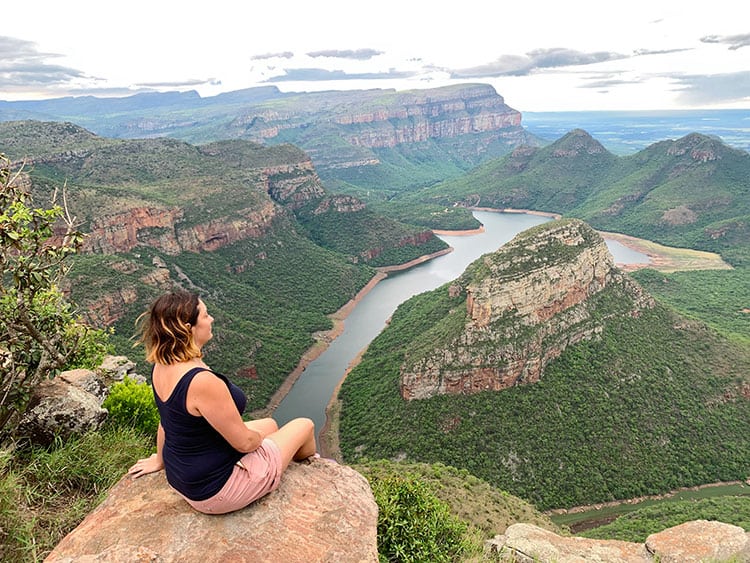 The viewpoint is located just 200m from the parking, and it's an easy walk – perfect for small kids to enjoy as well. The parking lot also often has small stalls selling African crafts for souvenirs and gifts.
Other Great Stops for your Panorama Route Itinerary
Whilst we have only listed our favorite stops along the Panorama Route, you can also include the following stops. The Lisbon Falls, Berlin Falls and Mac Mac Falls are the most impressive.
Lowveld View
Lisbon Falls
Mac Mac Falls
Berlin Falls
Forest Falls
Horseshoe Falls
Lone Creek Falls
Bridal Veil Falls
Highly Recommended Bonus Stop: Lunch at Harrie's Pancakes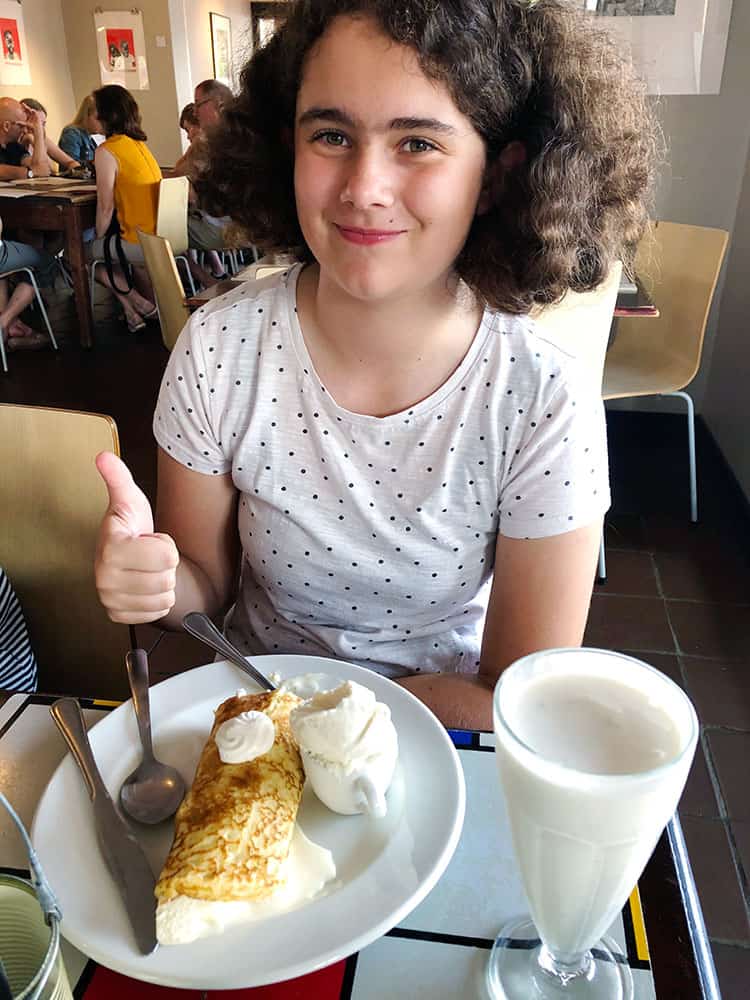 We found this welcoming spot inside the town of Graskop. They boast the best pancakes in South Africa and are a definite local favorite.
The restaurant has a range of pancake fillings, both sweet and savory, and they cater to almost every taste. You could have a fig preserve & honey pancake or a butternut with feta cheese & sweet pepper pancake – the options are amazing. And the pancakes are quite large in size.
We suggest a stop here to fill up for the road, you won't regret it.
Round-up of the Panorama Route
We're sure you'll agree that the Panorama Route offers must-see places on any South African itinerary. It's great for photographers, nature-lovers, and families like us who seek out hidden gems.
It's also an ideal journey to take either before or after a self-drive Kruger Park visit. Just make sure you pack your camera so you can take some of the magnificent views home with you forever.
Tip: Check out our ultimate guide to Things to do in South Africa with Kids.