While many cities in Spain are known as party destinations among travelers, we couldn't get enough of the peaceful island in the Mediterranean Sea – Majorca.
From sunny beaches to majestic mountains, lush countrysides to vibrant villages – there's something for everyone on this island.
No wonder it is a hit among families with children, and we can't help but agree.
5 Small Towns in Majorca Spain that Are Best For Families
If you're wondering which places to visit during a family trip to Majorca, Spain, we've got you covered with this short travel guide!
But before you hop into these popular destinations, here are some important things to know before traveling to Spain for the first time.
1. Petra
Known for its religious mythology, Petra is a tranquil village located in Majorca.
So, why not take a short drive to the Sanctuaire Et Ermitage de Bonany de Petra for a panoramic view of the island?
You could even cycle to the top, and in case you're wondering, the ride will be steep but short, so the view will be worth every sigh of pain!
Not to forget, the tourist attraction is surrounded by beaches and restaurants for you to relax and grab a bite after a tiring ride.
2. Sóller
The "valley of gold," popular for its oranges (a.k.a. the "gold"), is yet another ancient town in Majorca, which we think is a must-visit for families.
Other than the hotels and restaurants boasting 19th-century architecture, we highly recommend a tram ride to Plaza de la Constitución.
You can visit the gorgeous Sant Bartomeu church, awe at the art collection of Can Prunera, or check out different species of plants at the Jardí Botànic.
Additionally, residents and visitors can enjoy events and festivals in Sóller all year round, thanks to the happening cultural scene.
3. Puerto Pollensa
Beach hopping is a tried-and-tested activity in Puerto Pollensa, so that's the first thing we'd recommend.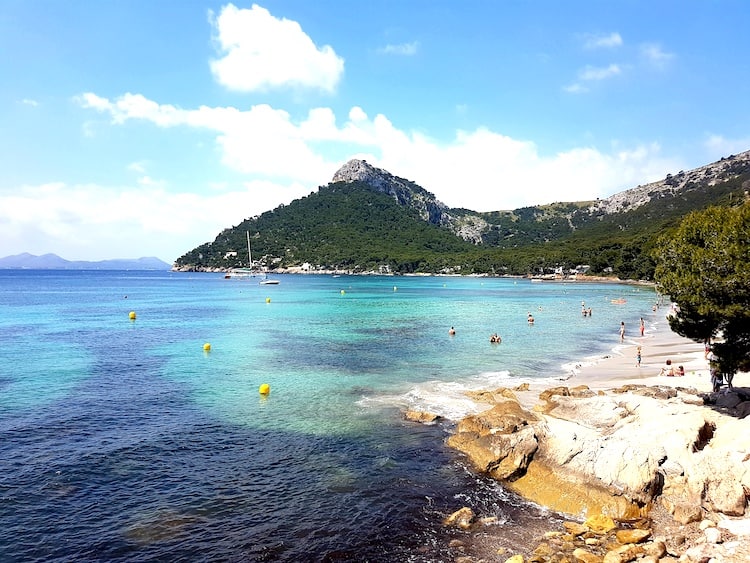 After all, who can resist some fun and frolicking in the sand, gazing at the gorgeous sunset, and calling it a day with a drink?
However, a word of caution here – not every beach has restaurants and shops in the vicinity. So, carry some snacks and water, keep yourself covered, and slather on that sunscreen!
4. Deia
Deia is the place to be if you want to let your hair down and relax, away from the hustle and bustle of city life.
With such stunning scenery around, we recommend spending some quality time with your family at a café terrace.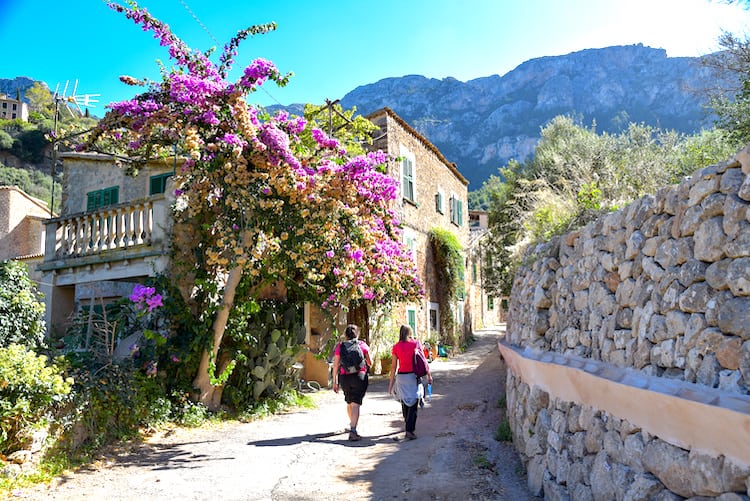 But if the mountains are where you belong, why not go for an exhilarating hike up the Puig del Teix?
5. Campos
From fun food tours to adrenaline-pumping water sports – Campos is the spot for families and travelers of all ages.
Specifically, Town Hall Square is a tourist hub as it is where all the celebration takes place during festivals, or you can catch some local stalls every Thursday.
And if you're ending your trip to Majorca in this vibrant town, we recommend heading to the Balneario de la Fontsanta and letting loose at the spa with thermal springs.
Final Thoughts
If hiking and cultural trips sound like the best activities for a family vacation with kids, Majorca is the place to be.
We hope our short travel guide will help you narrow down the small towns in this Mediterranean paradise and make the most of your trip!