Malta and Gozo are the two main islands that form the Maltese Archipelago. If you are planning a trip to beautiful Malta, then exploring both major islands is highly recommended. Life here is slow, peaceful, and incredibly scenic.
If you are wondering what to do in Malta and Gozo, there are plenty of amazing places to visit. Between the magnificent Mediterranean coastline, the stunning towns, historic landmarks, and sheer natural beauty – this is one of the best European holiday destinations out there.
You won't be disappointed! Here is our guide to some of the best places in Malta and Gozo to visit during your trip.
Top 10 Gozo and Malta Points of Interest
When you visit Malta and Gozo, there are all kinds of wonderful places to experience on the islands. If you want to see the best that these destinations have on offer, then be sure to check out these top attractions to visit.
1. Valletta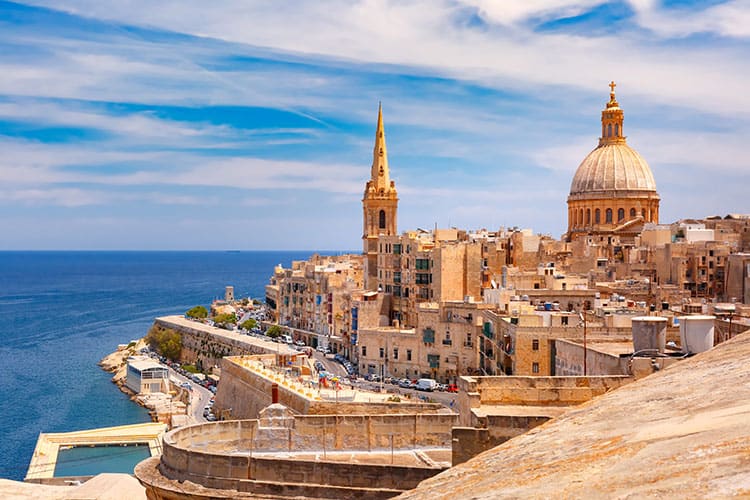 Valletta is the capital city of Malta, so no journey to this island nation would be complete without a visit.
Valletta is one of the most historic places to visit in Malta – and it is a fantastic destination for those that love striking architecture. The city is actually walled and was established in the 1500s by the knights of St. John.
This amazing port city is loaded with museums, beautiful churches, and even magnificent palaces. If you would like to get a taste of the true Malta culture, then Valletta is possibly the best place to go.
The city of Valletta, and its incredible old harbor, are both included in the nine UNESCO World Heritage Sites that are spread across Malta.
Whether you visit Valletta for the historic buildings, pretty seaside location, landmark sites or vibrant culture, it is certainly one of the best places to visit in Malta.
Click here to book your walking tour of Valletta for a guided experience of the city.
2. The Three Cities
The Three Cities are small cities found right next to each other – which makes people consider them a single place. These Medieval, fortified cities were founded by the knights of the order of St John in the 16th and 17th centuries. Each one is full of historic and cultural value.
The cities are Birgu, Senglea, and Bormla. The most popular of these cities is Birgu – as it is the oldest and holds many historic attractions. This includes:
The Maritime Museum
The Malta War Museum
The Inquisitor's PalaceFort St. Angelo.
However, the other two cities are also very much worth visiting – with their grand churches, charming streets, and sweeping views of the Grand Harbor.
The Three Cities are found right across from Villettas Grand Harbour – just east of the city. The cities make up one of the most popular Malta points of interest, and visiting them is a must for anyone in Malta.
Click here to book your guided Three Cities tour with a complimentary wine tasting.
3. Mdina
When you visit Mdina, it feels as if you're stepping back in time. This ancient city, which dates back over 4000 years, is the old capital of Malta. Mdina is one of the best examples of an ancient fortified city in Europe – with its well-preserved architecture and important landmarks.
Mdina is home to some impressive old structures, churches, and a great central square. Some of the top points of interest here include:
Mdina Gate
Palazzo Falson
Whether you visit for a day trip or stay a few nights, a trip to Mdina is definitely one of the best Malta things to do.
4. Rabat
Rabat is another historic town close to Mdina. The town is best known for its lovely old buildings and historic points of interest. These include:
The famous Catacombs of St. Paul and St. Agatha
Domvs Romana (an impressive Roman villa)
Paul's Grotto
Casa Bernard
Wignacourt Museum.
Rabat is a prominent town of Malta, and it is a must-visit for anyone in Mdina. You could definitely choose to see Rabat during a half-day trip if time is an issue.
5. Comino (Blue Lagoon)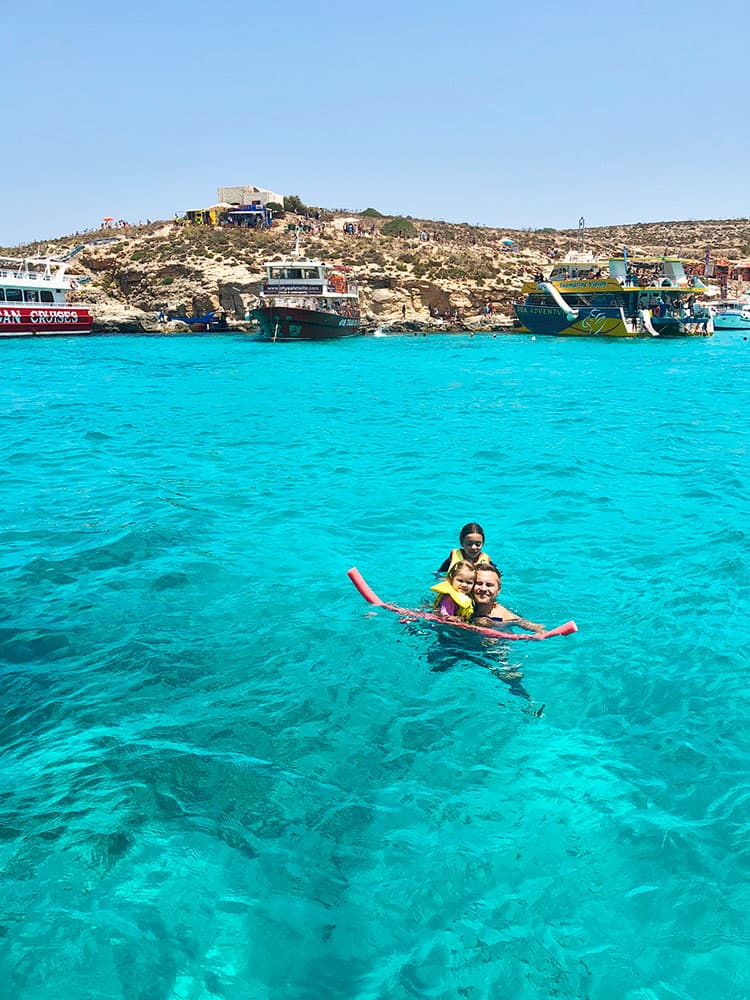 Comino is a tiny island that lies between Malta and Gozo. The island is basically uninhabited, and the entire place is actually classified as a wildlife sanctuary.
Many come to visit Comino on a day trip to experience the peaceful natural surroundings. It is possible to camp here though, and there are some excellent hiking trails around the island.
The most famous reason to visit Comino though is for its spectacular Blue Lagoon bay. This cove on the island shows off the most incredible, crystal-clear water turquoise water. It would be hard to find a more appealing swimming destination!
Comino is great for day trips, snorkeling, swimming, lying on the beaches, or just wandering around the tranquil island.
Click here to book your full-day sightseeing tour around Gozo and Camino to experience the best of this area.
6. Dwejra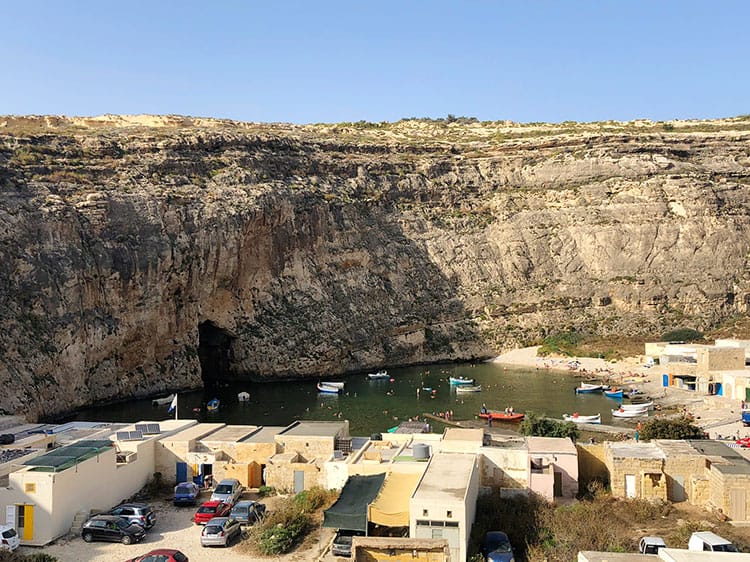 Dwejra is one of the most dramatic and scenic destinations on Gozo. This bay is surrounded by steep rocky cliffs, and it offers stunning views and interesting natural landmarks.
For a long time, the main attraction here has been the famous Azure Window – a large rocky arch. Unfortunately, the window has now collapsed. However, there are still some amazing rock formations and things to see here.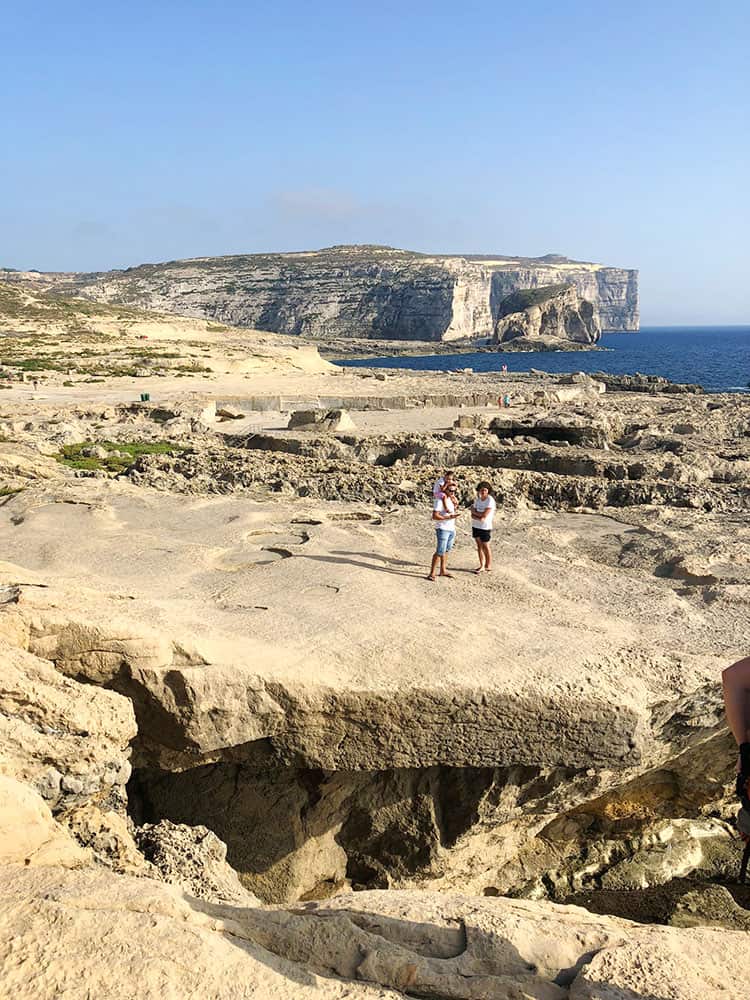 During a visit to Dwejra, you can soak up some spectacular coastal views of Gozo. There is also the deep blue hole – a deep inland sea pool where the Azure Window used to be. There is also the Inland Sea with its small beach.
This is a small bay surrounded by steep cliffs and connected to the sea by a cave. This is a truly unique location, and it's a great place for snorkeling.
If you are interested in experiencing some of the best natural sights and formations in Gozo, then be sure to pay Dwejra a visit.
7. The Blue Grotto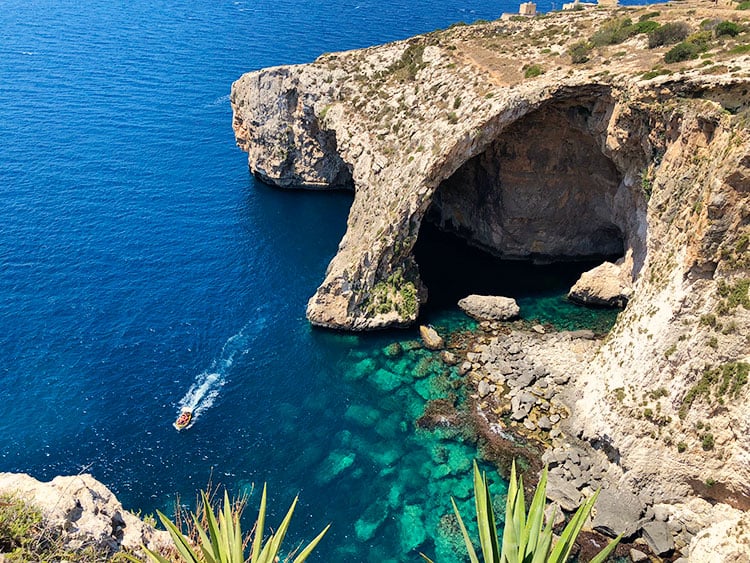 The southeastern area of Malta is much less visited by tourists. However, the amazing Blue Grotto found here makes this part of the island one of the best places to visit in Malta.
The Blue Grotto, a series of seven caves, is found along the coast of the island. You will need to take a boat trip to access these caves.
The name came about thanks to the sparkling blue water which dances inside the sea caves. We suggest visiting on a clear sunny day to experience this at its best. These are not your typical caves though, as they are made up of some really interesting rock formations.
Thanks to the crashing waves against the cliff, incredible rocky arches have formed.
8. Popeye Village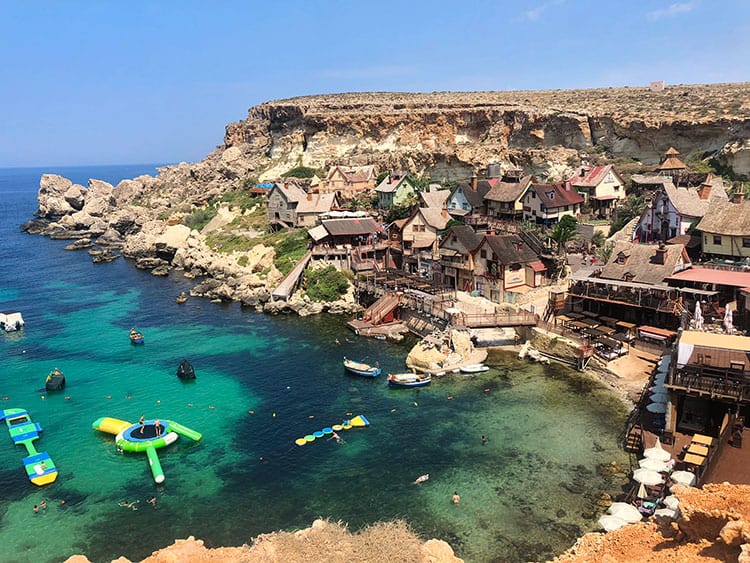 Popeye Village is one of the more popular Malta attractions for tourists. This is a purpose-built village that acted as the film set for the 1980 musical Popeye.
The village has now been turned into a small theme park village – with boat rides, food stalls, and more. If you're traveling with kids, this is one of the better Malta tourist attractions.
Although the village is very pretty, and there are some fun things to do here, the entrance fee is rather steep for such a tiny village and small list of attractions. When visiting, be sure to admire the view from the top which is completely gorgeous.
9. Xwejni Salt Pans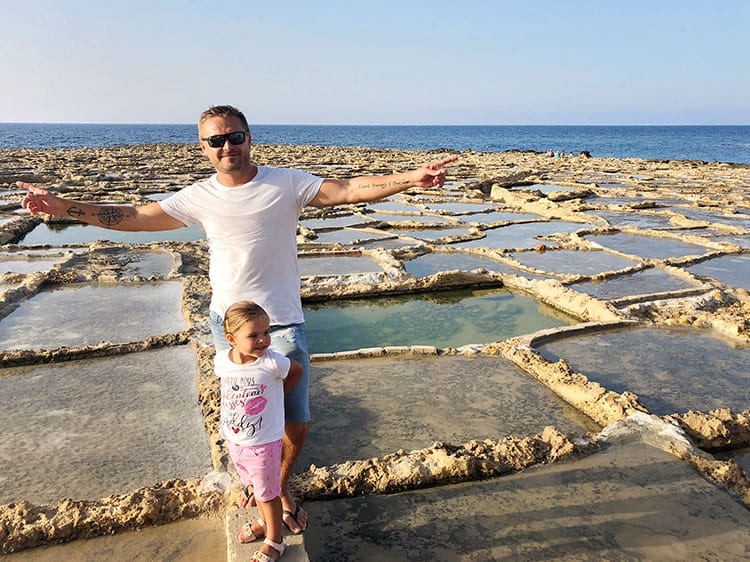 If you will be visiting the island of Gozo, then you just have to visit the Xwejni Salt Pans. This is one of the most fantastic sights available here.
The Xwejni Salt Pans are located next to the sea, and they create a dramatic landscape to admire. These ancient salt pans have a long history – dating all the way back to the Phoenician and Roman times. They are still in use today through the same traditional methods of gathering salt.
The best time to visit the salt pans would be during a morning walk. This way you will get to see the huge piles of salt being harvested. The interesting formation of these salt pans makes them a Malta must-see attraction.
10. Ta'Cenc Cliffs
Gozo is all about its dramatic island scenery, and the Ta'Cenc Cliffs are one of the best examples of this. These cliffs rise steeply out of the ocean to form a truly beautiful sight. This is one of the best things to see in Malta.
The Ta'Cenc Cliffs are a brilliant place to go swimming, where a small platform just out at the bottom. Otherwise, simply admiring the views here are well worth the visit.
Final Thoughts on the Best Places to Visit in Malta and Gozo
The island may be small, but it is loaded full of amazing attractions and places to visit. Malta's points of interest are wide-ranging, allowing you to enjoy a holiday that covers all kinds of activities.
There are the ancient historic towns, magnificent coastal scenery, beaches, swimming areas, and unique island culture. When figuring out what to see in Malta, it is a good idea to explore some of the different islands that make up the area.
This way, you will get to see the different places and landscapes that make up this beautiful European destination.