Traveling with toddlers can be both a joy and a challenge. On the one hand, they are always up for new adventures, but on the other, it requires extra planning to keep them entertained and comfortable!
If you're looking forward to exploring Europe with your toddler in tow, we share a list of the best places to visit in Europe with toddlers!
These destinations have all been hand selected by us (we traveled with our youngest from the age of 2.5 months), as well as by other parents who have actually been there with their toddlers.
From picturesque Malta to sunny Italy, from ancient Greece over to France, and so many other beautiful countries in Europe — these countries offer amazing experiences that are sure to delight you and your little bundle of energy alike.
Read on for our top picks of places guaranteed to make your next European trip with your toddler even more special.
17 Best Places to Visit in Europe with Toddlers
Below are our top picks of where to go in Europe with a toddler. Each amazing place is perfect for a Europe trip with a toddler so you are sure to have a great time.
For all of these destinations below we recommend you take along some of the most essential toddler travel gear, such as a lightweight stroller, a travel car seat, and a toddler baby carrier.
1. Malta with a Toddler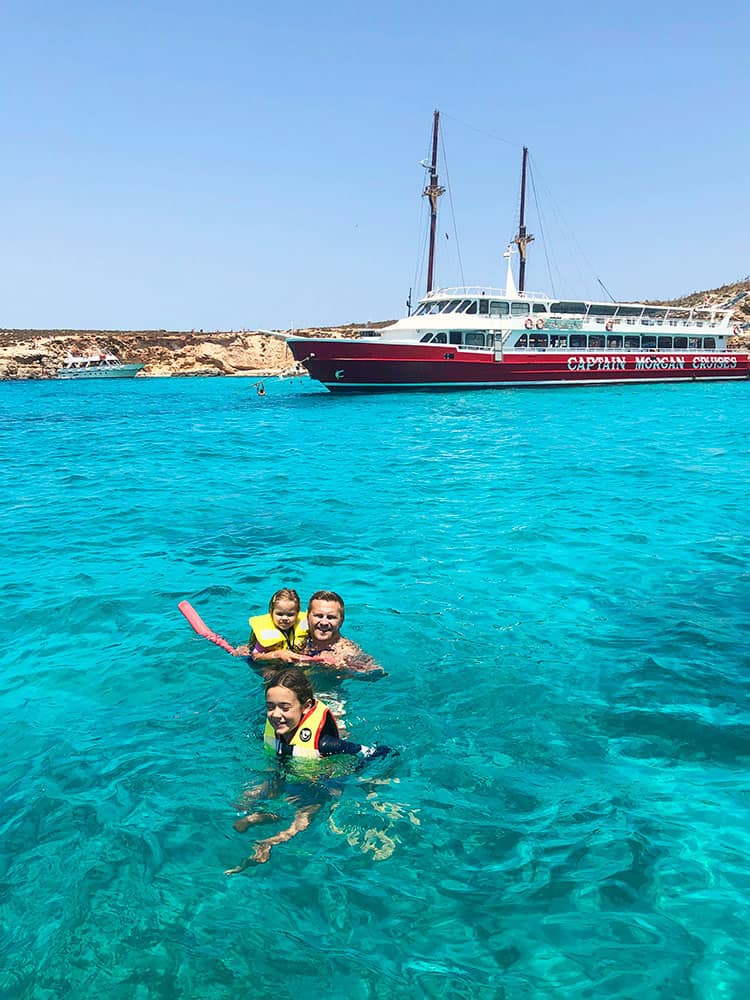 From the picturesque Mediterranean coastline to the charming towns and villages, Malta has plenty of activities to keep young children entertained.
In my personal opinion, Malta is one of the best countries to visit with a toddler. Life is just slower in Malta, giving you plenty of opportunities to travel at a pace comfortable for a toddler.
You will find plenty of wonderful playgrounds, an aquarium, adventure parks, a water park, and so many other fun places to explore with your little one.
Best Places To Visit In Malta With A Toddler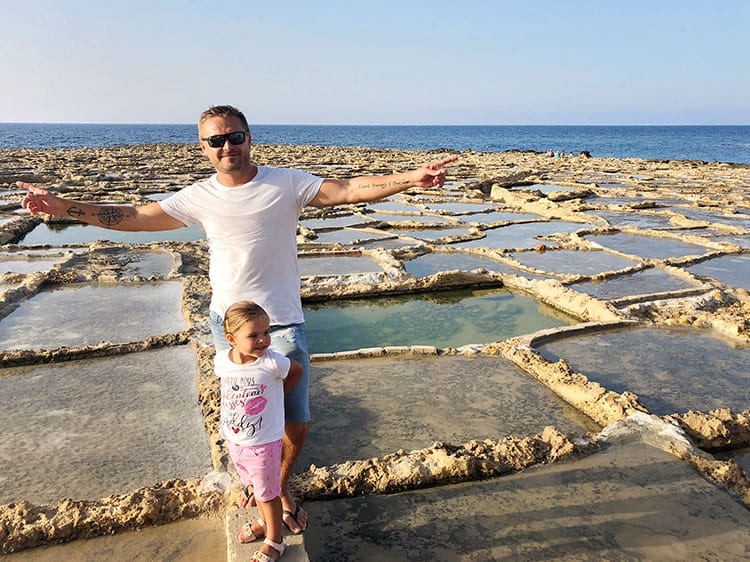 We visit Malta with all three of our children. Avalee was 2 and actually celebrated turning 3 in Malta.
We spent a few weeks exploring this island and found plenty of fun things that kept our kids entertained.
We rented a car when we explored Malta (you can easily rent one through Discover Cars). It made life really easy to come and go as we please and work around our toddler's sleep schedule.
You can also make use of the hop-on-hop-off buses if you prefer not to rent a car.
Here is a list of the best places to visit in Malta with a toddler.
Toddler Gear to Pack + Where To Get Toddler Supplies in Malta
To best enjoy the streets, we recommend investing in a lightweight, easy-to-fold stroller (we love GP Pockit Travel Strollers) for when the little ones need a break from all the walking.
In Malta, there are a plethora of supermarkets that offer all the necessary supplies for your toddler's needs – from diapers to snacks and drinks.
Most restaurants should have high chairs so I wouldn't bother bringing one along. Overall we found it really easy to explore Malta with our 2-year-old.
Where to Stay in Malta with a Toddler
I recommend you stay in Mellieħa with your toddler. Here you will plenty of resorts with pools and Mellieħa Bay is perfect for little kids with shallow water and sand for them to play in.
The Maritim Antonine Hotel & Spa is a perfect child-friendly resort to stay at. It is a 4-star resort, 1 km away from the beach.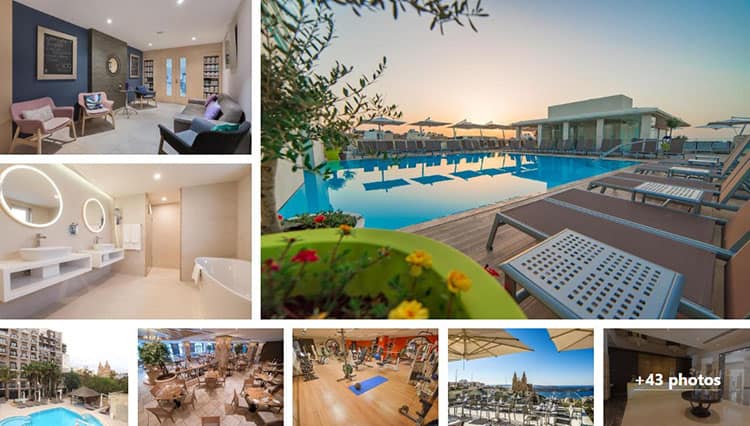 It has 3 pools (with shallow pool areas for kids), one of which is a heated indoor pool, and a sauna. Such a great place to relax with your child.
---
2. Italy with a Toddler
Italy is a wonderful destination for family vacations.
The Italian people are always welcoming and accommodating to families traveling with children, often providing them with special privileges like skipping queues!
We loved Italy so much that we spent three months traveling around the country with our three kids, including our toddler who was 2 years old.
If you are looking for one of the best European holidays with toddlers, then Italy is probably our top pick.
Best Places To Visit In Italy With A Toddler
There are so many destinations to visit in Italy, but I think the three regions that we found were the easiest to explore with a toddler were Tuscany (stroller-friendly), Sicily (for a beach holiday), and Puglia (for a beach holiday).
Tuscany:
Tuscany is a picturesque region of Italy perfect for travelers with toddlers. Its towns are fairly flat, making them more stroller-friendly in comparison to towns in other regions.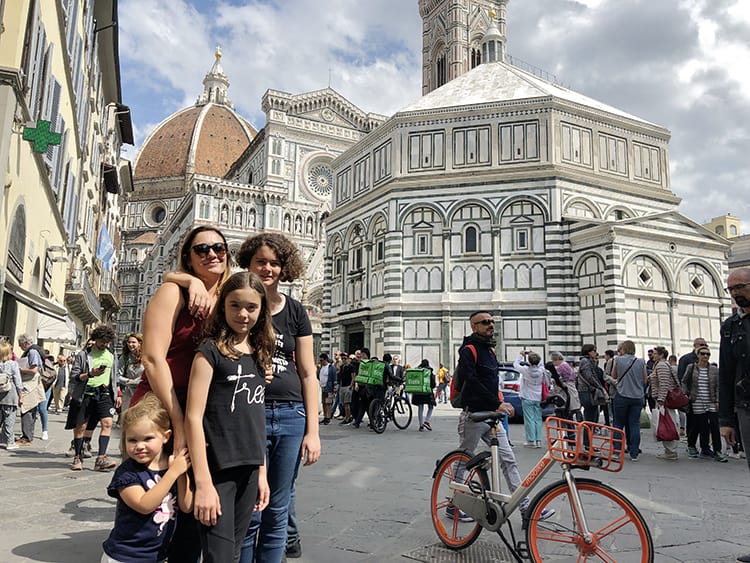 There are so many wonderful places to visit in Tuscany and you could easily spend 2 weeks in this region alone. Find a list of the best places to visit in Tuscany here.
Sicily
Sicily is a fantastic place to visit with a little one as you can find some gorgeous sandy beaches (plus beautiful towns) to enjoy on your family vacation.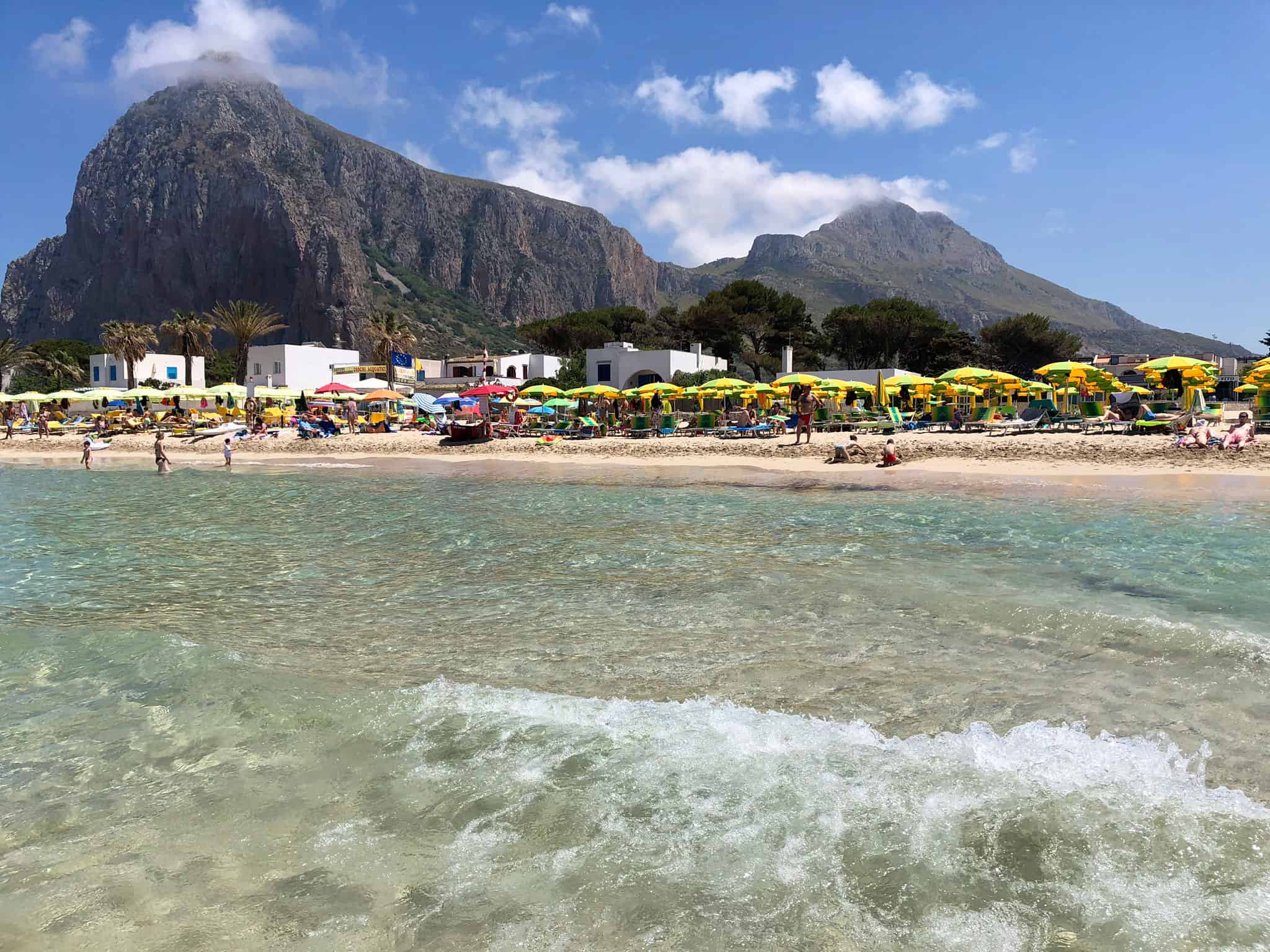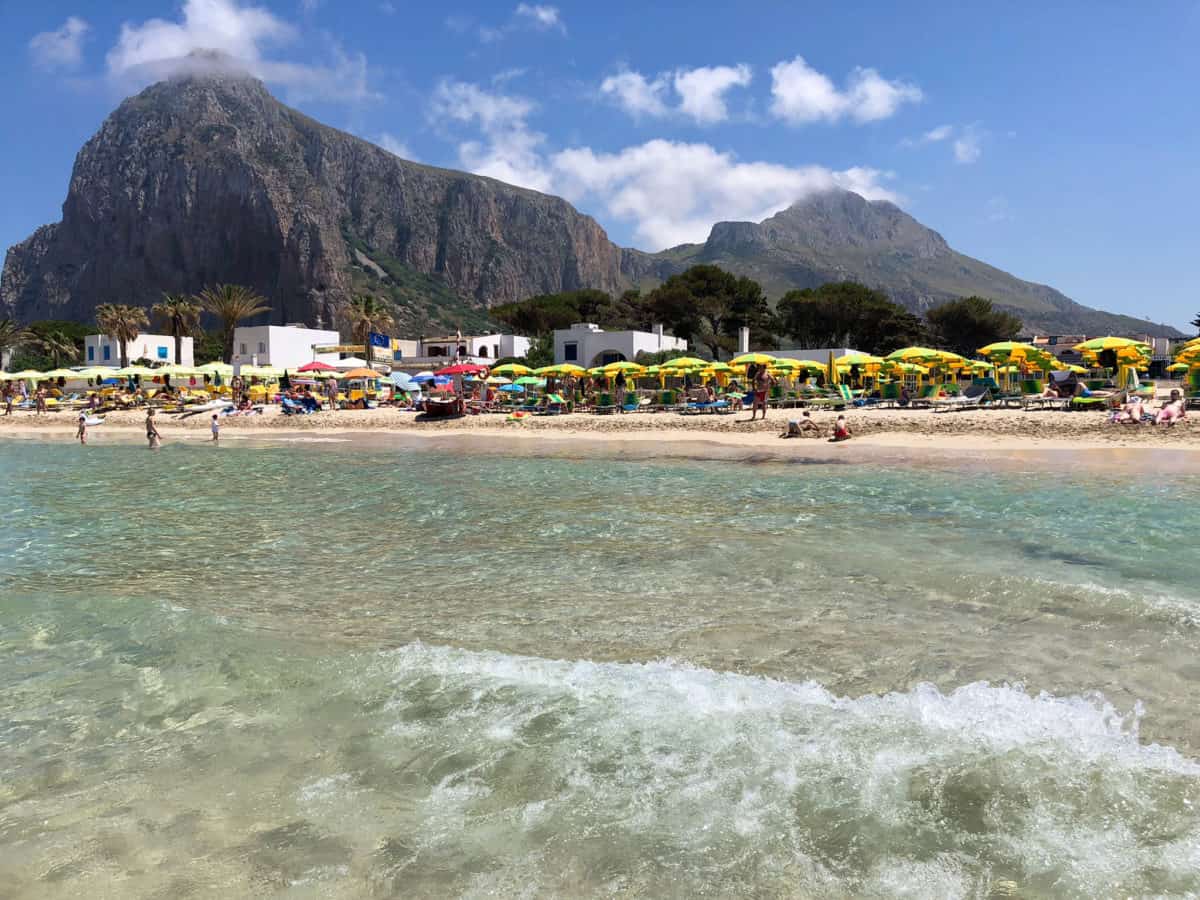 You could easily spend 2 weeks in Sicily. Find a list of the best places to visit in Sicily here.
Puglia
Head south to Puglia for some fun beach days with your little one. Here you can spend hours building sand castles, going on walking tours of the Castellana Caves, and more.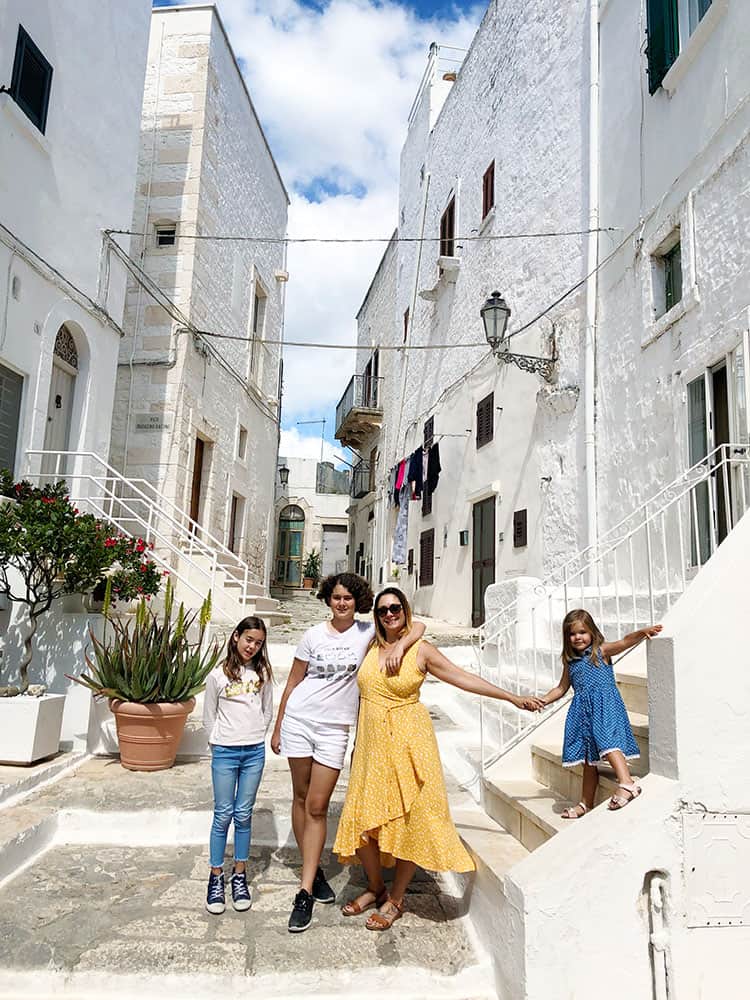 You could easily spend 10 days in Puglia. Find a list of the best places to visit in Puglia here.
Where To Get Toddler Supplies In Italy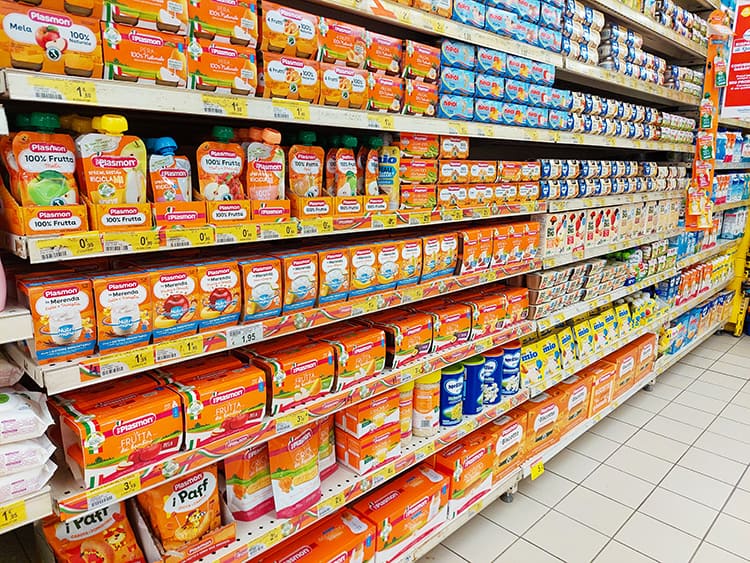 I highly recommended that you bring along a lightweight stroller and a toddler baby carrier. Because many of the streets will be cobblestone streets, I recommend bringing one with bigger rubber wheels.
In cities you will find Supermarkets typically have an aisle dedicated to baby supplies. Diapers will be cheaper here than at the pharmacies. You can find brands such as Huggies and Pampers.
We tried to stock up in the cities as it is much harder to find supplies in smaller towns. In the smaller towns we often only found baby items in pharmacies.
You can find all our top tips and recommendations on how to visit Italy with a toddler here.
Where to Stay in Italy with a Toddler
---
3. France With A Toddler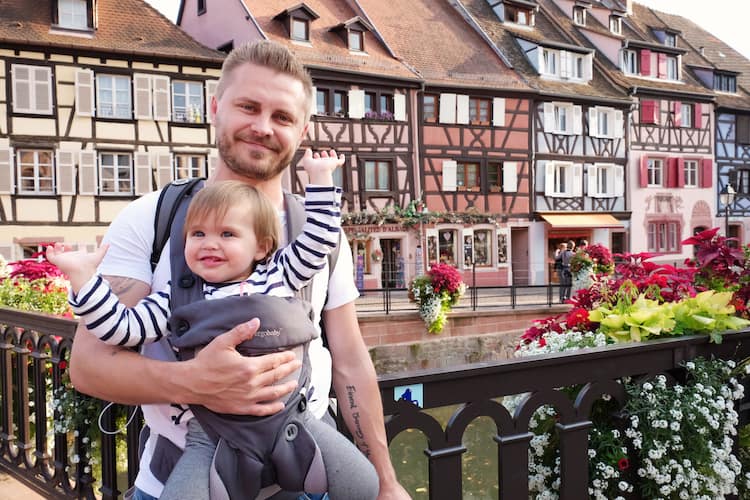 France is an excellent destination for a family vacation, even with toddlers or younger children. With its wide array of interesting and engaging attractions, you can be sure to have a memorable holiday there.
From the iconic Eiffel Tower in Paris to the stunning Palace of Versailles, France with a toddler has no shortage of sights and activities to explore.
Best Places In France To Visit With A Toddler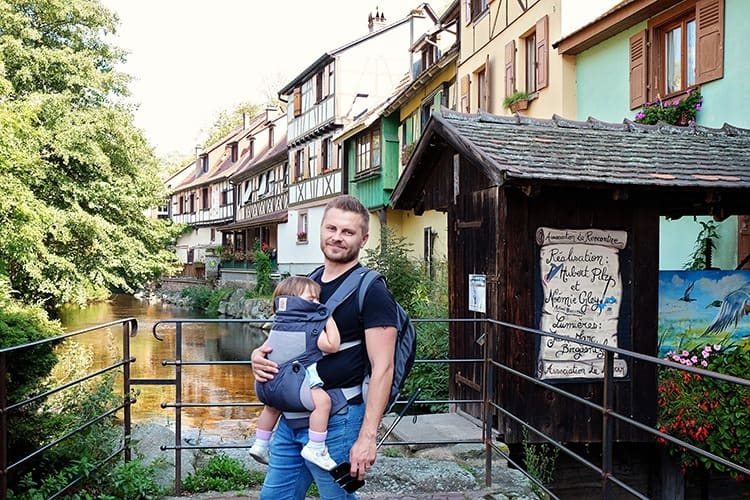 From the stunning French Riviera along the Mediterranean coast to the lush Alsace region in northeastern France, there are so many places to explore and enjoy.
And Annecy, located in the Haute-Savoie region, is simply breathtaking.
Visiting Paris with a toddler is also a great place as it offers plenty of family-friendly attractions and activities.
To make sure your holiday goes as smoothly as possible, there are a few items you should pack beforehand: a portable high chair, a stroller, and a baby carrier.
This will make it much easier to get around your destination and enjoy the sights without having to lug heavy items.
Also, if you plan on hiring a car for travel throughout the French countryside, you can easily rent a car seat from the rental company.
Where To Find Toddler Supplies
France is filled with the necessary supplies that your toddler will need, no matter how big or small they may be.
Food and any baby essentials such as diapers or wet wipes are readily available in all supermarkets.
Additionally, you can easily find toddler snacks and food items – even if they may not be from your usual brand!
---
3. Poland With a Toddler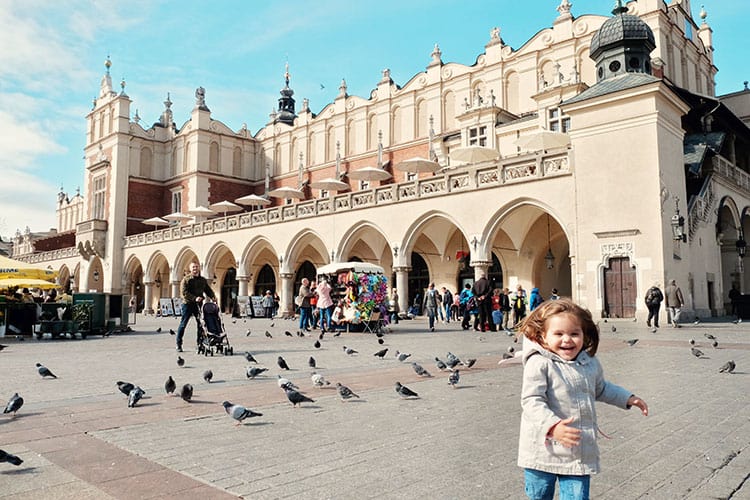 Poland is an enchanting destination for young families looking to explore Eastern Europe.
With its stunning cities and rich culture, Poland offers the perfect holiday getaway for those looking to experience something unique and exciting with their little ones.
The country boasts a number of varied activities and sights fit to please the whole family – from city tours of Warsaw, Krakow, and Gdansk to exploring the vast Baltic coastline, from sight-seeing in the enchanting old towns to visiting museums and galleries filled with captivating historical artifacts.
Children will love the range of activities available as well – there's something for all ages!
Kids can explore castles and palaces, take part in interactive workshops and museum visits, go on a themed scavenger hunt or even visit the aqua parks to cool off during the summer months.
If you're looking for an exciting getaway that will provide something for everyone and create a lifetime of memories, Poland is definitely worth considering with its beautiful cities, stunning natural scenery, and infinite activities.
Best Places To Visit In Poland With A Toddler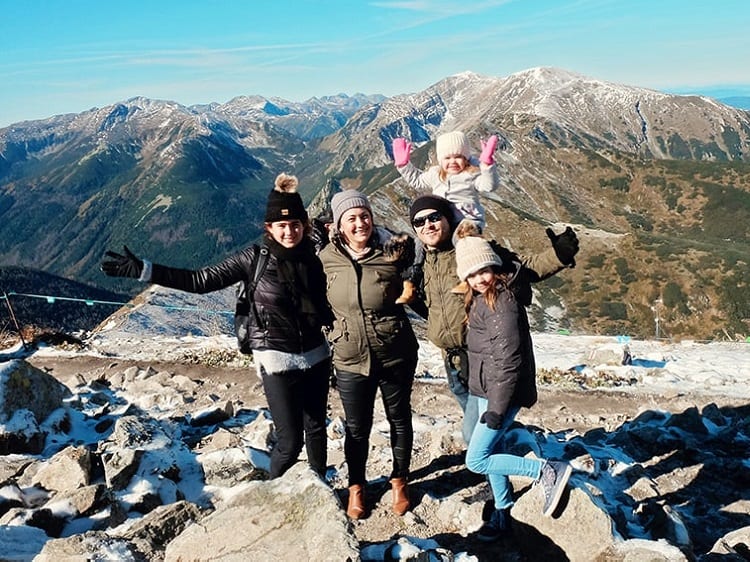 Poznań is the ideal destination for a family trip with small children. The city's 10th-century foundations and centuries-long history offer a unique experience for toddlers, and many of its attractions are dedicated to children's learning and entertainment.
One of the top stops for toddlers is the Museum dedicated to Poznan's "sweet ambassador", St. Martin Croissant. Here, live shows and tastings of traditional croissants offer a fun learning experience for kids and adults alike.
A visit to Citadel Park is also a great place to explore; its lush greenery, flower garden, and sculptures designed by Magdalena Abakanowicz will captivate any toddler.
Finally, a trip to Krakow is not complete without a horse carriage ride and an exploration of the majestic Wawel Castle. Both these attractions offer a unique experience that your young ones won't soon forget.
Zakopane is a great place to visit with a toddler because it has lots of fun things to do and see making it one of the best toddler-friendly European cities.
There are parks, playgrounds, lakes, and mountains that your toddler can explore. You can also find plenty of family-friendly activities such as mini-golf, hiking trails, tobogganing, aquaparks, and horseback riding.
Whether it's learning about Polish history, exploring nature, or indulging in some sweet treats, Poland is full of amazing experiences for toddlers and their families.
Where To Get Toddler Supplies In Poland
Most of the essentials like food, diapers, and wet wipes can be found in large supermarkets throughout the country.
As an added bonus, many of these stores also carry organic and specialty items for those looking for something different.
Most restaurants have high chairs available for toddlers, although it's always best to double-check with the establishment before your visit.
If you plan on doing a lot of walking during your trip, then a stroller is essential for keeping your little one safe and comfortable.
---
4. Austria With a Toddler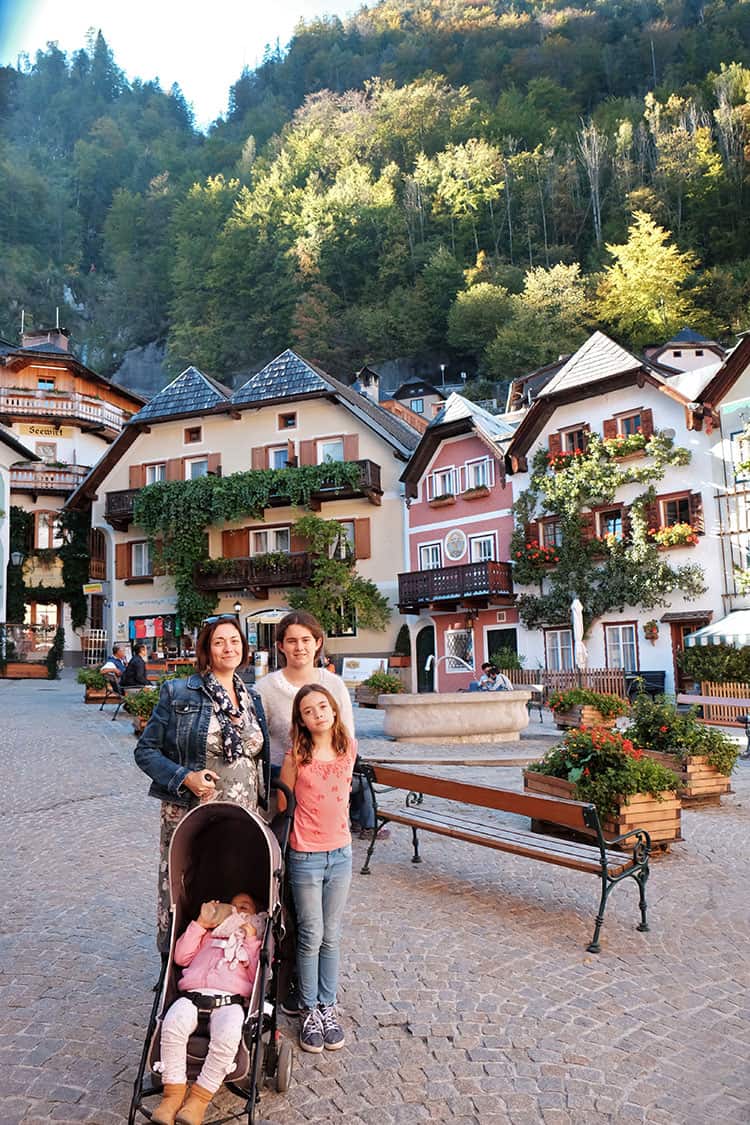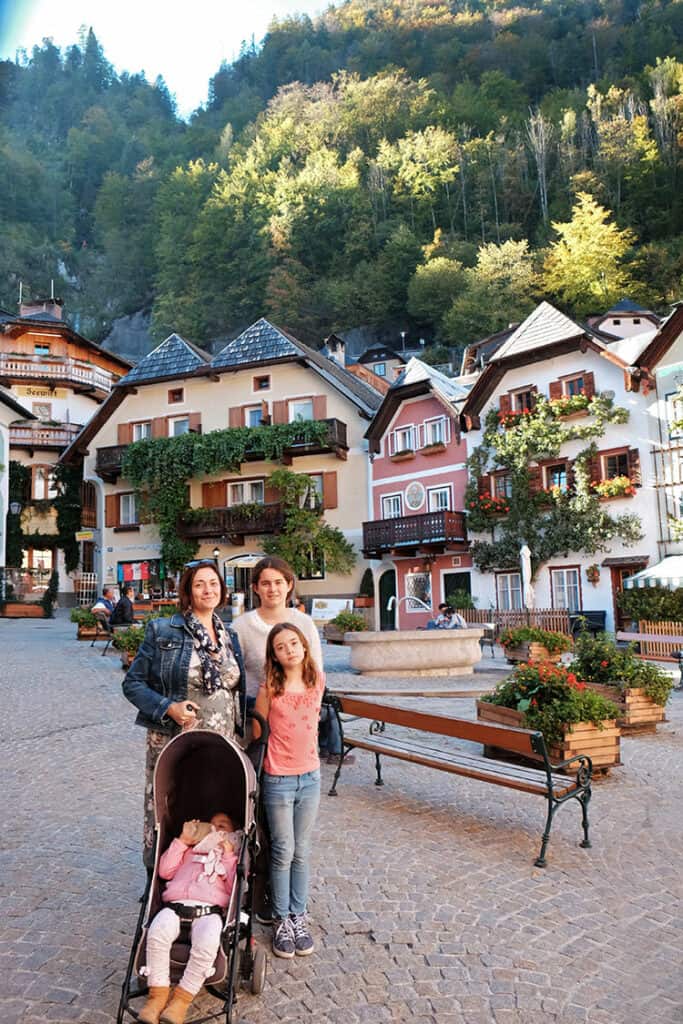 Austria is an amazing place for toddler-friendly holidays in Europe. It boasts an incredible mix of attractions and activities that will enthrall and delight children of all ages.
From its breathtaking mountain villages to its baroque architecture and historic sites, Austria is a country filled with treasures.
For the adventurous child, there are salt mines to explore, and for the scientific child, there are dinosaur parks.
And for a truly magical experience, you can take your toddler to one of Austria's many ice caves!
Best Places To Visit in Austria With A Toddler
Vienna is undoubtedly one of the best European cities to visit with toddlers, the Prater amusement park has been delighting visitors since the late 19th century.
This historic park offers rides and attractions suitable for all ages, from classic wooden roller coasters to a Ferris wheel and carousel.
Salzburg is another great option for families with young children, especially if you want to use it as a base as there are many great day trips to awesome places from here
Visit Mirabell Palace and Gardens, or take a tour of the Hohensalzberg Fortress. You can also check out the world-famous Salzburger Zoo, where your little ones will learn about the many animals that live there.
Or, take a train ride to the top of Mt. Untersberg for breathtaking views of the city.
Finally, make sure to explore some of Austria's stunning natural scenery on a family hike through the Alps or along one of its beautiful lakes.
Where To Get Toddler Supplies In Austria
When it comes to finding the supplies you need for your toddler, Austria has a wide range of options. Supermarkets are well-stocked with all kinds of necessities from diapers and wipes to snacks.
Austrians are known for their welcoming hospitality, so you'll find that most restaurants are family-friendly with special children's menus and high chairs.
If you're taking a trip to the amusement park, make sure you bring a stroller to keep your toddler comfortable while walking around.
Austria also has plenty of children's shops that offer clothing, toys, and other necessities so you can easily be prepared for any unexpected needs during your stay in Austria with a toddler.
---
6. Spain With a Toddler
Contributed by Andalucia in My Pocket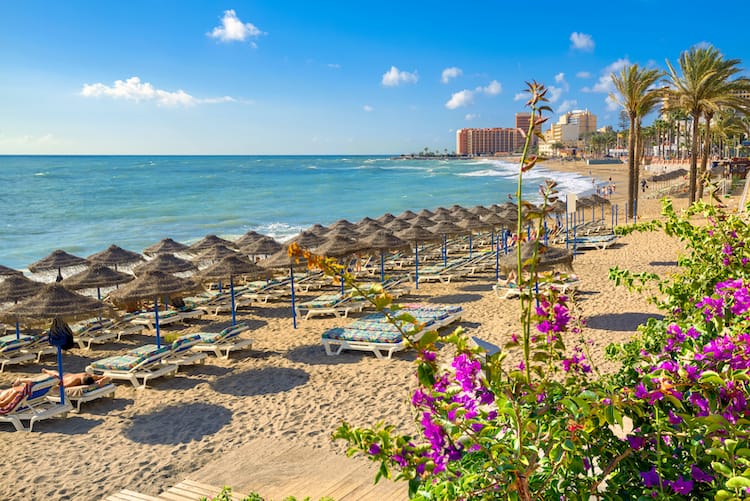 Spain is a top pick when it comes to the best European destinations with toddlers. There will always be children playing around the terraces at restaurants, whilst the parents are dining.
From my experience, going to the supermarket with a toddler always created conversations with other people and with the cashier, who always made a real fuss about the baby sitting in the shopping cart.
The restaurants were also always open to accommodate the toddler, all had highchairs, and were happy to cook something simple, off the menu for him as he used to be a picky eater.
Breastfeeding in public was never an issue either.
Best Places In Spain To Visit With A Toddler
Some of the best places in Spain to visit with a toddler are along Costa del Sol.
The beautiful sandy beaches always had playgrounds for toddlers, as well as family-friendly chiringuitos where we as adults ordered fish, whilst the toddler would get French fries and chicken nuggets.
These chiringuitors are straight on the sand, in the shade, which allows the children to play if they get bored.
The beaches around Malaga are particularly family-friendly. All beaches and towns in the South of Spain are stroller friendly.
Where To Find Toddler Supplies In Spain
Finding toddler supplies in Spain is very easy, either at the supermarket or the pharmacy, which are everywhere.
If you plan to rent a car during the high season, make sure to do it in advance, as the car seats are limited.
---
7. Greece With a Toddler
Contributed by World Wild Schooling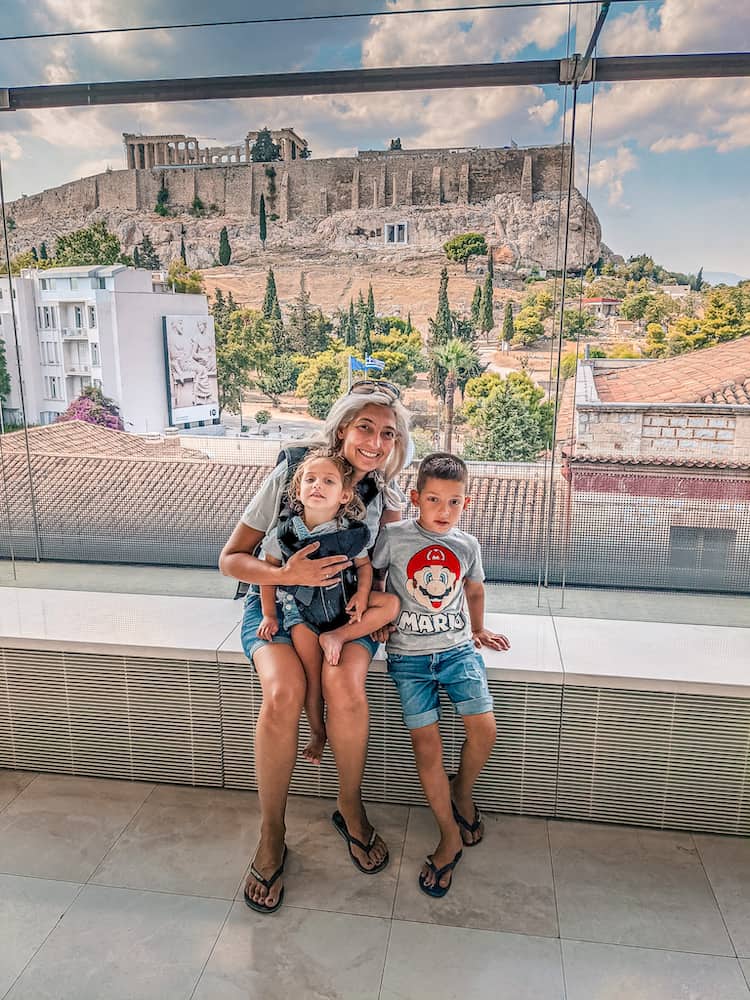 Another of the top picks of the best places in Europe with toddlers is Greece.
The Greeks have a soft spot for kids, so you don't need to be concerned about the noise caused by your little ones running around which makes it a perfect spot for a family vacation, particularly if you have young children in tow.
In Greece, breastfeeding is a breeze, and there is no stigma attached to it, so feel free to do it wherever you want.
While there aren't many baby changing rooms available, you can change your baby's diaper in public without any fuss from the locals.
Additionally, Greek cuisine is incredibly child-friendly, with most restaurants offering grilled meat and veggies that are sure to please even the pickiest of eaters.
Best Places In Greece To Visit With A Toddler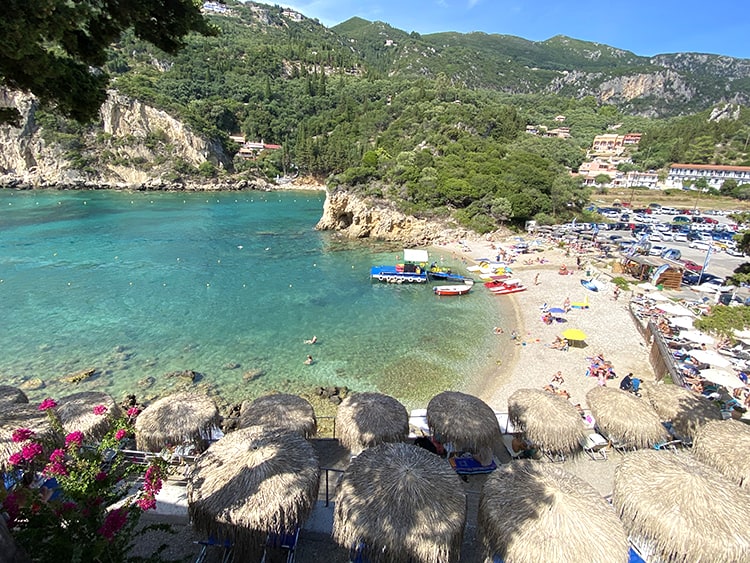 Traveling with toddlers can be a challenge, but Athens is a city that makes it easier to explore with little ones.
The city center is stroller-friendly and largely without cars, which makes it easier to navigate with young children.
You can take your little ones to explore the Acropolis or visit the National Garden, where they can run around and play in the playgrounds (tip: take a carrier with you for the Acropolis, as strollers are not allowed!).
If you're looking to venture outside of Athens, Corfu is also a great option for families with young children. The island is very kids-friendly, with plenty of activities to keep them entertained.
One of the highlights is the pirate ship tour, where your little ones can dress up like pirates and sail around the island.
There's also a water park with slides, pools, and water games that are sure to be a hit with kids of all ages.
After more ideas? Here is our post on the best places to visit in Greece for first time visitors.
Where To Find Toddler Supplies In Greece
When it comes to your toddler's needs like food, formula, and diapers, fret not because these are easily accessible in supermarkets in Greece.
And if you're worried about where your little one will sleep, simply request a crib in advance and most hotels will gladly provide one.
Overall, Greece is a perfect destination for family vacations, with its love for kids and plenty of toddler-friendly activities to keep them entertained.
Rest assured that your little one will have a blast discovering all that Greece has to offer.
---
8. Germany
Contributed by Guide Your Travel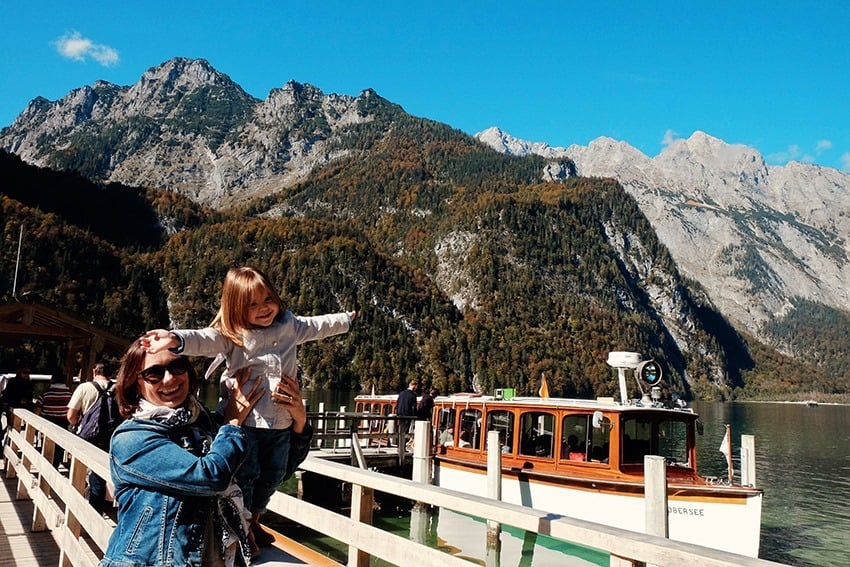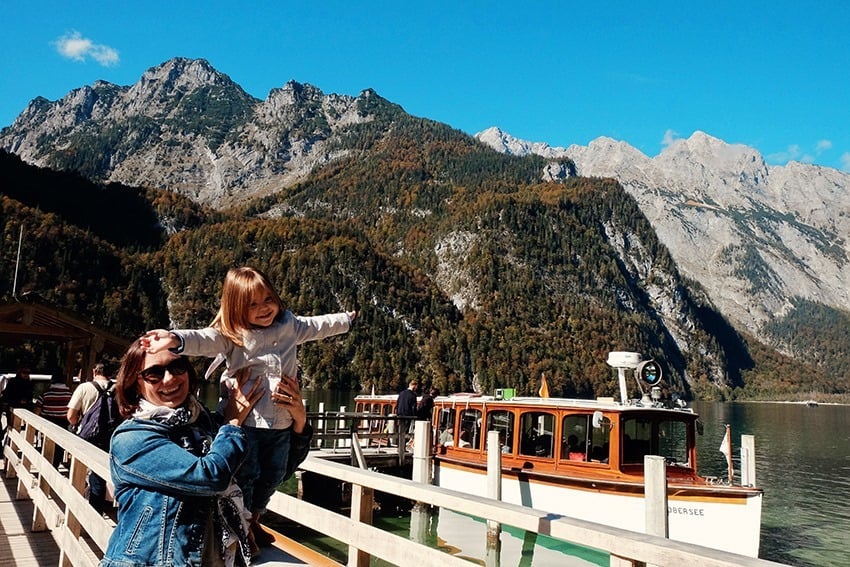 Germany also gets a vote as one of the best European countries to visit with toddlers, as it offers a wide range of family-friendly activities and attractions.
Germans in my experience are generally very tolerant towards children and you'll find that breastfeeding, finding changing rooms, and having high chairs shouldn't be a problem.
Best Places In Germany To Visit With A Toddler
Berlin is a vibrant city with a rich history, and it offers many attractions for families with young children. The city has plenty of playgrounds and parks, such as the famous Tiergarten and the Mauerpark, where toddlers can run around and play.
Munich is known for its beautiful architecture, delicious food, and famous Oktoberfest celebrations, but it is also a great city for families with young children. Families can visit the Munich Zoo or the Deutsches Museum, which has a children's science center with interactive exhibits.
In Hamburg, families can take a boat tour of the city's canals or visit the Miniatur Wunderland, which is the world's largest model railway exhibition. And for a fun day out, families can visit the Hagenbeck Zoo, which has a wide variety of animals and a playground for children.
Where To Find Toddler Supplies In Germany
You can find toddler supplies in most major supermarkets and shops like Rewe, Edeka, or Aldi.
For more specific things and a bigger selection, head to drug stores like Rossman or DM, which have everything you could possibly need.
---
9. Ireland
Contributed by World by Weekend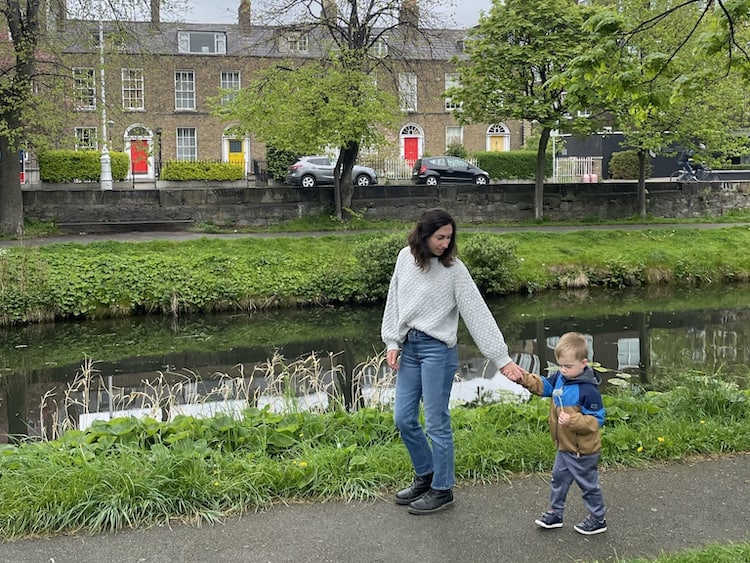 One of the best places to visit in Europe with toddlers is Ireland. After living in Ireland with my toddler for the past year plus, I've found the country is very accepting of young children.
Most pubs and restaurants across Ireland allow children before 7 pm, and many restaurants have children's menus.
When I first moved here I was still breastfeeding and found it commonplace for mothers to breastfeed in parks and other public spaces.
Best Places In Ireland To Visit With A Toddler
Dublin, the country's capital city, is of course a wonderful place to visit with toddlers.
The city's main park, St Stephen's Green, is great for a family stroll. The park also has a phenomenal playground with toddler-accessible features.
Dublin is also very stroller friendly, with even pavement (no cobblestones here!) and a compact city center that's easy to navigate on foot.
While I love Dublin, to get a real sense of Ireland you need to get out west. One of my favorite toddler-friendly destinations in the country is the town of Dingle.
This charming town has a small aquarium that kids will love. It's also a great place to stroll along the water and hopefully catch sight of a dolphin or two.
Whilst there are plenty of other things to do in Dublin, one of my favorites is to stop into Murphy's, a local institution, and taste some brown bread ice cream.
Where To Find Toddler Supplies In Ireland
Toddler supplies are readily available across Ireland. Major grocery chains, such as Tesco, Aldi, Lidl, and Eurospar, sell diapers, wipes, formula, and toddler foods.
Even small towns have convenience stores that stock these items, so you'll never be too far from toddler necessities.
---
10. Luxembourg
Contributed by Paulina On The Road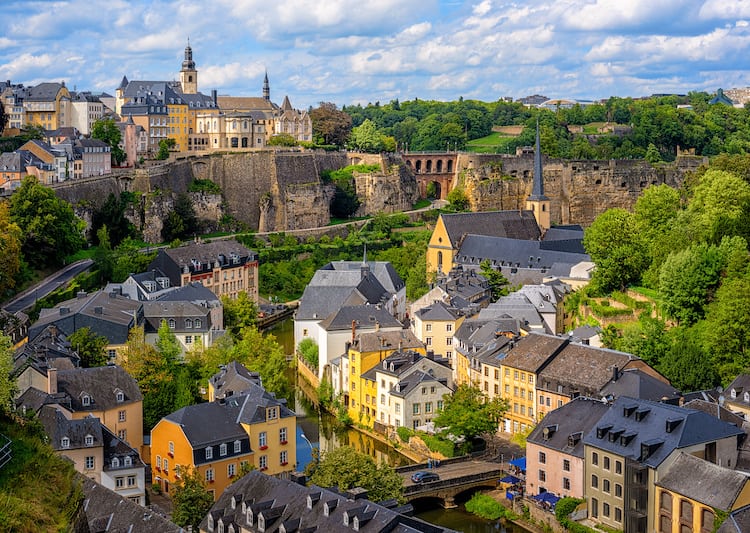 Luxembourg is one of those countries that your kids might not have heard of but are going to love. It is small, compact, and safe, making it a perfect destination to roam around with kids.
The attractions are close enough to be explored on foot with your kids. Plus, the people are also welcoming.
The country offers so many kid-friendly activities that your little ones will have the fun of their life. There are playgrounds, museums and so many activities for kids which is why it makes the list of the best European vacations with toddlers.
Best Places In Luxembourg To Visit With A Toddler
I have visited Luxembourg with my babies thrice and these are the cities I have found perfect for toddlers so far.

The country's capital is a great place to explore with kids, with many parks, playgrounds, and museums. The city is stroller-friendly, and most of the attractions are within walking distance.

A visit to Esch-sur-Alzette is a must. This city is known for its cultural events and festivals, making it an exciting place for families to visit.

The charming town of Echternach has many attractions suitable for kids, including the Abbey Museum and the Beaufort Castle.
Where To Find Toddler Supplies In Luxembourg
There are a number of stores in Luxembourg for toddler supplies. If you have decided on where to stay in Luxembourg, look for a kids' store nearby. For example, I usually shop from LToys in Niederanven.

Plus, you can find rental strollers for babies at Toddgo.
---
11. Norway
Contributed by Parenthood and Passports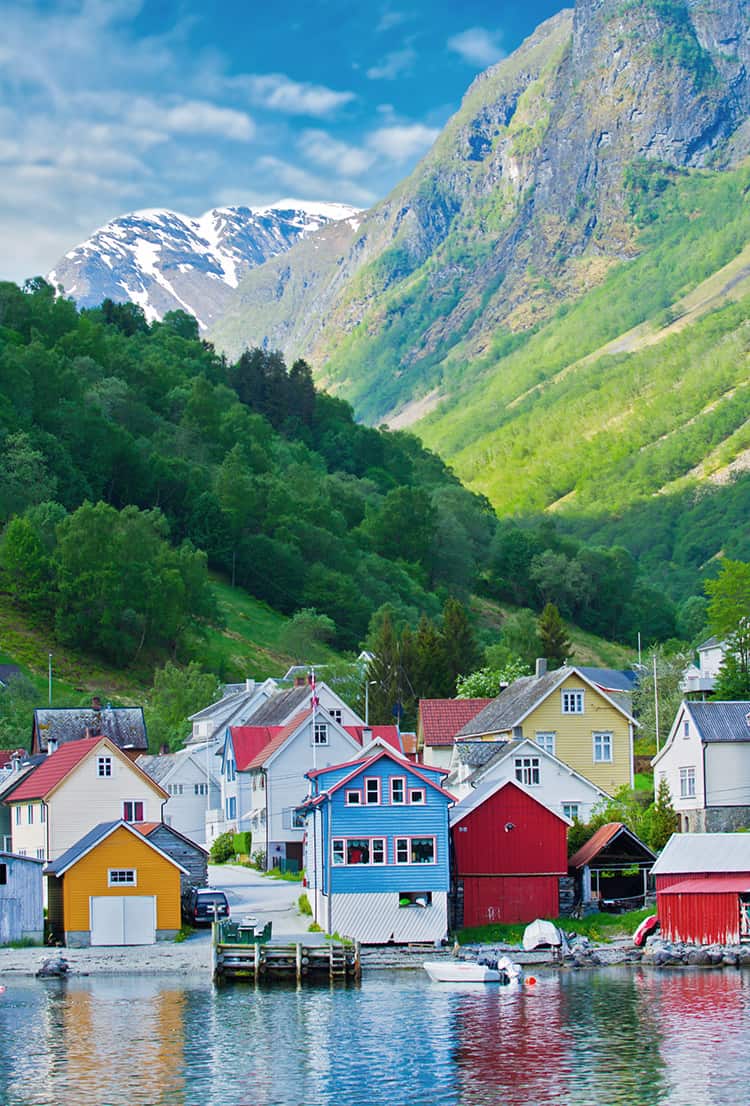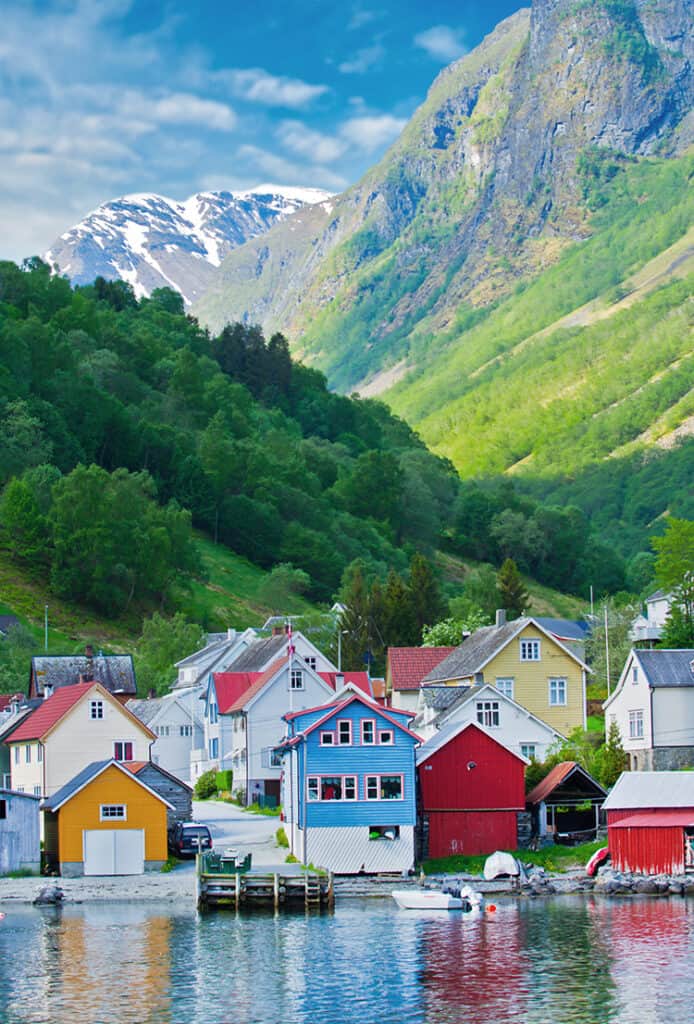 Norway, may not be your most obvious choice when it comes to the best places to travel with toddlers in Europe! However, you will be pleasantly surprised as it is one of Europe's most child-friendly travel destinations.
The Scandinavian country is known for its low crime rate and progressive environmental efforts making it an ideal place to travel for families concerned about safety, air quality, and health.
There are so many beautiful places in Norway you will be spoilt for choice of where to go.
Best Places To Visit In Norway With A Toddler
The capital city of Oslo, Norway is a fantastic destination for families with toddlers. This beautiful city offers an array of activities and attractions that are perfect for little ones.
From world-class playgrounds like the one at Frogner Park to the open-air Norwegian Museum of Cultural History, there are lots of great and enjoyable places to explore in Oslo with kids.
Additionally, the city of Bergen, on the country's west coast will remind kids of Arendelle, from the hit Disney movie, Frozen.
Known as the "Gateway to the Fjords", Bergen's colorful row of old wooden buildings lining the wharf is picture-perfect. But kids will most enjoy riding the Ulriken Cable Car or taking the funicular to the top of Mount Fløyen.
There are plenty of easy and beautiful hikes near Bergen and throughout Norway that you can also do with your toddler if you seek a vacation with lots of fresh air and pristine scenery.
Where To Find Toddler Supplies In Norway
Norway is so family-friendly that you'll have no problem finding necessities for your toddler. You'll find stores everywhere that carry items like diapers and formula.
Businesses tend to cater to families, with high chairs, children's menus, coloring pages, and even an occasional balloon provided in restaurants.
Even the trains in Norway have specific family cars with play areas built in for young children and toddlers.
---
12. Iceland
Contributed by Wandering Wagars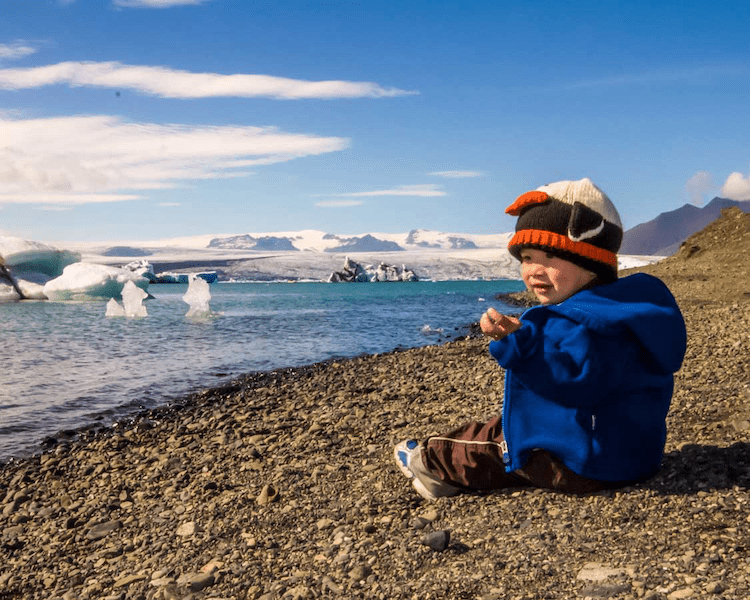 Iceland has long been a bucket-list destination for adventure-seekers. This incredible North Atlantic country draws tens of thousands of visitors each year who are looking to explore majestic landscapes, epic mountains, and jaw-dropping gorgeous hot springs.
But amidst some of the world's most magnificent landscapes, Iceland is an underrated family-friendly travel destination.
The people, while generally reserved among outsiders, open their arms to families and the beautiful scenery makes the perfect natural playground for young ones.
Best Places In Iceland To Visit With A Toddler
Spend some time learning about the country's fascinating Viking history at some of the many family-friendly Viking museums such as the Saga Museum near Reykjavik.
Head out for a full-day adventure from the country's capital along the eye-popping 'Golden Circle' route that zips inland past magnificently blue geysers, and towering waterfalls, and into a national park where the country is, quite literally, being torn in two.
Head to the rarely-visited Westfjords for a truly special experience. Journey past shipwrecks, ancient Viking trails, and adorable fishing towns that offer a constant stream of local, summer festivals that are a delight for families of all ages.
And don't miss the scenic Myvatn area where the volcanic geography is literally bubbling with energy. Find family-friendly hot springs like the Myvatn Nature Baths, bubbling mud pools glowing with every color of the rainbow, incredible hikes through otherworldly rock formations, and the most beautiful lake in the country.
Where To Find Toddler Supplies In Iceland
The towns in Iceland are quite spread apart, but grocery stores and small markets are in every town, and they all have everything that you need to enjoy the country with a toddler.
In larger towns such as Reykjavik and Akureyri you'll find larger groceries where it's easy to pick up more supplies for those embarking on the 'Ring Road,' a beautiful road trip that circles the entire country.
---
13. Portugal
Contributed by The Algarve Family
Portugal is a fantastic family-friendly travel destination. The culture, nice weather, and mixture of sun and sand make this an amazing destination to visit with your little one.
As full-time travelers that made the Algarve our home, we love traveling in our new home country with our 18-month-old toddler and I am sure that you will too.
The Portuguese love babies and people will come up to you asking questions and trying to interact with your toddler in a fun way. We enjoy that Portugal is a safe country for toddler travel.
Eating is never a hassle as an abundance of wonderful food is available at reasonable prices and most restaurants have high chairs.
The majority of mothers breastfeed in Portugal so finding a spot to breastfeed is never a problem. The Portuguese take their children everywhere with them and clean facilities to change diapers are usually easy to find.
Best Places In Portugal To Visit With A Toddler
With more than 300 days of sunshine per year, the beaches of Lagos in the Algarve are a great place to visit with a toddler.
Lisbon, the capital of Portugal, offers many fun activities to do with toddlers such as visiting the aquarium, and science museum, or exploring the city by tram!
Where To Find Toddler Supplies In Portugal
Diapers, baby food, formula, bottles, and all other baby supplies are readily available in pharmacies and supermarkets.
---
14. UK
Contributed by Work Play Mommy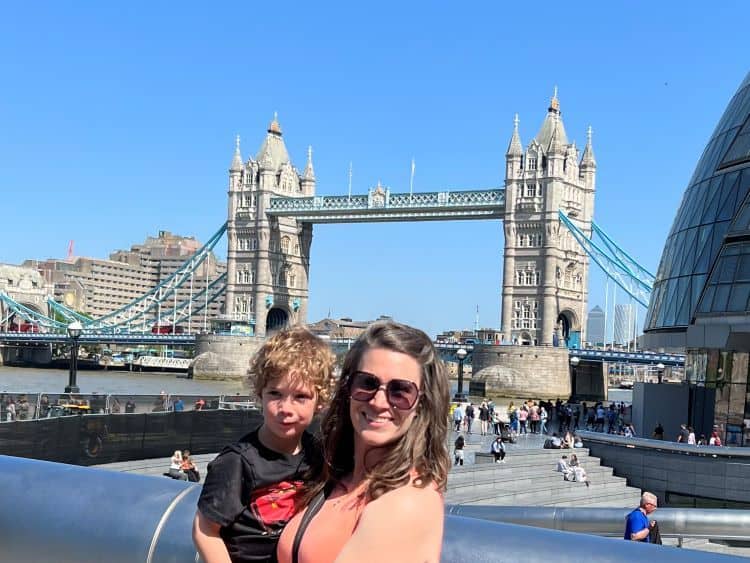 If you are traveling with a toddler in tow, don't overlook the United Kingdom for your next family trip.
The UK is easy to travel with a family due to its international airport options, free museums and entertainment, stroller-friendly transportation, and diverse food options (including toddler favorites!)
Best Places In The UK To Travel With A Toddler
You can find toddler-friendly activities wherever you go. If you travel to Wiltshire County your child can dance among the stones at Stonehenge. Manchester is a c calm, laid-back city with lots of family activities including an aquarium.
If you get a sunny day why not head to Southampton and spend your holiday on the beach? For some of the oldest history and culture, head to Edinburgh which is considered the seat of Scottish history.
London is a haven for kids' activities. Children under 10 ride the Tube and London bus for free and the playgrounds are secured. Plus many of the most famous sites like the Science and Natural History museums are free.
Where To Find Toddler Supplies In The UK
Our family was pleasantly surprised by how welcome our children and toddler were everywhere we went. Pubs quickly produced high chairs. Changing tables were readily available in restrooms and parks.
If you travel via train, we found the train station attendants were quick to help us find a car for our stroller and our family.
We found everything that we needed easily. Private transfers provided safe, clean car seats. Taxis fit the entire stroller with your sleeping child buckled inside. And many hotels or rentals provide toddler beds!
However, Tesco, a popular grocery chain in the UK is always nearby where you can purchase an extra bag of diapers (nappies), snacks, wipes, and more.
---
15. Czech
Contributed by European Cities with Kids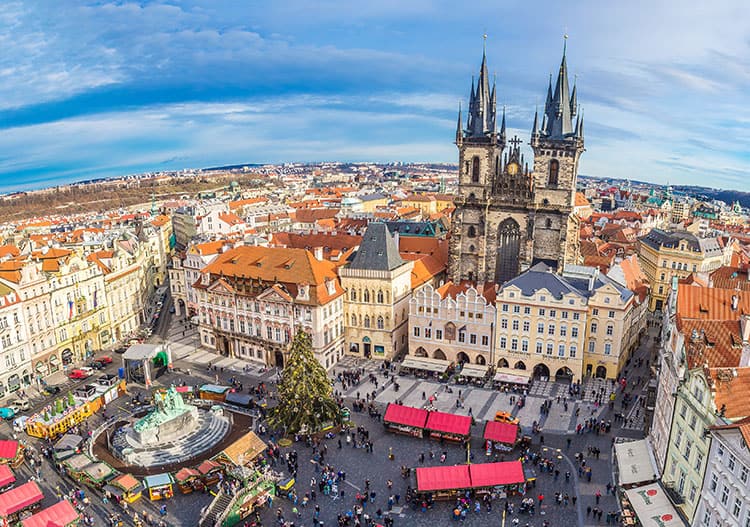 The Czech Republic is the perfect destination to visit in Europe with toddlers.
If you're planning a trip to the Czech Republic with toddlers, Prague is the best place to visit. Most attractions are outdoors, leaving plenty of space for busy toddlers to run around. I visited Prague on my first solo trip with a toddler when my daughter was 2.
There are plenty of family-friendly attractions, events, and places to eat. Another highlight is the many family-friendly festivities throughout the year, from the traditional Christmas markets to Prague Easter Market.
We visited Prague Easter Market and loved trying the traditional cuisine and buying souvenirs. Look out for the horse and carts in the central square – the perfect activity for toddlers.
Most cafes have baby-changing facilities in the toilets. Lots of restaurants have children's menus.
The best places to eat include Pizza Nuova and Koala Café. There are plenty of chain eateries, such as McDonald's too.
Best Places In Prague To Visit With A Toddler
If you're visiting Prague with a toddler, make sure you visit Prague Zoo. Located on the city's outskirts, Prague Zoo is one of the best zoos in Europe.
Charles Bridge is one of the most famous landmarks in Europe. Walking along it is a mist-do when in Prague. Just below the bridge is an excellent children's park with lovely views across the river.
Aquaplace Praha is a massive complex of water parks, pools, and play areas – perfect to keep toddlers entertained for hours!
Where To Get Toddler Supplies In Czech
There are pharmacies everywhere that sell all the baby supplies you may need. Supermarkets also stock baby food.
---
16. Netherlands With a Toddler
Contributed by Go Places With Kids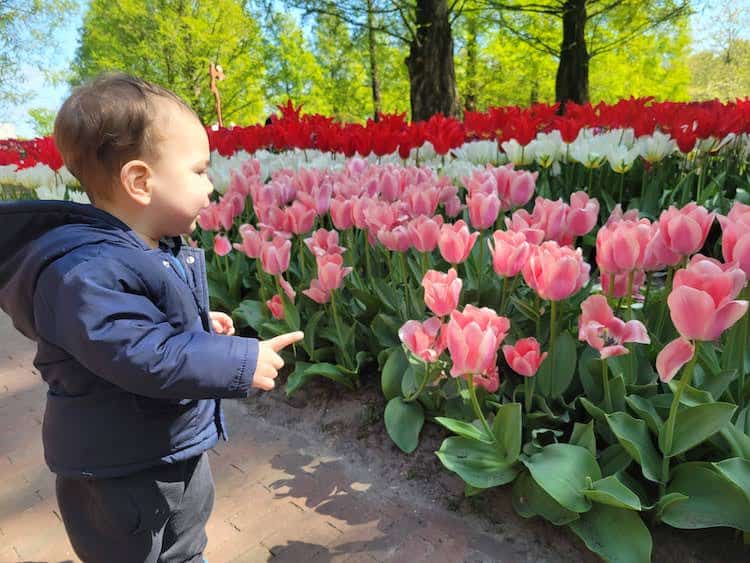 The Netherlands is a wonderful place to visit with a toddler because, in general, the culture is extremely family-friendly and accommodating of babies and toddlers.
During our stay with our toddler, we found that many places we visited had a dedicated mother's room for breastfeeding and changing diapers.
High chairs were also available in most restaurants and child-friendly food options were easy to come by.
Best Places In the Netherlands To Visit With A Toddler
Amsterdam is at the top of our list of places to visit in the Netherlands with a toddler. There are so many toddler-friendly activities to do in Amsterdam!
It's also simple to get around using public transportation or a bike (you can rent bikes with a toddler seat or wagon) and the city is easy to navigate with a stroller.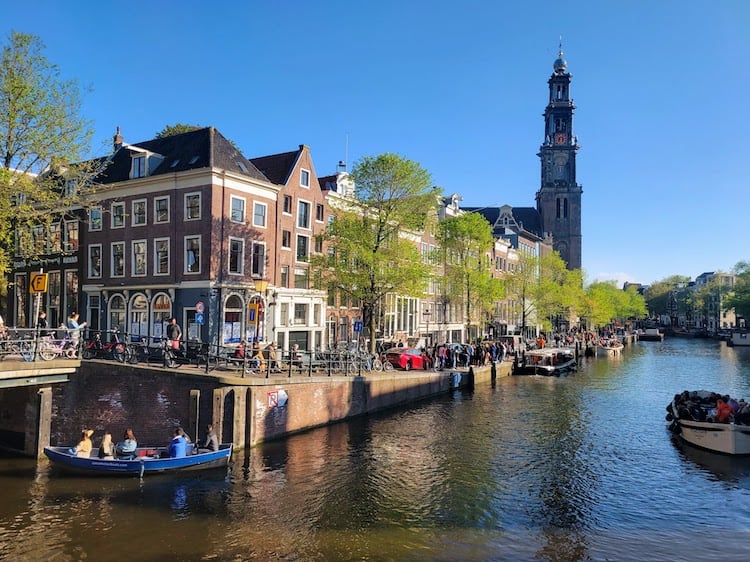 Rotterdam is one of the places that surprised us the most on our trip was Rotterdam.
We found that there were lots of fun things to do in Rotterdam with kids, from the Pancake Boat cruise to amazing playgrounds to the Kids Marina.
Like other major cities in the Netherlands, it is very easy to get around by bike or public transportation. 
Where To Find Toddler Supplies In Netherlands
Toddler supplies such as diapers and formula are readily available at supermarkets (the most popular being AH).
You can also rent baby gear during your stay (crib, car seat, stroller, etc.) through a service such as Babonbo.
---
17. Croatia With a Toddler
Contributed by Places of Juma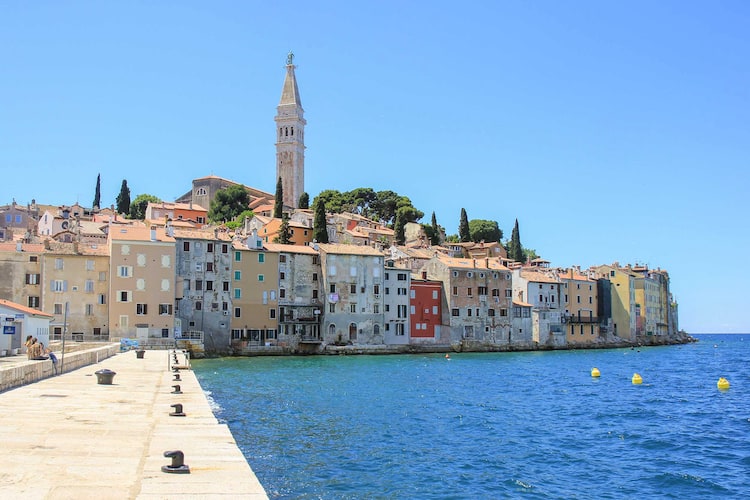 Croatia is the perfect destination to bring your children for an unforgettable vacation.
The warm and friendly locals are always delighted to welcome families and make sure that kids have plenty of fun activities to keep them entertained. F
rom lush green forests and sparkling waters to sun-soaked beaches, Croatia is the perfect place for making memories with your little one.
Croatia is full of exciting activities that kids and toddlers will love, such as exploring its many historical sites, taking a cruise on the tranquil Adriatic Sea, or simply playing in the sand at one of the many stunning beaches
Best Places In Croatia To Visit With A Toddler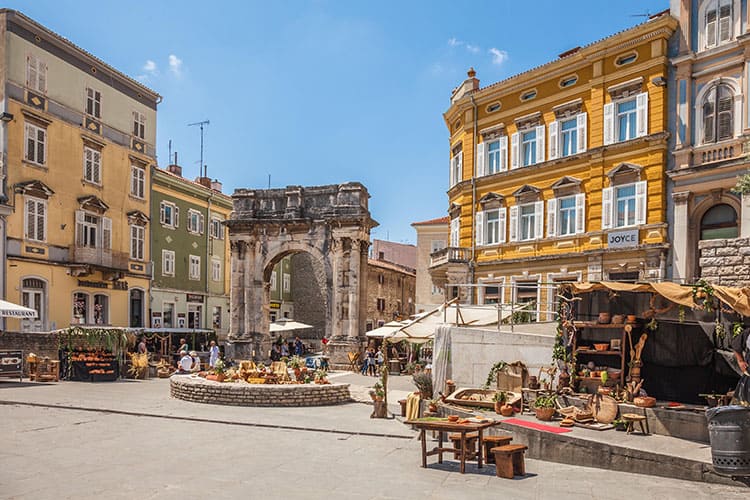 The stunning Istrian region, located in the north of Croatia, is particularly well-suited for families and especially those traveling with toddlers.
Summer temperatures tend to be milder here than in other parts of the country, and there's a range of toddler-friendly activities and amenities on offer, such as:
If you're looking for a quiet stroll with the stroller, there are plenty of resorts in Istria that have coastal promenades. The most popular ones include Umag, Porec, Rovinj, Medulin, and Novigrad.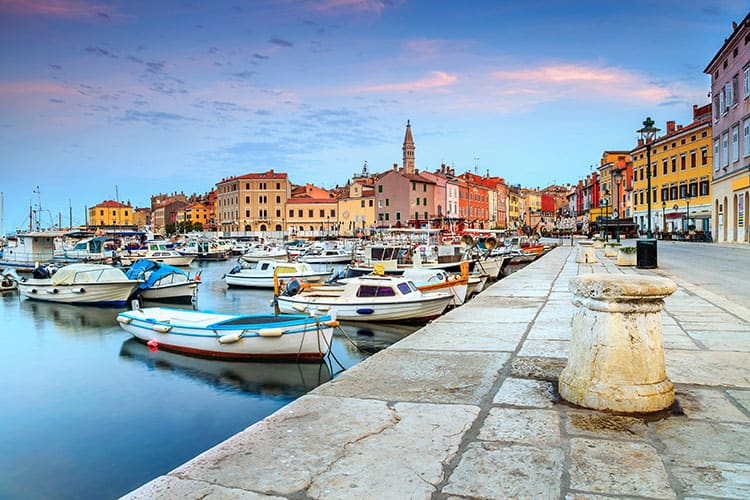 You can find a list of more things to do in Istria with kids here.
Of course you might also like to add on some additional days in order to explore Dubrovnik, Split and Zagreb.
If you are planning to visit Split in Croatia, you might be interested in staying in one of our recommended luxury hotels in Split.
Where To Find Toddler Supplies In Croatia
Parents in Croatia have access to a wide range of toddler supplies no matter where they are.
Supermarkets like Konzum, Spar, and Plodine provide an abundance of options for anything you may need – from food and drinks to clothing and toys.
If your little one gets sick, there are plenty of drugstores and pharmacies.
Where to Stay in Istria, Croatia with a Toddler
I recommend you stay at a beachfront resort that has a pool. That way you can schedule in plenty of relaxing fun days for your family that will be as relaxing as it possibly could be with a toddler.
I highly recommend the Maistra Select Family Hotel Amarin in Rovinj. This kid-friendly hotel has a a special children buffet and they have cots availble as well.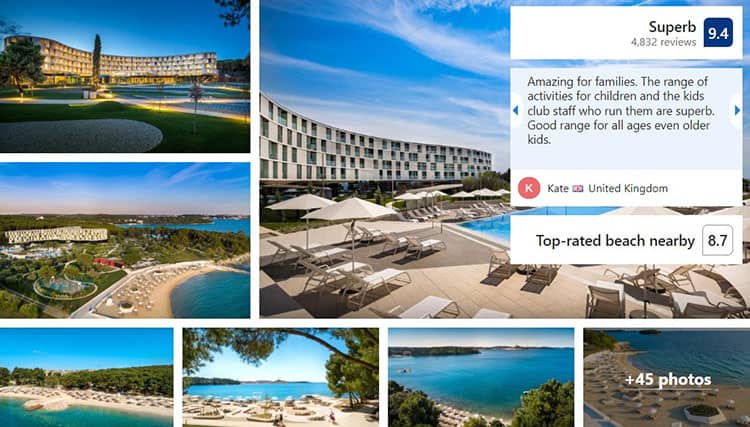 The hotel has 4 swimming pools and playgrounds together as well as babysitting services. You will also love the beach area with sun loungers and umbrellas.
---
Best European Vacations With Toddlers FAQs
Here are some answers to some of the most commonly asked questions about the Best European Vacations with toddlers.
1. Is Europe toddler friendly?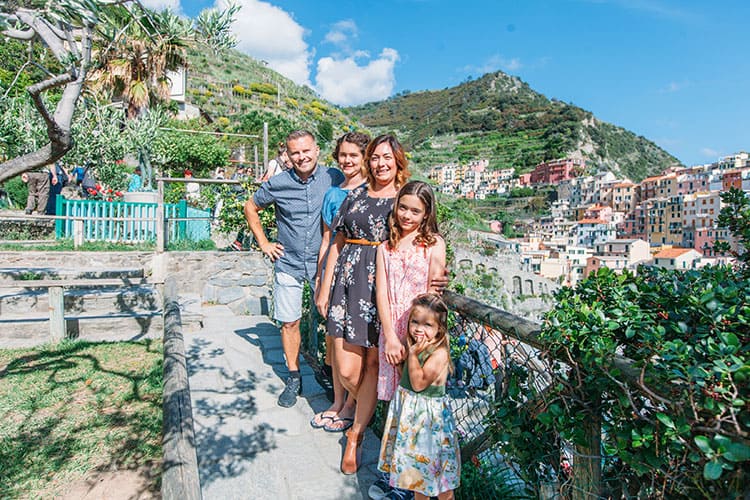 Yes, Europe is very toddler friendly.

Some cities and attractions may be more accommodating to families with toddlers so it's important to do research and plan ahead to ensure a comfortable and enjoyable experience for both you and your toddler.
2. How do I plan a trip to Europe with my toddler?
To plan a trip to Europe with a toddler, you should start by researching family-friendly destinations, accommodations, and transportation options.

Think about your toddler's needs and schedule, and plan activities that are age-appropriate and enjoyable for the whole family.

Don't forget to bring essential items such as a stroller and a car seat.
3. Should you bring a stroller to Europe?
Many European cities have cobblestone streets and narrow sidewalks that may not be stroller-friendly, and some tourist attractions may not allow strollers.

Alternatively, you could consider using a baby carrier or renting a stroller once you arrive at your destination.
4. Is it safe to travel to Europe with a toddler?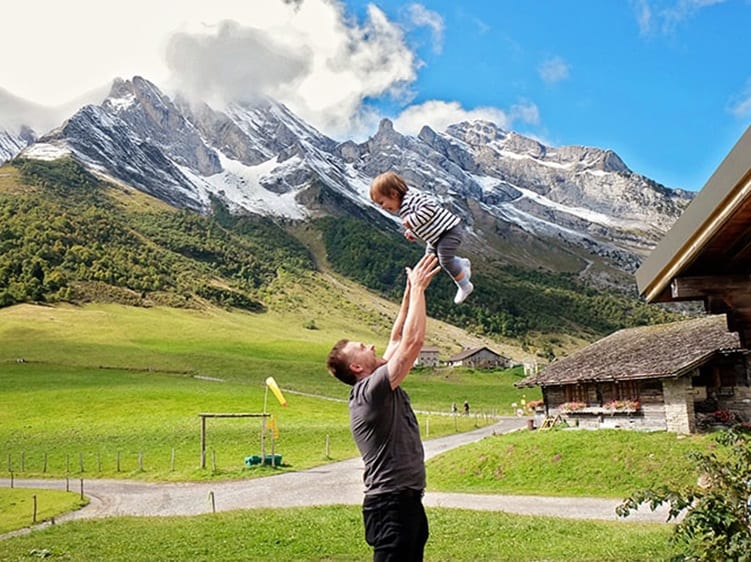 Traveling to Europe with a toddler is very safe, but as with any travel, it's important to take certain precautions.

Research your destination and be aware of any potential safety concerns or health risks, keep your toddler close to you in busy public areas.

It's also a good idea to have travel insurance (we use Travel Insurance Master) and be prepared for any unexpected emergencies.
5. Do I need to bring a car seat for my toddler when traveling in Europe?
If you plan to use taxis or ride-sharing services, it's a good idea to bring a portable car seat that meets European safety standards.

If you plan to rent a car, car rental companies in Europe typically require the use of car seats for children under a certain age or weight and may have car seats available for hire.

It's best to check with your transportation provider and do research on local laws and regulations to ensure your child's safety and what travel car seat you may need.
---
Summary Of The Best Places To Travel With Toddlers In Europe
Parent travelers looking for the best places to visit in Europe with toddlers need not look any further.
From Italy and Malta, to Ireland and Luxembourg, there are plenty of destinations that offer fun activities for young children.
Not only will these countries provide a unique cultural experience, but they also have great toddler-friendly attractions such as parks, playgrounds, and museums making your travel with a toddler a memorable and fun experience.
Additionally, you can easily find all the necessary supplies at local stores or supermarkets throughout each country.
So if you're planning your next family vacation abroad make sure to consider some of these incredible European locations!