Dubai, in the UAE, is a wonderful destination for a family vacation. It's a world-class metropolis that offers exceptional service, thrilling activities, and a shopping experience.
In addition to enjoying the family-friendly desert adventures in a desert safari Dubai, there are many intriguing locations to visit with the family that offers a great combination of history and contemporary.
There are marvels in this city that no family should ever miss on their vacation, ranging from natural to man-made, and to help you locate those marvels, we've compiled a list of the best places to visit in Dubai locations with your family.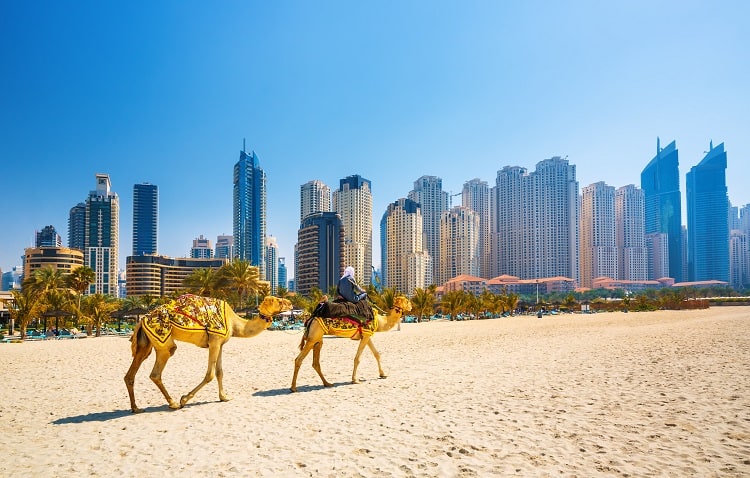 While on a Dubai city tour, make sure you visit all these sites with your family to have some of the finest days of your life with your loved ones.
However, before planning and short-listing the places for your Dubai trip, you first need to look for affordable and comfortable airlines.
We often miss this aspect and have a bad traveling experience with the airlines. With Etihad airlines, you do not need to worry about such problems while planning your trip.
Best Places To Visit in Dubai with Family
Dubai is one of those vacation spots where the whole family can have a good time.
There are beaches where you may relax with them, as well as water parks, aquariums, museums, and a variety of other attractions that appeal to children, teenagers, adults, and even older folks.
On your family vacation to Dubai, see these popular tourist attractions. So let's not waste time and let me mention the best places to visit in Dubai with your family.
1. Legoland Dubai
Legoland Dubai is a child's dream come true, and we believe parents as well because we've all played with Lego bricks before and made so many things and memories.
Those toys have now come to life as a full-fledged amusement park at Dubai Parks and Resorts, which includes not just the greatest lego-themed rides, shows, building experiences, eateries, and games but also a variety of other entertainment choices.
Legoland is one of the finest places to visit in Dubai with a toddler for people who wish to spend a beautiful day having fun with their loved ones.
2. Ain Dubai
Ain Dubai, at the center of Bluewaters Islands, is one of the best places to visit in Dubai with your family. At a height of over 250 meters, it is the world's largest and highest observation wheel.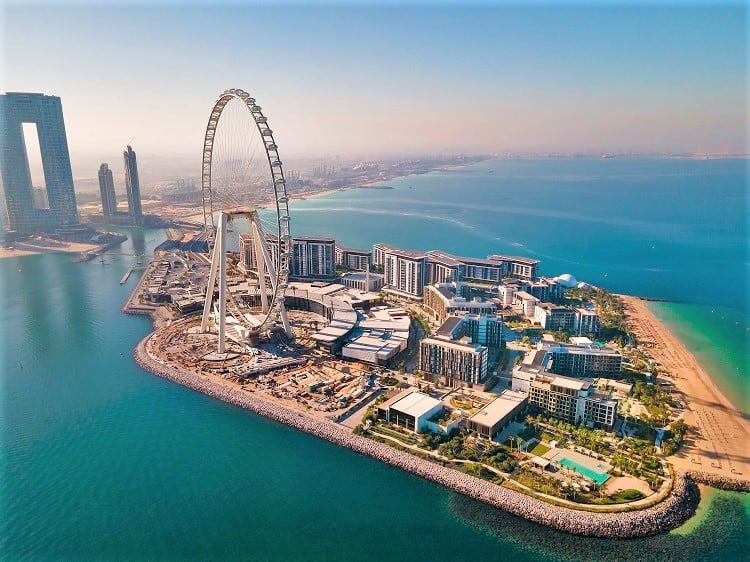 Taking a ride on Ain Dubai is a fun-packed activity that appeals to all age groups.
So be sure to get your ticket to Ain Dubai! Breathtaking 360-degree views of the skyline across JBR, Dubai Marina, Palm Jumeirah, and beyond unfold before you enjoy a rotation in one of its 48 air-conditioned, spacious, and sleek cabins.
With your Premium Ain Dubai Cabin ticket, you can enjoy welcome soft drinks, VIP lounge access, and food options during your 38-minute ride.
3. Dubai Aquarium & Underwater Zoo
Dubai is home to one of the largest and most amazing aquariums which contains over 33,000 animals, all found inside the Dubai Mall.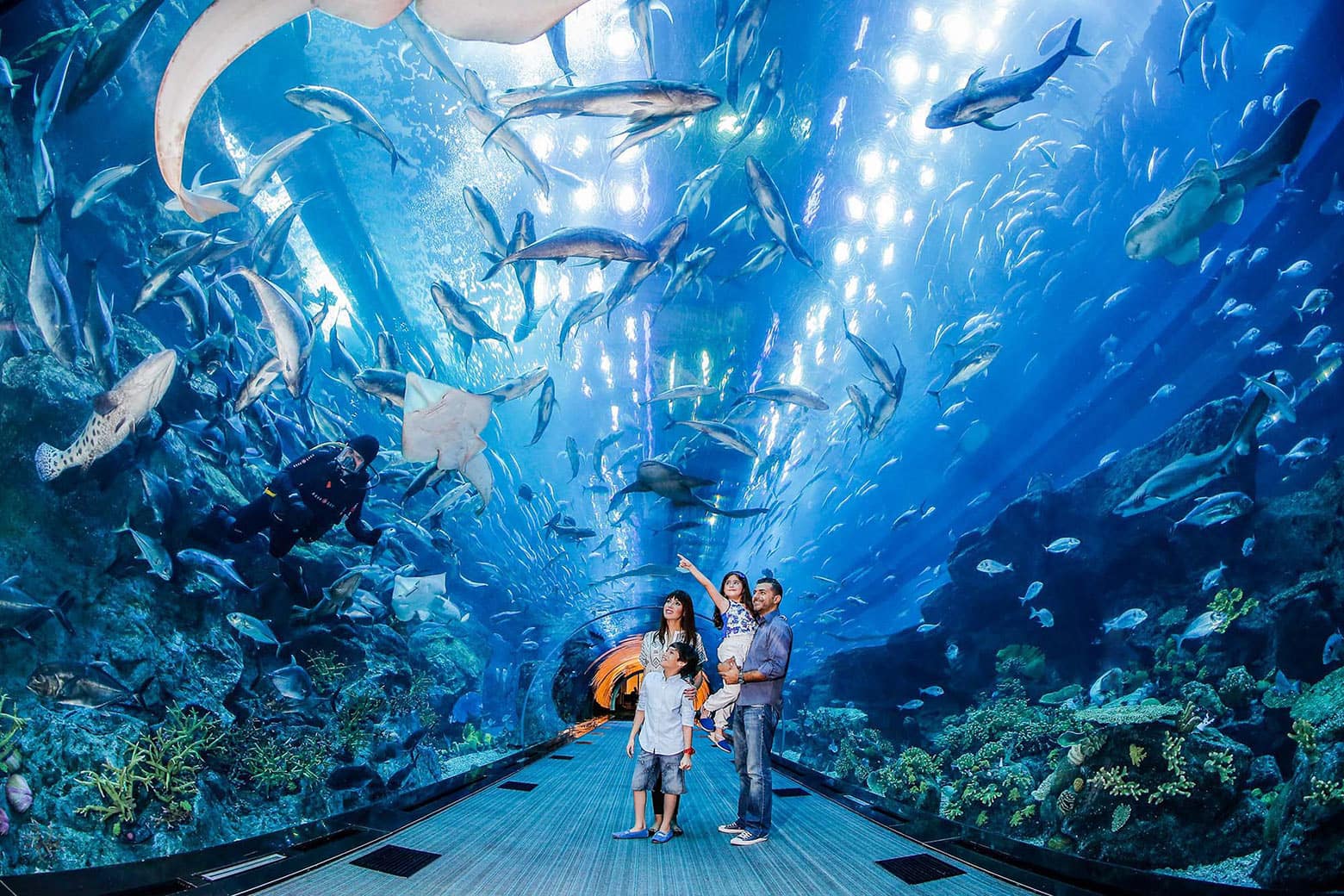 Dubai's underwater zoo is an unforgettable experience for families and kids of all ages, with such a range of activities on offer.
From a mermaid makeover to glass bottom boats and swimming with the sharks, the Dubai Aquarium and Underwater Zoo is one no family member would want to miss!
4. Motiongate Dubai Theme Park
Yes, Hollywood's top motion film studios include DreamWorks Animation, Columbia Pictures, and Lionsgate. But what if you could combine all three in a single location?
That's correct! Motiongate Dubai at Dubai Parks and Resorts gives you the best-in-branded entertainment from Hollywood's three greatest and most successful motion picture studios, allowing you and your loved ones to see the world of innovation and creative storytelling.
Choose whether to enter the Smurfs' wonderful realm or fight alongside the Ghostbusters to defend New York.
You may also take your kids to a multimedia theatre presentation and ride various thrilling roller coasters.
5. Aquaventure Waterpark
The Aquaventure Waterpark is one of Dubai's greatest water parks. Dubai's number one water park is the greatest in the Middle East and Europe, with one of the best water slides in the globe for an adventure like no other.
Apart from the slides, the park also offers Dolphin Adventure, Ultimate Aquarium Dive, and The Lost Chambers Aquarium, among other attractions.
6. Ski Dubai
Ski Dubai, located in the Mall of Emirates, is one of the best locations to visit in Dubai with your family. It's difficult to picture a ski resort in the desert, yet that's exactly what the geniuses behind it have done.
Skiing, tobogganing, snowboarding, and even playing with Snow Penguins are all available to visitors.
This is one of Dubai's most exciting family attractions and a must-see for everyone.
7. Dubai Creek
Dubai Creek, one of the oldest and most beautiful destinations to visit with your family, provides unique experiences that transport you back in time.
The creek and its ferries provide a unique way to see the city, and water taxis may be used to visit other sites of interest.
The Dhow Cruise is one of the most well-known excursions in Dubai, and it's a must-do for anybody who wants to see the city from a different viewpoint.
Families may continue their boat journey while enjoying magnificent meals and onboard entertainment.
8. Jumeirah Beach Park
The Jumeirah Beach Park, which spans 12 hectares, is one of the best spots in Dubai for a family vacation.
This hybrid park is a perfect combination of beach and grassland, with plenty of room for picnics and get-togethers in the great outdoors.
Families may use the park's numerous amenities, including a children's play area, barbeque area, picnic tables, showers, food booths, a volleyball area, and much more.
This is a fantastic way to spend a genuinely peaceful day in Dubai with your loved one.
Final Words
So there you have it, my guide to some of the greatest and most enjoyable things to do or see in Dubai with your family.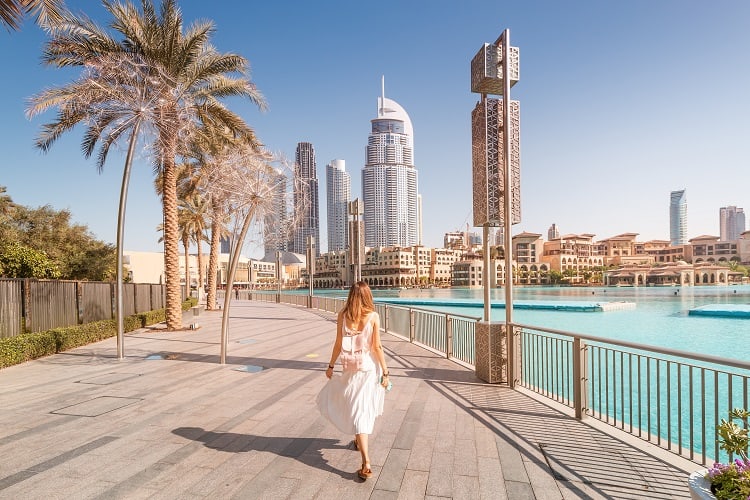 However, if you are visiting Dubai for the first time and want to explore a different side of the city, I believe this list provides the ideal combination of things to see and do in Dubai.
If you're visiting Dubai with your family or children, I strongly advise staying near the beach. A pool is also required.