Looking to visit Tokyo, but don't know how to go about it? Worry no more. We have the top five best local tours from Tokyo right here!
Japan is an amazing, mystical country. Home to one of the richest cultural heritages of all time, its beauty lies in understatement, as opposed to the all-pervasive Western culture.
Because of this understatement, not many of us are acquainted with the real Japanese culture.
That's where Magical Trip steps in. They promise to take on a more unique and unforgettable tour of Japan.
We opted for their tour of Tokyo and its surroundings, and we absolutely loved it!
5 Best Tokyo from Tokyo
We know full well how hard it is to find the right tour. It can be an especially hard task when it comes to the amazing Tokyo.
However, if you are limited on time choosing the five tours narrows it down a bit and allows you to focus your trip on the tours that are the most attractive.
Here are our favourite and the most highly recommended local tours from Tokyo.
1. Sumo Morning Practice Tour in Tokyo
Widely considered to be Japan's national sport, Sumo has remained elusive for most people, as very few know about the daily life of a Sumo wrestler.
On our trip with Magical Trip's Tour, we were taken to the wrestlers' training camp in Ryogoku. Seeing Sumo wrestlers on TV is one thing, but in the flesh (no pun intended), it is simply awe-inspiring!
On our Sumo Morning Practice Tour in Tokyo, we got to witness the disciplined Sumos train at 9 am in the morning. A guide explained their history; the art of Sumo wrestling has continued for over 1500 years and the training was originally for the Japanese samurai.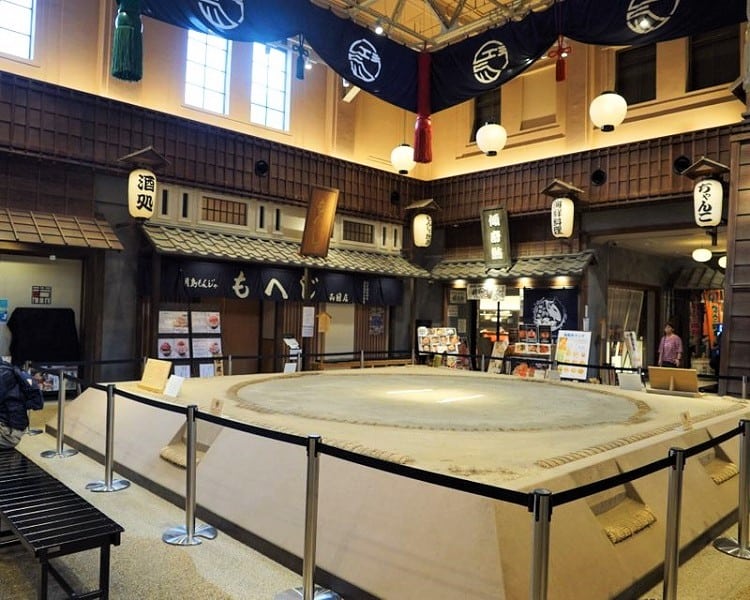 Training and obligatory selfies (duckface!) complete, we headed to the Sumo museum, where we saw the pictures of the highest-ranking Sumos (Yokozuna). They look truly intimidating!
2. Asakusa Walking Tour
In today's fast-paced lifestyle, sometimes, all you need to do is enjoy a simple walk and round it off with a simple meal. Is that too much to ask?
Magical Trip intends to make your walk magical with Asakusa Walking Tour, a tour of the area famous for its authentically Japanese street food.
The itinerary of Asakusa Walking Tour:
Nakamise shopping street

Senso-Ji temple

Kappabashi area

Eat Okonomiyaki or Monja-yaki for lunch in Hoppy street
We walked through the Asakusa area sampling all the delicacies, with the young ones particularly enjoying the Matcha ice-sand. The place has an energy of serenity and dynamism, all at the same time!
After trying the sweets and snacks, we stopped for lunch, which was a unique experience as we cooked our own lunch, specifically, delicious Okonomiyaki and Monja-yaki!
A delicious meal later, we headed on to the Senso-ji temple, with the guide explaining its history and the correct etiquette to be followed in the temple.
Finally, we rounded the trip off with a tour of the Kappabashi street, lined with shops selling authentic handmade Japanese cooking tools and cutlery. Even professional chefs from around the world come here to buy some tools!
3. Akihabara Tour
Akihabara Tour provided us with loads of fun, and I am not talking only about tonnes of anime and manga for the kids. We did also enjoy a bit of gaming ourselves. Everyone has a little kid inside them somewhere, right?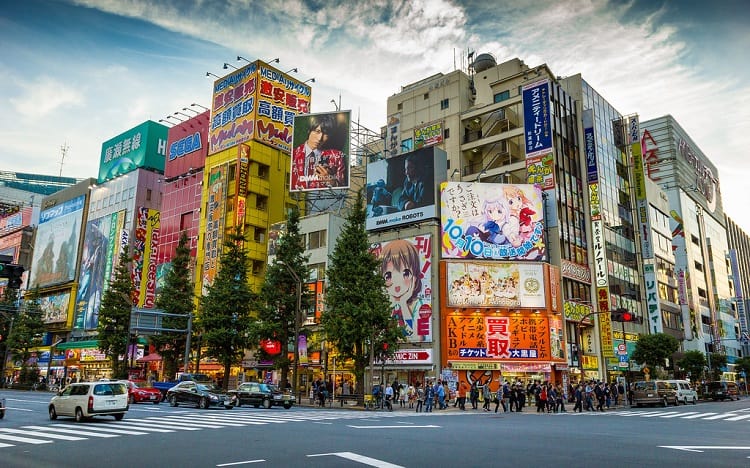 Since most of us had been otakus (anime or manga nerd) at some point, we were looking forward to the tour.
If you have little ones with you on the Akihabara Tour, rest assured that this is a spot you cannot miss, as it is gaming heaven!
The spot showcases the best of retro arcade Japanese gaming (remember those Namco and Konami boxes?) while showcasing the state-of-the-art in modern gaming as well.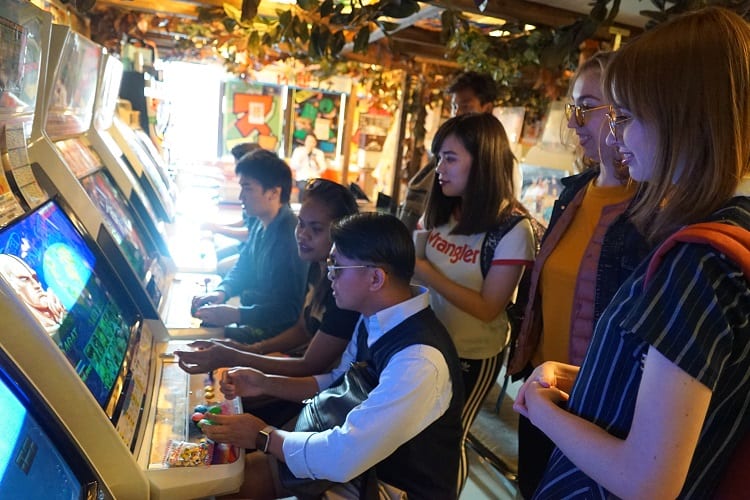 Of course, you're only as old as you feel, and I feel like a ten-year-old! So, if you're an adult who is into gaming, this spot is a must-visit!
Gaming is not the only attraction, if you get yourself a wonderful guide as we got from Magical Trip, you will be led to a Maid-Cafe.
Maid Cafe was our last stop on the tour. This was where you can feel like you in the literal fantasy, with bucket-loads of entertainment.
4. Kamakura Tour
Getting back to the conservative side of things, we joined in on with the Magical Trip's Kamakura Tour.
Kamakura is a one-hour train ride from the heart of Tokyo, but the journey is well worth what awaits.
We reached Kamakura by train and were positively stunned by what we saw. It is full of old shrines which look absolutely beautiful and their endurance is a testament to the brilliant Japanese architecture.
Our guide explained the etiquette and rules to be followed while exploring the shrines.
The guide also enlightened us on the history of Kamakura. Once upon a time, it used to be the political centre of medieval Japan and a government used to exist here for 150 years, explaining the presence of the beautiful structures, flanked by lofty mountains.
Of course, shrines aren't the only thing in Kamakura, we also experienced the delicacies it had to offer. And with a sumptuous meal, which included Kamakura beers, Manju, and Dango, we called it a day.
5. Yanaka Walking Tour
The Yanaka Walking Tour took us on a truly invigorating tour of the Yanaka district. This district is the antithesis of the fast-paced metropolis that is Tokyo.
Ironically, instead of being on the outskirts, Yanaka is located in the middle of Tokyo.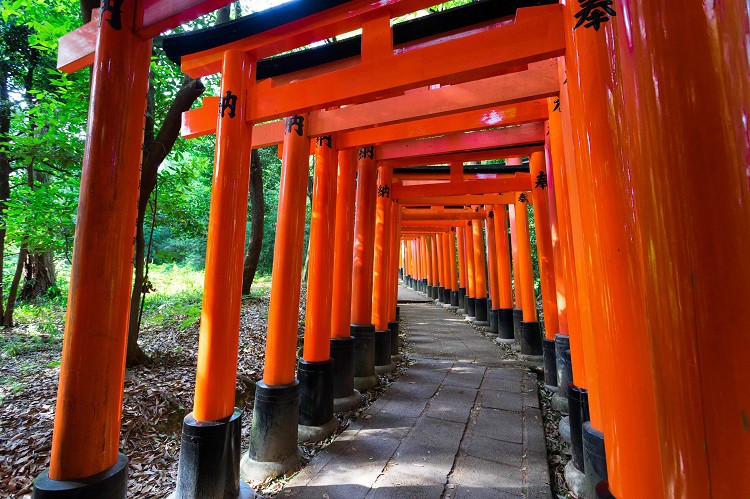 Of course, if you were to know all that Yanaka has endured, you wouldn't want to renovate it. Our guide told us that Yanaka survived the scourge of World War II and stands as a reminder of Japanese resilience, tact and determination.
Yanaka, though, hasn't been completely aloof to the modernizing touch of commerce, as a string of shops and stalls line its streets, primarily selling, you guessed it, delicacies!
After exploring the city, our guide took us to Japan's oldest temple, the Nezu temple, the primary shrine of Shintoism, Japan's traditional religion.
Yanaka, though, had a personal and local feel to it compared to the rest of the spots, as the guide was a local and we interacted with the local people, listening to their stories and gaining perspective.
All in all, Yanaka was the best way to round the tour off!
Over to you:
We are always interested in what you think, so please let us know in the comments below; Which of these amazing local tours from Tokyo caught your attention the most?
Helpful hints:
If you are planning an extended stay in Tokyo, you might also be interested in checking out Shinjuku and Shibuya.