New Zealand is a beautiful country full of an abundance of natural beauty and a peaceful way of life many of us crave when we're on vacation.
There's fun for the kids too, alongside numerous activities for parents to enjoy, which is why it's a popular destination for holidaymakers all around the globe, but especially this side of the pond.
From its pristine beaches to its stunning mountains, New Zealand offers an array of sights that are certainly easy on the eye. Alongside this, though, is the option of experiencing city life in places such as Auckland or the country's capital Wellington.
Essentially, The Land of the Long White Cloud can accommodate your needs; it just depends on what you're after as a family. Perhaps, for example, you're adventurers keen to explore rough terrain and catch wild brown trout.
Alternatively, you might be eager to explore some natural spring baths and bodyboard while at the beach.
5 Best US Cities To Visit With Kids
With numerous options in terms of destinations to visit in New Zealand, it can be hard to decide where to go. So, to help provide you with some inspiration here's a look at some of the best destinations to visit in New Zealand this year and beyond.
1. Waiheke Island
Waiheke Island is just 30 minutes away from the big city of Auckland, which is why it's a great option if you're keen to explore both locations as they're so close to each other.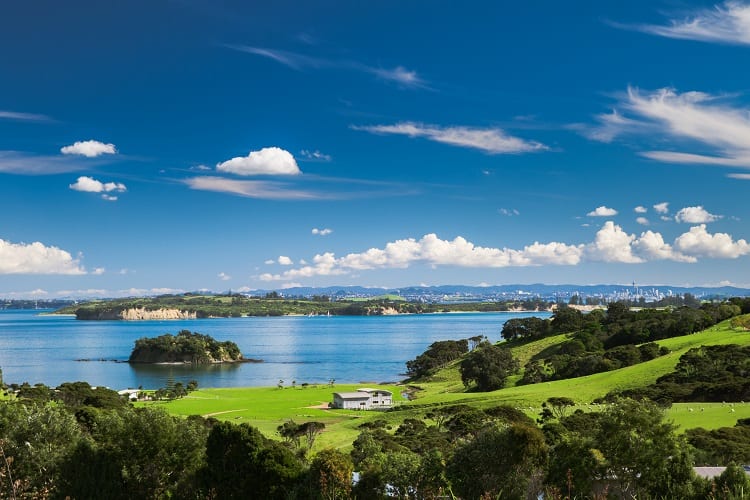 A popular place to visit for wine drinkers, Waiheke Island, is the perfect destination to kick back, relax with a local glass of wine. There's an array of stunning scenery to take in also, as well as excellent eatery options and perfect beaches for the kids to enjoy.
---
2. Christchurch
Many people associate Christchurch with the dreadful earthquakes which took place between September 2010 and December 2011, but the city has made an amazing recovery since then.
New buildings have been erected, old buildings have been saved and spruced up, and up and coming businesses are thriving.
The city's buzz is back, which is why it's a popular, family-friendly place to visit. In terms of things to do in Christchurch, there's good shopping options, a great food scene, walking tracks, and numerous gardens to enjoy.
A cable car lifts to the top of Mt. Cavendish is worth doing, too.
---
3. Queenstown
A location for the adventurers among us, Queenstown has a comprehensive selection of fun activities for the family to relish.
If you're keen to try skiing, bungee jumping, skydiving, jet boating, river rafting, surfing, cliff jumping and a whole host of other entertainment options, then Queenstown has you covered.
The food scene is great, too, with an array of delicious local treats on offer. Make sure you try a Fergburger, though!
---
4. Milford Sound
One of the most picturesque, stunningly beautiful places to see on our planet, Milford Sound was once described by an English journalist, short-story writer, poet, and novelist, Rudyard Kipling as the "eighth wonder of the world" and it's easy to see why.
Full of breathtaking cliffs, fjords, mountains, waterfalls, dolphins, penguins and underwater wildlife, Milfound Sound is a beautifully unique place to visit.
Milford Discovery Centre and Underwater Observatory, which is New Zealand's only floating, underwater observatory, is worth a visit also.
---
5. Marlborough
Known all around the world for its famous wine, Marlborough is the ideal place for hikers and outdoor enthusiasts, alongside wine tasters!
The seafood on offer is unrivalled, too. A peaceful, relaxing place for the family, Marlborough is a good alternative for many families.