Paris is an easy city to lose yourself in. Be you a lover of fine art, a lover of fine wine, or just a lover full stop, there's always something to do in the city of love and lights.
It is a city that welcomes all – being one of the most LGBTQ+ friendly cities in Europe – and you can visit hundreds of times and still find more to do.
That said, neither should the areas surrounding Paris be neglected. From grandiose chateaus to ripe vineyards and centuries-old villages, numerous options exist for exciting day trips from Paris, should you be able to pull yourself away from the city true.
Let's look at eight of the best Paris day trips for those with limited time but unlimited curiosity.
8 Best Day Trips From Paris
We spent 4 weeks traveling around France, however, you could easily fit at least 1-2 of these in if you are only staying in Paris, or maybe you are spending two weeks in France and have some time for some of these.
Here is a list of our favorite day trips from Paris.
1. Versailles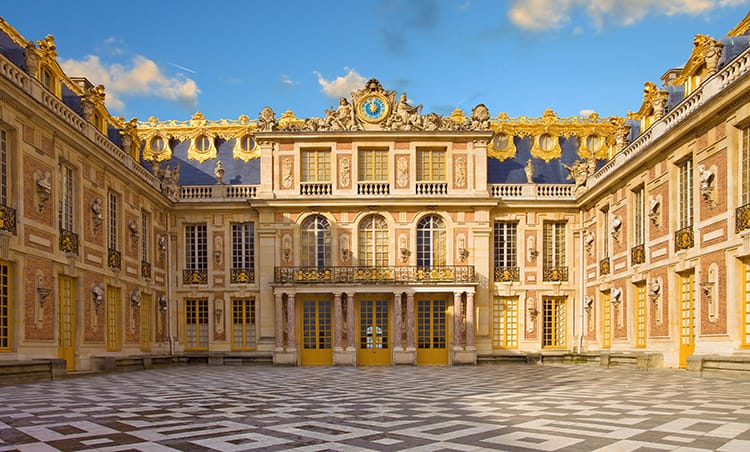 On the outskirts of Paris lies the unassuming village of Versailles. The village itself, however, is dwarfed by the monumental architectural splendor that is the Palace of Versailles.
The epic building grew from being a simple hunting lodge into Europe's largest chateaux and the seat of French political power in the 17th century.
The palace has over 2,300 rooms and halls to explore, filled with royal artifacts and exquisite art.
A highlight is the Hall of Mirrors, where a whopping 370 ornate mirrors run the length of the hall below the most chandeliers you have most likely ever seen in one place.
It is easily possible to spend the whole day lost within the palace's humbling corridors, but if you did, you'd miss out on the impressive 230 acres of gardens behind it.
The garden is a pleasure to explore and holds hundreds of statues, glistening fountains, extravagant hedge mazes, yawning arches, and literally thousands of flower types rarely seen elsewhere.
To say the Palace of Versailles – and its grounds – is grandiose is a vast understatement, making it the quintessential easy day trip from Paris.
How to Get to Versailles
The most direct way to get to Versailles from Paris is by train. The RER C line will take you right to the gates of the palace in just under an hour and cost around 8€.
---
2. Loire Valley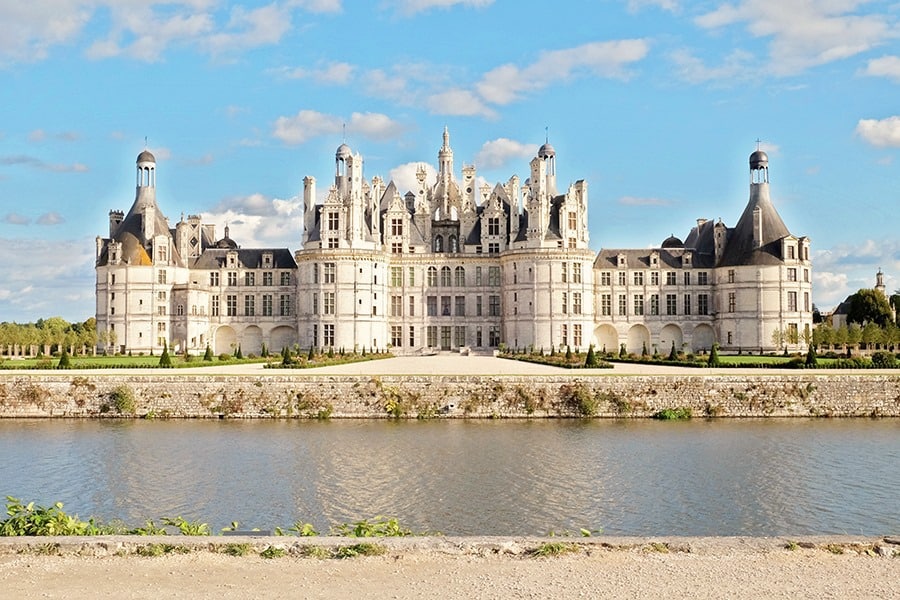 If a palace is not enough for you, what about some stunning castles in the Loire Valley?
Here you'll find hundreds of opulent chateaus and grand renaissance era castles – surrounded by stunning countryside and verdant vineyards.
Loire Valley is about a three-hour drive from Paris but – being the chosen retreat of the French Elite – more than worth the effort.
Most famously it houses the chateau which was the inspiration for the castle in the Disney version of Beauty and the Beast – fitting for such a fairy-tale picture-perfect valley.
Other popular castles include Château de Chantilly, Château de Chenonceau, and Château Chambord.
Loire valley is also famous for its generous selection of dry white wines – so it'd be rude to visit without sampling at least a bottle, or three, to round off your trip.
We love the Loire Valley and if you can, I would suggest to stay for 2-3 nights in the area so that you can fully soak up the beautiful region.
How to Get to Loire Valley
For this day trip, I highly recommend that you rent a car. The Loire Valley is just over 200km away from Paris and can be reached within three hours. The journey is pleasant and there are plenty of places to stop along the way as well.
A guided organized tour from Paris to Loire Valley is the perfect way to experience all the beauty of France without having to worry about planning. It is a 13-hour tour but all you have to do is sit back and relax.
---
3. Giverny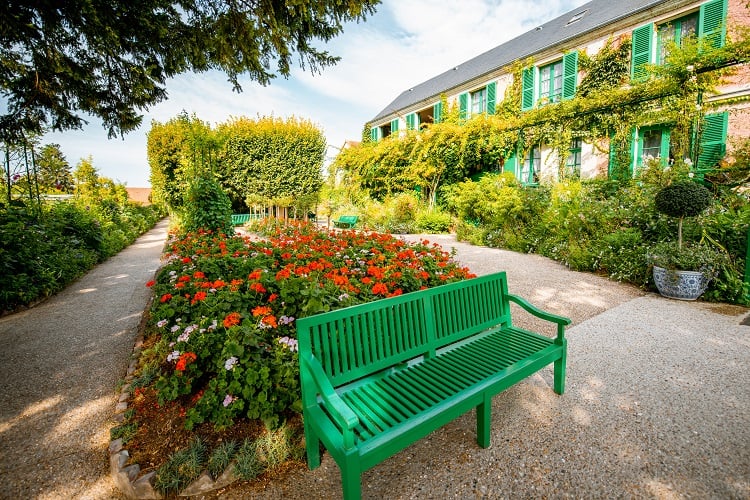 Just over an hour west of Paris is the seemingly quaint village of Giverny.
The village is so stunningly idyllic that it has been the muse of many artists over the centuries – the most famous of which is the founder of French impressionist painting, Claude Monet.
He found the village so impressive in fact that he lived in a house there for 43 years.
The house can be visited to this day and the interior has the unusual features of being both pink-plastered and still containing all the furniture and layout from when Monet was alive.
What's more, there are two gorgeous gardens attached to the house. One is a Japanese water garden replete with weeping willows, bamboo wood, ponds, and wooden Japanese bridges across a brook filled with blooming water lilies.
The other is a colorful flower garden said to have been a source of inspiration for some of Monet's greatest works. Besides this, Giverny has a must-see museum dedicated to other impressionist artists who lived within the village.
How to Get to Giverny
If you want to get from Paris to Giverny, there are several ways to do so.
The most convenient way is to take the train from Paris Gare Saint-Lazare train station. The journey takes approximately 50 minutes and there are trains running throughout the day. Book your ticket for your train ride here.
Alternatively, you can drive your own car or rent a car The drive is around 55 minutes when taking the A13 highway and can be quite scenic, as you will pass by several small towns such as Montfort-l'Amaury and Mantes-la-Jolie.
You could also take a guided day tour from Paris to Giverny. This tour takes about 5 hours, allowing you to sit back, relax and enjoy the scenery while an experienced guide takes care of all the planning for you.
---
4. Beaches Of Normandy
A three-hour drive from Paris to the north-western coast of France will take you to our next-day trip recommendation, Normandy.
A fifty miles stretch of sandy beaches is backed by white-chalk cliffs, dominating the coastline and offering impressive views out to sea.
World War 2 history buffs will know these beaches – specifically Omaha beach- to be the site of the famous D-Day landing that turned the tide of the war in favor of the allies.
Monuments and museums can be found here in memory of these important events.
How to Get to The D-Day Beaches In Normandy
The best way to get to the beaches in Normandy is by car, with the journey typically taking around three and a half hours. You can rent a car in Paris here.
---
5. Provins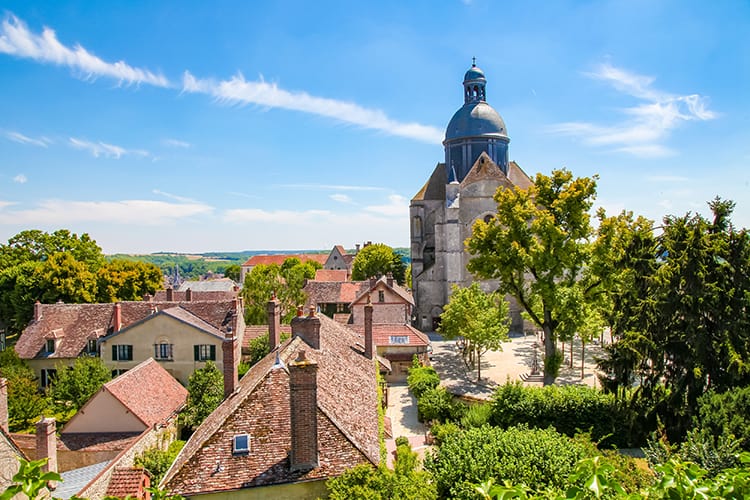 This charming medieval town is just sixty miles to the southeast of Paris and is easily accessible by train, bus, or car in under two hours.
Provins is a UNESCO World Heritage Site full of ancient fortresses, fortified towers, half-timbered houses, and picturesque churches.
You can traverse the ramparts of the old city walls, climb Le Tour Cesar – a 12th-century tower – for a panoramic view of the town, or delve into the underground tunnels below the city to read centuries-old inscriptions.
The town also has a dose of romance to it with the La Roseraie de Provins garden holding over five hundred varieties of roses – who knew there were so many types?
Provins has the moniker of 'the town of medieval fairs' due to the various fairs that run there over the year.
The biggest is Les Medievales de Provins, taking place every June, where you can expect to see costumes, tent stalls, blacksmiths, and re-enactments of battles from France's distant past.
Provins is a testament to the past of the region and just one of many reasons to venture out from Paris and discover the land of variety around it.
How to Get to Province
The best way to travel is by high-speed train, which departs regularly from Gare de Montparnasse in Paris.
The journey usually takes between 2-3 hours, depending on the train type, and offers spectacular views of some of the most beautiful French countryside. The fare varies depending on the time and day, but usually hovers around €45 one-way.
---
6. Mont Saint-Michel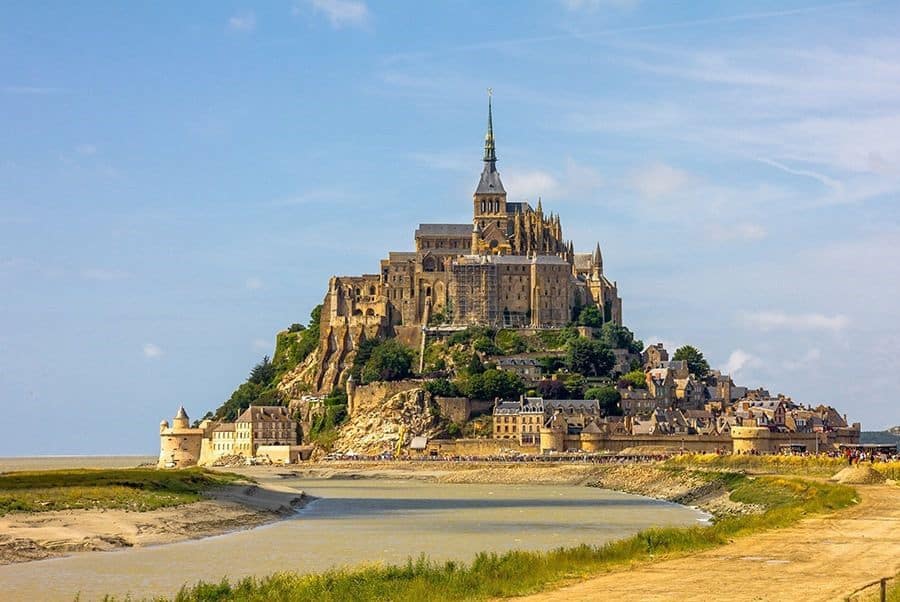 One of the most popular day trips from Paris is the impressive Mont Saint-Michel, or at least it was to us! It is one of those sight that will feel a bit hard to believe!
Mont Saint Michel is one of the most majestic and iconic sites in France, located on an island just off the coast of Normandy.
This mountaintop abbey complex has held a place of spiritual importance for over one thousand years and continues to be a pilgrimage site for many visitors.
The island itself is a marvel, with its steep walls towering over the bay and an array of quaint houses nestled in the narrow alleys.
The abbey itself is even more impressive, built on top of a large granite rock that overlooks the bay. The abbey was constructed between 814 and 1220 and has since been listed as one of UNESCO's world heritage sites.
How to Get To Mont Saint Michel
Getting to Mont Saint Michel is easy via train.
The easiest option is by train. Take the train from Paris to Rennes, this journey will take around 2 hours. Once in Rennes, you can take a direct shuttle coach bus to Mont Saint-Michel for 15€.
Doing a day trip by car will make for a BIG day. The trip from Paris to Mont Saint Michel will take just over 4 hours.
There are also several guided tours, which can be a great way to experience this magnificent site.
---
7. Honfleur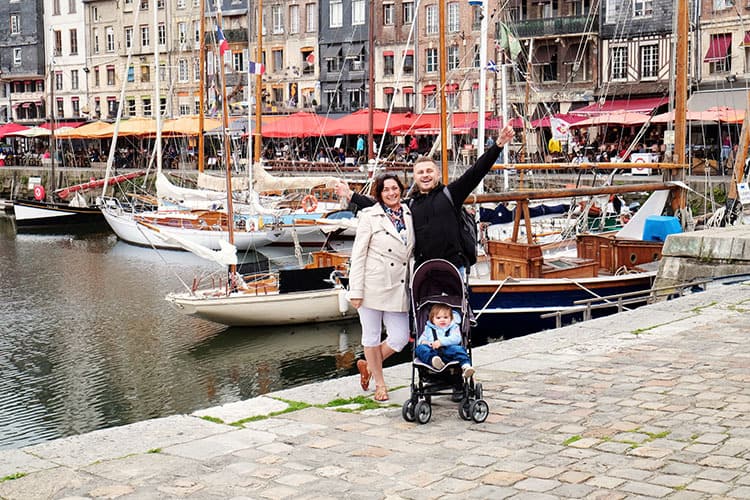 On the northern coast of France lies a small port town with an enormous amount of charm – Honfleur.
This quaint yet vibrant fishing village is popular among locals and visitors alike, thanks to its picturesque streets and harbor filled with colorful boats.
Its cobblestone alleys are lined with cafes, galleries and shops selling everything from handmade jewelry to vintage wines.
Honfleur is also known for its historical sites, such as the old port, Vieux-Bassin, which was once a major trading hub during the Middle Ages.
The town's half-timbered houses are also notable sights, with many of them dating back to the 15th century.
This is such an incredibly cute town! We absolutely loved it and enjoyed our day here.
How to Get to Honfleur
Honfleur is easily accessible from Paris via car or train.
The journey takes approximately 2 hours and 30 minutes by car, or a bit less by train. Both modes of transportation will take you directly to the town center, where you can explore its charming streets and waterfront restaurants.
We rented a car for the day and enjoyed our drive there and back.
---
8. Disneyland Paris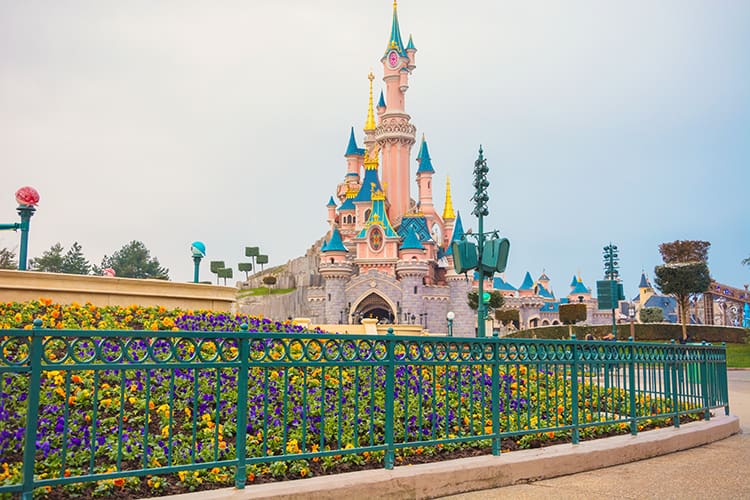 No day trip from Paris is complete without a visit to the "happiest place on earth" – Disneyland Paris. This iconic theme park is located just outside of the French capital and offers up plenty of thrills, laughter, and fun for all ages.
Disneyland Paris has over 50 attractions for visitors to explore, including thrilling roller coasters and family-friendly rides.
There are also plenty of classic Disney characters to meet, as well as interactive shows and parades that the whole family can enjoy.
How to Get to Disneyland Paris
Getting to Disneyland Paris is easy via car or train. It takes approximately 45 minutes by car or 38 minutes by train from the Paris city center.
---
Final Thoughts On The Best Paris Day Trips
Visiting Paris is an unforgettable experience, and with these eight day trips from the city, you can make your trip even more special.
Whether it's exploring the majestic Loire Valley castles or immersing yourself in French culture at Honfleur, there are plenty of sights to behold outside of Paris that will leave a lasting impression on any traveler.
And don't forget about Disneyland Paris – no matter how old you are, this magical kingdom is sure to bring out the kid in all of us!
With so many amazing destinations within easy reach of Paris, why not extend your stay and explore them all?
Other Helpful Articles: