Krabi, one of Thailand's beautiful provinces, is known for its incredible white sandy beaches and thousands of tourist attractions. The province is renowned for its sheer limestone cliffs that line the water's edge.
If you're looking to visit Krabi on your next holiday, be sure to check out Baolau for the best flight deals to Krabi. Once you're there, you'll be treated to some of the best beaches in Thailand, so be sure to book your flight soon!
There are plenty of gorgeous beaches in Krabi, which can make for a difficult choice when deciding where to go. To cut your research in half, we've put together our top five beaches in Krabi.
---
Best Beaches in Krabi Province
We're still not sure why these beaches haven't been proclaimed a natural wonder of the world!
There is nothing better than sitting back, relaxing and spending an entire day on one of Krabi's fabulous beaches. It's the one activity that satisfies the whole family!
Here are a few of our top picks of the very best beaches in Krabi, Thailand:
1. Tab Kaek Beach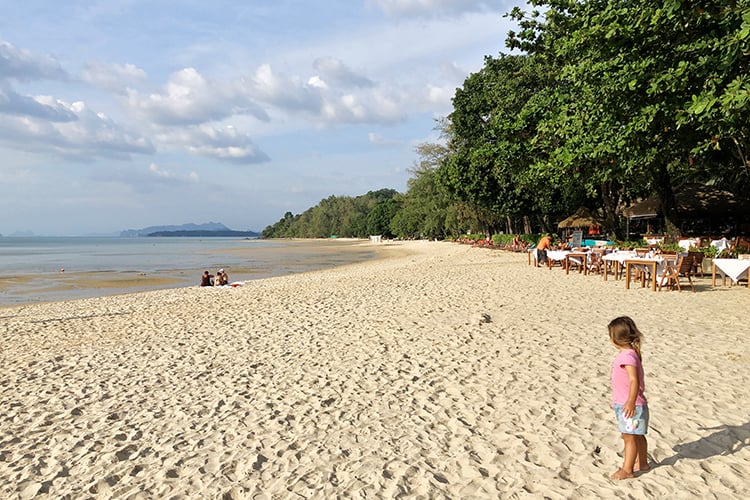 Tab Kaek is one of the quietest beaches in Krabi, and we can't for the life of us fathom why? This beach is so stunning and tranquil, so if you enjoy some good ol' peace and quiet, this is the perfect beach for you.
Escaping the crowds to land on this little piece of paradise is well worth the trip while you're in Krabi. You'll enjoy a view of the massive limestone rock formations that protrude out of the water in the far distance.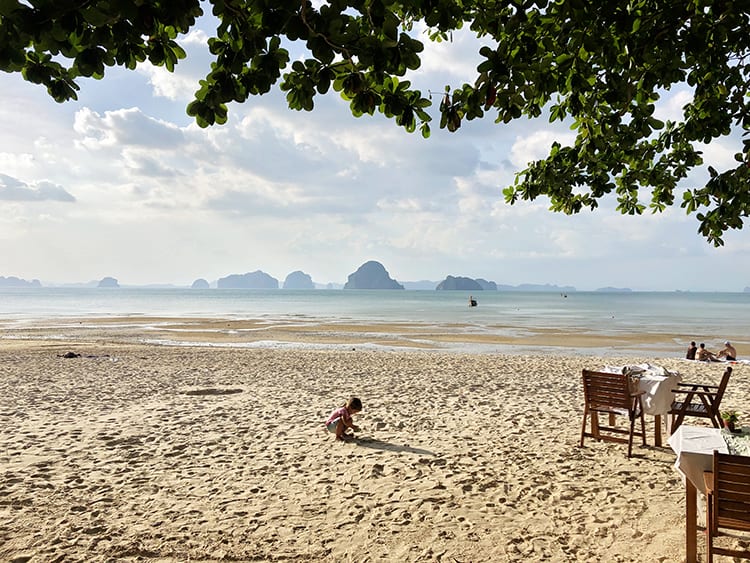 This beach is located about 25 min drive away from the busy Ao Nang Beach. So if you prefer this quiet beach, we highly recommend that you stay at Anyavee Tubkaek Beach Resort. Situated right on the beach, it's heaven in a hotel for any beach-bum.
>>> You can check prices for this resort here!
---
2. Tonsai Beach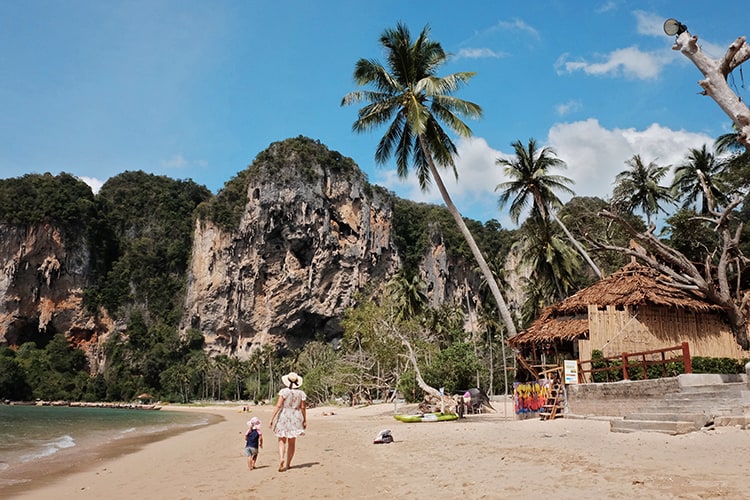 The next three beaches on our list are only accessible by boat. For more information about how to visit these beaches in Krabi, click to watch our video on YouTube here.
Tonsai Beach has a very laid back vibe. You'll find a lot of tourists lounging on the beach, sipping a beer or drinking from a pineapple.
You will hear reggae music playing from the tiny little beach bar and see lots of tourists lounging out outside the restaurant. Because of this, Tonsai Beach is getting a name for itself as the hippie beach of Krabi.
Like so many of the beaches in Krabi, Tonsai has its very own limestone cliffs, making it a popular destination amongst rock climbers.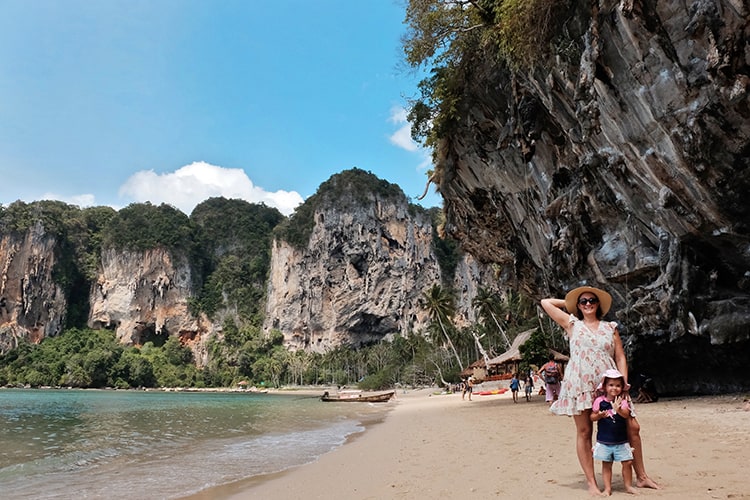 If a day of relaxing gets you excited, this is a great beach to visit while you're in Krabi. If you're looking for other fun activities in the area, check out my Top 10 Things to do in Krabi post.
---
3. Railay West Beach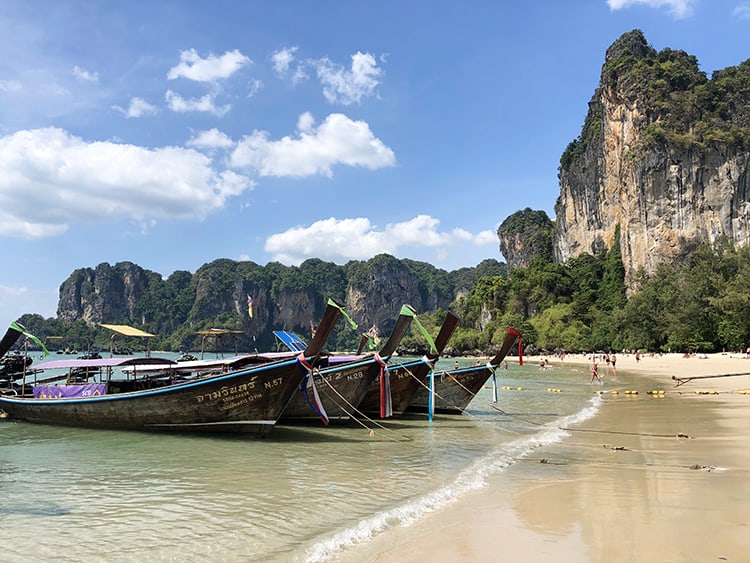 Railay Beach is one of those places that take your breath away! Incredible limestone cliffs make the perfect backdrop to your day at the beach. These limestone cliffs have made the beach a favorite amongst rock climbers and extreme adventurers.
Just below the cliffs lies a thick blanket of coconut palms, and emerging from them is a white sandy beach. This folks, is as tropical as it gets!
Because of the picturesque setting, this location has become a popular place to stay. In fact, you'll find bungalows right underneath the coconut palms that line the beach.
If you're looking for a place to stay on Railay West Beach, we recommend staying at Rayavadee. This incredible accommodation has a restaurant on the sand that descends back into a cave in the limestone cliffs.
>>> View the rooms at Rayavadee here!
---
4. Phra Nang Cave Beach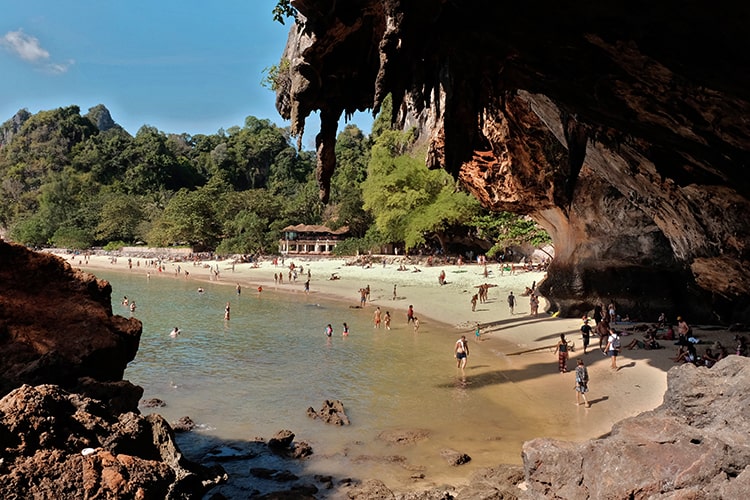 Phra Nang Beach is just a 15-minute walk from Railay West Beach. This makes it easy to hit two world-class beaches in one day. Phra Nang beach is known for its very unique rock formations. These rocks stick up out of the water, and are wonderful for those that love to explore!
The biggest rock is about 20 to 30-meters from the shore, but don't worry, it's not difficult to get to as the water is so shallow in these areas, they're within wading distance.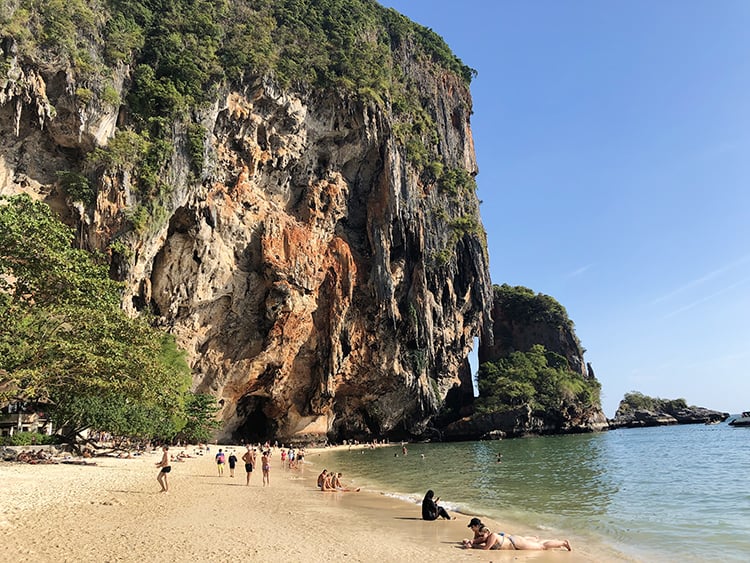 On the other side of the beach is a cave that you will have so much fun exploring. It's a small cave and hidden from sight, but very easy to get to. If you're unsure of where to go, asking a local is the easiest option. This is also great fun for the kids, if you've brought them along on your Krabi trip.
If you're looking for the perfect accommodation in Phra Nang, we recommend Phra Nang Inn Vacation Village. It's surrounded by tropical gardens and makes you feel like you're deep inside a tropical jungle. However, just a little stroll will land you right on the gorgeous Phra Nang Beach, giving you the best of both worlds.
>>> Book your spot at Phra Nang Inn Vacation Village here!
---
5. Ao Nang Beach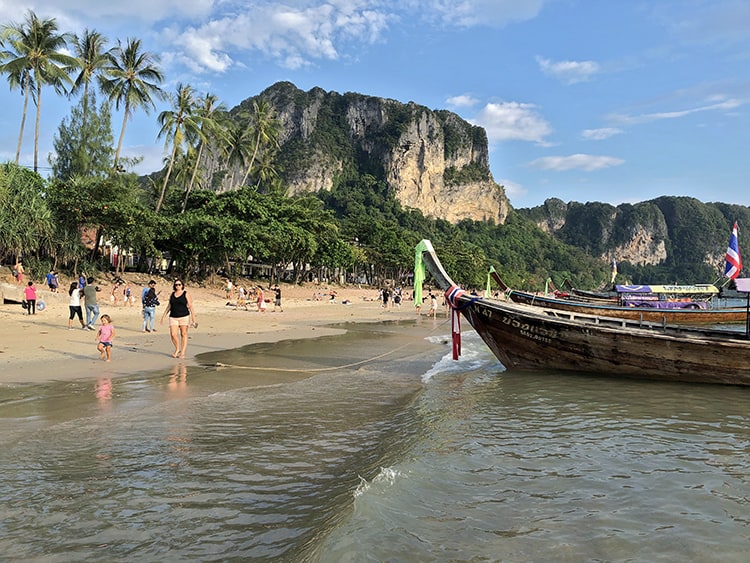 Ao Nang Beach is a very popular beach among tourists. It's a beautiful beach and the perfect place for an afternoon stroll. Get ready for some incredible views and a spectacular sunset!
However as beautiful as this beach is, we found the water to be rather murky in comparison to the beaches nearby. We also found there to be a lot of litter from other tourists on the beach. This was a bit of a letdown. But this doesn't mean it's not a great beach to visit.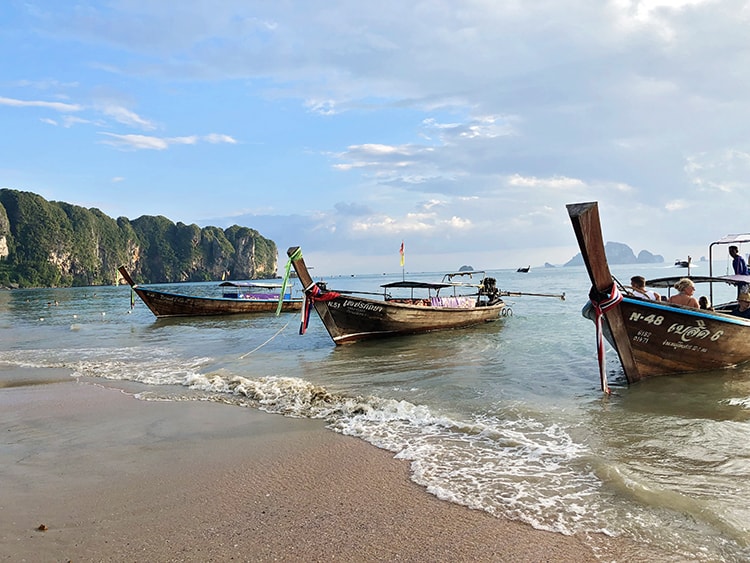 Ao Nang is also a great place to stay while you're in Krabi due to the fact that many tours start from here. You will also find night markets, souvenir markets and loads of restaurants there as well.
We recommend the Holiday Inn Resort, which is located right on the white sandy beach. Expect nothing less than an absolute luxury!
>>> Check out the Holiday Inn Resort here!
---
Final Thoughts on Beaches in Krabi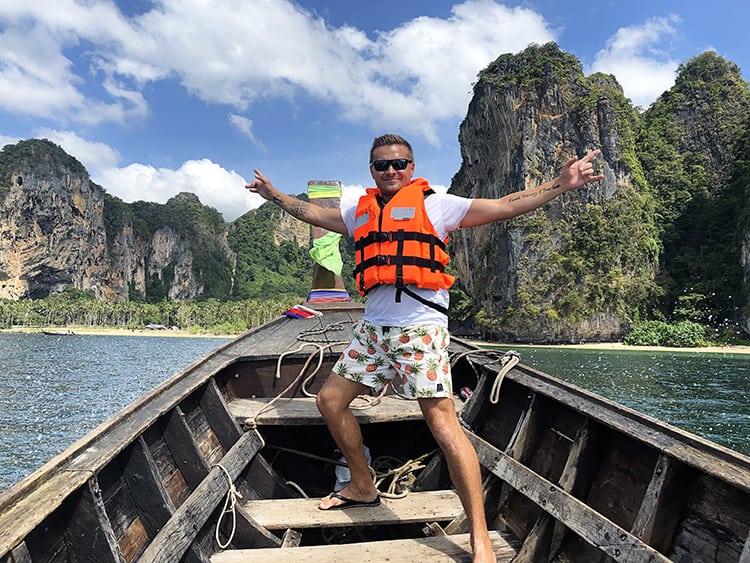 If you're looking for the perfect holiday destination to spend hours soaking up the warm sun, Krabi is the place for you. Beach bums have been flocking to Krabi for an island getaway for the better half of a century.
It's no guess as to why? Krabi has some of the best beaches in the world, and they're just waiting to be explored. You can find the best hotels in Krabi on the beach by clicking here.
Be sure to enjoy some of the many activities that take place in and near Krabi. Although your holiday should be all about relaxing, be sure to make some time for a few fun adventures too.
Please Pin This for Easy Reference: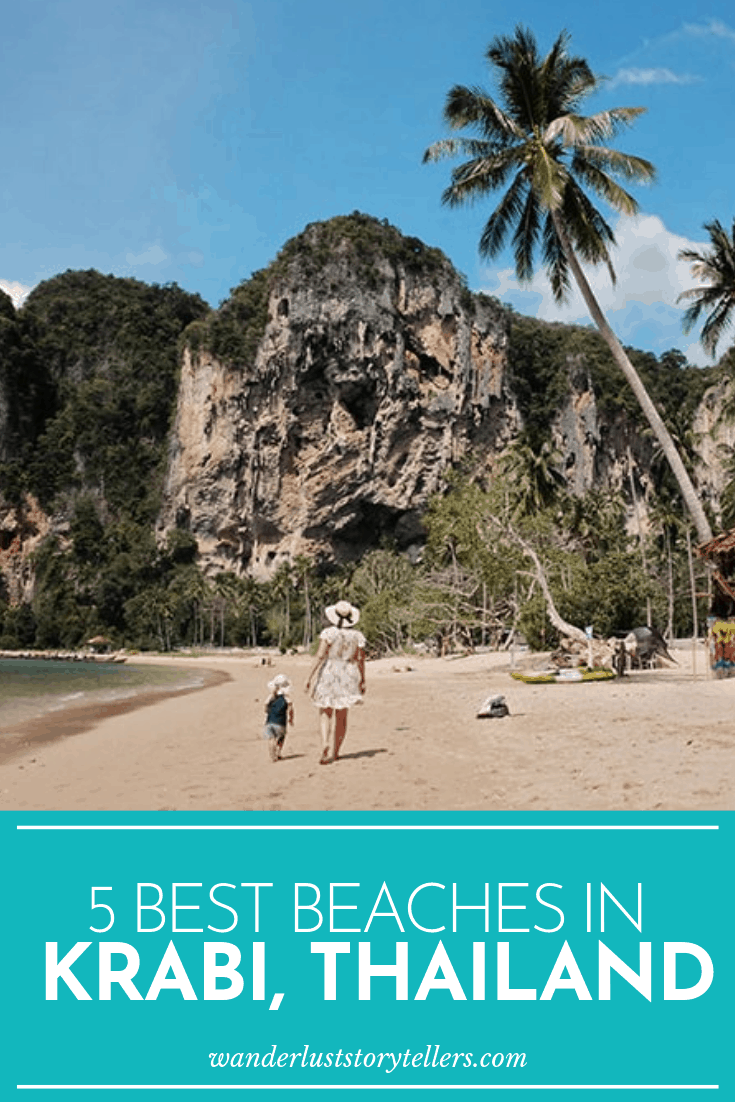 Further Reading:
Over to You:
Do you have any beautiful beaches to add to our Krabi beaches list?
Which of these beaches would you most like to visit?
---