From calm and tranquil coves to lush forest slices to explore, Koh Tao is an island paradise on the gulf of Thailand filled with a treasure trove of natural experiences.
While many of the activities in the landscapes of Koh Tao (also referred to as Ko Tao) are worth a trip, the seemingly sun-dusted beaches of the island are an adventure like no other.
A sparkling gem in Southeast Asia, Koh Tao is the perfect place to enjoy a fun-filled vacation bedazzled with various beach activities.
This island has everything, whether exploring the forgotten underwater crevasses on a snorkeling trip or simply simmering under the sun like butter on pancakes.
Unsure where the top tranquil and adventurous beach spots lie on the sunny coast of beaches in Koh Tao?
We'll take you on a journey through the bountiful bays of this island to enjoy the beach vacation of your dreams in this Koh Tao, Thailand destination.
Top Koh Tao Beaches – Outdoor Sea Havens You'll Love
Koh Tao in Thailand is considered one of the cheaper areas to travel to in the country and is also famous for its clear water conditions, which are perfect for snorkeling.
While this island is small enough to explore on foot, it's always good to have a bit of direction when finding a beach to laze on.
Here are a few idyllic spaces to enjoy the abundant things to do in Koh Tao:
1. Freedom Beach
A name that is sublimely paired with any picturesque and carefree beach getaway you had in mind, Freedom Beach is a secluded sanctuary made for creating memories.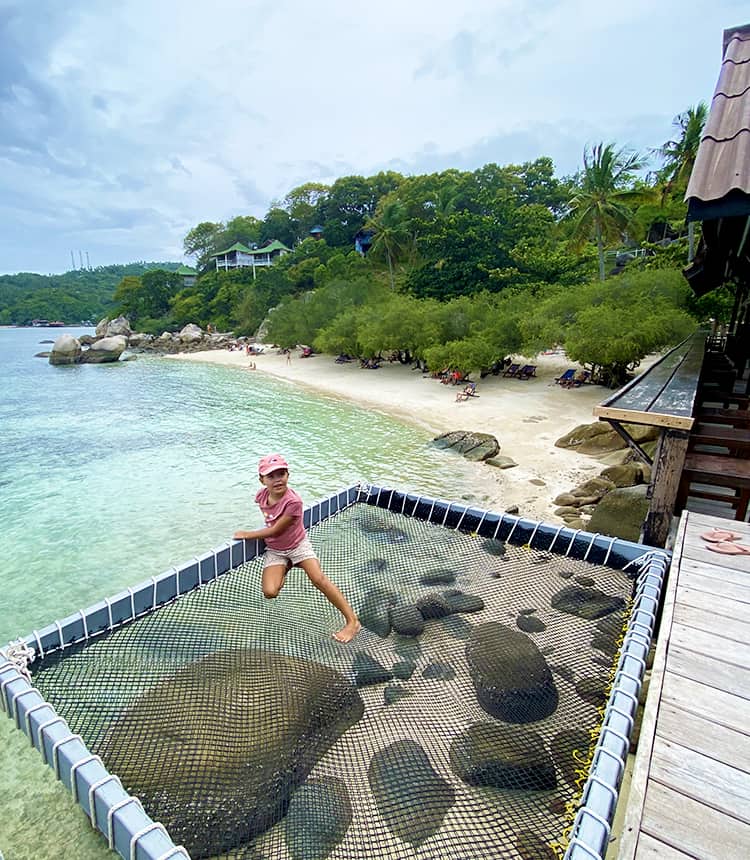 With shallow reefs housing aquatic creatures and surrounded by emerald green bundles of trees, this Koh Tao beach is a wonderful way to fully immerse yourself in relaxation.
From the pristine sands of Freedom Beach, you'll be able to spot Buddha Rock (Hin Taa Toh) in all its stoic glory.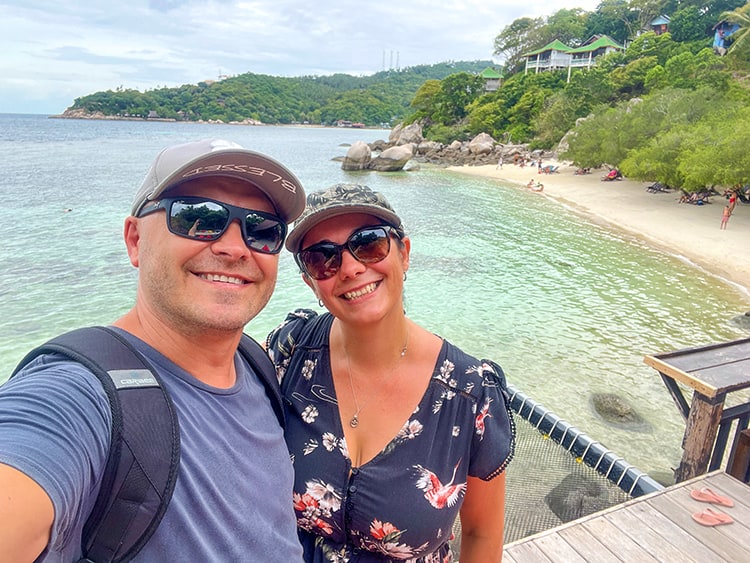 This natural phenomenon is among a shoreline peppered with rock formations. It is a sequence of boulders that looks like a human sitting to admire the bright aquamarine seawater at its rocky feet.
---
2. Shark Bay/Haad Tien
As Koh Tao translates to "turtle island," you'll be remiss if you visit this seaside escape without spotting a turtle or two floating by in the crystal clear waters.
While its name might put fear in your snorkel flippers, these waters are safe if you're diving with a trained professional equipped with the knowledge to ward off these creatures.
Many blacktip reef sharks call these waters their home and pose no immediate danger to snorkeling bystanders (or swimmers) unless they feel threatened. Among these majestic finned creatures, you'll be able to spot an abundance of fishy friends, which includes sea turtles.
If you're looking to scuba dive your heart out like a pro at this location, we suggest amping up your diving skills with an in-depth, dive instructor-led experience. Click here to book your tour!
---
3. Sai Nuan Beach
A dynamic duo of two sets of beaches, Sai Nuan Beach is the ultimate dreamscape to spend the day in beach bum bliss.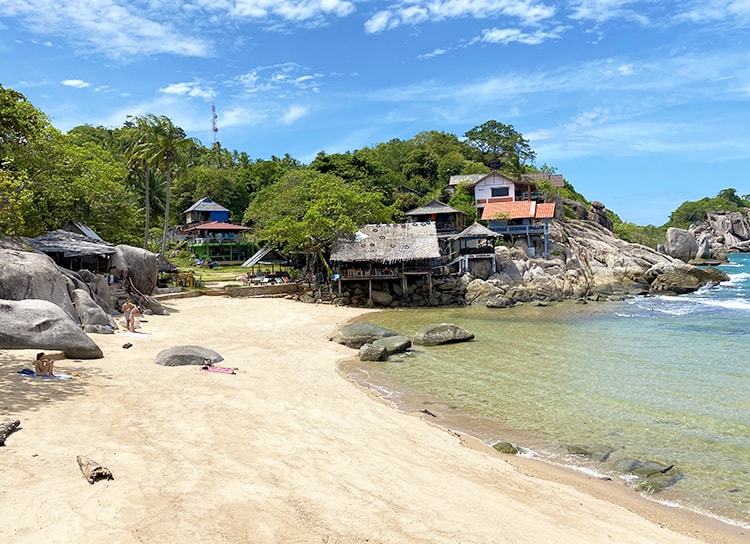 With beachy bungalows and a down-to-earth carefree atmosphere, you'll be able to experience the quieter side of island life on these secluded beaches.
This isolated gem can only be reached by a hiking trail beginning at Mae Haa, which is a beautiful 30-min walk embellished with captivating coastal views.
The waters surrounding the beach are pretty shallow, but marine life has a tendency to swim toward the rocky areas, so be sure to keep an eye out.
If you have paddled the waters without sighting the shelled marvel of a sea turtle, there is a mosaic of other water-breathing creatures to spot on your trip. This includes the interesting appearance of unicornfish species.
Tip: While Beach 1 is free for visitors to enter, Beach 2 is private property and might require a small fee to spend your day on these sands. The second beach is lined with palm trees, so it's well worth the price to get that ultimate Thailand holiday selfie to spark some vacation envy!
---
4. Jansom Bay
Ever wondered what it would feel like to sail on blue water so clear you can see the ocean floor filled with sea life?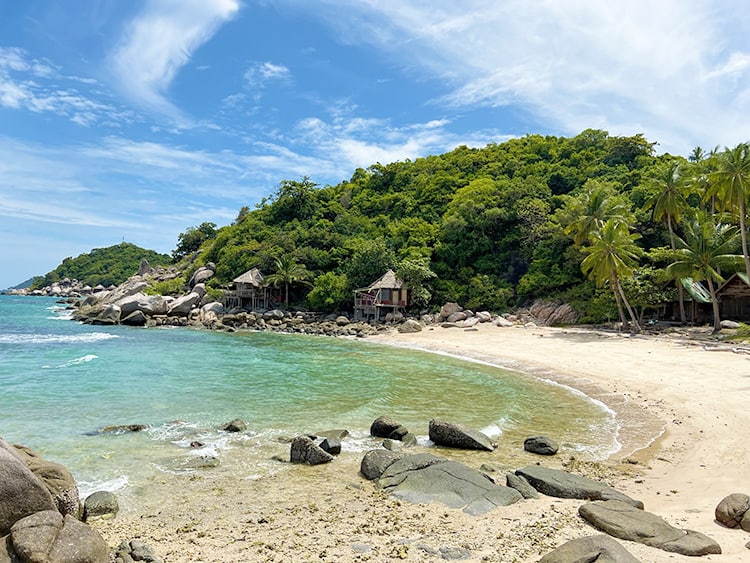 Jansom Bay makes this fantasy a reality, as its seemingly sugar-dusted beach is accompanied by an epic aquatic area for water activities.
A tiny tranquil seaside marvel accessible by walking through a beachfront resort (with an entrance fee), this sandy heaven is a dream to experience.
With beachy bungalows on boulders and soft sand spots to place your towel on, this small beach is a great option for travelers looking for a chill and low-key vibe.
---
5. Sairee Beach
Known as the longest stretch of sand on the island, you'll have a ball walking on these sparkling shores to soak in the serene tranquility Koh Tao provides.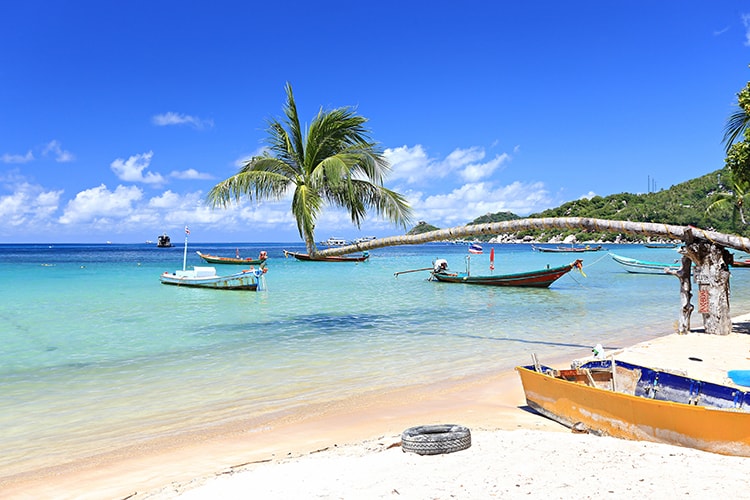 Sairee Beach is often referred to as the tourist hub of Koh Tao, so don't expect your footprints to be the only ones on the beach sand.
This is also the best place if you're looking for a stream of tourists dotting this space because what beach getaway is complete without a steady dose of people-watching?
Sairee Beach is surrounded by restaurants and sea-view resorts, which makes this cove of tourist convenience the perfect place for families with young kids.
---
6. Hin Wong Bay
With an intricate network of rock formations, forest areas, and pristine waters – Hin Wong Bay is a beautiful pick if you're looking to get away from the hustle and bustle.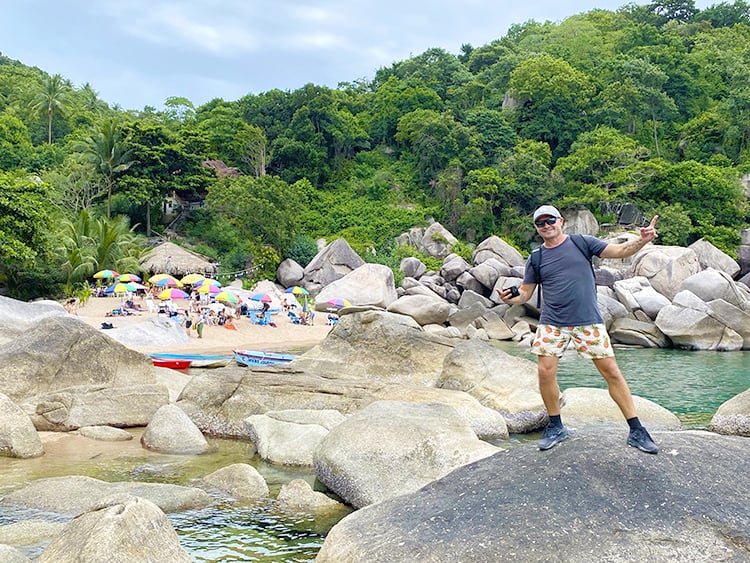 While this bay has fewer sandy spaces to rest on, you'll have a splendid time at this east coast Koh Tao gem of its simplistic beauty.
As the landscape of this bay is very rocky, you'll need to pack a pair of sturdy climbing shoes on your journey or rent a kayak to travel through its surrounding waters.
---
7. Taa Toh Beach
If you find yourself on the island's south side, Taa Toh Beach is an easy breezy place for a lazy summer holiday afternoon.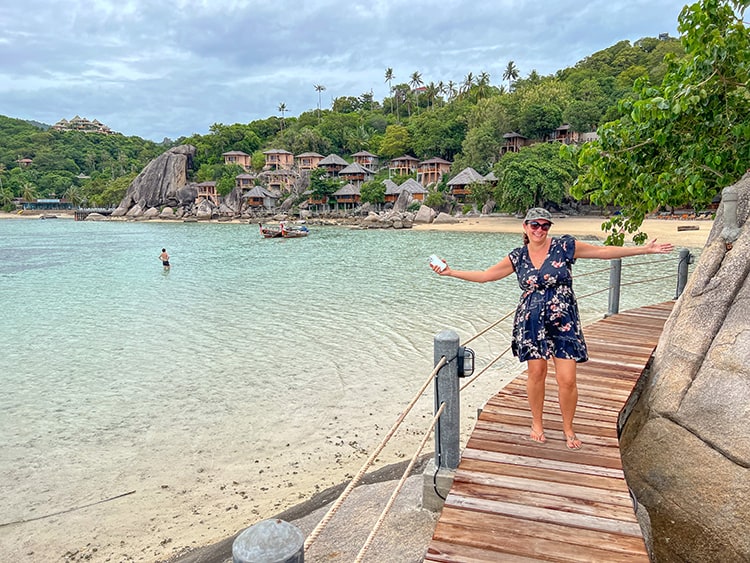 Whether you prefer spiking balls on a beach volleyball court or crafting the perfect bronze beach tan, this palm-filled paradise has a variety of activities hidden in its folds.
This beach is quite a central location in regards to nearby sunny beaches, such as Freedom Beach and Shark Bay, so this could be the ultimate spot to make a base for beach hopping.
Be sure to stay on this secluded beach till sunset to experience a classic Thailand sunset over the dazzling water for an unforgettable vacation memory.
---
Final Thoughts On Koh Tao Beach Experience
Koh Tao beaches are a treat from sunrise to sunset, from the rising sun of a new day with endless adventure opportunities to watching the sand become drenched in darkness.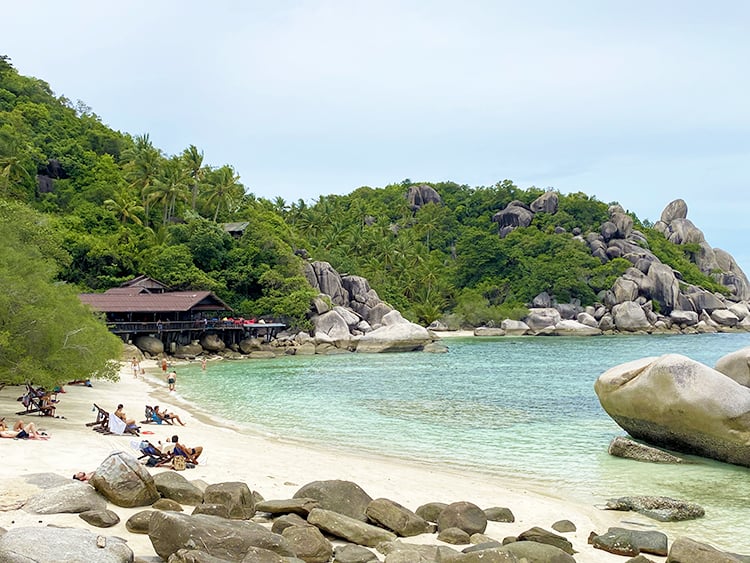 This island has a wide variety of seaside spaces to choose from, depending on your mood and vacation mode setting (no better hangover cure than a sunbathe).
Whether it's for rest, relaxation, or a reset from the daily grind of living – Koh Tao beach spots will have you covered by providing exactly what you're looking for.
Are you looking at a Koh Tao map trying to plan a vacation with your clamoring clan? Click here to read about our tips for a stress-free family trip abroad to equip you for fun ahead.
---
Additional Reading for Thailand Trip
Here are some other places close to Koh Tao that you might like to visit whilst in Thailand with your family: