A new baby on the horizon, whether it be your first or third, is pretty monumental. It's normal for expecting parents to crave a final hurrah before welcoming the new family member.
Babymoons are essentially a relaxed holiday for mothers-to-be and their partners, friends, or family members.
Many resorts have jumped on board this new trend, offering babymoon packages focused on spoiling guests. Expecting moms can enjoy maternal massages, spa treatments, and an array of tasty treats while relaxing on their babymoon vacation.
With three children and a bunch of holidays under our belt, we've created the perfect list for the best babymoon destinations in the USA.
---
How to Choose a Babymoon Location?
Some mothers choose to travel early on in their pregnancy which opens up destinations that are further away. On the other hand, choosing to travel when you're about to pop is just as wonderful, but limits locations to those that are easier to get to.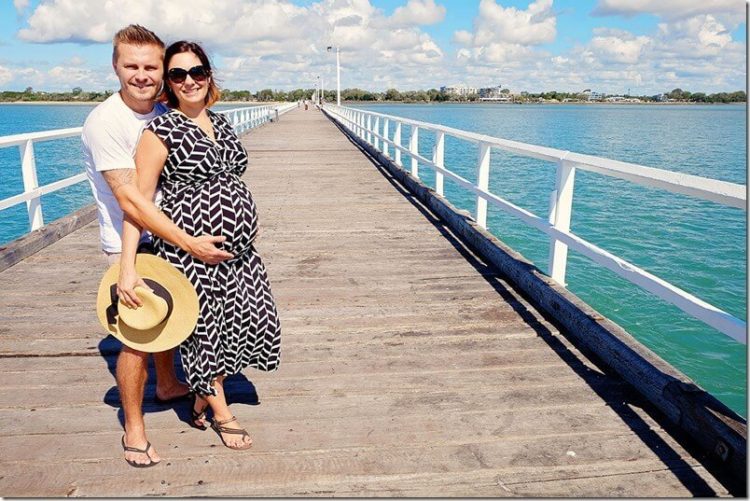 Regardless of when you decide to take your bump on holiday, there are some non-negotiables for a babymoon.
It's best to avoid chaotic places that will put you under unnecessary stress. Choosing a safe destination is important too. The last thing you should be worried about is you or your baby coming to harm. Look for spots that offer comfort, safety, and ease of travel.
---
10 Best Babymoon Destinations in the USA
The United States has no lack of amazing destinations for your babymoon. From charming towns to gorgeous sceneries and luxurious resorts, there is something for every mama.
Here are 10 of our favorite babymoon destinations in the USA.
1. Maui, Hawaii
Hawaii is an exotic paradise that will make you forget that you're in the USA. It is a perfect spot for tropical island babymoons and it's easy to get to and completely safe.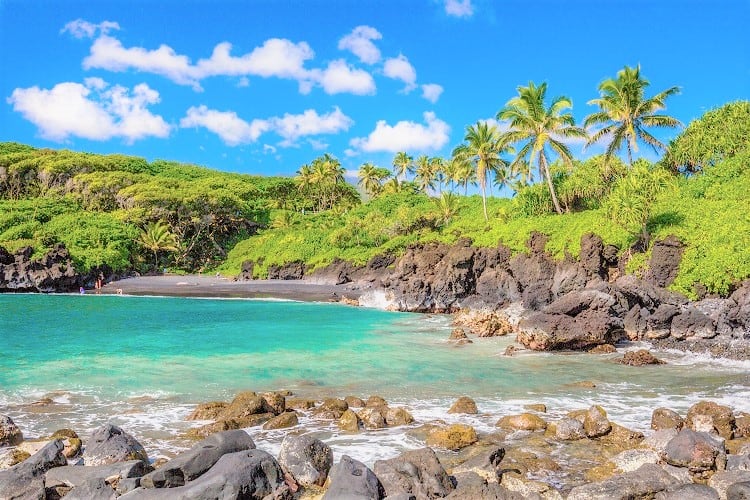 Take long walks through lush landscapes, enjoy a bump-buoyed swim in the sea, and gorge on healthy food and fruit. Beach holidays are synonymous with ultimate relaxation, which is exactly what the doctor has ordered for expectant moms. Bring the best beach blanket along to laze by the sea.
Travaasa Hana Resort in Maui is babymoon heaven. If you're looking to disconnect from technology and revel in nature, then this is the spot for you. The all-inclusive resort will cater to your every need and has a lot of awesome activities for pregnant moms and their partners to enjoy.
Indulge in the onsite spa, take part in gentle yoga classes, walk through the rainforest to stunning waterfalls, or learn how to play the ukulele.
Click here to see the latest prices for Travaasa Hana Resort.
---
2. Sedona, Arizona
Head into the desert and find an oasis to hole up in and enjoy your special babymoon. And where better to do this but Sedona? Surrounded by the mystical fire-red rock formations and perpetually blue skies.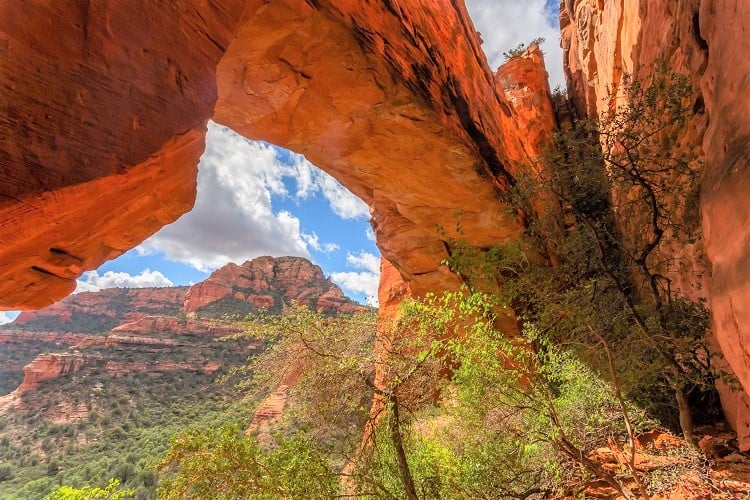 The Arizonan landscape is harsh, unique and magical. It is a complete escape into nature and the ideal spot for reflection before your baby arrives.
If a desert oasis sounds like your cup of tea, book L'auberge de Sedona's babymoon package. The fairytale atmosphere of this beautiful creekside resort is a mom-to-be's dream. The package even includes a baby journal for some much-needed reflective journaling in nature. The luxurious cottages with private balconies and panoramic views are pretty spectacular too. As well as the four-course creekside dinner.
Click here to see the latest prices for L'auberge de Sedona.
---
3. Nantucket, Massachusetts
This picture-perfect island with pristine beaches and postcard-worthy harbors has always been a popular getaway destination. It makes for a great babymoon vacation too.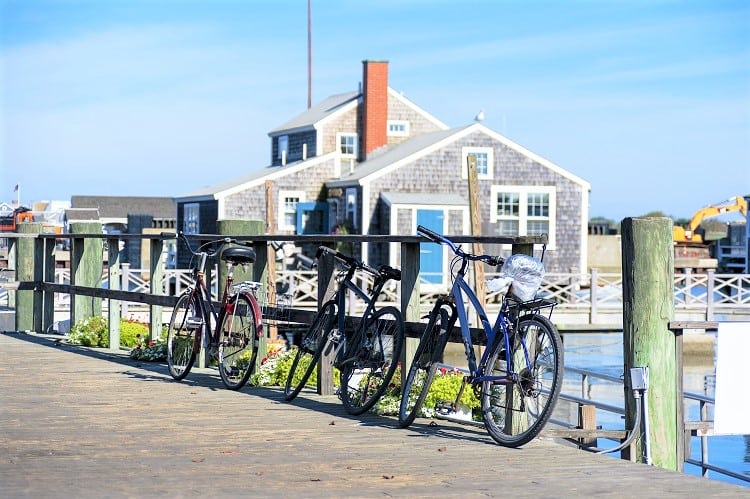 Picture strolling along cobbled streets, watching sailboats bob in the water while you munch on your third ice-cream of the day. Sounds wonderful, doesn't it?
Sitting alongside the harbor is the White Elephant Hotel, a sanctuary for babymooners. The hotel has designed a babymoon package which looks after mom and dad, and all the pregnancy munchies too!
Moms can enjoy massages on the onsite spa while dad puffs on a complimentary cigar. Afternoon cheeses and morning pastries will keep mom and baby fueled and happy.
Click here to see the latest prices for the White Elephant Hotel.
---
4. Lake Tahoe, California
The mild climate, sunny days, and endless holiday spots make California a fail-safe babymoon destination. In the interest of making your decision easier, our Californian pick is the sparkling waters of Lake Tahoe.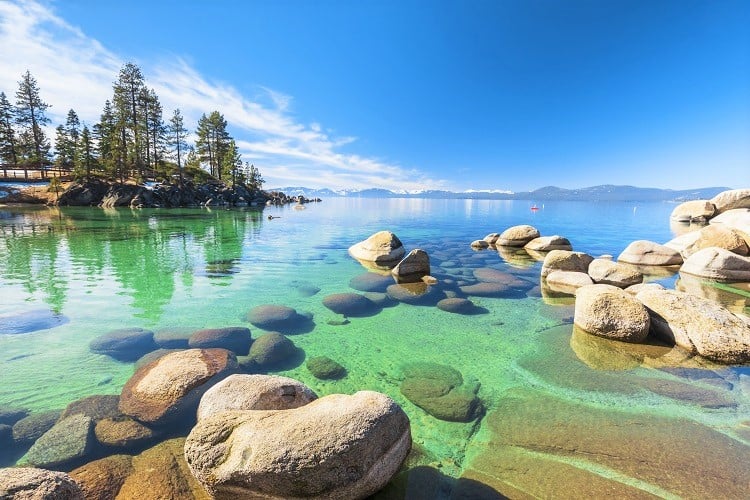 You can submerge yourself in the crisp mountain air and raw natural scenery – and you don't have to do it in a tent! Lake Tahoe is the sweet spot where rugged nature and modern luxury combines to give you a rejuvenating babymoon.
Roast marshmallows on the fire and spend your days picnicking by the lake. It's like your last childhood adventure before your own child arrives.
For a lakefront stay with everything you need, check out beautiful Beach Retreat & Lodge at Tahoe. Fur children welcome and unprecedented lake views. The on-site restaurant serves delicious food and you can sip exotic mocktails at the 'beach bar.'
Click here to see the latest prices for Beach Retreat & Lodge at Tahoe.
---
5. Charleston, South Carolina
There are two therapy methods that work for most women, even those dealing with a tornado of hormones. Retail therapy, and food. Charleston has both of these in abundance.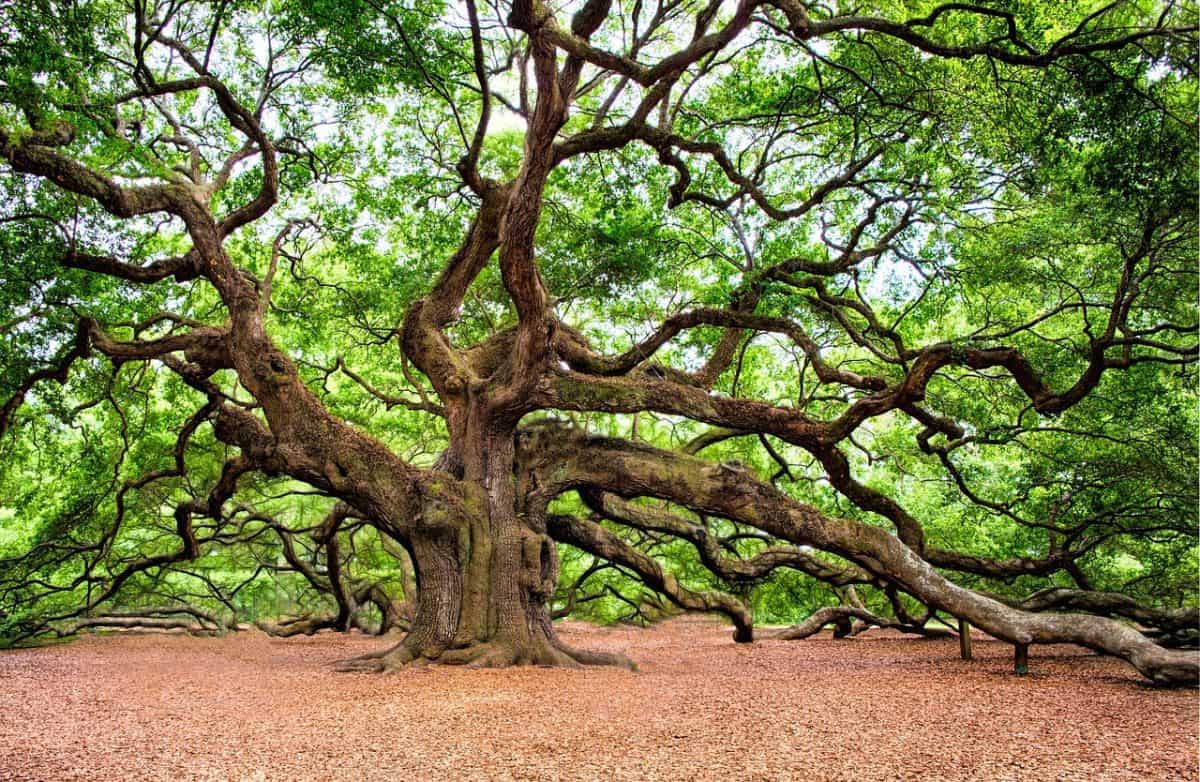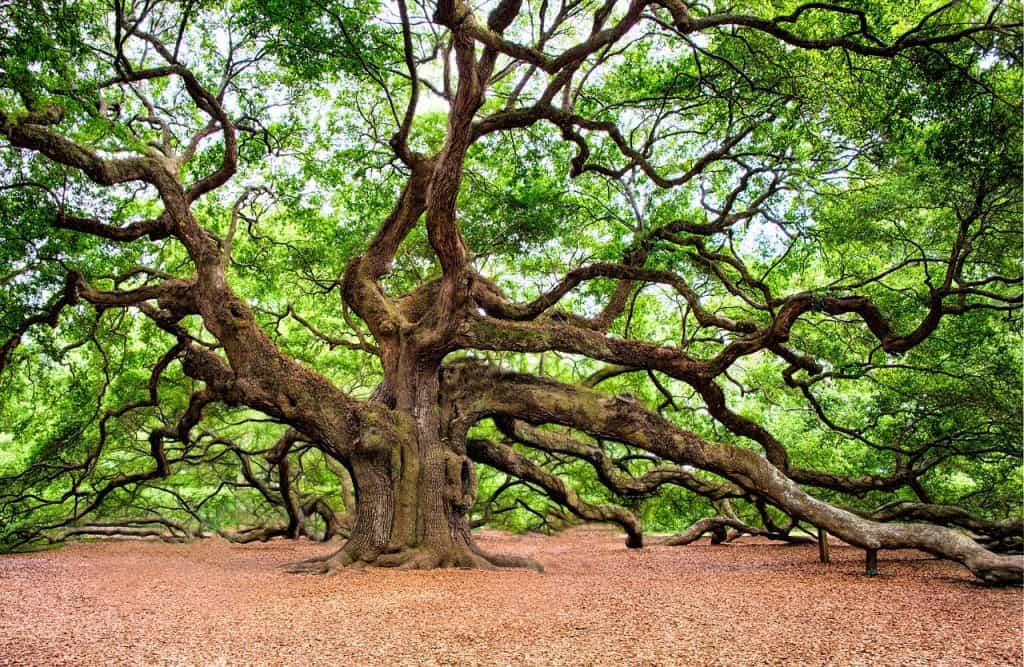 The southern charm and amazing food of historic Charleston make it a perfect girls-only babymoon destination. Take in the sights of the harbor, peruse the city market, and treat yourself to world-class restaurants – it's the best time when you're eating for two!
Now that we're on the subject of eating. Are you dealing with strange pregnancy cravings? Well, choose Planters Inn as your babymoon refuge to satisfy all of those.
You'll be welcomed with pickles and chocolate-covered strawberries (all non-pregnant people cringe now). And at turn-down, a 12 layered chocolate cake will be delivered to your room. Which you can eat in bed, in the bath, or wherever you please.
Click here to see the latest prices for the Planters Inn.
---
6. Savannah, Georgia
Babies are expensive. And brainstorming babymoon ideas can be intimidating if you're worried about whether it's the right thing to splash out on.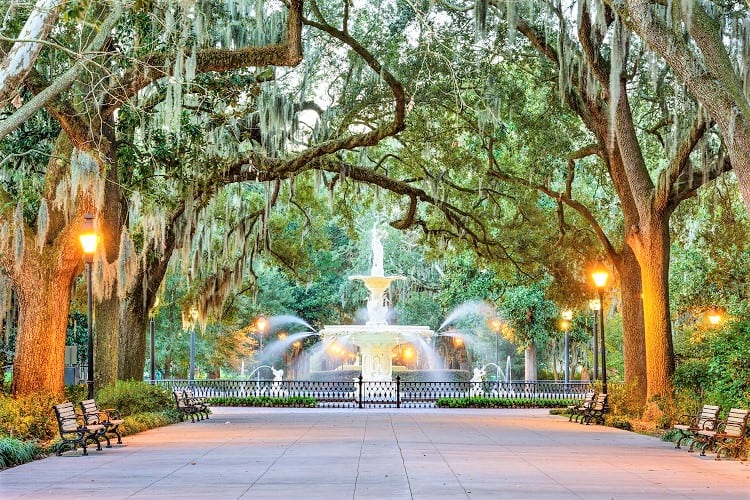 But Savannah has been rated one of the best affordable babymoon locations so that is one thing you don't need to worry about. The historic and quirky town is enchanting and oozes southern charm and good food.
For one of the best babymoon packages, Ballastone Inn has it all. Spa vouchers for prenatal massages and pedicures? Check. A tour of the city in a private horse-drawn carriage to take you off your pedicured feet? Check.
And of course, silver afternoon tea to wind down your day. Forget feeling like a princess, you'll be treated like a queen.
Click here to see the latest prices for Ballastone Inn.
---
7. Santa Fe, New Mexico
For the artsy mama's looking to immerse themselves in art and architecture, look no further than Sante Fe. Nestled in between the Sangre de Cristo mountains, the alternative and eclectic city is drenched in art galleries and museums. Simply walking around and admiring the unique Adobe architecture is a day well spent.
I think you've figured out by now that babymoons are all about the spas. When else can you justify endless massages and sauna sessions? Visit Eldorado Hotel and Spa for an authentic Santa Fe babymoon. It's a couple of minutes walk from the plaza, doable even at a waddle. And it's got the best brunch in town.
Click here to see the latest prices for Eldorado Hotel and Spa.
---
8. Vail, Colorado
A babymoon vacation in Vail will have you feeling like you landed in an alpine ski village somewhere in Europe. The quaint streets and Colorado peaks create a postcard-perfect destination with a serene ambiance.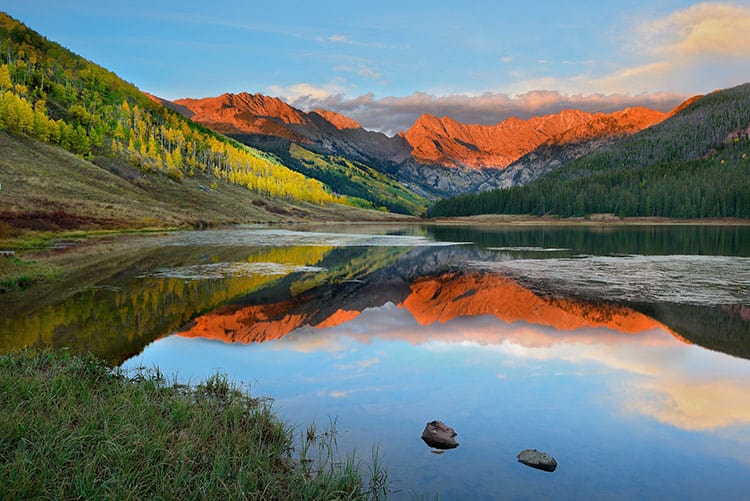 This gem of Colorado used to be difficult to reach but nowadays there are a ton of direct flights, so you can check ease of travel off your checklist.
The Vail Mountain Lodge & Spa offers a full alpine experience. In the heart of Vail Village, the lodge encapsulates the rich mountain atmosphere and has spared no luxury for guests. The fully-equipped wellness center is ideal for soaking and relaxing all day – guilt-free!
Click here to see the latest prices for the Vail Mountain Lodge & Spa.
---
9. Newport, Oregon
Newport is in an unbelievable location on the pacific ocean, with a background of the Coast Mountains and Yaquina Bay. The natural beauty is jaw-dropping and the views and fresh seafood are plentiful.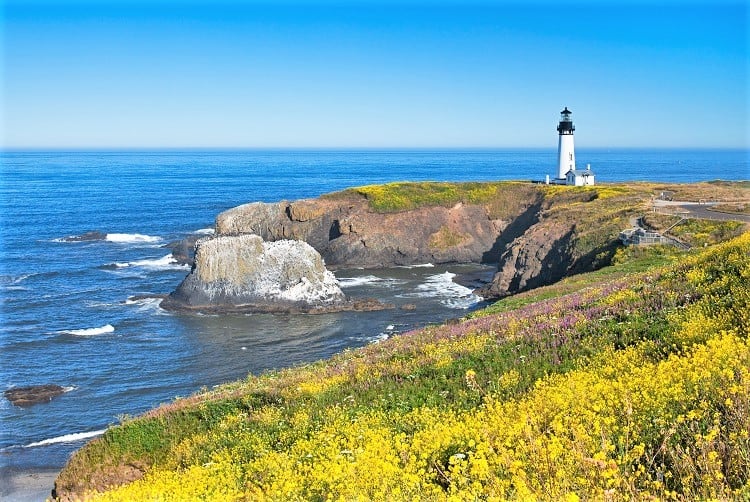 Strolling the long beaches and breathing in the fresh sea air while taking in the panoramic views is enough reason to make this your babymoon destination.
For a full pre-baby pamper experience, Ocean House Bed and Breakfast's babymoon package has thought of all the little things. It really focuses on upping the romance for you and your partner with S'mores and bonfires on the beach and a gourmet Northwest picnic.
Each room is tastefully decorated with sweeping views of the ocean. You'll probably struggle to find reasons to leave the building!
---
10. Asheville, North Carolina
Infamous for beer and adventure sports, Asheville probably doesn't make most people's babymoon lists. But if it's a little bit of pre-baby exploration that you seek, then it should be on your list.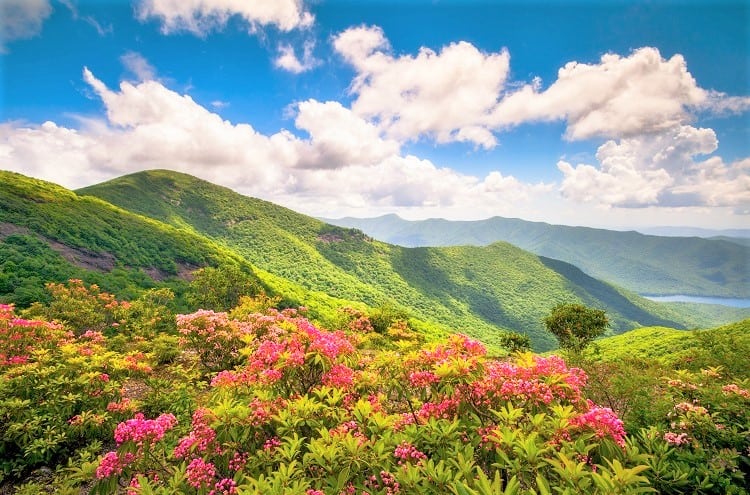 There are a number of well-maintained and leisurely hiking trails for outdoor lovers. And Asheville food tours for the would-be pub crawlers turned parents. Of course, it helps that Asheville is a spa mecca, with unlimited pamper options.
Maybe a spa on-site and beautiful grounds is more your style, so you can roll into bed right after your massage. A babymoon stay at the Omni Grove Park Inn includes stunning views of the Blue Ridge Mountains, a tranquil babymoon getaway.
Click here for the latest prices for the Omni Grove Park Inn
---
Your Babymoon Vacation is Waiting
We've covered the nature retreats and the charming towns perfect for your babymoon. All that's left is for you and your bump (and your tag-along of choice) to choose the best fit for you.
Focus on finding a spot that is going to suit your relaxation needs. Choose a hotel that is going to take care of you, and have a guilt-free time eating your way through your babymoon. With a couple of massages, of course. Soon you'll be scouting out for the best places to travel with a baby.
Tip: Check out our Babymoon destinations around the world here.