Often when people imagine an all-inclusive holiday, they imagine a budget trip with basic rooms and sub-par dining options.
Despite this, all-inclusive can mean luxury, it can mean action-packed or it can mean visiting some of the most exciting places on the planet. And what better time to do it than during the winter holidays?
The Best All-Inclusive Holiday Destinations This Winter
Whether you are looking for a sun-drenched getaway or a snow-filled trip, here you will find the best all-inclusive holiday destinations this winter:
1. Saint-Moritz Roi Soleil, Switzerland
Saint-Moritz Roi Soleil in Switzerland is one of the best cities to visit in December and the best places to visit in January!
Why? Well, it is one of the most incredible winter vacations in the entire world, and that is based on the views alone.
It's also the ideal getaway if you're looking for snow-related fun with skiing, snowboarding, and Nordic hiking tours available.
If Switzerland is on your list of places to visit, you will enjoy our post listing the prettiest places in Switzerland to see.
2. Mohonk Mountain House, New York
Mohonk Mountain House is a stunning historical building that dates all the way back to 1893.
As New York's most famous Victorian spa resort, it's the perfect winter getaway if you're looking for cozy Christmassy fun. It boasts its very own skating rink and a 39-foot-tall stone fireplace.
3. Vista Verde Ranch, Colorado
If skiing is your thing, then a winter trip to Vista Verde Ranch in Colorado will be ideal. Alongside skiing, you'll also have the chance to sleigh ride in the snow, go horseback riding, and snowmobiling.
After an adventure-packed day in the snow, warm up in a luxury log cabin with the help of some of the resort's all-inclusive alcohol options.
4. Twin Farms, Barnard, Vermont
Twin Farms is a luxury, 5-star, adults-only culinary retreat hidden away in the Vermont mountains, perfect for any food lover.
You will be amazed by the daily all-inclusive meals the chefs carefully and lovingly prepare. Make your stay even more luxurious by booking yourself in for a treatment at The Bridge House Spa.
5. Pragelato Vialattea, Italy
Another gorgeous winter wonderland is Pragelato Vialattea in Italy. If you choose to visit this resort, you will have access to 273 miles of slopes, 92 lifts, and 25 miles of cross-country skiing.
On top of that, you will be served top-class food at one of the resorts' three high-end restaurants.
6. Bellagio, Las Vegas
If what you want is a bit of glitz and glamour during your winter holiday, Las Vegas is the destination for you.
The Bellagio is one of the best all-inclusive resorts on the strip with gorgeous rooms, stunning views of the Las Vegas Valley and its very own casino.
There are plenty of romantic things to do in Las Vegas to make your holiday extra special with your partner.
7. Moon Palace Cancun – Cancun
Moon Palace in Cancun, Mexico is an opulent 5-star resort. It boasts a world-class spa, 16 restaurants, 12 bars, fitness centers, a golf course, an artificial ice rink, and a meditation garden.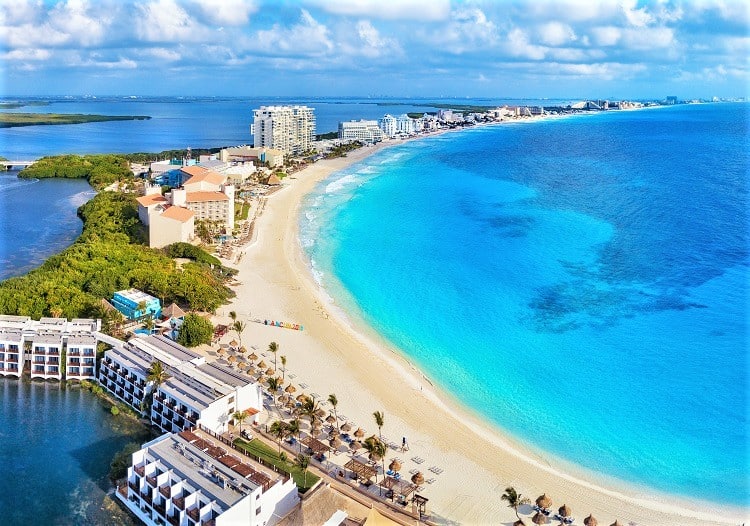 If all you're really looking for is a bit of sun, sea, and sand, you'll also have direct access to a stunning white sand beach and 120 acres of tropical grounds.
8. Isla Palenque, Boca Chica, Panama
If luxury is what you're seeking, then look no further than Isla Palenque in Panama. It's an upscale all-inclusive island resort offering top-class meals and non-alcoholic beverages.
When you visit this 400-acre private island, you'll be surrounded by mesmerizing beaches with breathtaking views of the ocean.
You'll also have the option to go on a selection of tours where you can visit native wildlife such as dolphins and whales.
9. Lizard Island, Great Barrier Reef, Australia
Lizard Island in Australia is a great all-inclusive holiday choice for any certified scuba divers looking for a warm winter vacation.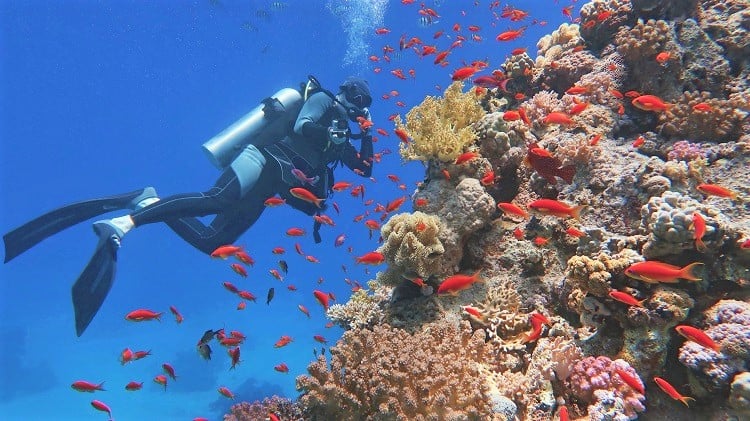 You'll have the opportunity to explore some of the most incredible natural wonders on the planet. It's also the perfect place for any seafood lovers, as your all-inclusive meals will often center around the catch of the day. Find out more about traveling in Australia here.
10. Mii Amo Spa, Arizona
Mii Amo Spa is an all-inclusive luxury resort with a major focus on health and well-being. It's an ideal destination for those looking to unwind and rejuvenate.
Your stay includes healthy food and drinks, essential supplements, and relaxing spa treatments. You'll also be given the opportunity to go hiking through the trails in Boynton Canyon accompanied by expert guides.
Subway Cave, Boynton Canyon, Sedona, Arizona, U. S. A.
11. The Caves, Jamaica
The Caves is one of the most incredible all-inclusive resorts Jamaica has to offer.
If you're looking for a sunny winter getaway, one of these thatched-roof cottages would be the ideal place for you. You'll also have the option to take part in various water sports such as snorkeling, kayaking, and cliff jumping.