---
Traveling with a baby can be exciting and tough at the same time. But before the hassle and the fun, comes the preparation part.
Most parents who are taking their young ones on a trip for the first time have to put in a lot of thoughts on the infant travel checklist so as to not get worried about forgetting important items back home.
It's even more surprising that a little baby requires more stuff for traveling than an adult, and this is what parents stress about more.
However, today, we will provide the complete baby vacation packing list so you can choose the most essential items for your infant.
Without further ado, let's jump right in!
---
Baby Packing List for Travel
Here is our list of helpful products to pack for your next trip with your baby.
1. Pacifiers
If your baby uses a pacifier/dummy, it's important that you carry more than one because there is a high chance of losing something so small while traveling. However, we do recommend carrying a clip or a string which you can attach to the baby to prevent losing it.
You know best which type of pacifier is your baby's favorite, so we suggest to always carry many of those instead of planning to buy a new one at your destination.
Carrying a pacifier will also be very helpful when the fight takes off as it will relieve the ear pressure so they won't cry, otherwise feeding with either breast or bottle will also work.
Also, keep in mind to carry pacifier wipes because it is unlikely you will always find a place to clean the dummy when traveling if it gets dirty.
Check out these pacifiers here.
---
2. Diapers and Diaper Pouch
While cloth diapers are perfect at home, they become inconvenient to carry around when traveling. Therefore, disposables are a must as you won't need to think about the extra cleaning hassle.
Besides disposables, maintain a bag with you because there will be times when there are no trash cans around. Keep the used diapers separately inside the bag and discard it off when possible.
Make sure to carry diapers more than what is required to prepare for delays and other inconveniences.
Check out these diapers here.
---
3. Portable Changing Mat
With diapers checked off the list, it's time to get one changing mat which is easily portable.
A changing mat will be of great help while traveling since there will be times when diaper changing is needed, perhaps in public places. So, you can lay your baby down on the mat and finish changing faster.
Make sure you find one which has several pockets so you can keep new diapers ready at any time the baby needs a nappy change.
Check out this portable changing mat here.
---
4. Travel Bassinet
Ensuring that your baby sleeps peacefully and properly is a must. For this, you will need to have a bassinet which you can lay down the little one any time they fall asleep.
In case you already have a lot to carry, there are flights which provide baby bassinets, so you can request for it beforehand. Or better yet, find one which is foldable to make your load lighter.
Although hotels provide cribs for babies, it's much better if they sleep where they are used to.
Check out this popular travel bassinet here.
---
5. Pre-Measured Laundry Detergent
Traveling with children makes happy memories and brings many fun experiences, but it often comes with a lot of surprises too. For example, you may need to urgently wash baby clothes in the laundry room, or even by hand.
It is inconvenient to carry large bottles of liquid detergent around and you certainly wouldn't want any to spill into your luggage.
Therefore, an excellent travel solution would be a well-sealed, pre-measured laundry detergent based on herbal ingredients, which will perfectly cope with any stains and dirt on your clothing and your children's things.
These sachets are small, lightweight, and will easily fit in your pocket, making them perfect for travel.
Check out this pre-measured travel laundry detergent here.
---
6. Baby Blanket
A baby blanket will do more than just keeping your baby warm during cold nights. It can be used as a sheet to protect your baby from the sun as well. Besides that, you can cover yourself with it while breastfeeding.
Any blanket will do as long as it fits inside the bag with all the other items.
Find our more about this baby blanket here.
---
7. Baby Carrier
When traveling with an infant, a baby sling or carrier is one of the most important items to add to the baby travel packing list.
Whether on a plane or public place, your baby is safer and more comfortable in a carrier than anywhere else. You also will have your hands free to do some work or carry something.
Even if you dozed off on the plane, there's nothing to worry about since your baby will be right beside you.
Check out this baby carrier here.
---
8. Car Seat
This is probably one of the baby travel items which consumes a lot of space, but its use is as important as the others since it will assure that the infant sits comfortably during long hours of flight and traveling.
Moreover, it will also save you the backaches of carrying your child for a while throughout the journey.
Tip: Check out our recommendations for the most popular baby travel car seats (FAA Approved).
Take a look at these baby car seats here.
---
9. Clothes and Other Clothing
Preparing clothes for a vacation with infant is different than what is normally required at home. It's always important to make sure there is enough for changing in case of vomiting and pooping. Extra socks, shoes and other baby clothing should not be left out.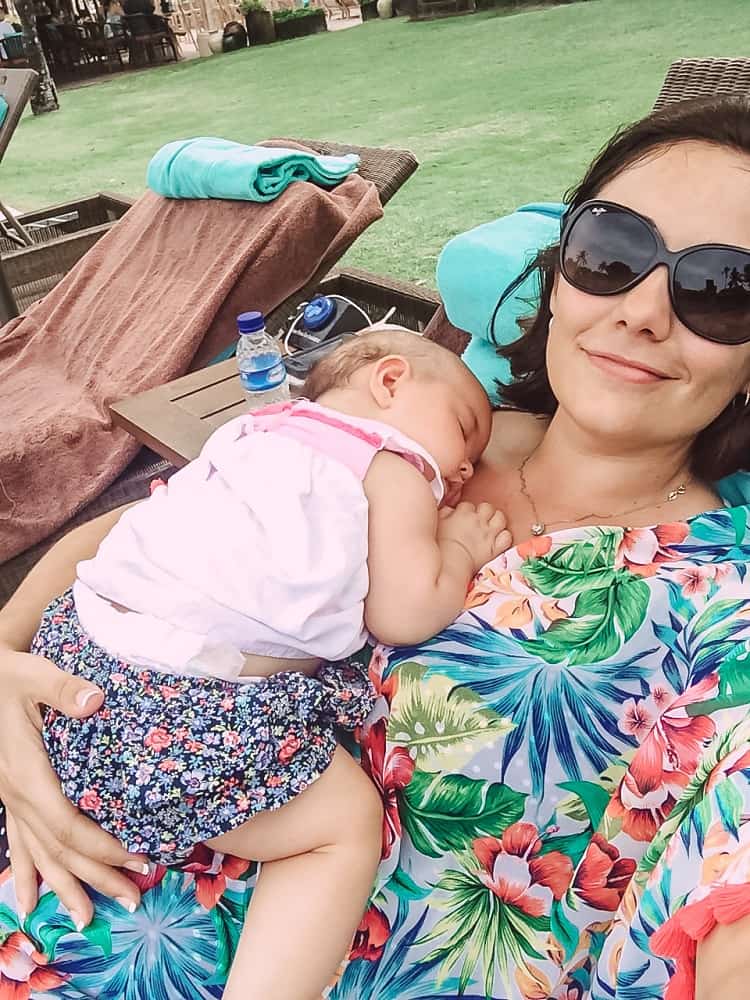 When packing clothes for your child is done, don't forget about yourself too. Always make sure you carry extra clothing as well in case the baby does its business on you.
Find out these baby clothes here.
---
10. Wet Wipes
If there's anything you shouldn't forget besides the basics, it's wet wipes.
Baby wipes are essential for trips because they replace the need for water and soap.
They can be used to clean the baby's bottom after a diaper change or simply for wiping off vomit. Just be sure to carry a lot of these because you might need to use them as well.
Find these baby wipes here.
---
11. Drool Bibs
Drool bibs or burp cloths can help prevent changing of clothes too frequently when the baby vomits. Remember to always make your baby wear one all the time and not just after feeding.
It's good to carry more than one but a more convenient option when traveling would be carrying a silicone bib which can be cleaned easily, unlike cloths.
We highly recommend including this to your baby travel checklist. Rather than standing up on the plane every time your baby burps, you can use a wet wipe instead.
Check out these drool bibs here.
---
12. Multi-Purpose Stroller
A stroller is yet another big essential item to take with you while traveling with baby. Since you'll be carrying a lot of things already, it's a good idea to take a stroller so it can ease your trips at the destination.
Keep in mind to find a stroller with big wheels because it's easier to push. Also, remember to find one which you can store multiple baby items to lighten your carry load.
Find out this multi-purpose stroller here.
---
13. Baby Care Products
While traveling, we suggest carrying products in little tubes or bottles.
Take along only important products like a diaper cream to prevent your baby's bottom from developing rashes, a baby wash, baby lotion, and hand gels. If there are products that your baby needs daily, carry those as well.
Check out these baby care products here.
---
14. Sun Hat
It's always a good idea to carry one sun hat to shade your little one during hot days.
Find out this baby sun hat here.
---
15. Baby First Aid Kit
It's crucial to take a first aid kit along every time you visit a new place. Your baby is exposed to a new environment, and that means they could get sick anytime.
The baby travel kit should at least contain baby Tylenol, diaper cream, nasal aspirator, gripe water to help with an upset stomach, and baby thermometer.
Check out this baby first aid kit here.
---
16. Video Baby Monitor
To ensure your baby gets the right amount of sleep is very important while traveling so they do not end up feeling uneasy and start crying.
And as we mentioned earlier, babies sleep better where they are used to and when it's quiet. Hence, that's where the video baby monitor comes in.
Since most of the time they wake up to the slightest of noise, having a video baby monitor instead of going to check on them time and again might be a very good idea.
Find your baby monitor here.
---
17. Portable Blinds
Again, to make sure your baby sleeps peacefully after long hours of traveling, we've included portable blinds. These are lightweight and consume very little space.
They can be used in hotels where the room receives a lot of sunlight and you have no control over it in order to shade your baby while sleeping.
Moreover, the reason why you can include these to your baby traveling checklist is that they stick easily to any glass surface without leaving marks behind, hence, assuring your baby a sound sleep during the day.
Find your portable blackout blinds here.
---
18. White Noise Machine
Another item that can help your baby get proper sleep is the white noise machine.
It's understandable when infants become uneasy after being surrounded by noises everywhere. But white noise can turn things around and sooth your baby to help them fall asleep in a matter of minutes.
Since it is small and light, this would be a perfect item to add to the baby travel list.
Find your white noise machine here.
---
19. Muslin Cloths
When it comes to cloths, you're probably wondering what to pack when traveling with a baby. The best ones we would recommend are muslin cloths, highly preferred by most mothers out there.
You can use a muslin cloth for many purposes such as laying it over your shoulder when burping your baby, covering yourself when breastfeeding in public, and generally wiping your little one clean. It will prevent you from having to change baby clothes every now and then.
They also take very little space which makes them perfect for traveling.
Find your muslin cloths here.
---
20. Travel Seat Harness
If you want to make a chair safe to place your baby while in a restaurant or any other public places, carry a baby travel seat harness. It will prevent your baby from falling off.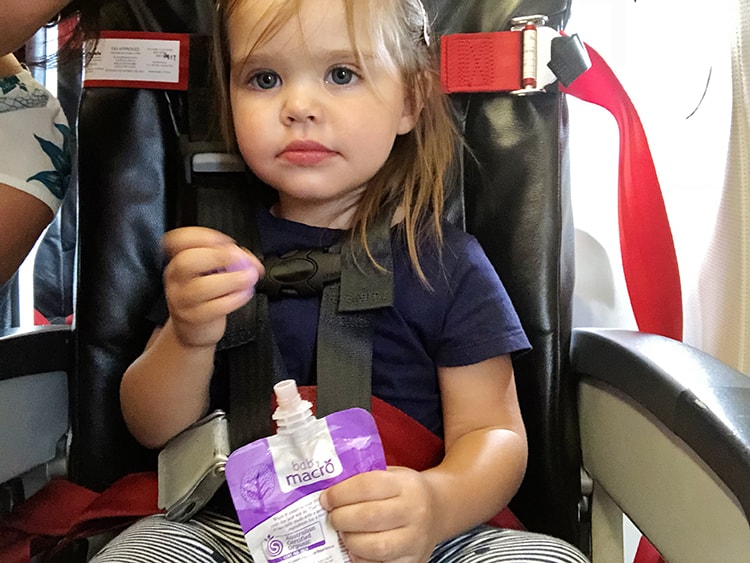 Another way to make good use of it is to place the harness on your lap while feeding your child. It's suitable for babies who are old enough to sit, although not totally mobile on their own.
Tip: You can also check out other alternatives as well as harnesses.
Find your travel seat harness here.
---
21. Sterilizing Bags
These bags should be one of the top baby travel essentials as they are necessary for keeping feeding items clean.
Be it in a restaurant or hotel room, you can use them for sterilizing baby bottles, pacifiers, and droppers.
Find your sterilizing bags here.
---
22. A Flask
Make sure you always keep one small flask inside the baby traveling bag. That way, you can warm up the food while on a plane.
There's no need to fill it up from your home because they might ask you to empty it at the airport. However, you can later request a flight attendant to fill it with hot water.
Find your flask here.
---
23. Manually-Operated Food Maker
One very helpful item to add to the packing list for baby is a manually-operated baby food maker.
With this, you can just buy food and fruits while on the road and instantly make fresh food for your child. This ensures your baby eats only healthy food rather than processed options.
Find you manualy-operated food maker here.
---
24. Toys
It is a great idea to carry a couple of your baby's favorite toys so they become engaged playing with them throughout the long journey. Their favourite toy is also a good distraction to keep them from crying.
Check out these baby toys here.
---
25. Traveling Bag
Finally, to keep everything in place, get a bag that has multiple compartments so you can organize all essential items and save some time looking for what you need.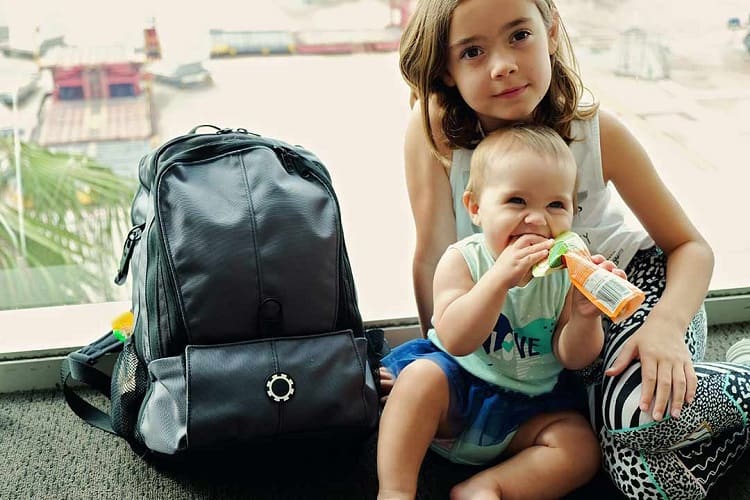 Tip:  Check out our favorite backpack to travel with.
Find your traveling bag here.
---
26. Other Items
Besides all the above we've mentioned, here are a few things which you may require to pack too:
---
Conclusion
And there you have it! We hope you found our guide of packing list for baby helpful. Make sure not to carry too many unnecessary things as they will only make the load heavier.
Happy travels!