So you are off to the beach with your baby and I bet you are wondering what you should pack to ensure that you have everything that you will need for your day out.
Packing your bag is a bit of a balancing act. You want to have everything on hand that you might need but at the same time, you don't want to carry more than you have to either.
We are fortunate to live 5 minutes from the beach so supplies are always close by, but the last thing anyone wants to do is to break up a day of relaxation and play in the sun, to pop back home to grab something that should have been in your bag.
So here is our list of essential items to pack in a baby beach diaper bag. (You can also find our handy summer holiday checklist for adult gear here too) You can also grab our FREE PDF to print off for your bag by signing up below.
Baby Beach Bag Checklist
Find below our checklist on what to pack in your diaper bag when you head to the beach.
1. A Sunhat, Rashie & SPF Swimwear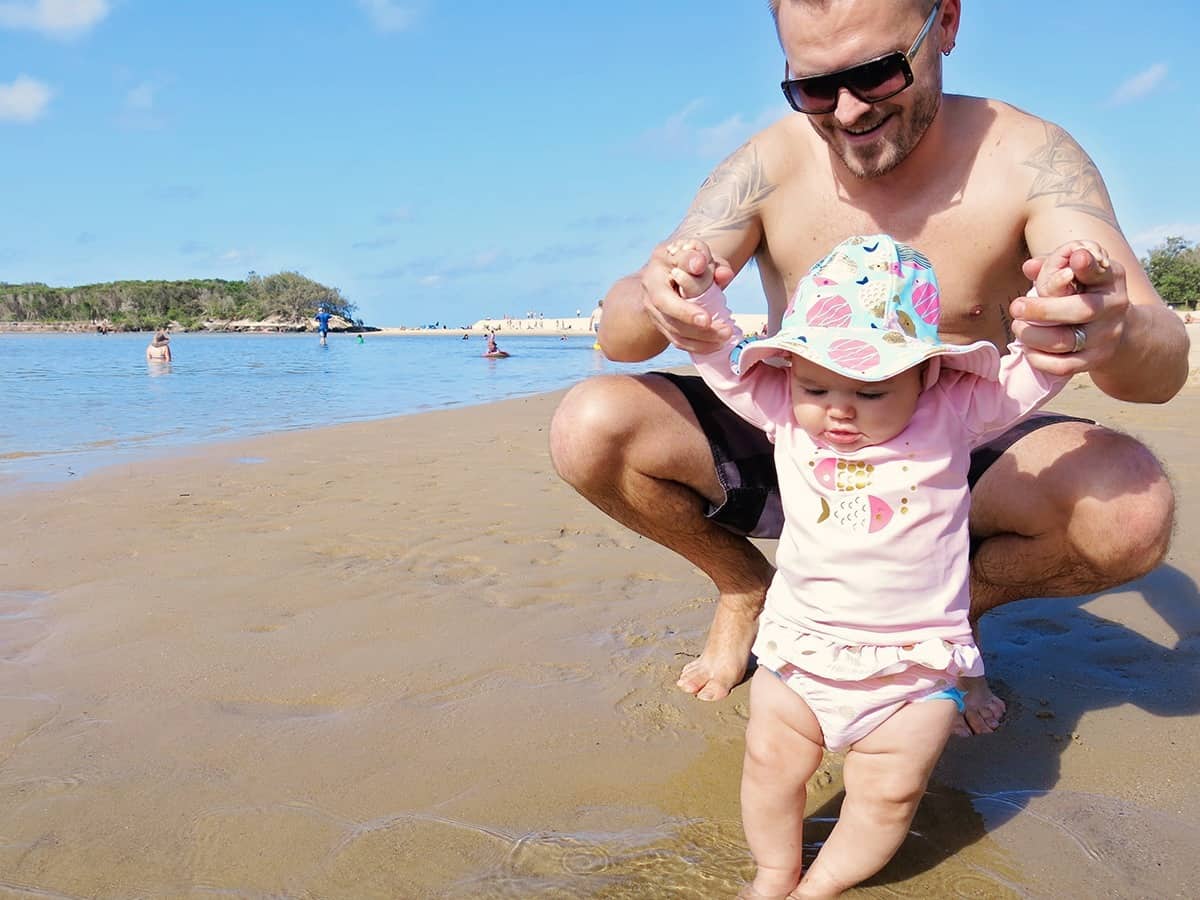 We all know how sensitive a baby's skin is and it is important to know that you can only use sunscreen on a baby over the age of 6-months.
So you really want to go the extra mile to protect them from the sun. You might even want to take along a tent for shade as well. Click here to see a list of some great baby UV tents.
We never leave home without a sun hat. Rashies are also great. Firstly they help to protect baby from the skin and secondly it also helps to protect baby's skin from harsh elements such as sand.
And lastly, look out for swimsuits that offer SPF protection as well.
Don't forget to pack your own swimsuit as well, if you are like me you might have picked up some weight after being pregnant, so grab yourself a few swimsuits for curves so that you can feel confident and comfortable on the beach.
And most obvious, keep sessions in the sunlight short and sweet.
2. Baby Sunglasses
Now we all know that baby's skin is sensitive, but so are their eyes. Keep baby's eyes happy and protected with some baby sunglasses.
You can find some great options for sunglasses that wrap around baby's head so that they don't fall off easily.
3. Swim Diapers
Normal diapers swell up like a bowling ball when they absorb water, so make sure to pack some good quality swim diapers.
You can either grab some disposable ones or invest in some super cute reusable swim diapers.
4. Baby-Friendly Sunscreen
Make sure to bring along some baby-friendly sunscreen if your baby is over 6-months of age.
It is important to check the ingredients of the sunscreen and we highly recommend you purchase a brand that has been specifically designed for babies.
We love the Thinkbaby Safe Sunscreen brand. It has an SPF 50+ rating and we love that the ingredients in this sunscreen are all safe to use on a baby. You can read all the parents' reviews on this sunscreen here.
5. Diaper Clutch
Leave your everyday diaper bag at home and grab your diaper clutch instead. A diaper clutch is brilliant for day outings. They typically have a changing pad, together with a special place for a few diapers and a small container of wipes.
6. Hooded Beach Towel
We loved hooded baby towels. We use them at home for after bath time as well as when we go swimming.
7. Baby Formulae/Food/Snacks/Water
Don't forget to pack food, formulae, and snacks for your baby (depending on what stage they are up to). If you are breastfeeding it is also important to pack snacks and loads of water for yourself as well.
8. Wet Bag
Wet bags are fabulous and we always have one close by. Pop any wet or dirty items inside, zip them up and then throw it in your big beach bag. Things will get wet.
Wet bags are fabulous as they are reusable.
9. Baby Powder
One of those fabulous baby beach hacks! The easiest way to get sand off your baby. 
Forget about rubbing the sand off with a towel, this will annoy and aggravate your baby's skin. Rather sprinkle on some baby powder and gently wipe away the sand instead.
Try it out, it is like magic!
10. Spare Clothes in Ziplock Bag
We always keep our clean set of clothes in a ziplock bag to ensure that it stays sand-free.
11. Waterproof Blanket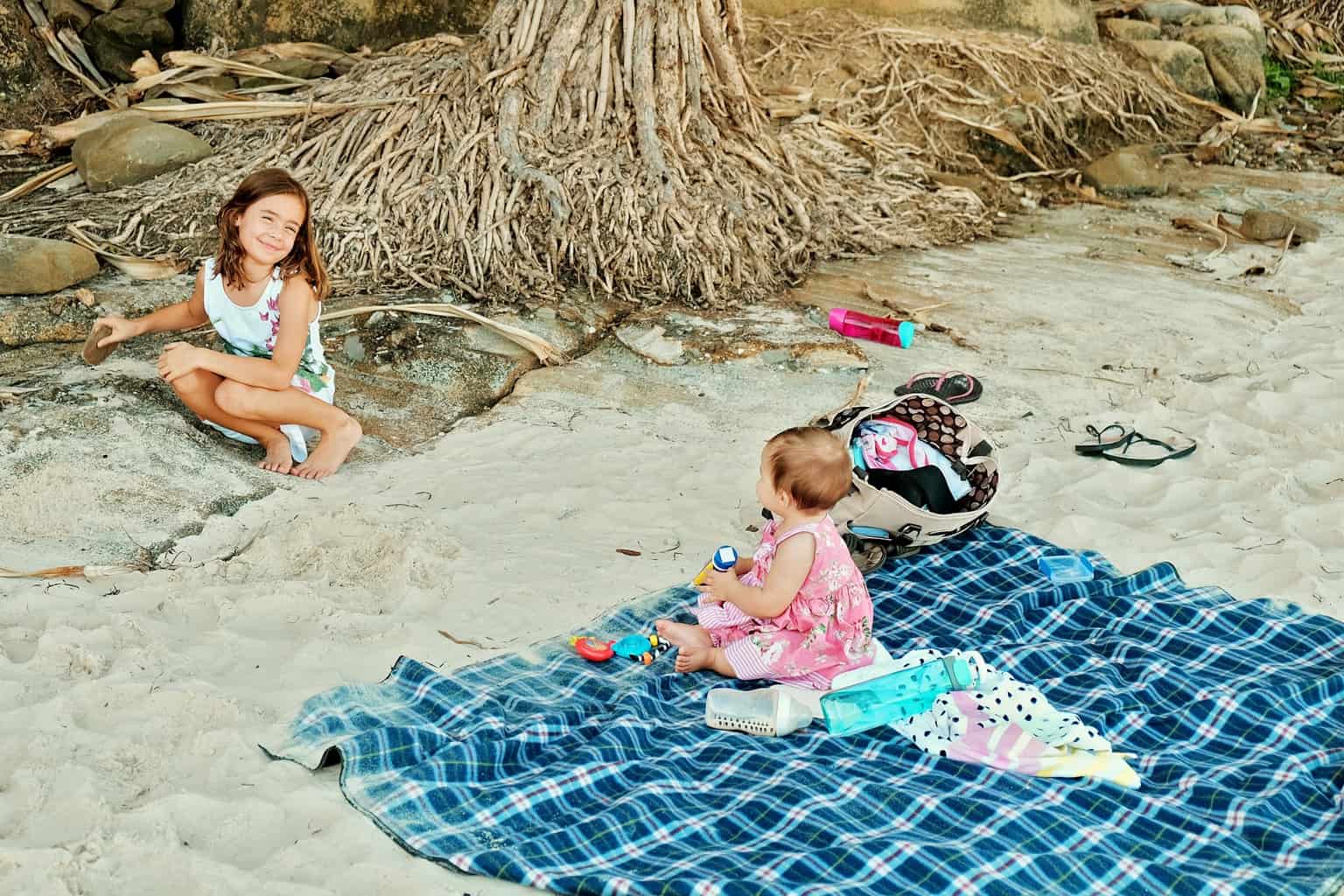 We prefer throwing out a nice large blanket for baby to play on rather than struggling with single towels. Try to find a waterproof and no-sand blanket.
Tip: Check out what is the best beach blanket for sand here.
12. Toys in Mesh Bags
We love taking some toys in cheap washing mesh bags. That way you can shake all the sand loose. If you would like to read more about what toys we take along, hop over to our beach gear for a baby guide.
13. Disposable Tidy Bags
Disposable bags are great for dirty nappies, soiled clothes or half-eaten snacks. We always have some on-hand.
We love taking our baby to the beach and she always loves being there. I think she finds it soothing as she tends to always be a good mood whilst we are there.
We always have our beach bags (one for her and one for the rest of the family) ready to go.
14. Baby Water Shoes
It is important to take baby beach shoes with you on vacation if you are going to the beach.
Baby water shoes and baby swim shoes will protect your baby's feet from hot sand, sharp shells, and slippery rocks so they can enjoy the beach safely.
Browse through our list of the best baby beach shoes here.
Heading on a beach vacation? See our list of the best travel items for baby vacations here and the list of water friendly baby carrier options here.
Do let us know if you love packing something in your beach diaper bag that we haven't thought of here?