New Zealand is one of the most spectacular places in the world. And for a reason! The diverse scenery, unique wildlife, stunning fjords, ancient glaciers, amazing wine, and cultural richness make visiting New Zealand an outstanding experience.
If this wonderful country is the next place you're going to visit, then don't worry. You have plenty of great activities to choose from once arrived.
6 Fun Activities To Do In New Zealand
Today, we will show you 6 things you have to try while staying in New Zealand.
Are you ready? Then let's see our list!
1. Go on a Hike
Without a doubt, New Zealand is a paradise for hikers. Regardless of whether you are a professional hiker or someone new to hiking, you will find loads of amazing trails to try throughout the country.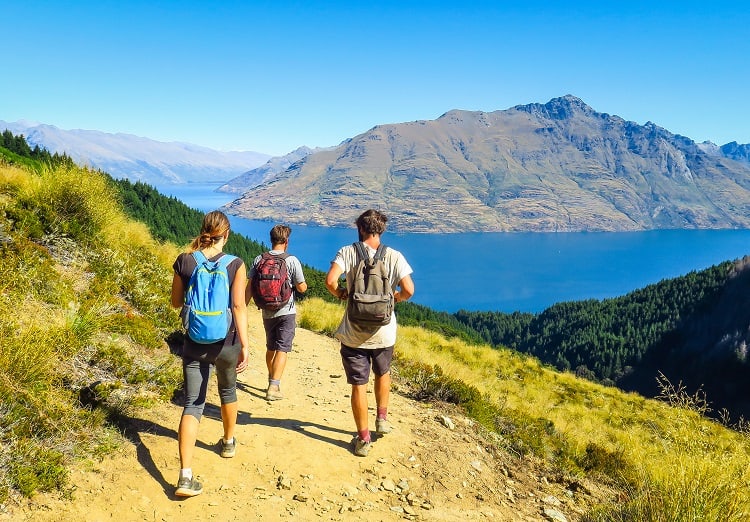 In fact, there are thousands of trails in New Zealand that vary in both length and difficulty levels. With so many great tracks, understandably, you might find it challenging to decide which one to try during your stay.
To help you decide, let's review one of the best day hikes that many tourists enjoy, the Tongariro Alpine Crossing.
This track is among the best 10 single-day hikes in the world. It's located in New Zealand's oldest national park, in the Tongariro National Park.
It's not surprising that this trail is so popular among tourists since hikers have beautiful views over the volcanic landscapes. Plus, if you choose this hike, the track will take you to the stunning place of Mordor. Yes, Mordor from The Lord of the Rings!
The Tongariro Crossing can easily be done in a day even if you are a beginner hiker. For most people, it takes about 6-8 hours to complete the 19.4 km (12 miles) walk.
2. Spend a Night in a Hut
If you are a real adventure seeker, then spending a night in a hut is a must-do activity for you while exploring New Zealand.
Staying at one of the wonderful mountain huts can be beneficial for you also in that case if you are planning to go on a multi-day hike.
Since there are over 1,000 huts in the country, you have lots of options. However, make sure to do your research prior to your journey because mountain huts vary in shape, size, price, and of course, availability as well.
While some of them may even be available on the day of your arrival, others can be fully booked weeks in advance.
3. Try Your Luck at the SkyCity
If you are looking for something to do whilst in New Zealand for older kids, why not try your luck at some local gaming venues such as SkyCity Auckland?
Whilst it's not Vegas, this place will certainly provide you with some much-needed relaxation and perhaps a little thrill as well.
However, if you are staying in a city where there are no brick-and-mortar venues or are on the go road-tripping around NZ, you can still have some good time via some of the popular sites listed here.
4. Swim with Dolphins or Go Whale Watching
Many people dream about swimming with dolphins once in their lives. If you are also one of them, then in New Zealand, you can make this dream come true as well!
One of the best places where you can see some dolphins is Kaikōura, a small town on the east coast of South Island. Indeed, Kaikōura is among the top tourist destinations in the country.
Here you can swim with playful dolphins (or simply watch them), or go whale watching at this magical place. Regardless of which one you select, one thing is sure: visiting Kaikōura will be an unforgettable experience for you!
5. Go on a Bird Watching Tour and Spot Some Rare Birds
New Zealand is well-known for its beautiful native bird species. While you are visiting, try to spot at least a few of these rare birds.
You can even go on a bird watching tour where with the help of a local bird guide, you can admire some of the world's most unique bird species.
One of the most popular birds you should not miss out on is the kiwi, the country's national emblem. Although kiwis are rare and quite hard to spot, you can find 5 different species of kiwis in the wild across New Zealand.
Besides kiwi, here are a few other native birds you might want to look out for:
Kea
Tui
New Zealand pigeon
Weka.
6. Visit Milfoard Sound
Milford Sound is one of New Zealand's most amazing natural attractions, a fjord located in Fiordland National Park. Many people even call it the "8th Wonder of the World".
But what is waiting for you at Milford Sound? Beautiful mountain peaks, forest-clad cliffs, several temporary and 2 permanent waterfalls!
Interestingly, for centuries, people could visit this stunning place only by boat or on foot. Nowadays, it's much easier to reach this remote location. You can get there both from Te Anau or Queenstown.
Most tours at Milford Sound include cruises. However, there are many other activities you can try there, such as kayaking or scuba diving.
Final Words :
There you have it! These 6 activities are all the awesome and fun so you should definitely try them while staying in New Zealand. We wish you a safe journey and a fun vacation when you arrive!