We love going on a hike. Every time I strap on a back pack, I fill it with all the essentials and with a camera ready, I know that we are about to experience something really cool! That way you can truly connect with nature, smell the air, absorb the surroundings until the heart is content.
Ubud is known to have the best rice fields in Bali and that is what attracted us to this area in the first place. Spectacular scenery, luscious green fields and a mosaic of cascading terraces. What is not to love?
Our Ubud walking tour with Buffalo Tours was the perfect way to explore the famous places and the best way to do it was with a local Ubud tour guide! This way you can really learn about the area, gain the knowledge about the local customs and have a first-hand insight into the secrets of the land. Our guide knew it all and he was more than happy to answer all the million questions that Lily had asked him. Haha..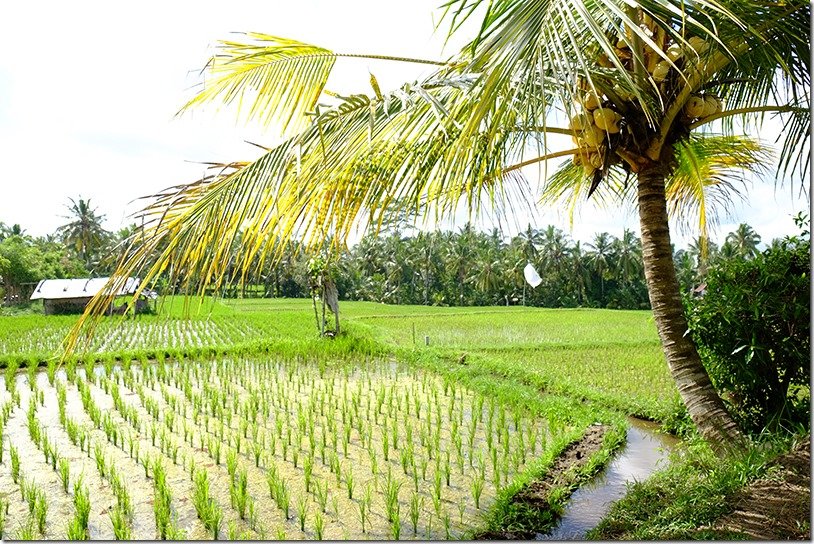 Let me tell you about our experience of Ubud and our totally incredibly Ubud walking half-day tour!
Ps: This is the second time that we have partnered up with Buffalo Tours.
—
Campuhan Ridge Walk Tour, An Incredible Trail Through the Terraces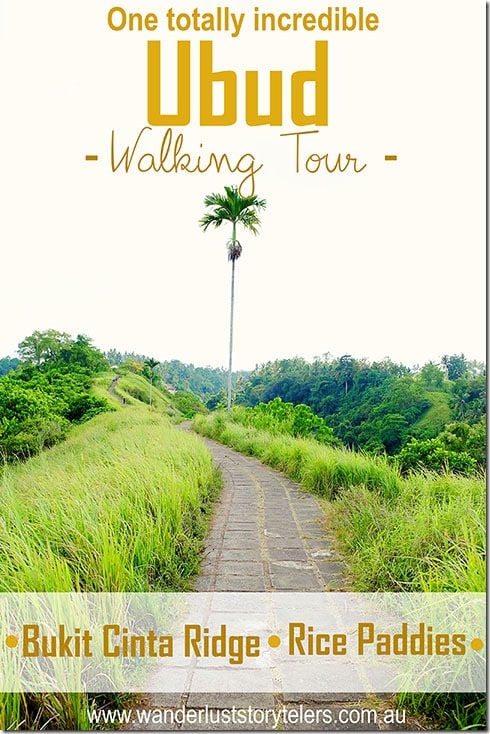 –
Bukit Cinta, the famous Campuhan Ridge Walk
Our tour started at Payogen Village. The driver picked us up from the Ubud hotel we were staying at, The Payogn Villa Resort & Spa, and dropped us off to the village. Payogen village is a small community, with houses dotted along the main road and green rice fields stretching in between them. The little village is known for its gorgeous Cafes, such as the popular Karsa Kafe, as well as for its arty stalls that line the streets as you walk past.
After only a short walk down the main road, you will find yourself at the gateway to the famous Bukit Cinta Ridge Walk! This walk happens to be easier from this direction as you miss out on most of the hills when you choose to do the walk from Ubud's side. This part of the walk is around 2km and is fairly easy to do, our kids managed just fine! I think it took us around 1 hour to walk this section (and we stopped heaps to taken some gorgeous photos!)
The very famous and popular Campuhan Ridge Walk is a gorgeous walk along the Bukit Cinta hills. Believe it or not but this walk is within close proximity to the crazy busy streets of Ubud. It was great to escape the masses of tourists, scooters, and cars in central Ubud and find some peace here amongst one of the most gorgeous hillside outlooks in the whole region! We were lucky to have a clear day, so enjoyed views all the way to Mount Agung.
When we were there, it was hot, it was very hot! The humidity and the heat on the ridge can get to you, so make sure to bring hats and possibly cover up with an umbrella. I had Avie strapped to my chest in a pouch and she was OK none the less. Katie and Lily were happily skipping along and as I mentioned, Lily was full of questions about absolutely everything! Lucky we had such an incredible tour guide who adored all her questions and answered them in a way that she could understand!
I love that Lily asks all the questions. Sometimes she will ask about things, that I would not have thought of and that way I can learn something totally new and unexpected. Katie was preoccupied with taking her own photos and I love that too! She is our eldest daughter and I am happy to say, that she is becoming a pretty cool travel blogger herself. Cannot wait to see some of her stories on our website one day. Would she be the youngest travel blogger?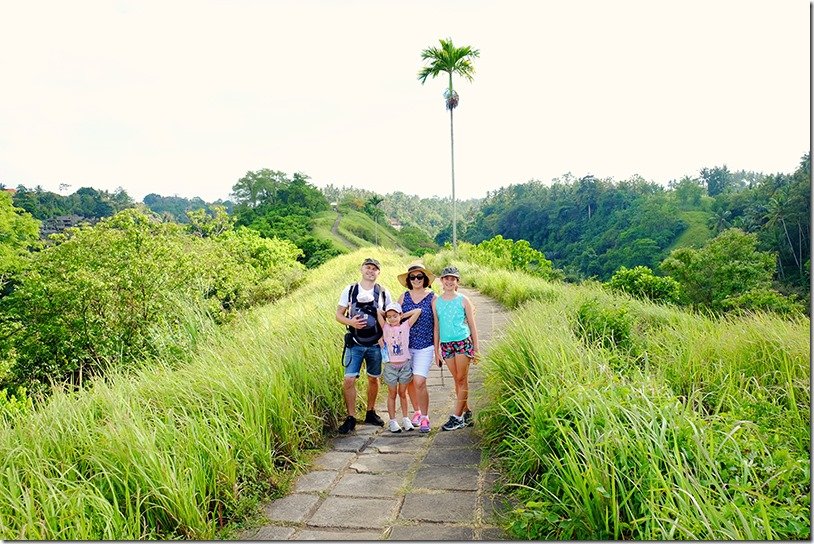 Bukit Cinta Ridge Walk is hot, but it is very cool! The paved pathway takes you along a narrow ridge walk. On both sides of the path, the drop is quite steep. Deep down below, on the left side of the ridge, there is a river that supplies the local villagers, however, there is no way the water can be pumped all the way up to the top. We also saw areas down the embankment where the tall reed grasses were cut down to be used for the thatched roofing. Yup, I wouldn't like to be the one carrying the straw all the way up to the top. Hard work, I tell you!
The end of this section of the walk is signaled by a glorious temple, the Gunung Lebah Temple in Ubud! We loved observing the details in carving here and our tour guide took the time to explain to us how the temples in Bali are typically set out in three sections. The outer courtyard which is the symbol of the world of spirit. The middle courtyard which is the symbol of the world of the human being and the inner courtyard which is the holiest area and the symbol of the world of God.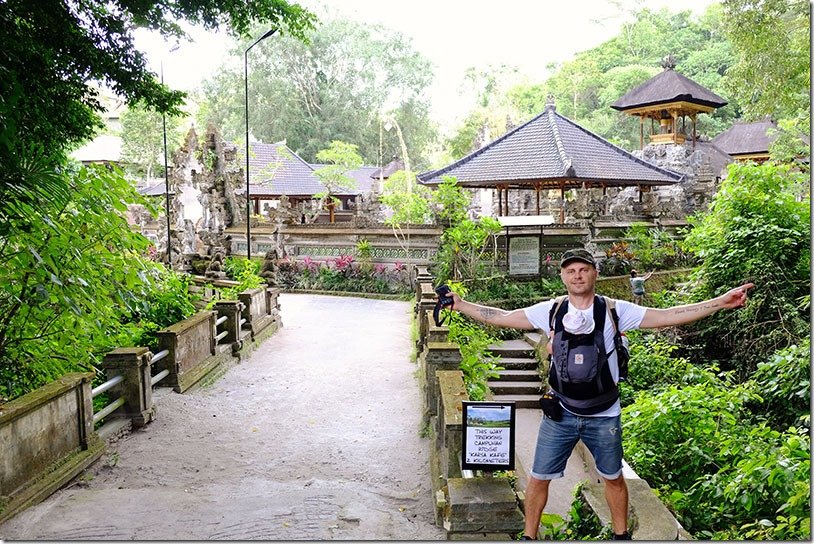 –
Sari Organik
Halfway through the Ubud walking tour and at the beginning of the trail through the terraces, we stopped at the famous Sari Organik restaurant for a snack and a drink.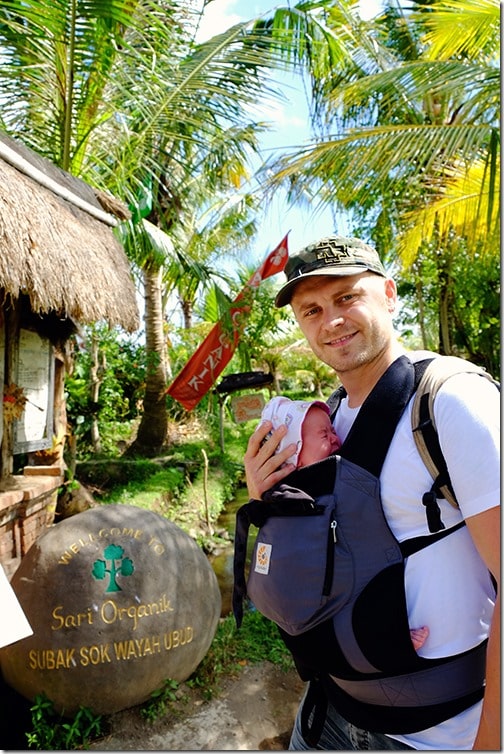 A set menu is included in the tour. You will get a plate of your choice of some local organic specialties and a yummy and refreshing drink from the selection.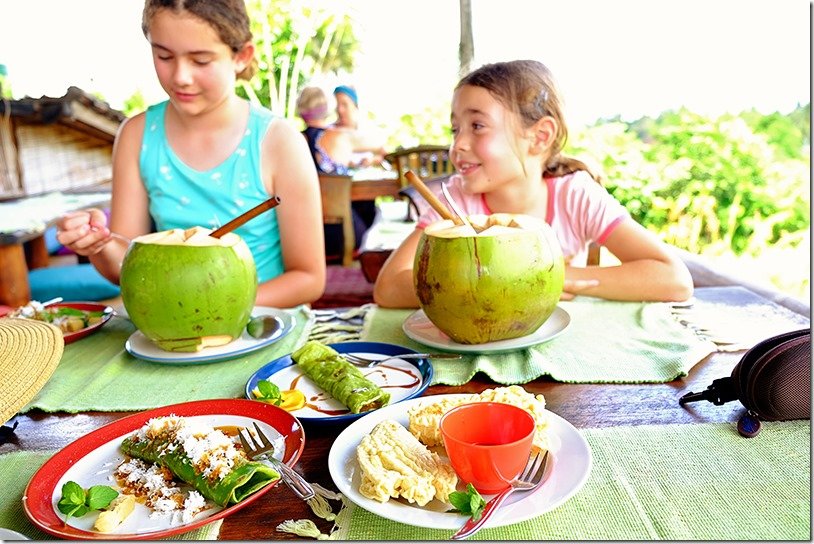 And what a setting! Cool breeze cooling us down after a long and hot walk. Backdrop over the rice paddies was easy on the eyes. As I recall correctly I tried everything on offer. Yes, I pinched some from our kids to taste test. I had a fresh coconut water straight from the coconut, but I think my wife's ginger spiced drink was insanely delicious! Also, I tried the goodies from all our plates, including banana pancakes, roasted bananas, and some refreshing ice cream. YUM!!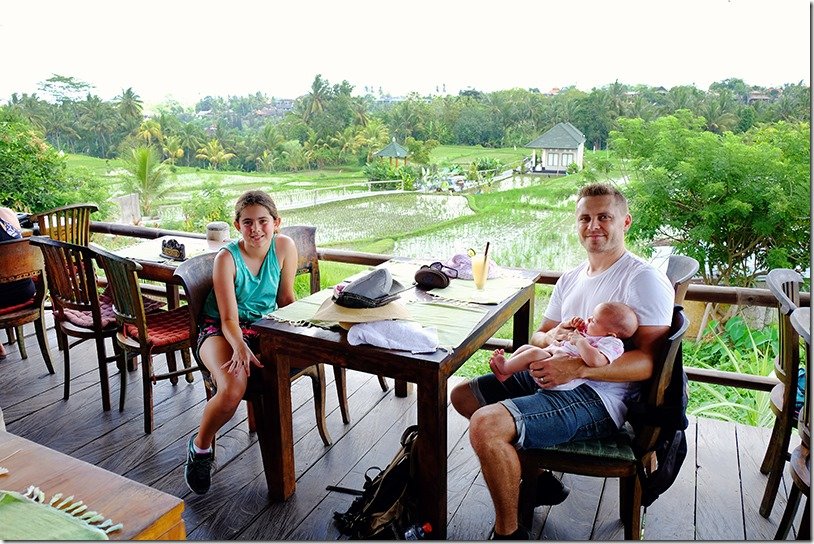 We loved Sari Organik! It is a such a cool place to chill out at and indulge in some local specialties! Perfect spot!! Throw in some pillows by a typical Balinese style table, few of your besties and views over the rice fields. Doesn't get much better than that!
–
Ubud Rice Field Walk
Ubud rice field walk is something that was high on our list of things to do in Ubud from the very start. There is so much hard work that goes into the planting, growing, and harvesting of rice! The main purpose of the fields is of course for food production. All of the rice produced here is supplying the locals with a way to survive.
Even though you can easily do this walk by yourself, there is an immeasurable value that comes from having a tour guide accompany you as you learn so much about how the people live. We learned all about the harvesting process, about how they have to share the water for the fields. We learned that each community has a leader and that messages from the leader are still communicated by way of a messenger that goes from door to door. An incredible sense of community that is found here.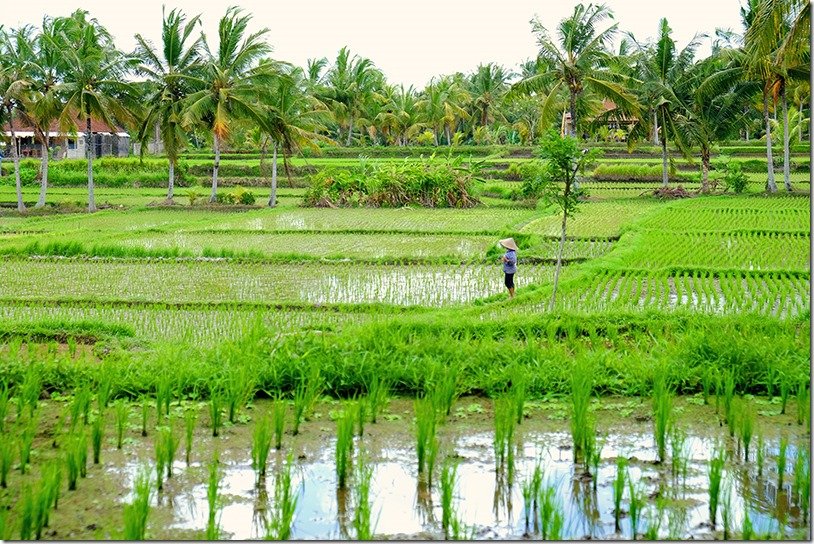 To us, as foreigners and thanks to the Bali rice fields tour, we got to enjoy these fields for their spectacular beauty! It doesn't matter if you see the rice fields in a golden colour or in a vibrant green as we had a chance to see them here in Bali, it is an unforgettable sight.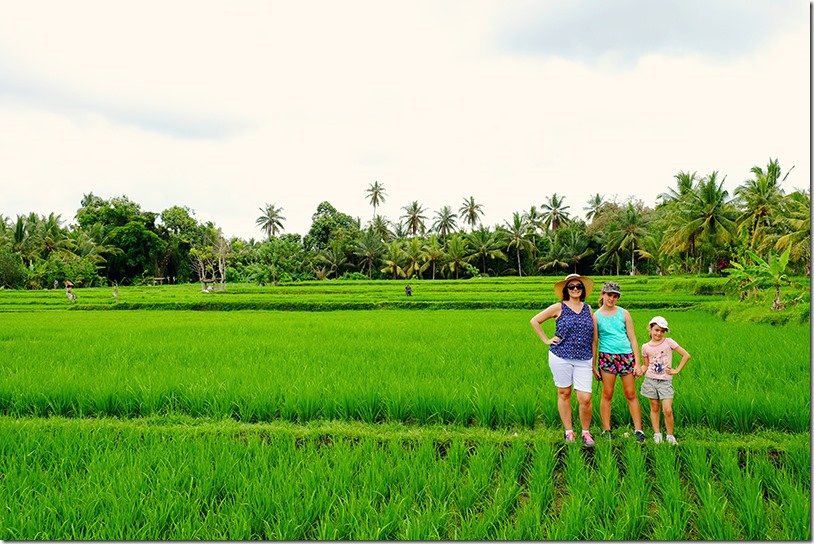 If you have never seen one up close, you might be asking us as to why the Ubud rice paddy walk is so beautiful and spectacular? Well, the answer is easy!
It is like walking in a green sea of luscious wonderland. Haha… Yup! That's how I describe it, ok? Enough said? Well, you will just have to check it out for yourself! It is truly awesome!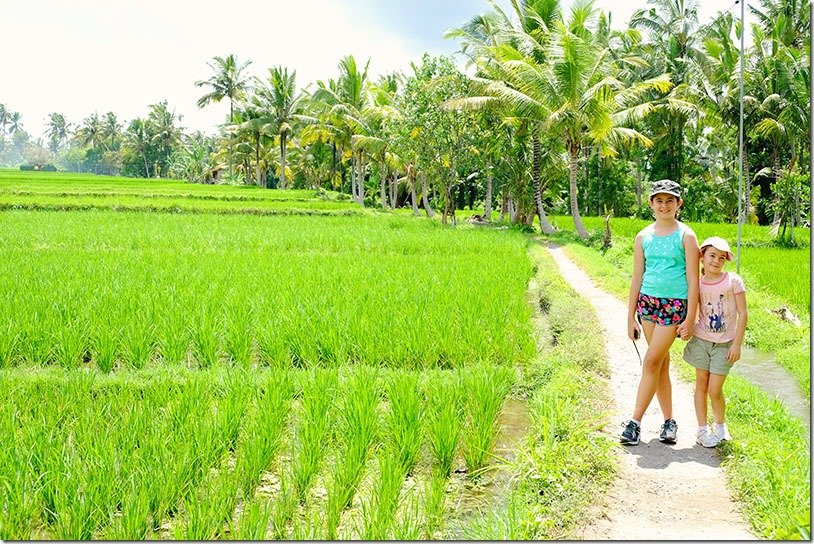 Here you will walk down the pathways surrounded by the palm trees with magnificent views beyond them. Here you will spot few friendly locals working their fields. Little cafe's, homestays and yoga pitstops line the way. Every now and then jumping out of the way of a local scooter squeezing past on the narrow little lanes. It is fun to watch them go, we even watched them move all their supplies for building a new building on these scooters – bags of sand, boulders, you name it … you can make it fit on these 2 wheelers.
Here you will find just a little bit of peace, away from the hustle and bustle of your otherwise busy life. Certainly, that is what we have found. We found a little bit of time out from reality, a bonding experience for our family and an opportunity to connect closer with the amazing Ubud landscape.
–
Lunch
All the walking in the hot sun does take it out of you and you need to refuel your batteries. Our tour guide took us to a really cool restaurant located by the rice fields. Just another perfect setting to finish off the walk! What can I say? Awesome Balinese cuisine on offer and served by the most friendly staff.
The set menu lunch was included in the tour as well. I tell you, you will be looked after on this tour and your taste buds will be satisfied.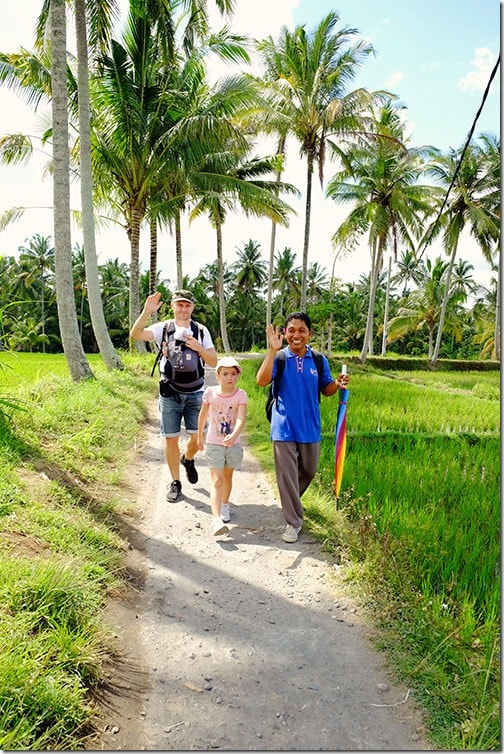 With sore feet, well fed and loaded with information and inspiration for more tours, we were picked up by our driver after we finished our lunch. Driving back in a comfy and air-conditioned car was pretty awesome after a half a day of walking and sightseeing in the Balinese heat. A perfect way to finish a perfect tour!
–
This Ubud walking tour and (especially to us) the trial through the terraces will always remain in our memory as one of the coolest things to do in Bali! Maybe it is just us, because we do enjoy the nature so much and we always want to learn more about destinations we visit. Or maybe it is all of us. I think that sometimes we all need to escape the busy life and reconnect with nature and the best way to do it is with your loved ones. We loved our tour with Buffalo Tours!! Hope you will love it just as much as we did!
–
For more posts on beautiful Ubud:
–
Over to you:
Which part of the Ubud walking tour captured your interest the most?
Which photo was your favourite from our experience?
–
Wanderlust Storytellers recently experienced Ubud walking tour as guests of Buffalo Tours. As always, the content & opinions expressed here are entirely our own.