Airports are stressful places at the best of times. If you are traveling as a family they can be excruciatingly painful.
Yet with this airport survival guide and a bit of planning, there are ways to ensure your holiday begins before you get onto the plane, not at the destination.
Many airports come with family-friendly areas to make the experience enjoyable for all and today we will look at some airport tips to make the journey a bit easier. You can also grab some excellent tips here on how to keep occupied on a long-flight flight.
Airport Survival Guide & Tips for Families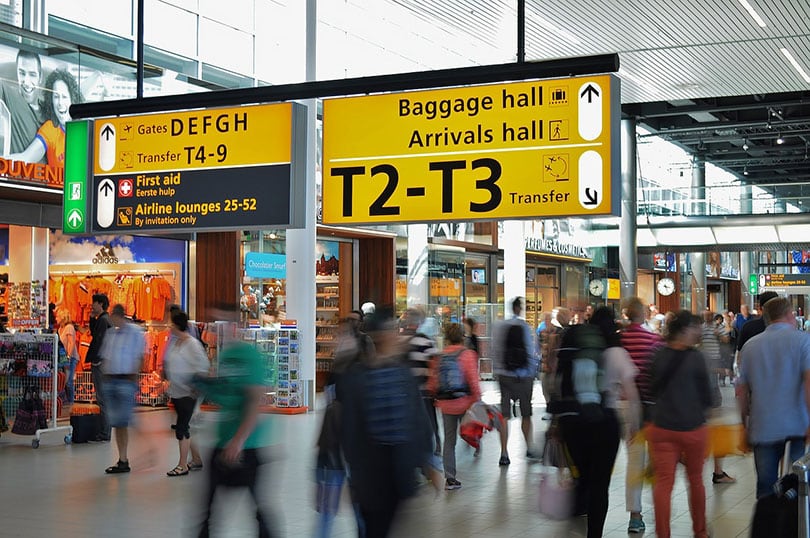 Prepare in Advance
Prepare your journey in advance and don't leave anything to the last minute. Grab our free pre-travel checklist to check and double-check before you leave.
There is nothing worse than arriving at the airport having forgotten something important. Websites such as My Kids Time provide online checklists for one month before, one week before, and the day before.
Reduce the Stress
Arriving at the airport with your family can be very stressful. Parking spaces are often hard to find near the terminal and transporting luggage can be very taxing. Yet with a bit of preparation, your arrival at the airport can be stress-free.
Many airports will have services that will be convenient for your needs. For example, if you have a very early or late flight, airport parking company Parking4Less recommends checking in to an airport hotel whether it's nearby or on-site. That'll give you some extra breathing space to relax with your parking sorted and in close proximity to the airport.
If you are traveling with a baby, we also highly recommend that you invest in a great backpack-style travel diaper bag, so that you have your hands free to deal with tickets, customs, and bag checks.
Find Airport Kids Areas
Most airport terminals have dedicated areas for children. It is best to check on the airport website or travel sites to see what is available. For example, Family Vacation Critic made a list of the top ten kid-friendly airports in the USA.
This list included the airports with the best play areas and family restrooms such as Chicago Airport which has an interactive playground called "Kids on the Fly."
Keep Your Kids Away from Boredom
Children get bored very easily and airports are generally not very interesting. Even adults get bored, and we have airport bars. One way to combat this is exercise.
Most terminals are fairly large and will have quite a few shops. If you promise to buy your child something this might distract them for a while.
For older kids, a device such as a tablet is a great way to entertain them for a couple of hours. For once be glad that your children want to play computer games.
Another great tip that we have is to keep a printed copy of our 50 really funny knock knock jokes for kids in your carry on bag.  Pull them out when the kids start driving you crazy, it is a great boredom buster!
We hope this post has helped and informed you about what to consider on your next journey with the family. And hopefully it will be a little more stress free this time around.
Over to you:
Do you have any airport tips to add?
Which of these tips from our airport survival guide did you find the most beneficial?
Tip:
Disclaimer: This post was contributed by Bridgitt Smith