Are you looking for the most luxurious and affordable Airbnb Sunshine Coast has to offer?
If the answer to the question is yes, then this Luxurious Poolside Apartment in Sunshine Cove Maroochydore (Airbnb Sunshine Coast) is the perfect place for you! This beautiful apartment is perfectly situated in the heart of the Sunshine Coast and conveniently located within a short drive from the coast's most popular golden sand beaches.
Not only can you indulge in all the activities that the area has to offer, you can also spend a relaxing and blissful day chillaxing in your luxurious apartment, or swim in an Ozone (freshwater) 15-metre lap pool. Sounds good? Then let me tell you more!
–
Why you should choose this Sunshine Coast Airbnb!
Location
The apartment is located in a peaceful and a brand-new suburb of Sunshine Cove in Maroochydore on the Sunshine Coast, Queensland. Here you can enjoy strolling around the picturesque parklands and check out the lake.
This Sunshine Cove Airbnb is located only a 10-minute drive from the most popular Sunshine Coast's beaches such as Mooloolaba beach and only a short 10-minute drive from the Sunshine Coast domestic airport via Sunshine Coast Motorway.
The apartment's convenient location allows you for a quick access to all of the necessities such as a local supermarket, specialty shops, great international cuisine at many of the local restaurants and much more.
–
The Apartment
Your Sunshine Cove Luxury Poolside Apartment is a fully self-contained and architecturally designed ultra-modern very spacious one-bedroom place. Although it is situated on the ground level of a house, be assured that the apartment is private and comes with its own secure entrance.
Bedroom
The bedroom comprises of a comfy queen-size bed, spacious cupboard and it is air-conditioned as well. This space faces away from the main area of the apartment in order to ensure a good night sleep.
Living Area
The lounge room has a very inviting and comfortable two-person sofa bed, which faces a 55" LCD TV for those relaxing nights in. The area is also furnished with a desk, where you will find a folder filled with Sunshine Coast's recommended activities and dining suggestions.
Kitchenette and Dining
Your kitchenette is equipped with all of the essentials and more! These include a microwave, slow-cooker, electric fry pan, kettle, toaster and even a coffee machine that grinds fresh coffee beans. And I got to say that the coffee is delicious!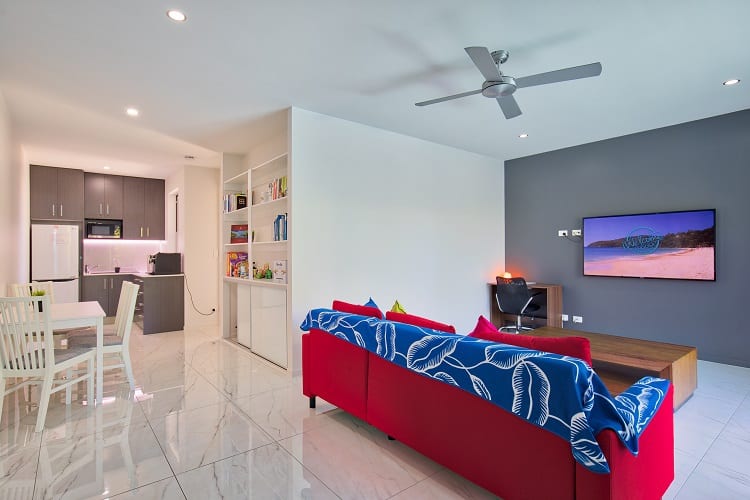 To get you started when you arrive, you will find additional extras to make your stay more relaxing. The fridge is stocked up with essentials like milk, yogurt and a selection of other complementary items. You will also be provided of course with fresh coffee beans, tea, and sugar.
The dining area joins the kitchenette and the living room. Here you will find plenty of storage and a selection of books as well.
The Pool
The key focus of this Sunshine Coast accommodation is the Ozone (freshwater) 15-meter lap pool. Your main living area opens up to the private patio, where you will find two comfortable sun loungers and a medium-size drinks refrigerator for your personal use.
The pool is heated, so you can swim in it till your heart is content regardless of the season or the time of day. Please note that the pool is a shared area for both guests of the Poolside Apartment (only) and the owners.
Extras
For when you are staying in the apartment with young kids or babies, you will be provided with a baby cot and a selection of kids toys.
For those adventurous types, make sure to try out the kayak provided for guests of the Poolside Apartment. That way you can explore the lake and the canal from a much more enjoyable perspective.
If you are in need of any additional information, such as help with dining suggestions or to figure out directions around the Sunshine Coast, the owners are readily available to help via text message or a phone call throughout your stay.
–
Surrounding Area
When you are staying in the Sunshine Cove, you are in a prime location for easy access to a variety of fun activities, spectacular hikes and Sunshine Coast hotspots.
Here are some suggestions of things to do around the area:
Stunning Mooloolaba Beach – lazy around the beautiful golden sand beach, bask in the Queensland sun and relax by the bluest waters of the Pacific Ocean. This amazing beach is only a short 10-minute drive from your apartment.
Check out the best Sunshine Coast lookouts – take a day trip and explore the Sunshine Coast from a different perspective. These locations will be easiest to get to by car and some require a bit of a hike.
Spectacular Walks – You can choose to go for a bit of a climbing adventure and check out Mt Ngungun at the majestic Glass House Mountains (about 30-minute drive from the apartment), or the very popular Mount Coolum (only 15-minute drive from the apartment). Alternatively, you can take an easier road and choose from a number of stunning coastal walks.
Explore the Sunshine Coast Hinterland – Sunshine Coast is famous for its beautiful hinterland and it's quirky little towns such as Montville and Maleny. Make sure to check out the Kondalilla Falls.
–
Our final verdict about this Airbnb in Sunshine Cove
We loved staying at the Luxury Poolside Apartment. As we travel with kids, including our little Avie, we were pleased that we were provided with the baby cot and that we had plenty of space to unwind. The apartment was very stylish, modern came at a very affordable price. The highlight for me was yummy coffee and chilling out by the pool after a busy day of exploring and playing around on our favorite Mooloolaba Beach!
–
How to Book
If you are after one of the most modern and affordable holiday accommodation Sunshine Coast has to offer, then this Luxurious Poolside Apartment in Sunshine Cove is the best pick for you!
> Check rates and availability
–
Leave us a Comment:
What got your attention about this Airbnb the most?
–
Disclaimer: Special thanks to Luxury Poolside Apartment in Sunshine Cove for hosting us for our stay. As always, the content & opinions expressed here are entirely our own.