Just north of Sicily in the Tyrrhenian Sea, the Aeolian Islands are a unique Italian paradise.
The seven islands that make up this area were formed from volcanic origins – creating uniquely beautiful landscapes. With black-sand beaches, volcanic craters, and a lush Mediterranean coastline, these islands near Sicily in Southern Italy are truly amazing destinations.
Each island is completely unique, offering different experiences wherever you go. Here's our complete guide to the UNESCO-protected Aeolian Islands, Italy, to help you have an unforgettable trip.
How to Get to the Aeolian Islands?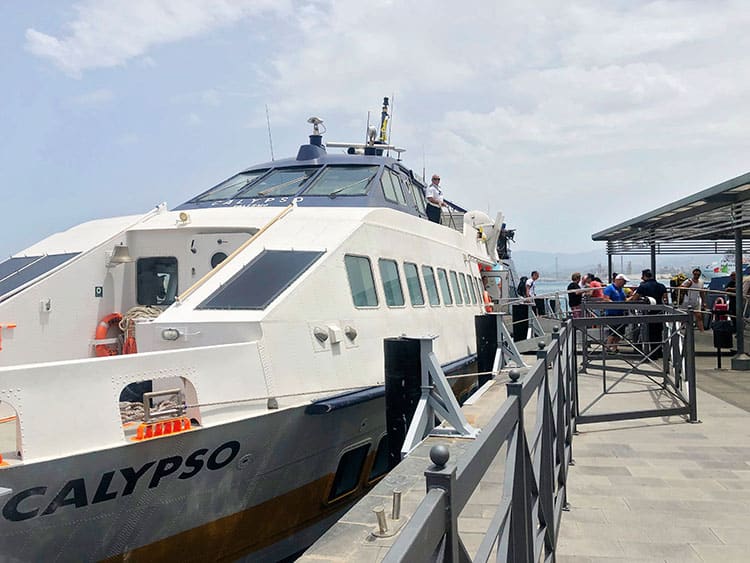 These islands off the coast of Sicily can be reached by fast hydrofoil boats. The most popular way is to take the boat from Milazzo in Taormina. There are 10 boats daily, with the journey to Salina taking only 1.5 hours.
Boats also depart from Messina (3 boats daily), with the journey taking 2.5 hours. During the summer months, there are ferries to the Aeolian Islands from Palermo (3.5-hours), and Naples (5.5 hours).
Once you reach the islands, there are various options for getting around and between them. We explored the islands with a hired boat, which was a fast and fun way to do it! You could also take a ferry between the islands.
Click here to book a guided day tour to journey between the Aeolian Islands.
How Long to Stay on the Aeolian Islands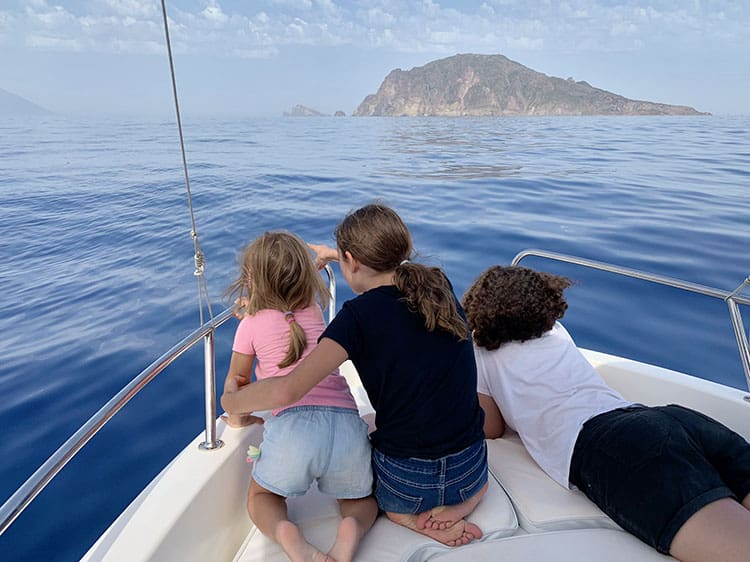 Many people choose to experience the islands through a day tour. This is a great way to easily see the different islands and towns available. However, with so much to explore on these islands, we would have to recommend spending some time here.
In order to really see all that is on offer, we recommend spending at least 3 nights. This gives you enough time to do some exploring, and soak up the different island atmospheres. There are also plenty of great Italian places to stay on the islands.
5 Aeolian Islands to See
With seven islands and many uninhabited islets, there is so much to see and do. Choosing which islands to visit can be tricky, as they are each so unique. Here is our guide to the different islands.
1) Vulcano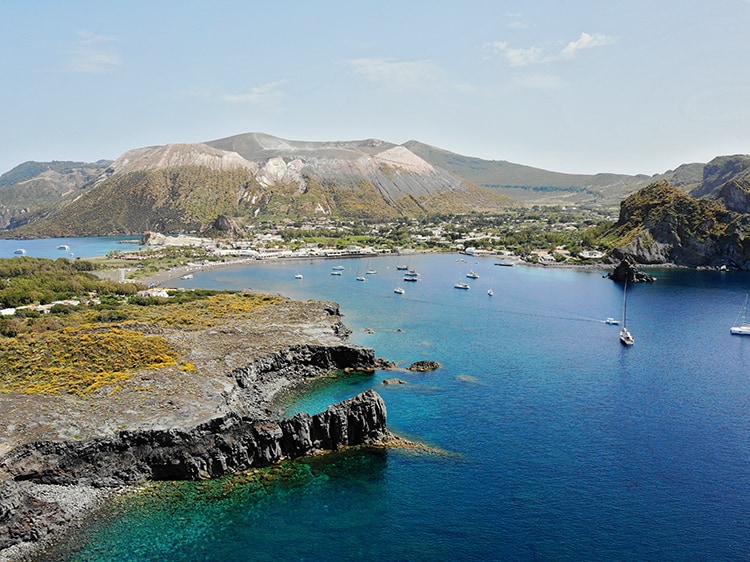 Possibly the most unique Aeolian island, Vulcano is famous for its one-of-a-kind landscape. There is a constantly smoldering volcano, warm mud baths, and bubbling fumaroles in the sea – which you can swim over.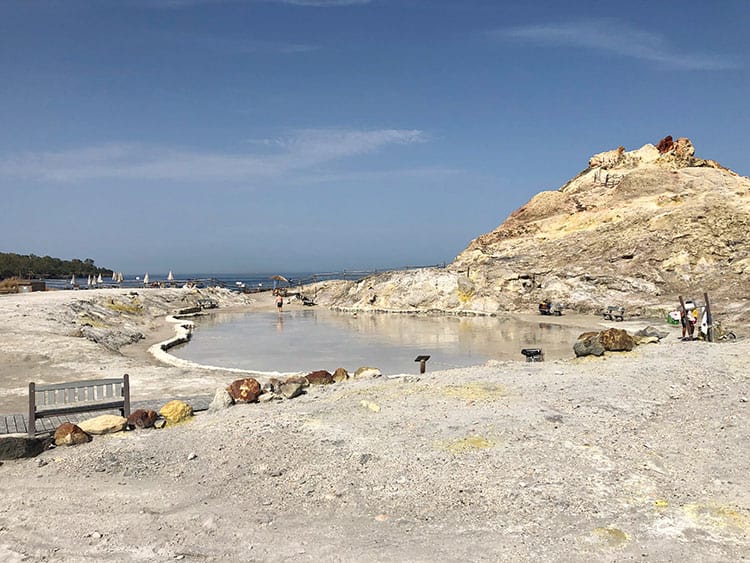 People visit this island to hike up the active volcano and enjoy the interesting natural landmarks.
The small town on Vulcano is not quite as charming as other islands, but it still makes for an interesting stop. Be aware that there is a strong sulfur smell around the island – it is a really unpleasant smell and if you choose to have a mud bath you will probably smell a bit rotten for a few days (so take along some old bathers).
2) Salina Island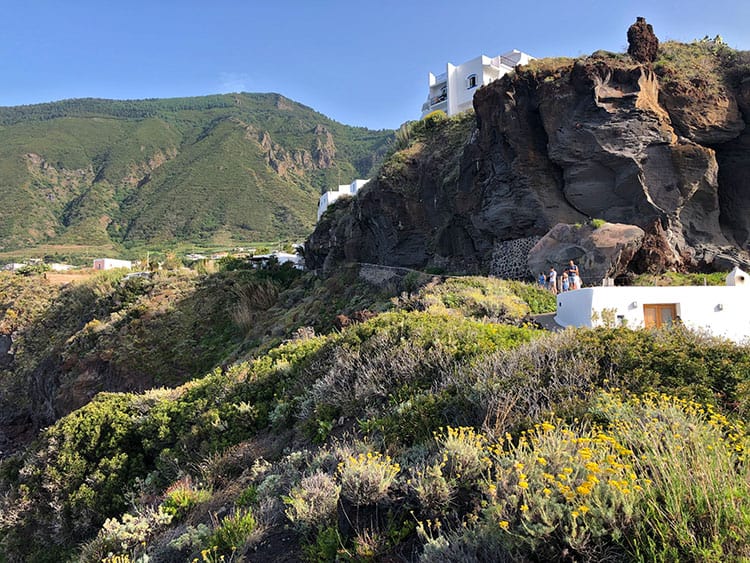 If you are after a quieter island to base your stay on, then Salina is your best option. This is the greenest of all the islands – mostly thanks to the many vineyards growing around here. This is where we stayed for our trip.
Santa Marina Salina is the main port on the island. There is a charming main street here, full of quaint shops and places to eat. There are two interesting museums on the island for those wanting to learn about the history of the place. Be sure to taste the local wines while you enjoy the peace and quiet of this beautiful island.
Salina has a popular stony beach (Malfa Beach) where you can go and sunbake and swim. Be aware though that the stones here are MASSIVE and really tricky to maneuver with little kids.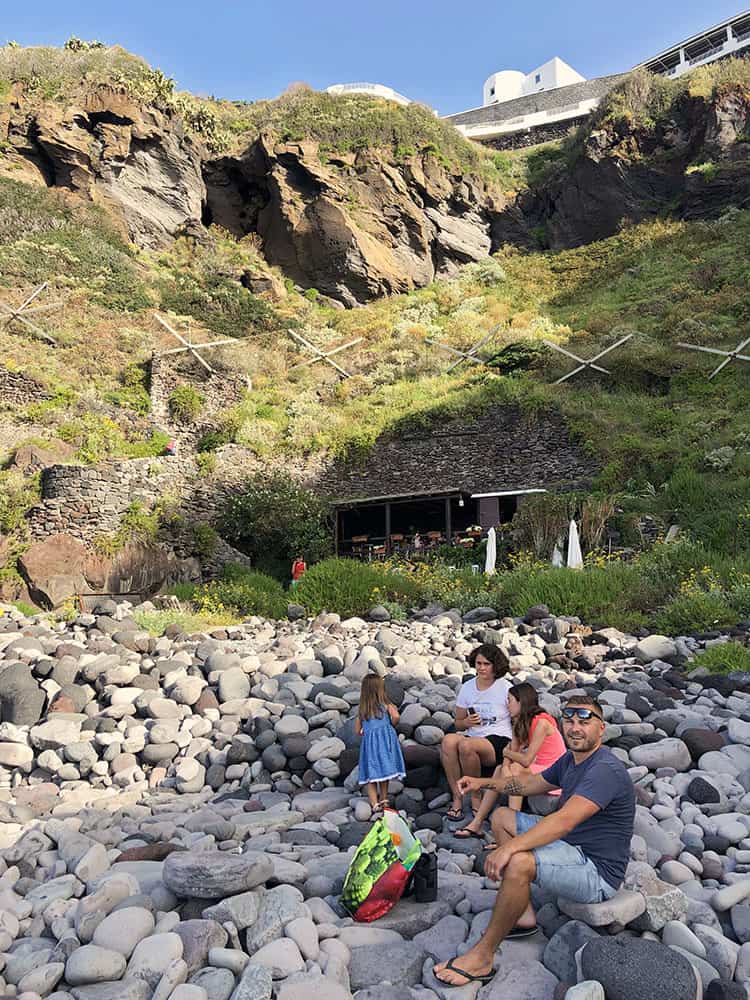 The locals take a blow-up camping mattress to this beach to use as their sunlounger! There is also a great little restaurant where you can buy some drinks and coffee.
If you have little kids, you will most likely prefer the interesting great black sand beach (Spiaggia di Rinella).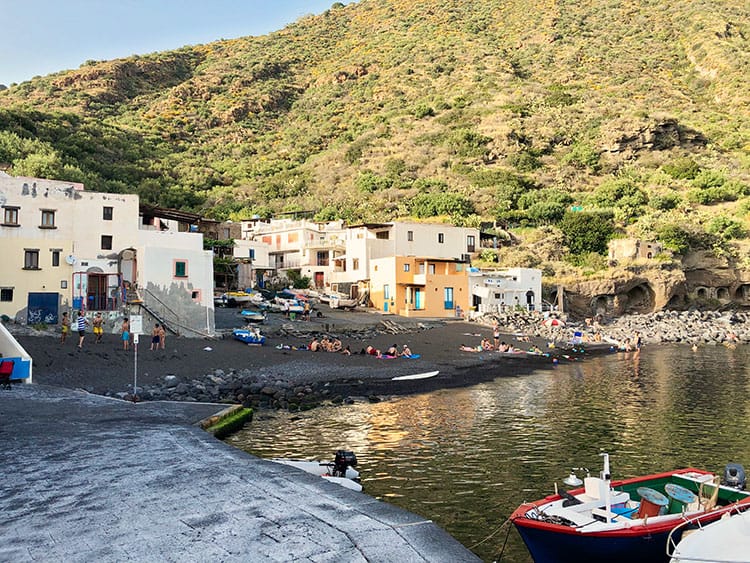 I must admit I had a bit of a giggle at the kids who were covered in a layer of blackness from the sand – so be ready for a shower before entering your hotel or Airbnb.
3) Lipari Island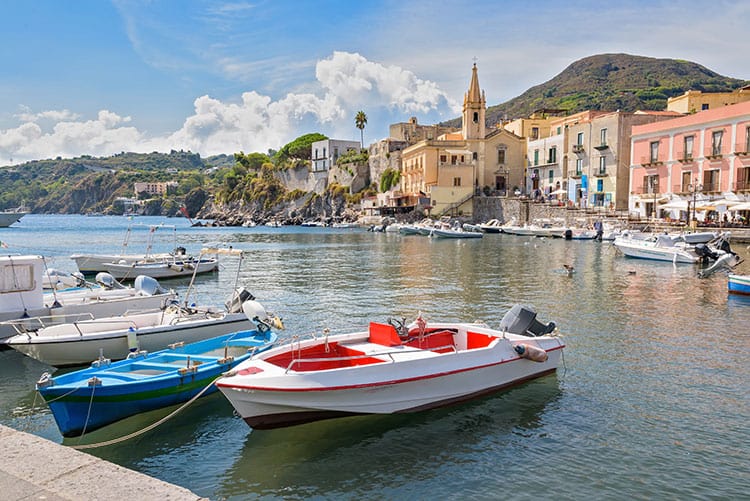 If you are traveling with kids, then Lipari would be our recommended base. This is the largest of the islands with the busiest and most well-developed town.
The coastline around Lipari is rocky and unspoiled – offering a wonderful natural escape. This is best experienced through the coastal walking path between Terme di San Calogero and Bagnosecco.
There is a great beach found at Valle Muria and the beautiful White Beach is worth a few hours as well. Take some money with you for White Beach so you can rent some sun loungers and grab some cocktails. The water is spectacular here due to the white sand at the bottom of the ocean.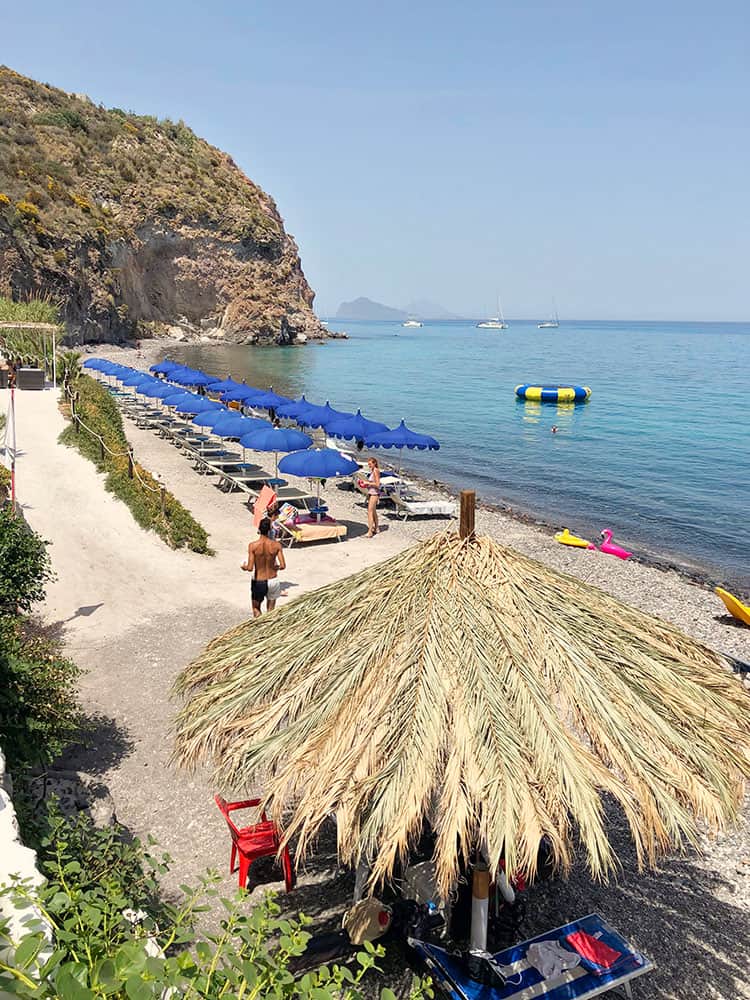 Lipari's main attractions include the acropolis, the pretty Marina Corta harbor, and some lovely flower-hung alleys.
4) Panarea Island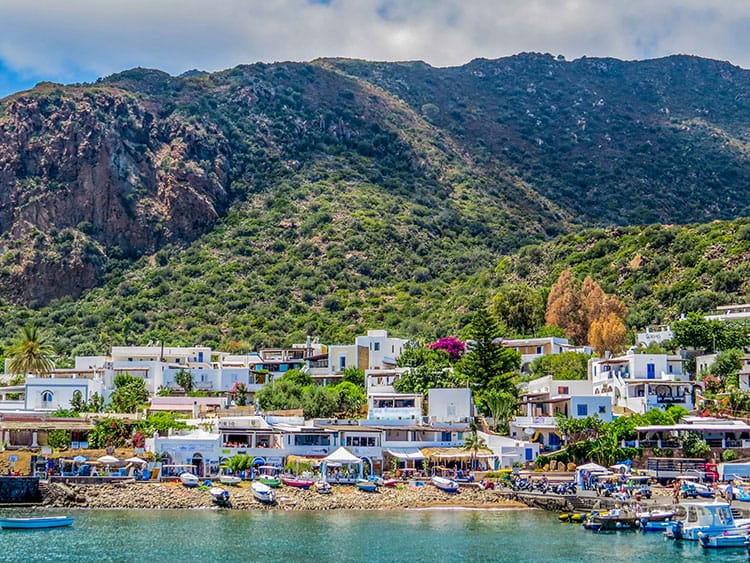 Panarea is the smallest, and possibly the most beautiful of the islands. There are golden beaches, unique rock formations, a historic Roman port, and lavish hotels. During summer months, Panarea Italy is a popular destination for wealthy tourists. Expensive yachts can be found around the bays, while the fashionable bars, hotels, and Panarea restaurants fill up.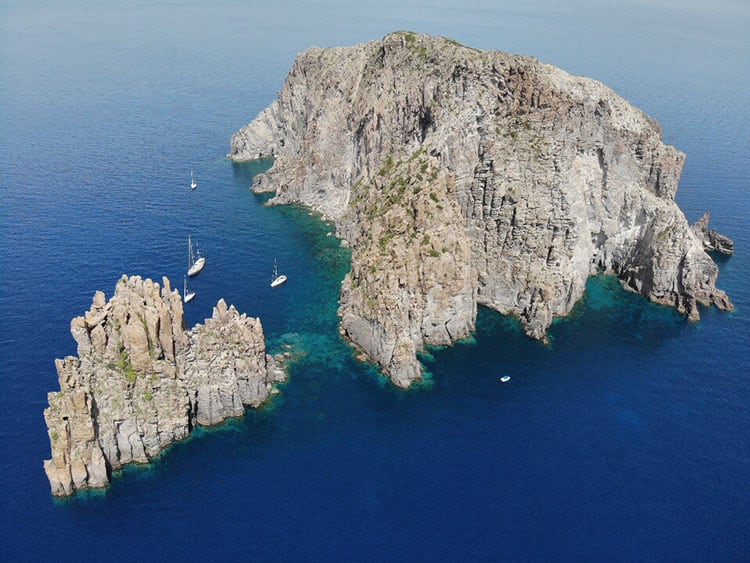 When visiting Panarea, exploring the stunning coastline of the island is a must. This can be enjoyed through a number of walking routes, or by taking a scenic boat tour around the island.
5) Stromboli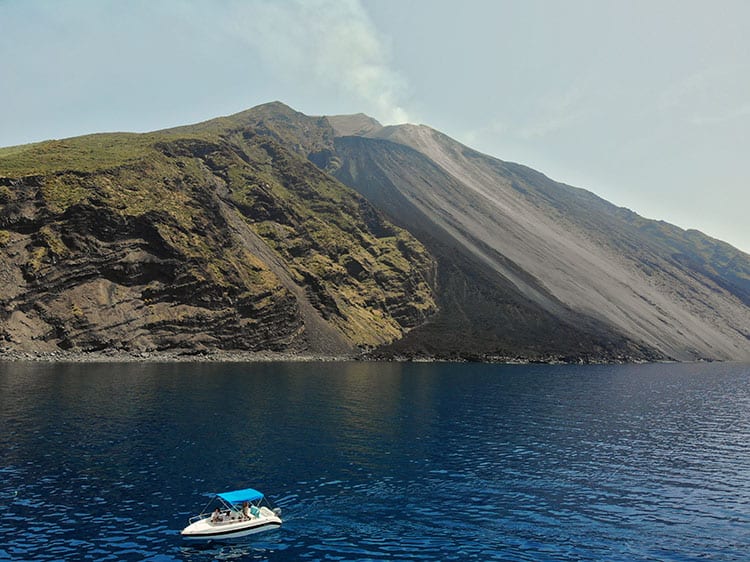 Stromboli is famous for its spectacular active volcano. Visitors come to Stromboli mainly to summit this impressive volcano, or admire it from below. Reaching the top during sunset is a special experience.
Besides the volcano, there are some black sand beaches around the island offering amazing views out to sea. The main port town of Stromboli is a charming place with some lovely winding streets, cafes, and a beautiful old church.
Check out this beautiful guided tour of the island.
Tip: The Volcano is not always displaying 'fireworks' for your viewing pleasure. On our visit it was blowing out some puffs of smoke. So best to ask what the Volcano sights are like before booking a trip at night or you might be dissapointed.
Where to Stay in the Aeolian Islands
We recommend choosing a base island where you can explore the others from. Here are our top 3 island picks, each with its own unique appeal.
Lipari
Lipari is the most well-developed island and our top choice for anyone traveling with kids. Take a look at these beautiful places to stay on Lipari.
Hotel Residence La Villetta
★★★★
This panoramic hotel offers unsurpassable views over Canneto Bay. Guests can enjoy well-equipped apartments, an inviting pool, and a free shuttle service down into the harbor.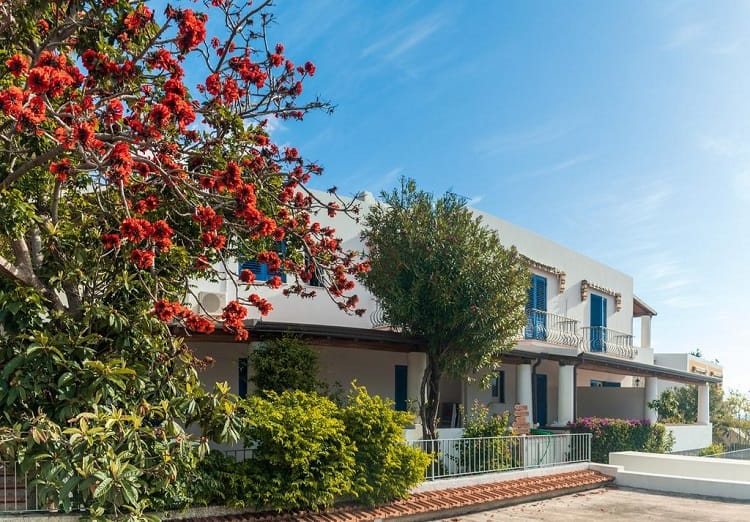 Why should you stay here?
Well equipped apartment rooms
Great pool area
A free shuttle service is offered
Check out the current prices for La Villetta here!
Hotel Tritone
★★★★
A luxurious hotel centrally located in the Lipari town. Besides the amazing views that you can enjoy from the quiet balconies, the hotel has a large pool, spa, and restaurant.
Why should you stay here?
Has a great spa
Excellent swimming pool
An elegant hotel
Check out the current prices for Hotel Tritone here!
Hotel Rocco Azzure
★★★
If you are after sea view accommodation, then it doesn't get any better than this hotel. Built on the seaside cliffs, your room is only steps away from the water.
Why should you stay here?
Unbeatable seaside location
Amazing sea view balconies
Great spa and jacuzzi
Check out the current prices for Hotel Rocco Azzure here!
Salina
Salina, the beautiful green island, is the best place to stay for those after a quieter island. Check out these great accommodation options on Salina.
Hotel Signum
★★★★
Housed in a beautiful old building, Signum Hotel is one of the most charming places to stay on the island. Enjoy the Sicilian restaurant, spa, and infinity pool overlooking the ocean.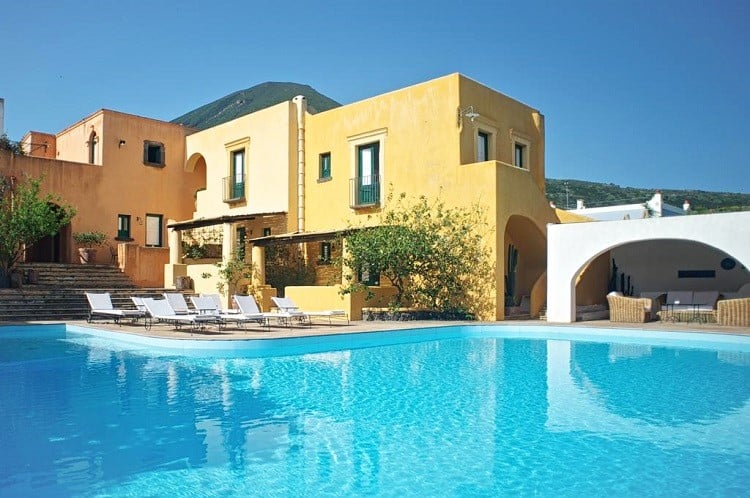 Why should you stay here?
Set in a lovely old building
Has a great spa
An elegant hotel
Check out the current prices for Hotel Signum here!
Hotel Punta Scario
★★★
A clifftop hotel offering some of the most spectacular views over Salina Italy. The panoramic terrace really makes staying here special.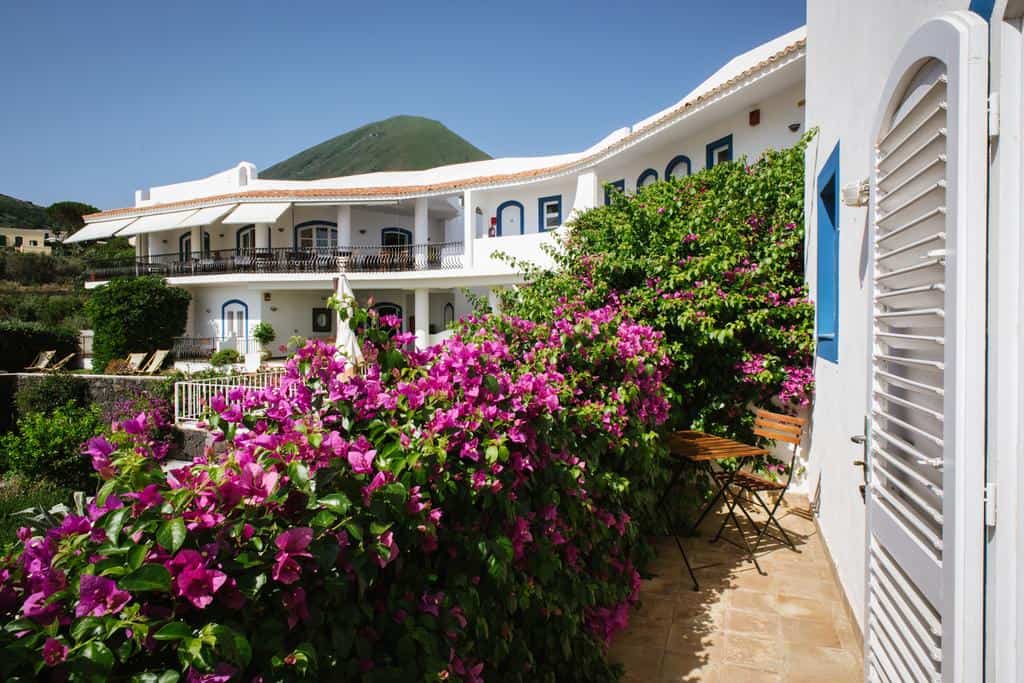 Why should you stay here?
Amazing views
Clean and comfortable
Has beautiful balconies and garden spaces
Check out the current prices for Hotel Punta Scario here!
Hotel Ravesi
★★★
A short walk away from Malfa's central piazza and beach, Hotel Ravesi is the perfect Salina Italy hotel. Guests can enjoy the infinity pool with a view, and the peaceful garden surrounds.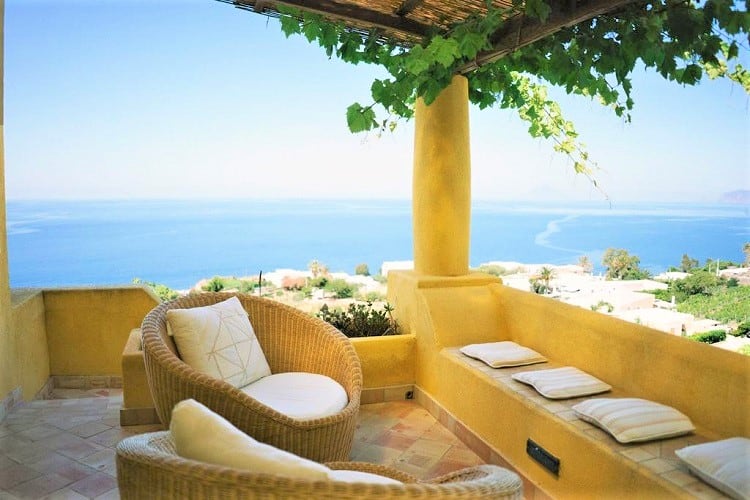 Why should you stay here?
Fantastic infinity pool
Panoramic views
The food is great
Check out the current prices for Hotel Ravesi here!
Vulcano
Looking for a unique experience? Consider staying on Vulcano for its one-of-a-kind landscapes. Here are some top accommodation options on the island.
Les Sables Noirs & Spa
★★★★
Visitors looking for a truly special experience will love this hotel. This is an upmarket and elegant place to stay, right on the beach at Ponente Bay. Guests can enjoy the excellent spa, swimming pool, and really well-appointed rooms.
Why should you stay here?
Quality facilities
A beautiful seaside location
A hotel with a view
Check out the current prices for Les Sables Noirs & Spa here!
Rojas Bahja
★★★
A lovely little hotel right opposite the Baia Levante beach. Enjoy brilliant views from your room, and easy access to the popular mud baths.
Why should you stay here?
Right opposite the beach
Rooms have sea or volcano views
The hotel offers a free shuttle service
Check out the current prices for the Rojas Bahja here!
Casa Arcada
A comfortable B&B
This cute little B&B is within easy reach of the Acque Calde beach and port. Guests can enjoy the garden, patio, and panoramic sun terrace.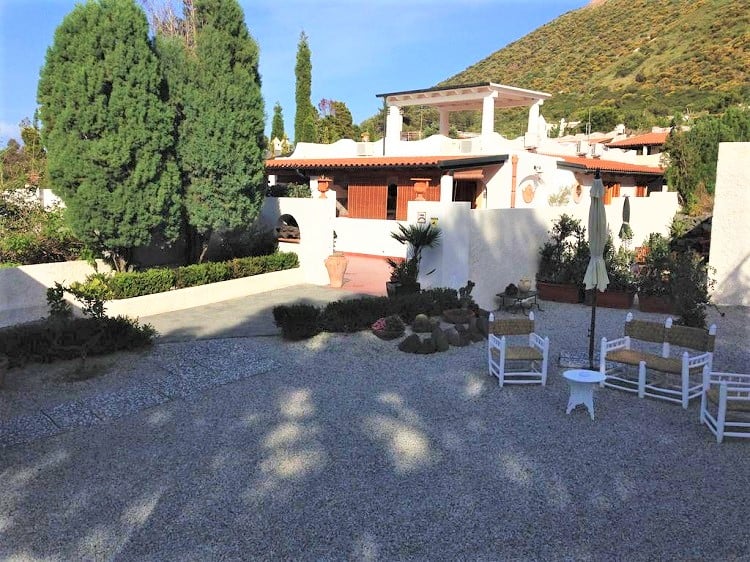 Why should you stay here?
Centrally positioned
Value for money
Friendly hospitality
Check out the current prices for Casa Arcada here!
Final Thoughts on the Aeolian Islands, Italy
These Sicily islands offer visitors a look into some of the most unique and exciting landscapes in Italy. Visiting the Aeolian Islands is a fantastic experience, as each island offers something so different.
Whether you visit for the volcanoes, dramatic beaches, hikes, beautiful little port towns, or chic island living – the Aeolians are a special destination. This is a place with its own vibrant atmosphere and culture that just can't be experienced anywhere else.