Just off the toe of Italy's boot, rests Sicily. This large Mediterranean island is rich in ancient architecture, well-preserved ruins, and stunning views. It's a piece of paradise that makes for the perfect Italian vacation.
Visit historic sites, sunbathe along the endless coastline, and indulge in all of the famous Sicilian delicacies.
And how you are going to to this? Not to worry here. We have put together a great route for carrying out the best Sicily itinerary possible.
We have included all the highlights this whimsical Italian Island has to offer.
---
10 Days in Sicily with Kids
Here are 17 best places to visit in Sicily and how to make the most of your time:
1. Messina
Messina is a harbor city and the gateway to Sicily. It contains one of the Island's finest cathedrals, the Cathedral of Saint Mary of the Assumption. What makes the church especially popular is the adjoining bell tower and astronomical tower.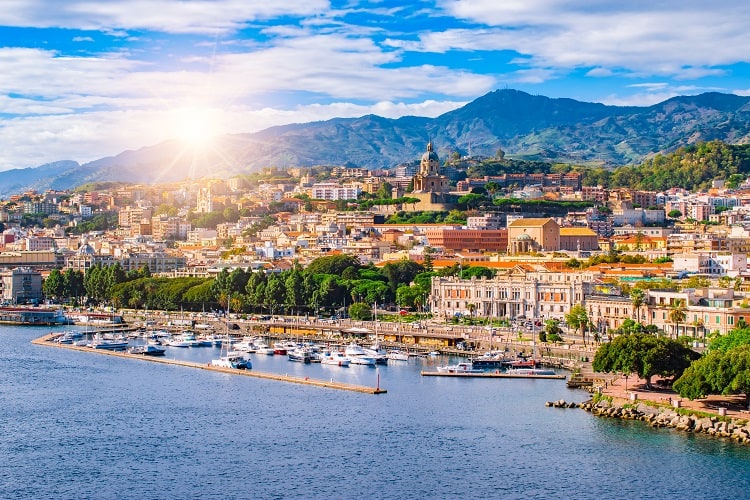 Every day at noon, animated figures from the tower come to life and display scenes from Messina's history. It's quite a spectacle!
Click here to book your tour of Messina with a local guide.
---
2. Taormina
Perched high on a mountain, the coastal town of Taormina offers jaw-dropping views of the Ionian Sea.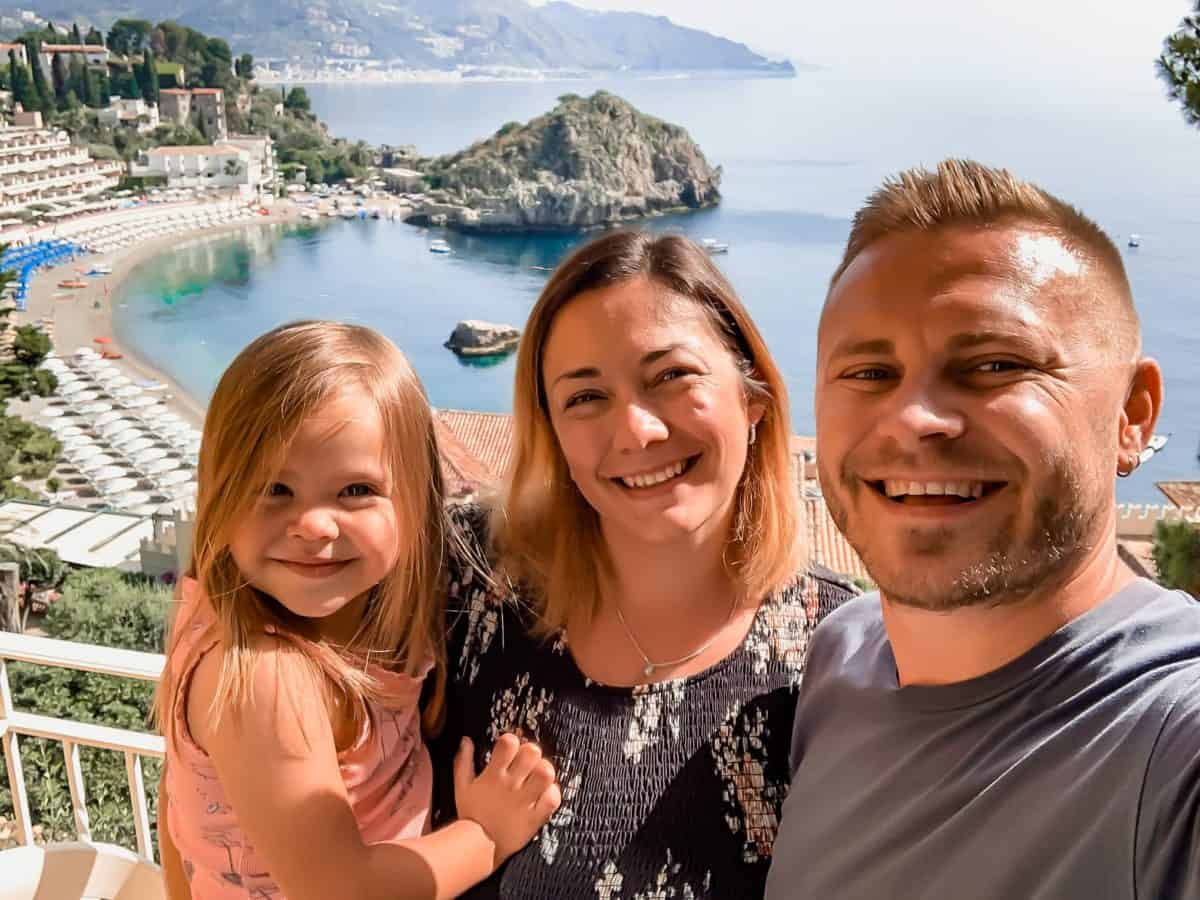 The town's ancient Greco-­Roman theater is the main highlight. It was constructed in the third century BC and is still in use to this day.
If you're planning a trip to Sicily, Italy during the warm summer months, the nearby island of Isola Bella is a must-see. This small sanctuary has a public beach, a botanical garden, and a museum.
Click here to book your boat tour and admire all the wonder of Taormina's breathtaking coastline.
---
3. Mount Etna
Mount Etna is the highest active volcano in Europe. Its fascinating moonscape features ancient craters, lava flow caves, and spectacular views.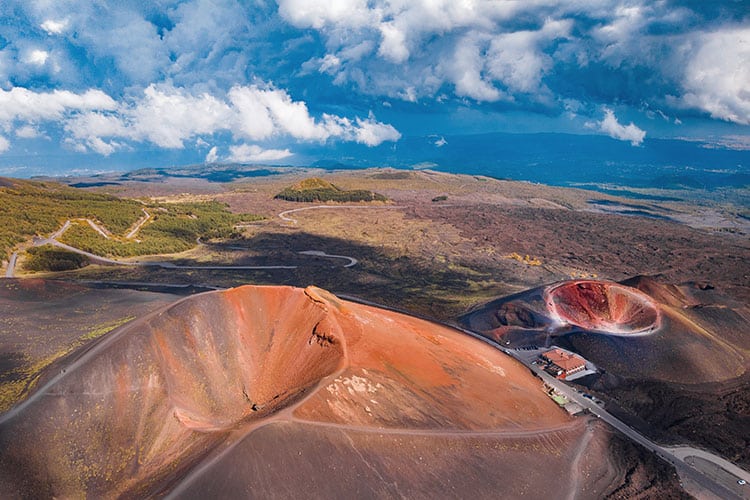 What better way to experience the volcano than on a guided hike! Nature lovers will especially love this stop on their Sicily travel itinerary.
Click here to book your guided excursion of Mount Etna, suitable for all skill levels.
---
4. Catania
Catania is the second-largest Sicilian city. It enjoys a picturesque location next to the sea and sits at the foot of Mount Etna.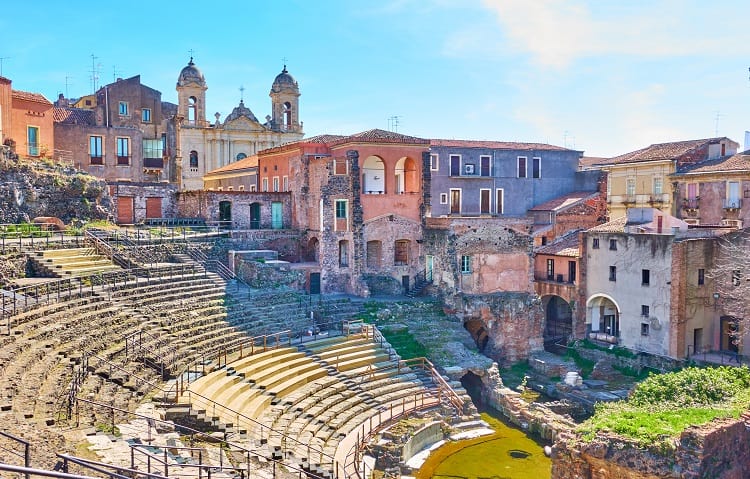 The energy of Catania is concentrated around the main square: Piazza del Duomo. Grab your camera – and maybe a gelato, and get lost wandering among the beautiful historic buildings.
The Catania Cathedral and the unique Elephant Fountain (Fontana dell' Elefante) are especially photogenic.
Click here to book your walking food tour of Catania and discover the city's top sites along with the local flavors.
---
5. Syracuse
The historic city of Syracuse is full of ancient Greek and Roman architecture.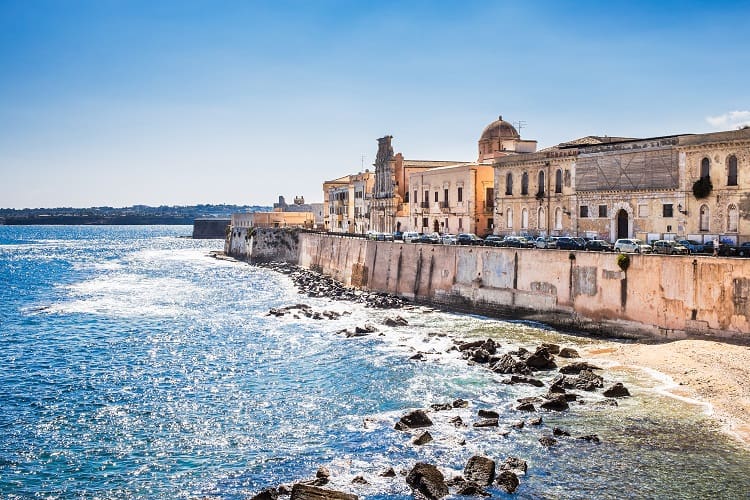 The Neapolis Archaeological Park is celebrated for its many ancient ruins. Especially notable is the Greek Theater. It's carved entirely out of the rock and has a timeline dating back to the 5th century BC.
The Ear of Dionysius is a limestone cave shaped similar to a human ear. Supposedly, you can hear your voice echo up to 16 times when you stand inside.
Ortygia is the ancient square of Syracuse. Surrounded by sumptuous Baroque palaces, it's easily one of the most beautiful plazas in Italy.
Click here to book your guided tour of Syracuse's ancient monuments.
---
6. Ortigia Island
The island of Ortigia is infused with classic Italian charm. Small, romantic alleyways lead to historic buildings and ancient landmarks. Fresh fish and produce markets overflow with bright colors and heavenly aromas.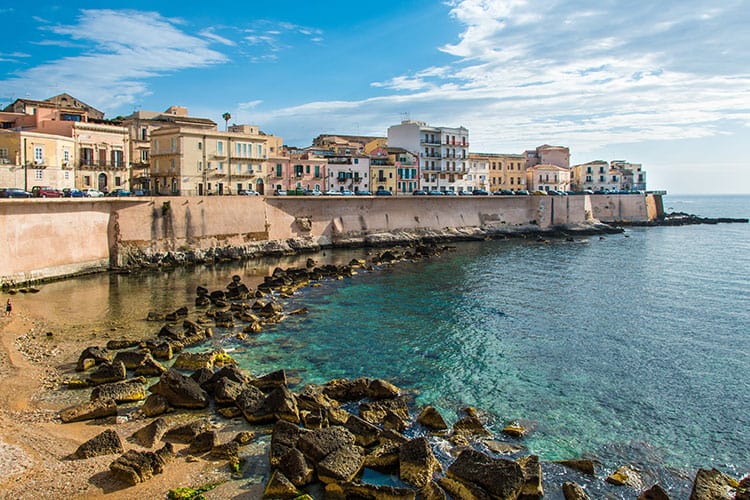 The island also has a number of beaches and sea caves, including the heart-shaped "Cave of Love".
Click here to book your boat tour around Ortigia Island and explore these unique rock formations up-close.
---
7. Noto
Noto is one of the best towns in Southern Italy to visit if you love Sicilian baroque-style architecture.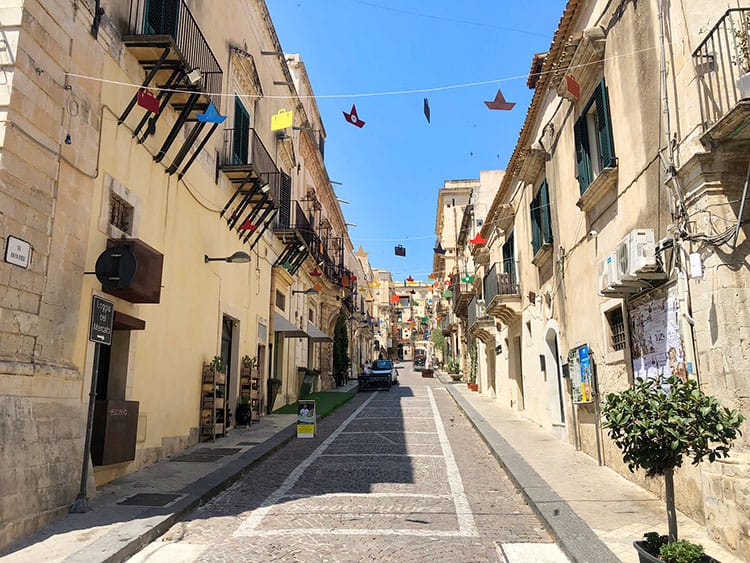 Nicolaci Palace is a former noble palace from the Golden age of Noto. You'll feel as if you've stepped back in time as you wander the elegant rooms adorned with period furnishings.
The reconstructed 18th-century Noto Cathedral is another Sicily must-see. With fabulous frescoes on the ceiling and dramatic stained glass windows, it's one of the most magical places in the city.
---
8. Modica
Modica is another town in Sicily known for stunning examples of baroque style architecture – and chocolate. The city's signature recipe comes from none other than from the Aztecs.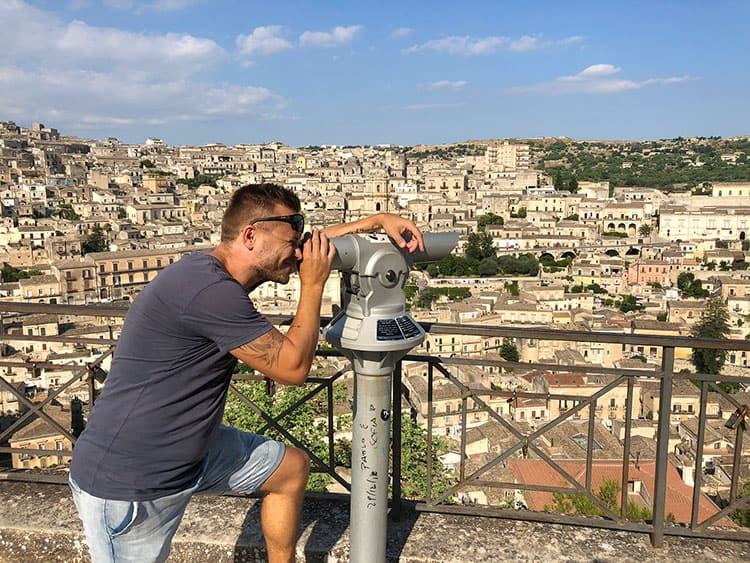 The rich aroma of roasted cocoa beans and exotic spices fills the air.
Dating back to the 1880s, Antica Dolceria Bonajuto is among the oldest and most popular chocolate shops in Modica. If you're looking for souvenirs to take home from your Sicily trip, you can't go wrong with a box of melt-in-your-mouth chocolates!
---
9. Ragusa Ibla
Ragusa Ibla is the oldest section in the city of Ragusa. It has a unique layout, with a seamlessly neverending row of buildings and houses. It's the perfect city to get lost in.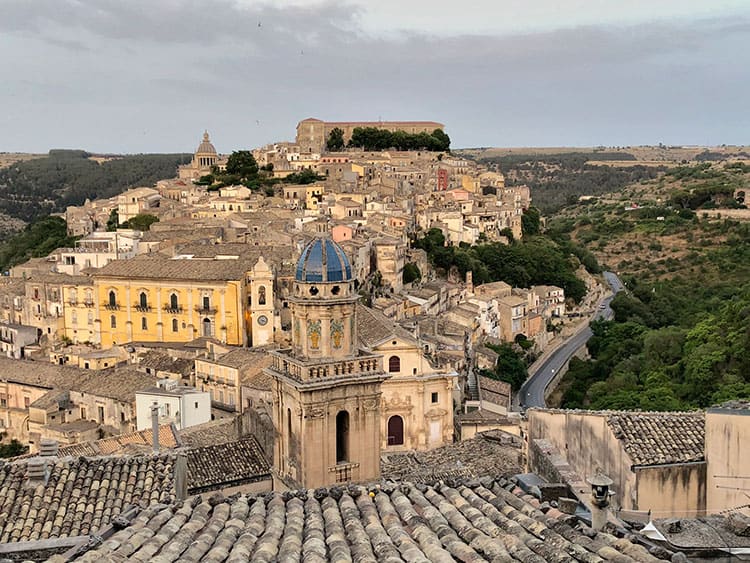 It boasts many baroque churches and palaces, including the elegant Cathedral of San Giorgio. The stunning church facade has a long staircase leading up to large columns, ornate statues, and decorated portals.
The large piazza in front offers many places to sit and enjoy a meal or drink with friends.
Click here to book your combo tour of Noto, Modica, and Ragusa Ibla.
---
10. Agrigento
The hilltop city of Agrigento is famous for containing the ruins of the ancient city of Akragas.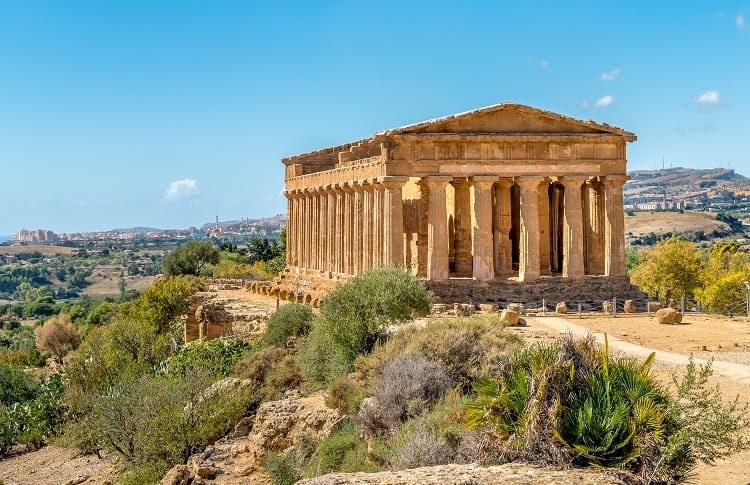 Valley of the Temples is the archaeological park where the ruins can be found.
Tour the extraordinarily well-preserved monuments, built between roughly 510 BCE and 430 BCE. Discover some of the most outstanding examples of ancient Greek art and architecture.
Click here to book your tour for Valley of the Temples and explore the site on an electric scooter!
---
11. Aegadian Islands
The Aegadian Islands are a group of five small islands in the Mediterranean Sea. Just off the coast of west Sicily, they're easily accessible from Trapani. Favignana, Levanzo, and Marettimo are the three main islands.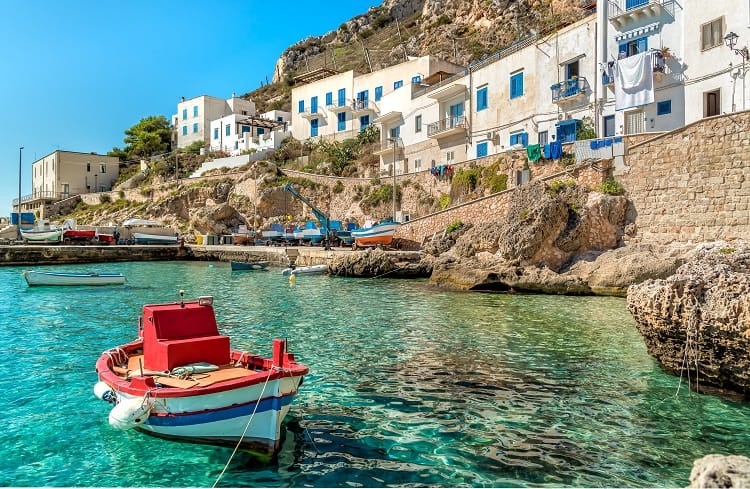 They provide spectacular scenery and swimming opportunities. Each island offers a slower pace of life and is a marvel of simplicity.
Click here to book your cruise from Trapani to the scenic islands of Favignana and Levanzo.
---
12. Trapani
With a long, crescent-shaped coastline, Trapani is full of seaside beauty.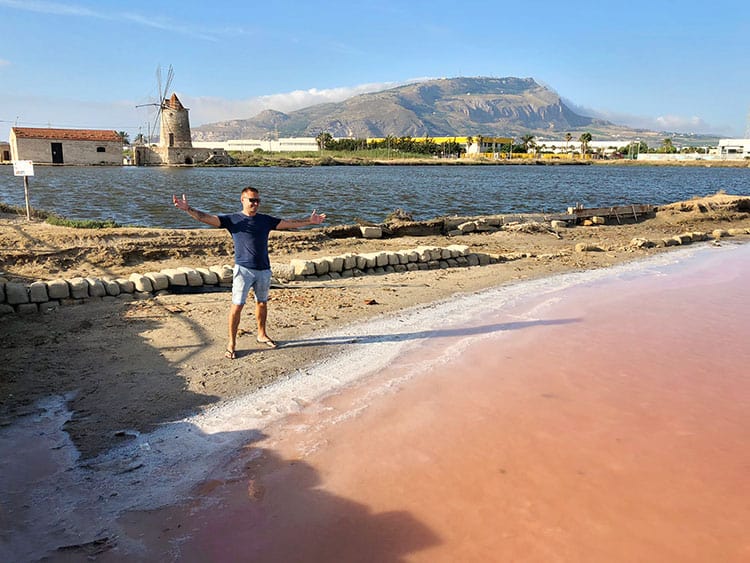 For sweeping ocean views, visit the 17th-century Ligny Tower. This coastal watchtower also houses an archaeological museum.
Click here to book your historical walking tour of Trapani and discover the city's top landmarks.
---
13. Erice
Erice is perched on top of Mount Erice, overlooking the west side of Sicily. This medieval town has a palpable sense of history.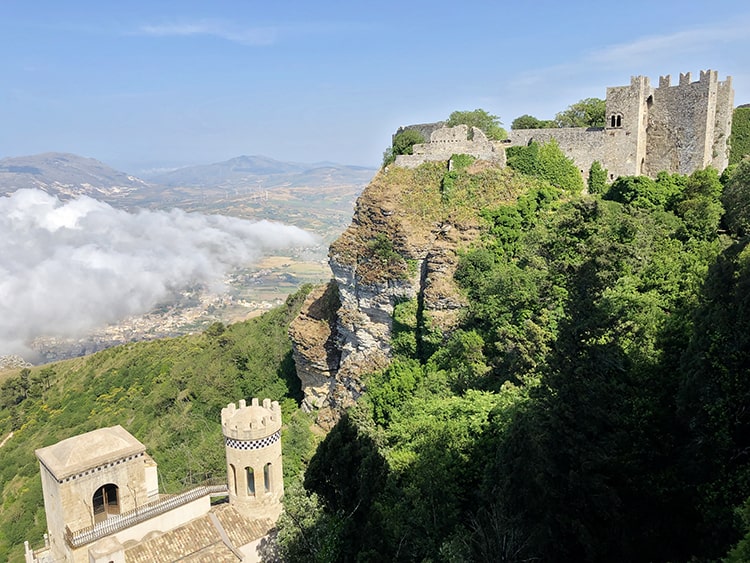 Apart from numerous ancient churches, the castle ruins of Castello di Venere and the cliffside stone residence of Torretta Pepoli are worth a visit.
Click here to book your private tour of Erice with a local.
---
14. Castellammare del Golfo
Castellammare del Golfo is an idyllic Sicilian town nestled between the mountains and the sea. It has a quaint Italian charm, with fishing boats dotting the harbour and narrow alleyways filled with local eateries.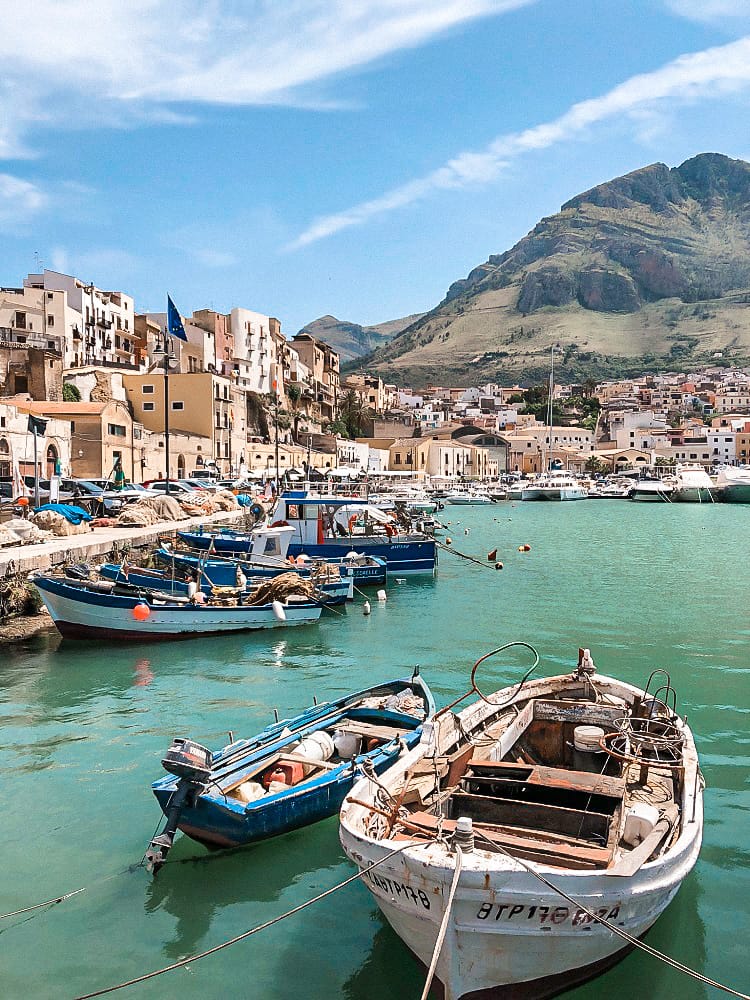 If you're trying to figure out where to go in Sicily for a small-town appeal, this is your place.
---
15. Palermo
Palermo is the energetic capital of Sicily. It presents a wonderful blend of history and modern charm.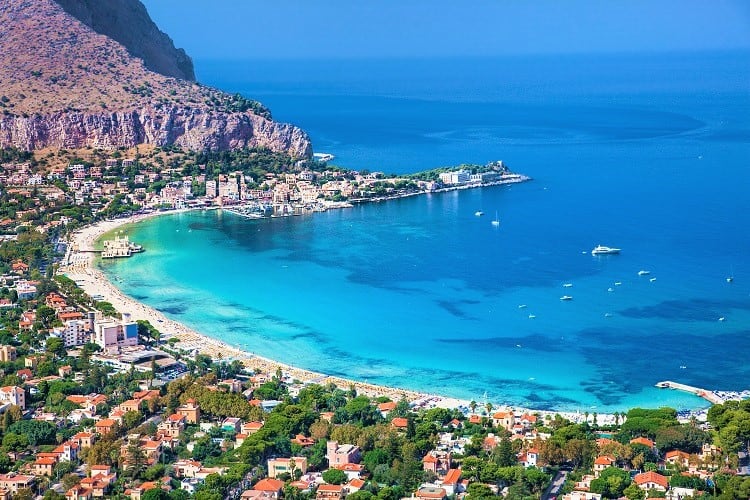 The century-old buildings tell a tale of the city's past. The 9th century Palazzo Dei Normanni is a huge palace that showcases the Arab, Norman, and Byzantine history and culture in Sicily.
The grand 12th-century Palermo Cathedral has an accessible roof where you can enjoy lovely 360-degree views across the city.
Palermo also has an exciting street food scene. You'll find a brilliant mix of cultures and traditions – and several lively street markets.
Click here to book your tour of Palermo's famous street food scene.
---
16. Cefalu
The small town of Cefalu is a true gem of Sicilian living. It has a warm local feel to it and a family-friendly vibe.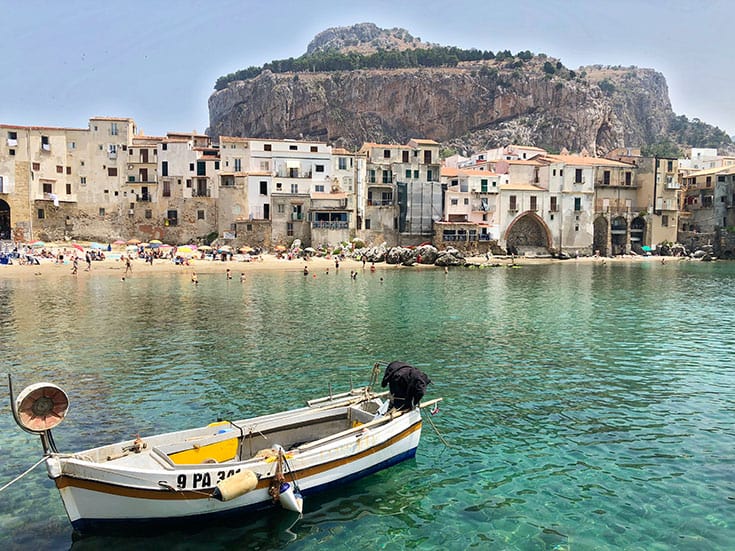 Make sure to stop by The Cefalu Cathedral. This is the city's hallmark monument. It's positioned at the base of a mountain, giving it an enchanting and dramatic appeal.
When it's time to wind down, Cefalu's sandy beaches are a great place to soak in the Sicilian sun. Then you can cap off your night at a seaside eatery with a view.
---
17. Aeolian Islands
Tucked in the Tyrrhenian Sea, The Aeolian Islands are a little piece of paradise just off the tip of northern Sicily. Each of the seven islands offers something slightly different.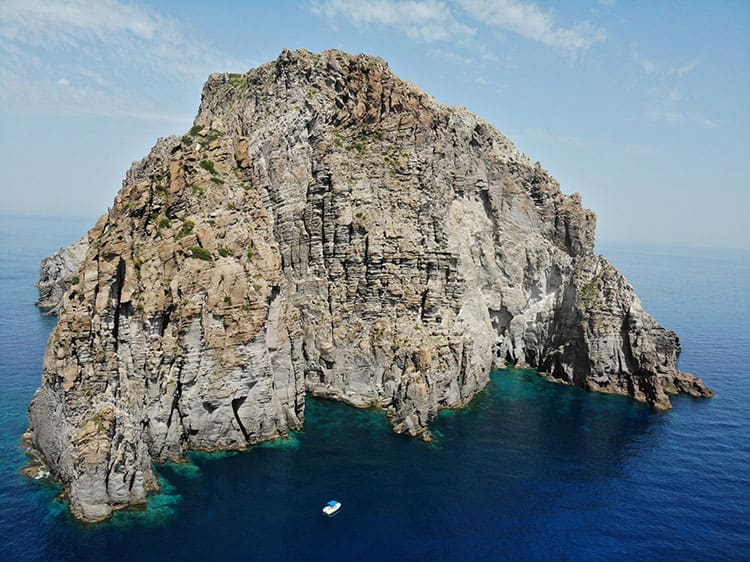 Lipari is a popular island for beach-goers, while Vulcano has epic hiking trails. Panarea is the smallest island, but arguably the most beautiful.
Even though each island is unique, they all offer stunning scenery and ample relaxation opportunities.
---
Where to Stay When Driving Around Sicily
An important part of your vacation in Sicily is deciding where to stay. Whether you're looking for family-friendly accommodation or something super unique, here are the top places to stay.
Tip: Please note that all of these 5 places to stay in Sicily are the ones that we have personally stayed at and we Loved Them!
1. Suite Adalgisa, Mazzaro Sicilia
– 4 Stars –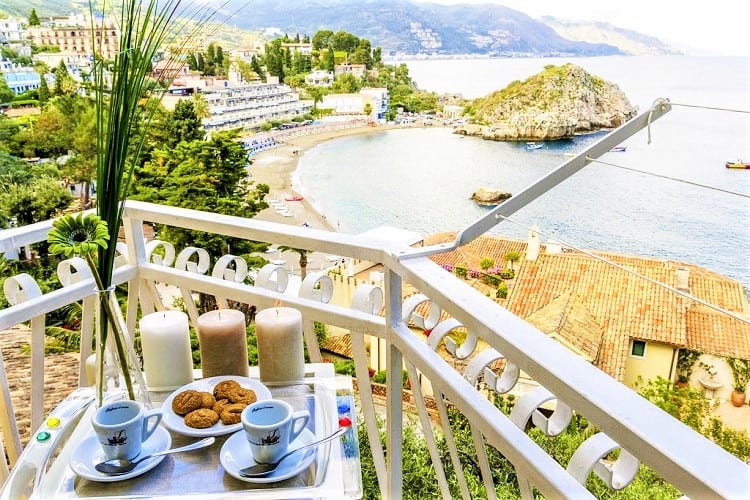 This spacious apartment offers three rooms, all with stunning views of the bay of Mazzarò. With your own private kitchen and living room, you'll feel right at home.
Why should you stay here?
Great facilities
Stylish and modern
Walking distance to the beach
Check out the current prices for Suite Adalgisa here!
---
2. Atmosfere di Roccia Ragusa Ibla
– 3 Stars –
The location of this rustic accommodation is fantastic. From the shared terrace, you can enjoy a magnificent view of Ragusa Ibla, and in a few minutes, you can reach it on foot.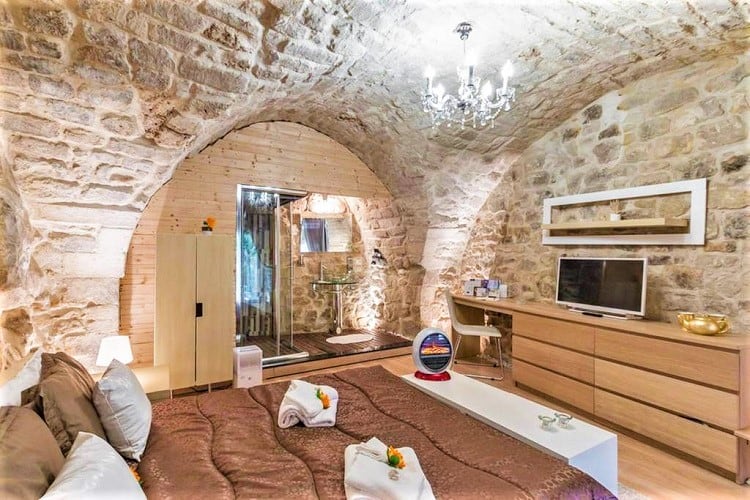 Why should you stay here?
Tucked inside a cave
Well equipped rooms
Unique and cozy
Check out the current prices for Atmosfere di Roccia here!
---
3. Le Finestre Sul Mare, Trapani
– 4 Stars –
This lovely little apartment is right on the water's edge. Admire endless ocean views from your private balcony and practically every room.
Why should you stay here?
Direct access to the ocean
Short walk to the main street
Bright and airy
Check out the current prices for Le Finestra Sul Mare here!
---
4. Villa Cosimo Cefalu
– 3 Stars –
How does a villa with a view sound? With an outdoor swimming pool, terrace, and dramatic mountain scenery, this accommodation is all about relaxation.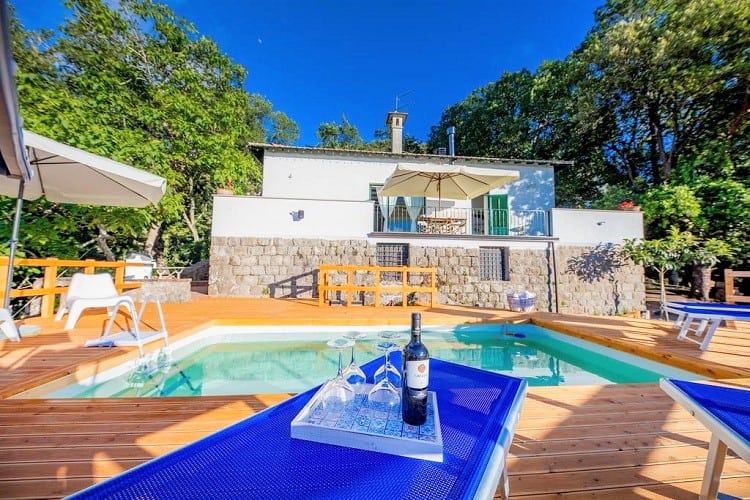 Why should you stay here?
Secluded and cozy
Clean and comfortable
Very accommodating for groups
Check out the current price of Villa Cosimo here!
---
How to Get Around Sicily
Hiring a car for your Sicily vacation will allow you to explore the island at your own pace. Luckily, driving around the island isn't too difficult, even for first-time visitors. Here are a few tips to make your trip run as smoothly as possible.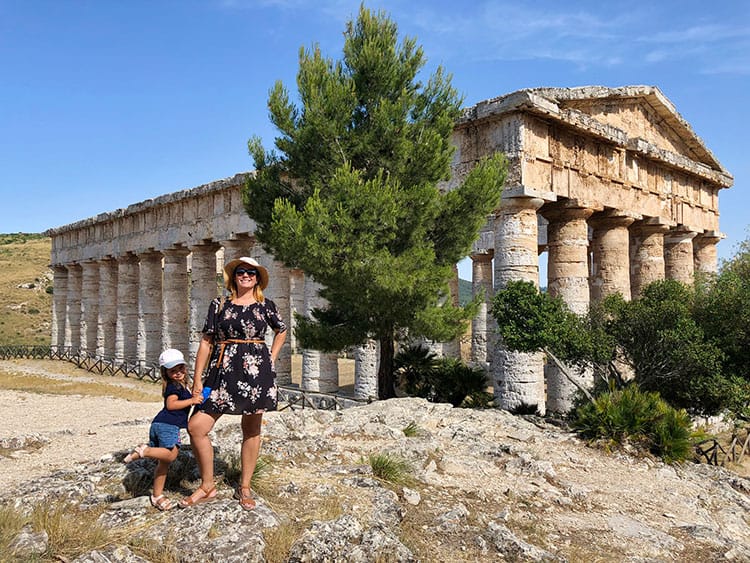 Hire a Car with GPS
To ensure you don't get lost, we recommend hiring a car with the added convenience of a GPS. Sicily is dotted with small towns and a GPS will definitely come in handy when traveling among them.
International Driver's License
Italian law requires drivers without a European Union driving license to acquire an International Driving Permit to operate a vehicle in Italy. Depending on which country you are visiting from, you may need an international driver's license.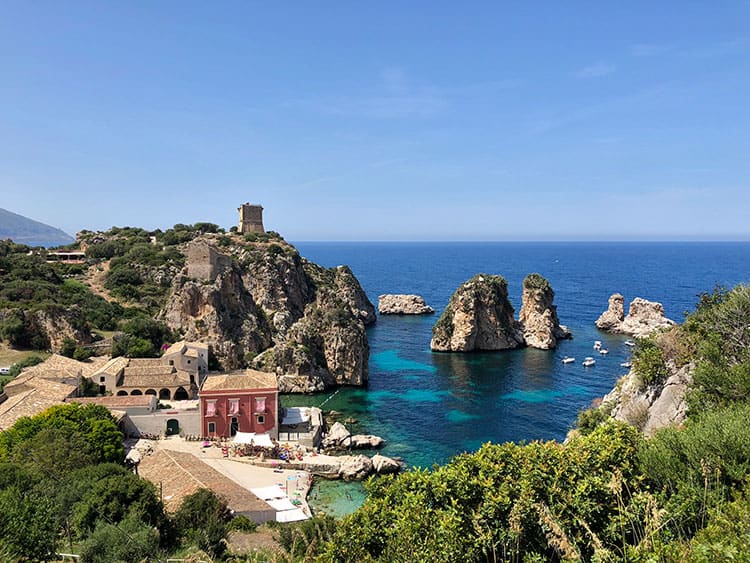 Drive With a Limit
This Sicily itinerary is set at the perfect pace for a day 10 road trip. As long as you drive with a limit you'll easily be able to explore all the wonder of this Italian island.
---
Final Thoughts on Your Sicily Travel Itinerary
Sicily offers a wealth of opportunities for leisure, fun, and adventure. One day you'll be strolling a quiet seaside village, and the next you'll be touring ancient ruins and exciting piazzas.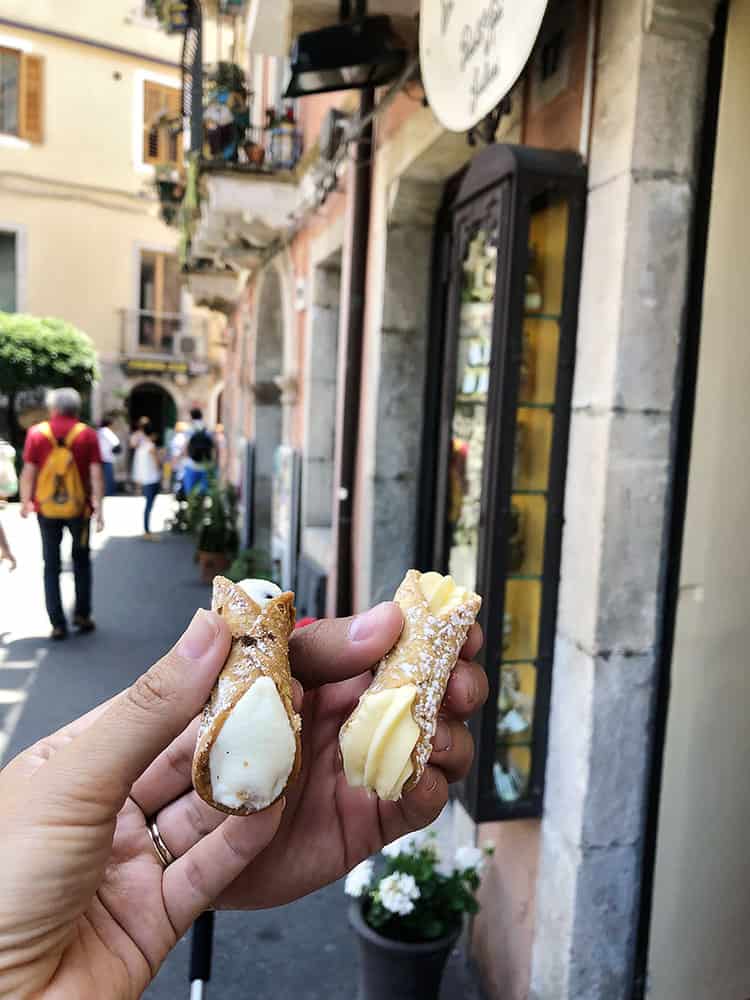 With this Sicily itinerary, 10 days will fly by. From baroque buildings to beaches and culture to cuisine, this Mediterranean island showcases the very best of Italy.